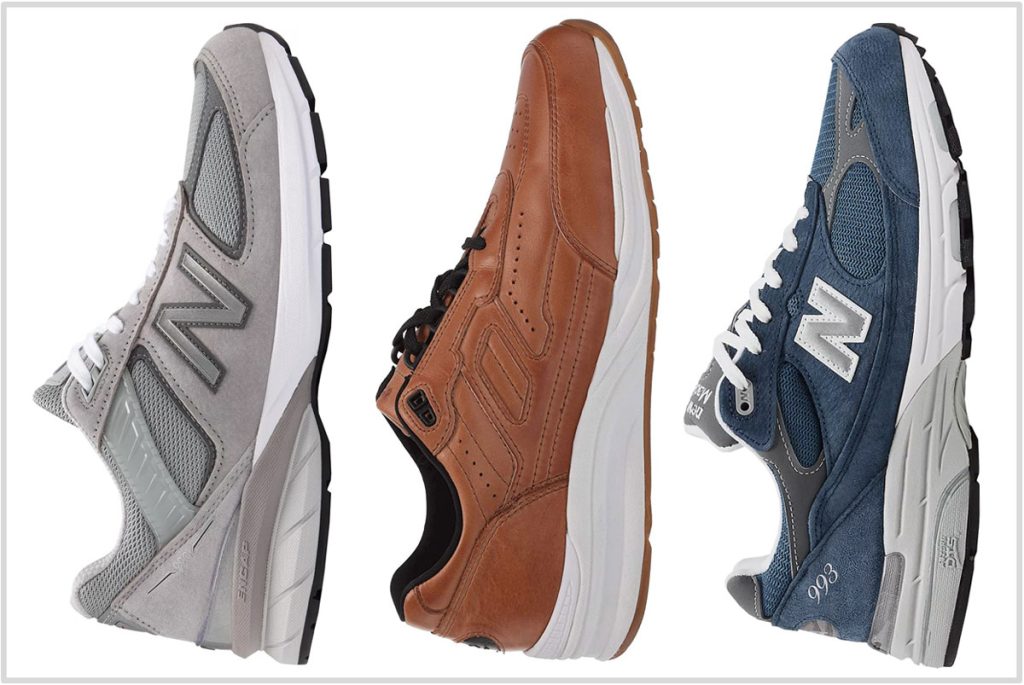 This article has been updated with current models for October 2022. The New Balance 990V1 and 990V2 are new additions. The New Balance Postal 706V2 has been removed.
We should just add a 'New Balance' prefix to the title of this piece. Because that's exactly what this guide has turned into. Well, almost. This edition of the buyer's guide features two shoes from SAS – short for San Antonio Shoemakers, a company from Texas, USA.
While there are plenty of made-in-USA work boots, only New Balance and SAS have a relatively sizeable assortment of walking shoes and casual sneakers.
Allen Edmonds and Danner also produce US-made footwear, but most of them are either dress shoes or work boots.
Until a couple of years ago, adidas occupied a few spots on this list. That was the result of its now-defunct 'Speedfactory', a rapid manufacturing experiment that operated in Germany and Georgia, USA.
The Speedfactory shut as quickly as it opened; the concept production facility closed in April 2020. Thus, the Speedfactory AM4 Ultraboost ceased to exist.
After all, footwear production is a difficult process to automate. Even 3D printing cannot help.
It's still possible to find the adidas AM4 on StockX or eBay, but New Balance is the only brand that sells 'Made in the US' retro-sneakers as a part of its permanent collection.
Even so, New Balance makes only a small percentage of their total footwear production stateside. Barring a small number of shoes made in the UK and US, the rest are manufactured in Asia.
It helps that New Balance isn't a listed company. This gives it leeway to do things that would otherwise be frowned upon by public market investors.
There's another reason why manufacturing in the US suits New Balance's overall plans well. In our 2014 review of the 1260V4, we discussed the possibility of New Balance supplying made-in-USA shoes to the military based on the Berry Amendment.
And guess what – the Department of Defense awarded New Balance a $17.3 million contract in 2018 to supply shoes to recruits.
We're not saying that the contract is the reason behind New Balance's US manufacturing facility, but it turned out to be pretty convenient. The Postal 706V2 (not on this guide) is another example of large-scale institutional orders helping New Balance's stateside manufacturing.
Given the high prices of New Balance's tiny US collection, it doesn't make business sense. But it is certainly excellent PR – and any brand could do with that, particularly in this current economic climate.
Nike's sourcing was based on an Asian manufacturing model from the start, so it never had a strong domestic production foothold. Only their Air bag cushioning inserts are partially made in their USA-based IHM facilities, a division that is also a general supplier of industrial Polyurethane films and sheets.
Saucony was originally a US brand and made shoes locally until the early '90s. But its ownership has changed hands a few times and they no longer sell US-manufactured shoes. Interestingly, Saucony's current owner is Wolverine Worldwide Inc, a company that also owns the Merrell and Wolverine work boot brand.
The Wolverine brand makes some of its shoes in the US, so if Saucony really tried, they could come up with a small collection. After all, they bid for the same US military shoe contract that ultimately went to New Balance.
Before diving into the list, it's important to clarify the difference between 'Made in USA' and 'Assembled in USA' footwear. The percentage of local content needs to be at least 70% to qualify as 'made in USA.' Else, it's 'Assembled in the USA.'
This is only for the US; other countries will have different standards. For example, in Canada, the level of localization needs to be 51% or more.
Besides the country of origin, do US-made running shoes offer any advantage over outsourced ones? Functionally speaking, that is?
No. The manufacturing process of industrial products is highly standardized. The way the uppers are cut and put together is the same, and so is the sole molding and fixing process.
However, the supply chain for the North American athletic footwear industry lacks vertical integration. That's why most US-made sports shoes use basic materials like leather uppers with EVA, PU, or rubber soles instead of fancy mesh and midsole foams.
The US-made shoes also keep the construction simple to keep the labor cost low. A complex design equates to a higher number of assembly operations – and that results in higher production costs.
Since US-made and assembled shoes aren't superior to their Asian versions, buying one should be nothing more than a matter of personal choice. Things like supporting your local economy, that kind of stuff.
While there's a lot of general rhetoric about supporting local, consumers will put their money where their mouth is only if the prices are similar to Asia-produced merchandise.
Thus, the share of US-made footwear remains small due to the high retail prices. That's a given considering that the cost of doing business in the United States is much higher than in Asia.
1) New Balance 990V5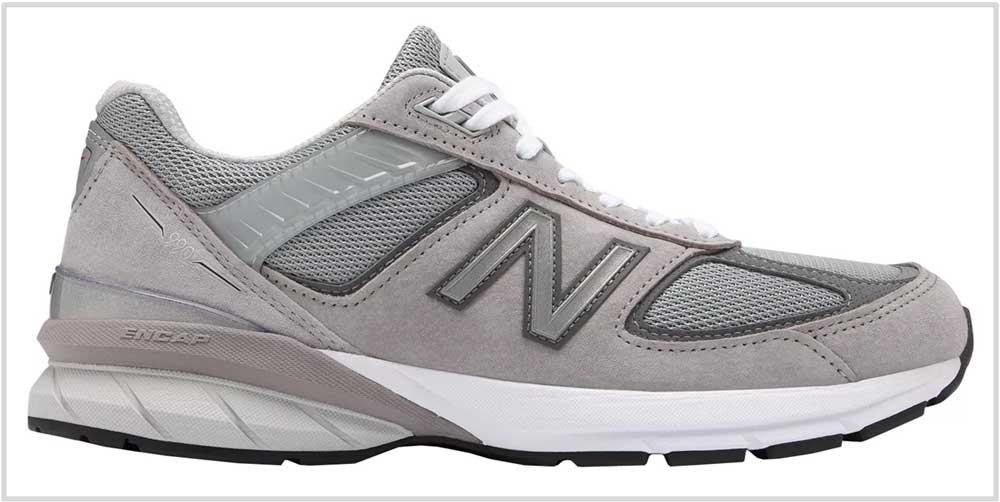 The 13.7-ounce 990V5 isn't your modern 'running' shoe. It uses midsole tech that was lost to time during the 1990s – like the Encap PU cassette with a softer EVA core. The upper is made of suede, closed mesh, and molded TPU trims – all relics of an era gone by.
But don't be fooled by the vintage design language. This shoe was released for the first time in 2019, so this retro sneaker is as modern as it gets.
With its cushy Ortholite insole and firm multi-density midsole, this is a comfortable walking shoe at best; run in the 990 at your peril.
Or in New Balance's words, "worn by supermodels in London and dads in Ohio."
2) New Balance Made in US 993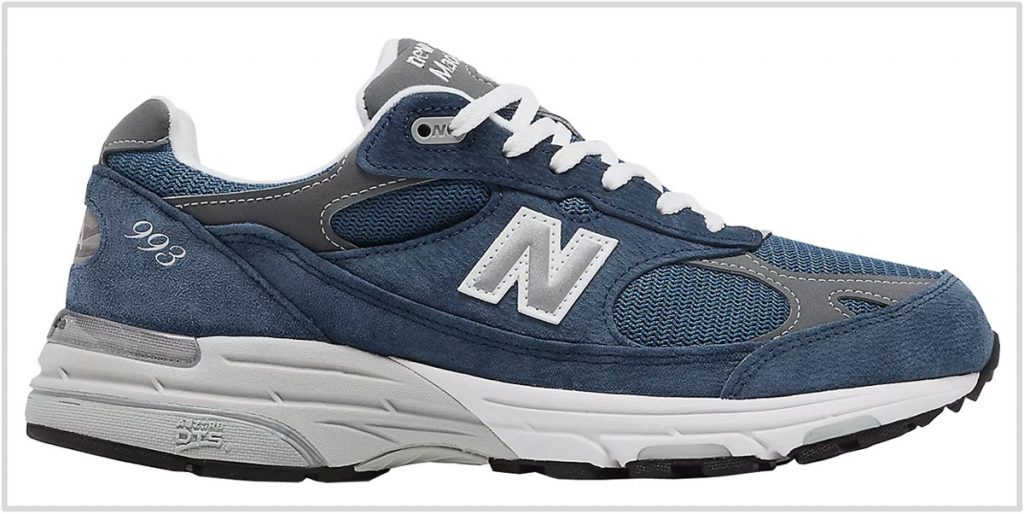 Nothing about the 993 suggests that it is a modern running shoe, because it is not. It weighs over 400 grams, has a firm multi-density midsole, and the upper is covered with stitched overlays.
Acres of suede leather are sewn to the spacer mesh, and the outsole has rubber – lots of it. The tongue and heel have a soft and padded lining with a vintage feel.
In short, the 993 looks straight out of a 90's yearbook that was recently discovered in an attic. An age when 'online' shopping meant glossy mail-order catalogs and not the internet.
And yet, the 993 has a couple of things going for it. One, it's assembled in the US. Two, it is a comfortable and stable shoe for low-impact activities such as slow running (aka jogging) and walks.
3) New Balance 990V1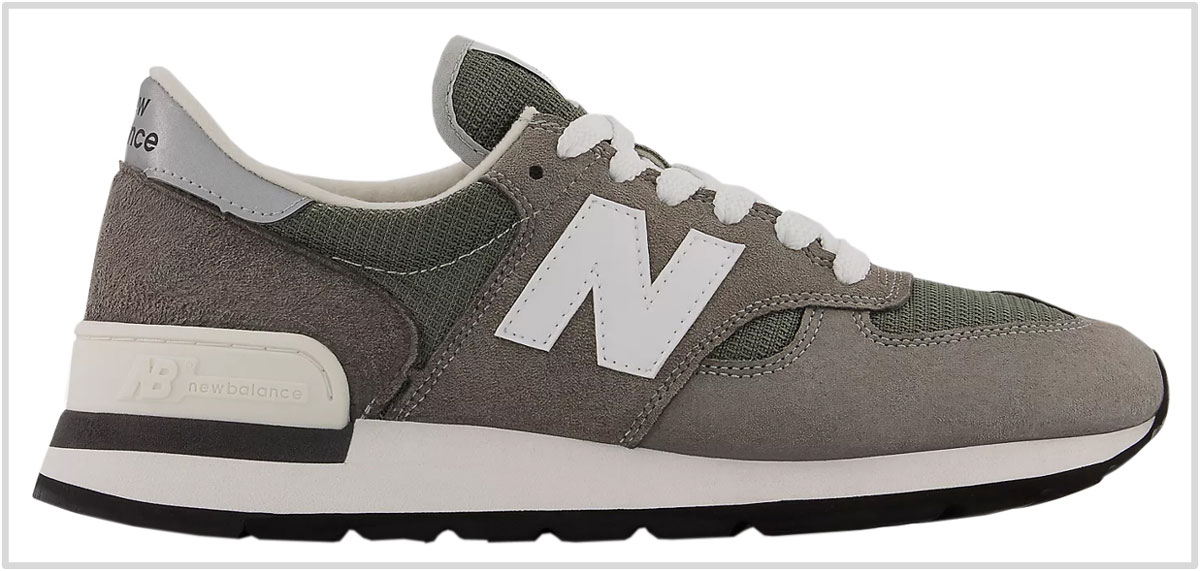 When it was first released in 1982, the New Balance 990V1 was a state-of-the-art running shoe that cost $100 – making it the most expensive runner at the time.
Back then, strobel-based midsoles with a wider base were not available, so most running shoes featured a die-cut EVA midsole – as did the 990V1.
To compensate for the slim midsole profile, the 990V1 had a heel stabilizer for support as well as a full rubber outsole for a durable grip. Interestingly, the modern 990V1 uses a Vibram outsole rather than its in-house compound.
And though the 990V1 doesn't stand a chance against modern athletic footwear, it does well as a comfortable sneaker for walking and casual use. The EVA midsole and insole are more comfortable than clunky dress shoes, and the mesh + suede upper has a comfortable and secure fit.
(Note: The upper uses Pigskin leather.)
4) New Balance 990V2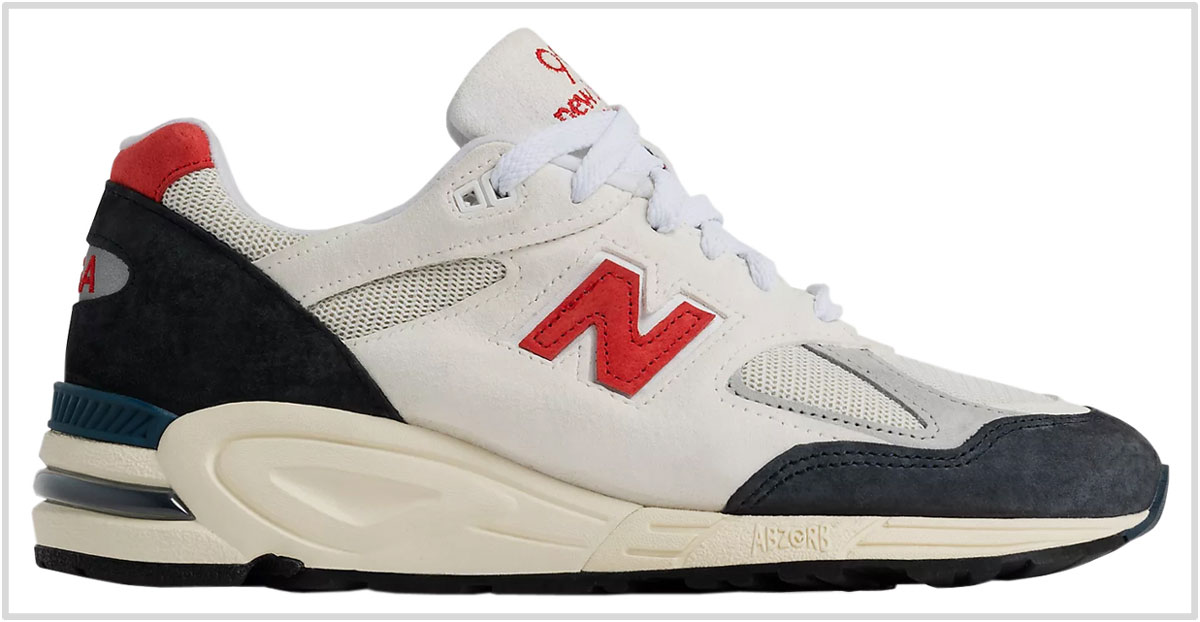 One would assume that the 990V2 was released soon after the 990V1's release in 1982. However, it wasn't until 1998 that the 990 received its update.
By then, the footwear technology had evolved by leaps and bounds, so the 990V2 featured a comfortable EVA midsole under a soft suede upper. The heel clip from the 990V1 was also included, except that it was much smaller.
And that's what we get today – a comfortable retro running shoe that works for everyday walks and streetwear.
5) SAS Time out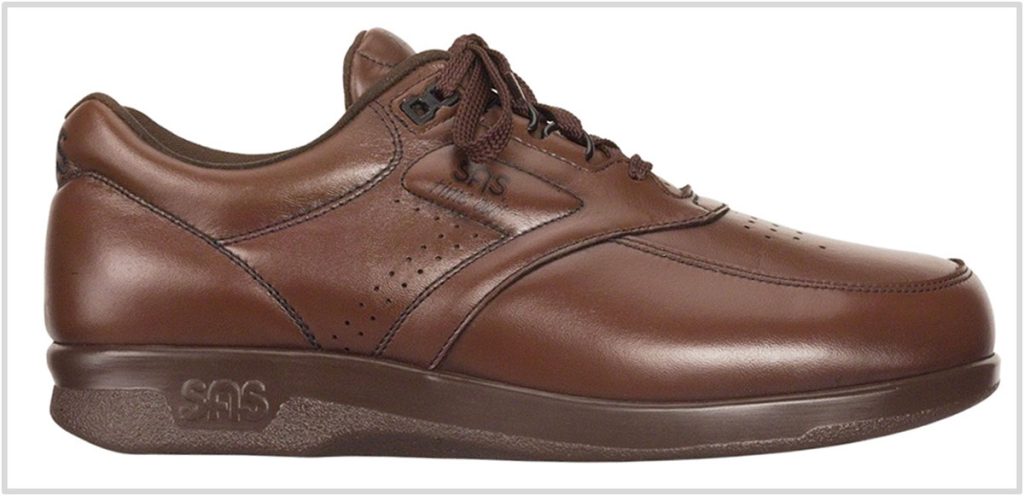 This $200 walking shoe is all function over form. Though it's not much of a looker, the leather upper and Polyurethane monosole create a comfortable fit and ride experience.
The firm PU sole provides the necessary stability during walks, whereas the removable insole adds step-in cushioning.
Though the upper exterior is made completely of leather, the mesh padded heel and tongue make the Time Out comfortable out of the box. A D-ring closure allows the laces to be cinched quickly to secure the midfoot.
The SAS Time Out shoe is offered in a total of five widths – that includes slim, narrow, medium, wide, and double-wide.
6) SAS Journey Lux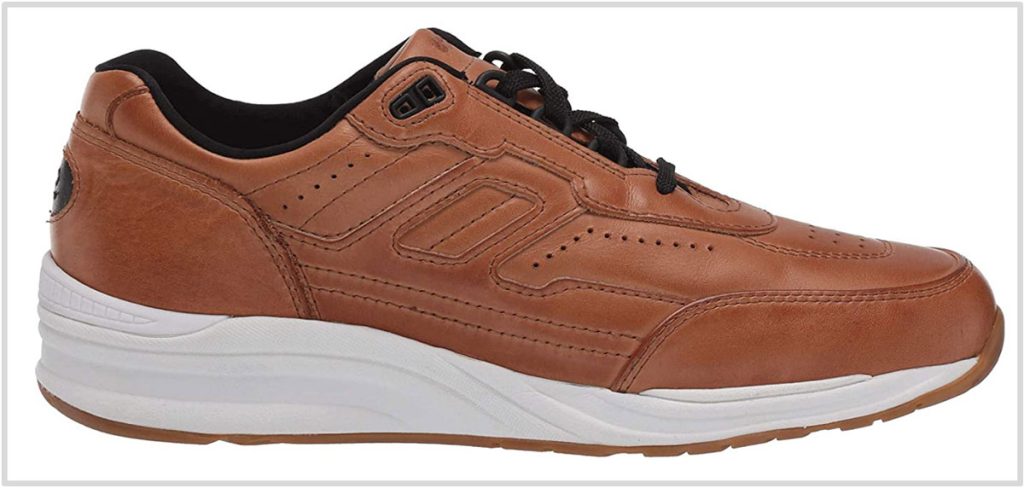 As the name suggests, the SAS Journey Lux is the premium version of the SAS Journey and Journey mesh sneaker. So the J-Lux shares an identical EVA foam midsole and rubber outsole with the rest of the Journey line and also the SAS Venture sneaker.
The EVA foam midsole and leather-covered PU foam footbed make the SAS Journey Lux a comfortable walking shoe. The traction is delivered by the durable rubber outsole.
This SAS walking shoe looks more contemporary than other products in the brand's catalog. Not only does the upper use supple leather, but the higher level of detailing makes it look like a modern sneaker.
Just like the SAS Time Out, the Journey LUX is available in five different widths for a custom fit.