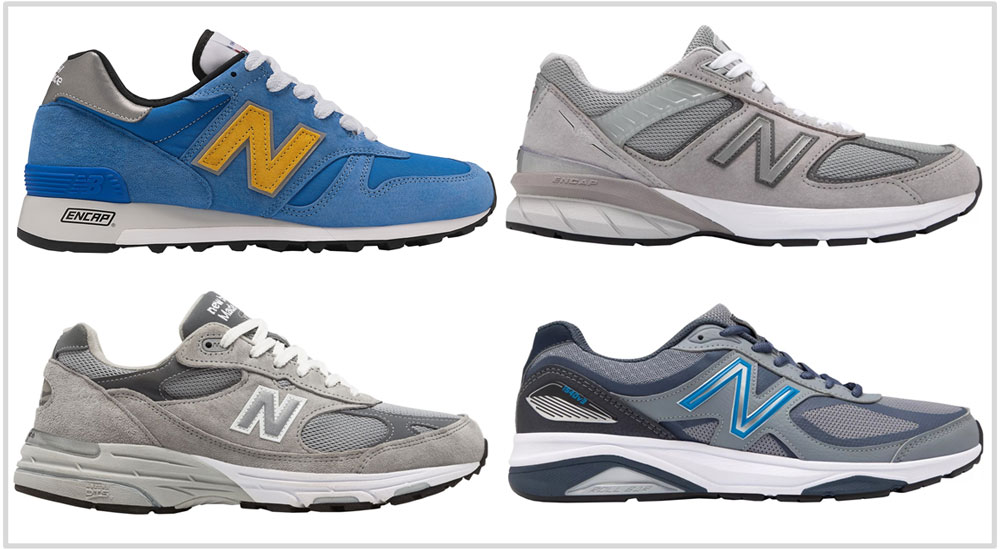 This article has been updated with current models for October 2020. The New Balance 1300 is a new addition, and the adidas Speedfactory AM4 has been removed. Slight changes have been made to the preface.
We should just add a 'New Balance' prefix to the title of this piece. Because that's exactly what this guide has turned into.
Until last year, adidas occupied one of the slots on this list. That was thanks to its now-defunct 'Speedfactory', a rapid manufacturing experiment that ran in Germany and Georgia, USA.
You can still find the adidas AM4 on StockX or eBay, but New Balance is the only brand that sells 'Made in the US' running shoes as a part of its permanent collection. Sort of. Because most of the models that feature here are retro running shoes that weigh a ton and are sold in drab colors. Except for the 1300 – it isn't a 'running' shoe per se, but given the limited options, we decided to exercise creative freedom. Besides, this guide was in desperate need of some color.
Even so, New Balance makes only a small percentage of their total footwear production stateside. Barring a small number of shoes made in the UK and US, the rest are manufactured in Asia.
It helps that New Balance isn't a listed company. This gives it leeway to do things that would otherwise be frowned upon by public market investors.
There's another reason why manufacturing in the US suits New Balance's overall plans well. In our 2014 review of the 1260V4, we discussed the possibility of New Balance supplying made-in-USA shoes to the military based on the Berry Amendment.
And guess what – the Department of Defense awarded New Balance a $17.3 million contract in 2018 to supply shoes to recruits.
We're not saying that the contract is the reason behind New Balance's US manufacturing facility, but it turned out to be pretty convenient.
Given how small and high-priced New Balance's US collection is, it doesn't make business sense. But it is certainly excellent PR – and any brand could do with that, particularly in this current economic climate.
Nike's sourcing was based on an Asian manufacturing model from the beginning, so it never had a strong domestic production foothold to begin with. Only their Air bag cushioning inserts are partially made in their IHM facilities, a division that is also a general supplier of industrial Polyurethane films and sheets.
Saucony was originally a US brand and made shoes locally till the early '90s. But its ownership has changed hands a few times and they no longer sell US-manufactured shoes. Interestingly, Saucony's current owner is Wolverine Worldwide Inc, a company that also owns the Merrell and Wolverine work boot brand.
The Wolverine brand makes a few of their shoes in the US, so if Saucony really tried, they could come up with a small collection. After all, they bid for the same US military shoe contract that ultimately went to New Balance.
adidas is interesting. Being a German company, its manufacturing base originated in Europe, followed by outsourcing to Asia. A few years ago, they set up a 'Speedfactory' in Georgia – a pilot concept with a focus on automation in footwear production. If you want to know more, this Solereview article will help.
There's some bad news about the Speedfactory though. It closed as quickly as it opened; the concept production facility was shut in April 2020. Thus, the Speedfactory AM4 Ultraboost no longer feature on this guide.
After all, footwear production is a difficult product to automate. Even 3D printing cannot help.
Before diving into the list, it's important to clarify the difference between 'Made in USA' and 'Assembled in USA' footwear. The percentage of local content needs to be at least 70% to qualify as 'made in USA.' Else, it's 'Assembled in the USA.'
This is only for the US; other countries will have different standards. For example, in Canada, the level of localization needs to be 51% or more.
Besides the country of origin, do US-made running shoes offer any advantage over outsourced ones? Functionally speaking, that is?
No. The manufacturing process of industrial products such as running shoes is highly standardized. The way the uppers are cut and put together is the same, and so is the sole molding and fixing process.
Since US-made and assembled shoes aren't superior to their Asian versions, buying one should be nothing more than a matter of personal choice. Things like supporting your local economy, that kind of stuff.
As we said, this list is New Balance through and through.
1) The New Balance 1300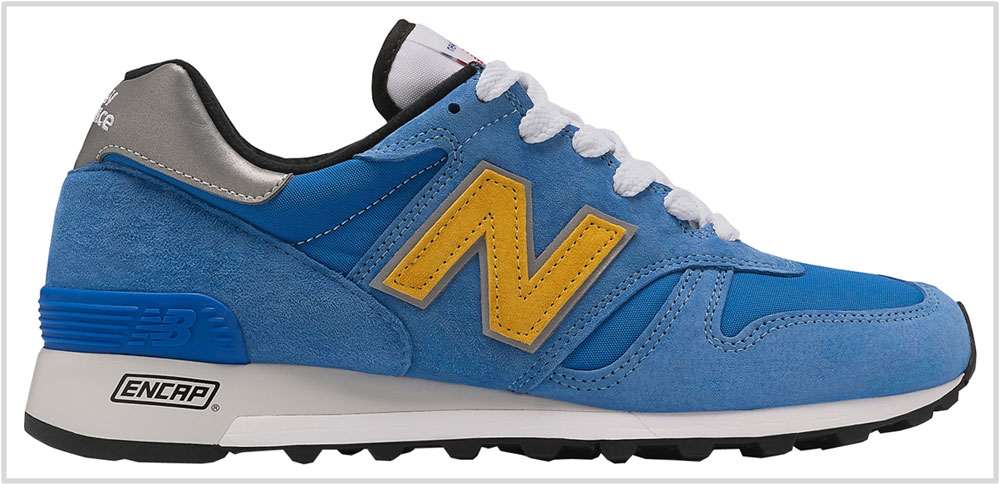 The 1300 is what most running shoes used to look like in the late '80s and early '90s. The retro upper has large suede panels, Nylon mesh with a pinpoint pattern, chunky laces, and even a plastic heel clip. In the pictured color, the faded blue suede is almost sepia-toned in its appearance.
The ENCAP heel plug – which is a firmer Polyurethane wedge for support – was one of New Balance's premier cushioning technologies back in the day.
But the retro aesthetic isn't the reason why the 1300 is here. It's the fact that this 1300 is made in the USA, one of the few among a rare breed of shoes.
The question is – can you run in the 1300? If it's a leisurely run of less than 5K, why not? After all, it's got a comfortable upper and ride.
2) New Balance 1540V3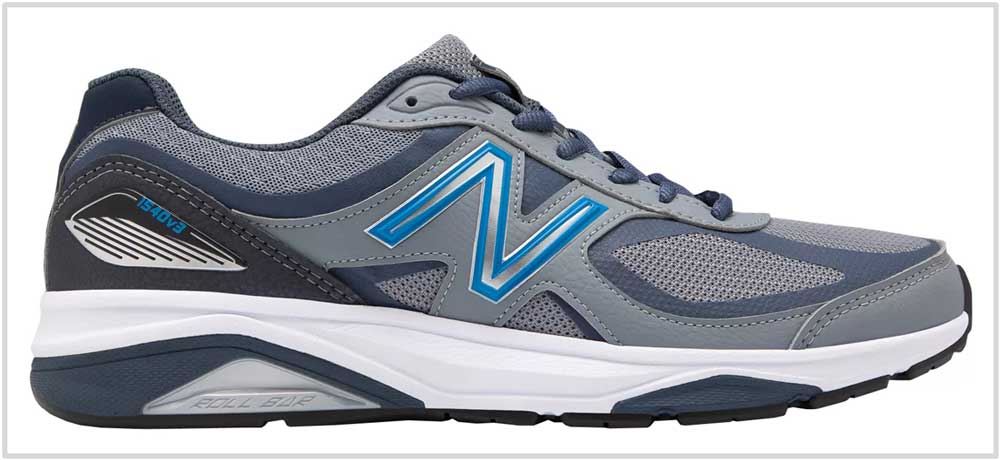 What? Another 15-ounce (14.9 to be exact) stability shoe? By now, we have realized that most US-produced New Balance shoes are either heavy-duty stability or walking shoes. But if you're are a part of the consumer demographic that prefers stiff and heavy running shoes, rejoice.
The 1540 V3 doesn't have a humongous medial wedge. Its stability manners come from the wide outsole geometry and the dual-density midsole with a sloped medial post and a TPU 'rollbar'.
The upper has a conventional cut-stitch-and-assemble design which, honestly, feels out of place on a shoe which retails at $170. While there's sufficient room upfront, the tongue is short and could do with more padding.
3) New Balance 990V5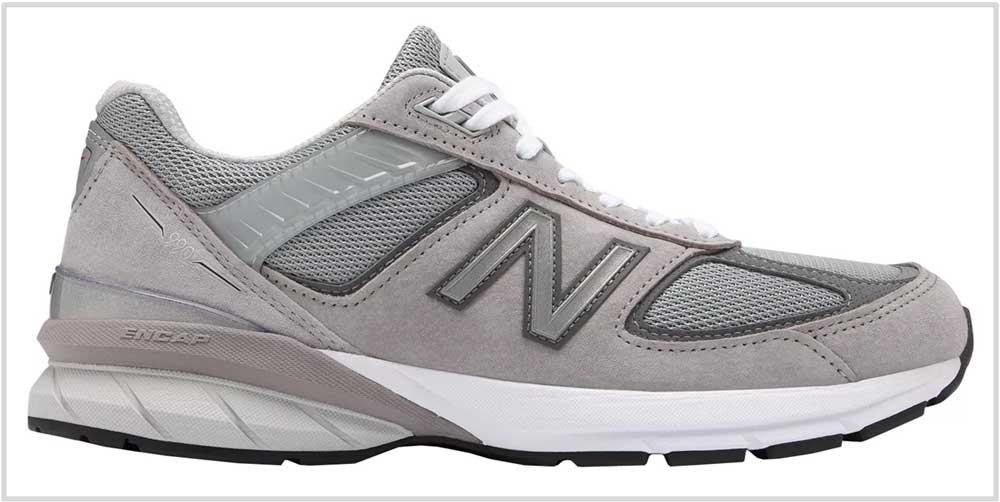 The 13.7-ounce 990V5 isn't your modern 'running' shoe. It uses midsole tech that was lost to time during the 1990s – like the Encap PU cassette with a softer EVA core. The upper is made of suede, closed mesh, and molded TPU trims – all relics of an era gone by.
With its cushy Ortholite insole and multi-density midsole, this is a comfortable walking shoe at best; run in the 990 at your peril.
Or in New Balance's words, "worn by supermodels in London and dads in Ohio."
4) New Balance Made in US 993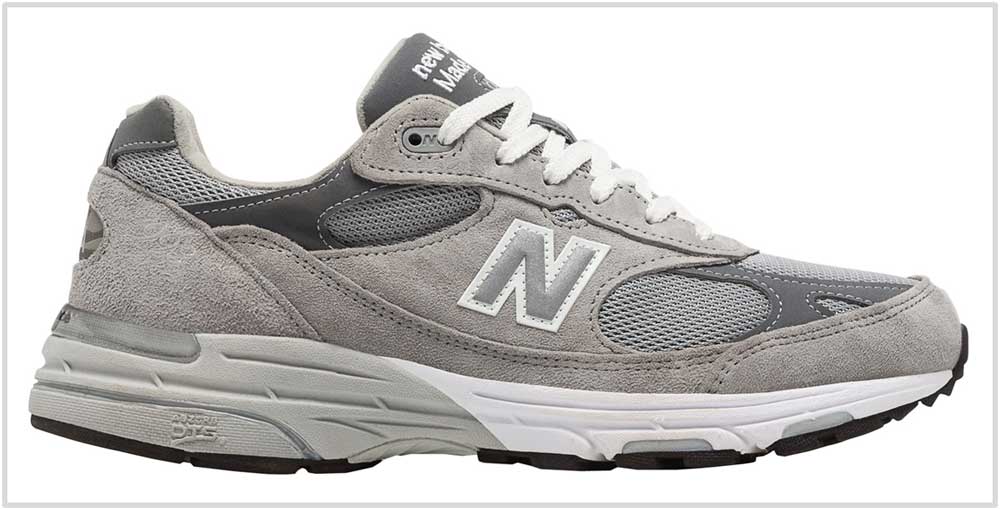 Nothing about the 993 suggests that it is a modern running shoe. It weighs over 400 grams, has a firm multi-density midsole, and has an upper covered with stitched overlays.
Acres of suede leather are sewn to the spacer mesh, and the outsole has rubber – lots of it. The tongue and heel have a soft and padded lining with a retro hand-feel.
In short, the 993 looks straight out of a dog-eared 90's yearbook. An age when 'online' shopping meant mail-order catalogs and not the internet.
And yet, the 993 has a couple of things going for it. One, it's assembled in the US. Secondly, it is a comfortable and stable shoe for low-impact activities such as slow running (aka jogging) and walks.
Also see: The New Balance 992.
Note: This article is about running shoes, but if you just want shoes for walking, the New Balance 847V3 is assembled in the USA. New Balance sells many US-made lifestyle sneakers too.