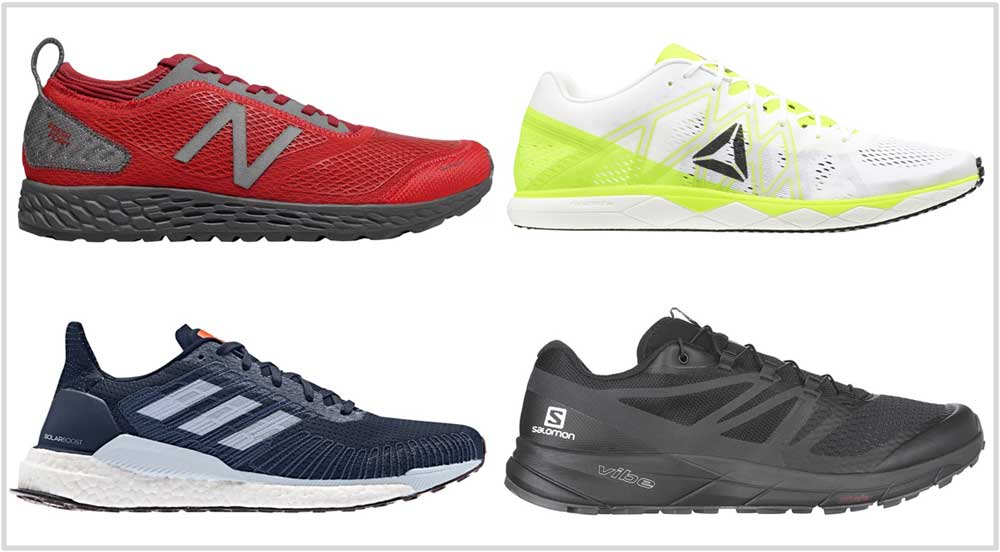 Amid all the hype surrounding new midsole foams or cushioning tech, the outsole often gets overlooked.
But it shouldn't be – an outsole is a very important component of a running shoe. No amount of midsole cushioning or springy responsiveness can salvage a running shoe with a poor outsole grip.
An outsole doesn't stop at just providing traction; it adds value in many different ways. A well-designed outsole works together with the midsole to make the quality of transitions better.
And depending on the material and geometry, the outsole also acts as a defensive layer from the small rocks and debris on the road and trail. Some brands use a more durable compound than the others, thus saving you money in the long run.
But let's not get distracted. This guide is about shoes with excellent outsole grip, so what factors determine that?
Several.
As with running shoes, things are never straightforward. Looking back at over a decade of running shoe wear-testing, a combination of two factors decide how good or bad the outsole grip will be. There are always exceptions, but the following selection criteria can help you find shoes with the best traction.
The outsole material
Automobile tires are an example of how various rubber compounds take the surface characteristics into account.
Firmer summer tires work on dry roads while a grippier and softer rubber are used for winter driving. Off-road motorcycle have knobby tires with aggressive lugs for grip over loose soil and rocks.
Running shoe outsoles work similarly. Softer, blown rubber lugs will generally grip the surface better than harder outsoles. That's one of the reasons why a few Brooks models are recommended today – their softer outsoles offer plenty of road grip.
A few brands are adopting semi-transparent outsole made of a harder compound. Saucony calls it Crystal rubber; Brooks markets it as something else. However, their high lifespan comes at a price; they aren't as grip-friendly as traditional blown rubber.
Brands also offer specific rubber compounds designed to grip better. They go by different marketing names like adidas x Continental, New Balance AT Hydrohesion, Salmon Contagrip MA or the Nike OR9. Then there are outsoles like the Saucony PwrTrac which are good for dry conditions.
So far, we've assumed that the outsoles are made of rubber. But what if the shoe in question doesn't have a separate outsole or uses a limited amount of rubber?
Examples of this would be models like the New Balance 890V7, the NB Beacon or Nike Free variants.
Foam outsoles deliver adequate grip on dry/wet roads and sidewalks. But throw in some slush, and the traction level will drop drastically. Likewise for smooth artificial floors which are dusty or freshly waxed.
Outsole geometry
The overall traction isn't only about the materials. The outsole design also influences the grip quality. Smaller and deeper lugs usually grip better than flat slabs – even if they are made of the same compound.
Outsole articulation or grooving also plays a role; a geometry which carves the outsole into different sections lets them operate semi-independently to provide traction where it's needed.
Trail outsoles aren't built the same way. While a higher count of longer lugs is also preferred here, these need to be spaced wider to prevent the mud from sticking. Some geometries are also optimized for both downhill and uphill traction. For instance, forefoot lugs might be angled forward and downwards while the rear does the opposite.
We get it. Outsoles are complex. The best we can do is to list running shoes with above-average levels of outsole traction, and you can work your way up from there.
As always, the guide is arranged by groups first (road and trail shoes) and then sorted alphabetically by brand.
Category 1: Road running shoes
1) adidas SolarBoost 19
The SolarBoost has a single-piece outsole of Continental rubber with sufficient traction over dry and wet surfaces.
The surface contact area of the rounded, flat-faced lugs helps with the grip quality – and so does the flexible nature of the Stretchweb design.
Also see: The adidas Solar Glide 19.
2) adidas adizero Boston 8
This lightweight trainer for faster runs uses the same outsole material as the SolarBoost but in a slightly different layout.
Nonetheless, the result is the same; the Continental rubber outsole feels reassuring grippy during those speed workouts.
Also see: the adidas adizero adios 4.
3) Brooks Ghost 12
The Brooks Ghost 12 doesn't use a branded rubber compound, but two factors give it an edge over the others in the traction department.
Soft blown rubber is molded into small lugs for optimal grip over most running surfaces.
Also see: The Brooks Glycerin 17
4) Brooks Adrenaline GTS 19
The same factors which help the Ghost 12 grip well over the roads also apply to the Adrenaline GTS 19.
If you're looking for a supportive running shoe, the GTS 19 is a better choice than the Ghost or Glycerin.
5) New Balance 1080V9
Hexagonal lugs molded out of a pliable blown rubber compound is the reason why the Fresh Foam 1080V9 on this list.
The outsole material and geometry join forces to produce superior road traction.
6) New Balance 1400V6
Generally speaking, road-racers grip well. The 1400V6 doesn't disappoint.
The 1400 doesn't have the molded lugs of the Hanzo but makes up for it with an outsole which grips via a colony of small, sharp rubber lugs.
Also see: The 1500V5
7) New Balance Hanzo S
The Hanzo S V2 feels like a spike, but for the road.
Super-aggressive lugs are mounted on the forefoot for speed-crunching traction. The snug-fitting upper also locks the foot in for better control.
8) Nike Air Zoom Pegasus 36
Both the geometry and rubber formulation come together on the Pegasus to deliver confidence-inspiring traction over the roads.
Fine lugs cover both the inner and outer outsole for multi-directional grip. The segmented layout also helps each section grip efficiently.
Also see: The Nike Vomero 14
9) Reebok Floatride Run Fast pro
Reebok's 'Speedtrac' outsole isn't made of regular rubber. Like the New Balance Hanzo, tacky lugs are molded separately over a substrate to produce unparalleled traction.
Unlike the Hanzo, the Run Fast Pro's entire outsole is made using this technology. The shoe is super pricey, but then, it's got a lot to show for that price.
Also see: Reebok Floatride Run Fast.
10) Saucony TypeA9
The Type A9 is another road-racer which uses an outsole made of specialized rubber.
Not only does the outsole have a sharp geometry which means business, but it also uses Saucony's PwrTrac compound for enhanced grip on the road.
Category 2: Trail Running
1) adidas Terrex Agravic XT
Trail shoes depend on a combination of lug design and rubber materials to deliver traction on wet and dry surfaces.
On the Terrex Agravic XT for example, deep lugs are spaced widely on a Continental rubber outsole to grip effectively during trail runs.
2) New Balance Fresh Foam Gobi V3
The Gobo V3 isn't your average Fresh Foam product. This is a trail-ready running shoe with an outsole which is designed for use over both dry and wet surfaces.
New Balance's Hydrohesion rubber is laid out in an even distribution of knobby pentagons for dependable grip.
3) New Balance Summit KOM
The 'Megagrip' outsole sourced from Vibram relies on a Golf-spike inspired design for multi-directional usage over dry and wet trails.
This speed shoe also has a rock-plate – just in case you're looking for a trail shoe which excels in both outsole grip and forefoot protection.
4) Nike Terra Kiger 5
The Terra Kiger's clawy outsole is made of a stickier 004 compound for traction over slick trail surfaces.
With a segmented rock plate, the Kiger 5 is a definite upgrade over the last year's model.
5) Salmon Sense Ride 2
The Sense Ride 2's versatile outsole combines a grip-friendly tread design with sticky Contagrip MA rubber for traction under various trail-running conditions.
The deep flex grooves in the front and rearfoot partially allow the outsole sections to move and provide grip efficiently.