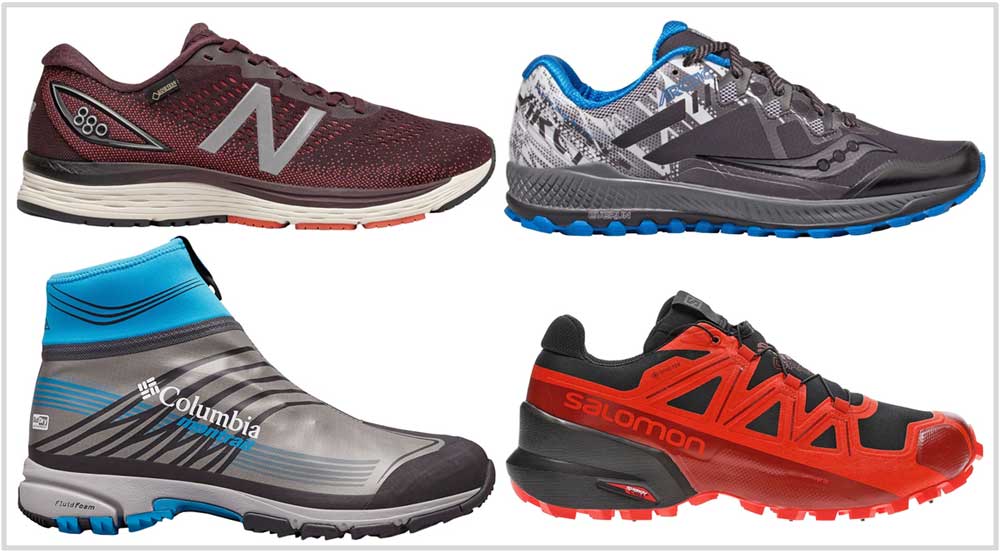 Unless you live in the Southern Hemisphere, summer is slipping by. We'll soon be packing our tees and sandals, and bring out the cavalry – quilted jackets, caps, gloves, and such.
And shoes. To be specific, running shoes.
Not all winters are the same. There are places where 'winter' temperatures hover around 18° C/65° F . In which case, you don't even need to read this article. Just read any of our neutral, stability, or women's buyer's guides to choose a shoe of your liking.
This curated list is for the more serious stuff. The kind which, at the very least, brings temperatures of 4° C/39° F and colder. With severe winters also come snow and treacherous, icy sidewalks.
That brings us to another sub-topic. Are you going to be running in an urban environment or outdoors? If winter running for you means doing so in snowy trails, then you're going to need a lot more than just waterproofing.
Running on ice requires a different set of footwear features – one which includes an outsole designed especially for ice. Because under icy conditions, even an otherwise 'sticky' rubber compound which usually works on wet, slippery surfaces fall short of the necessary performance standards.
Thus, it makes sense to carve this guide into three sections. We'll begin with the mildest category first. These all-purpose road running shoes are waterproof for protection from the winter rains. When worn with the right pair of socks, the uppers insulate the foot against the cold too.
The next group has running shoes which can be worn in the snow. A typical scenario would involve running on snowy sidewalks or flat trails in the park. Waterproof trail running shoes perform well under these conditions. An aggressively lugged outsole will provide decent traction as long as it's not icy.
There's another kind of snow running, the one which happens outdoors on the flat, open trails or in the mountains. Unfortunately, these running paths usually fall outside the jurisdiction of snow-clearing machines. As you're pretty much on your own, you need a high-top running shoe which grips well and keeps your feet dry and warm.
The last kind of winter running is hardcore, a place where others fear to tread. And with good cause, since we're talking about ice here.
Unlike snow or wet roads, slippery ice-covered surfaces are the last place you'd want to run on. But you know what? A few brave souls do run on ice, so the fourth category covers ice-friendly running shoes.
To sum up, here are the features we're looking for in a winter-ready running shoe. The weightage of a particular attribute will depend on the level of winter hostility, but most shoes on this guide have them in some form or the other.
A) Waterproofing: Regardless of whether you're running in snow-free winter or a snowstorm, a waterproof upper is a must-have. The use of a Gore-Tex membrane is a good marker of waterproof-ness but proprietary technologies like Columbia's OutDry are effective as well.
B) Thermal insulation: Most waterproof shoes meet this criterion when combined with a pair of winter socks. Running shoes meant for extreme winter will also be made of a durable exterior which blocks the wind.
C) Low light visibility: One doesn't get a lot of sun during snowy winters. If that's the case, you need to make yourself visible in low light conditions. A reflective trim on the upper helps. Some models like the Salomon Speed Cross Nocturne have 360-degree reflectivity. Even Nike's seasonal Shield collection (not on this guide yet) fares well in this regard.
D) Choice of a low or high top silhouette: You'd require an ankle-high shoe if your winter runs take place in the open outdoors. When worn with a waterproof running bottom or gaiter, the extra height will keep the snow, debris, and water out.
E) Outsole traction: Dry, wet, snowy, and icy conditions all demand different kinds of rubber compounds. It's similar to the difference between all-season and winter car tires. This is particularly true of running on ice when even 'sticky' rubbers won't cut it.
Then there are universal requirements such as a cushioned ride and a comfortable upper with a secure fit.
Without further ado, here are the best shoes for running in the winters. They are grouped by the weather categories they are supposed to be used in.
For running in cold winters with rain and mist:
These shoes for meant for slightly milder winter conditions without snow. But you might encounter the occasional winter rain and misty conditions which will soak summer running shoes. Here, you require water-repellent uppers which keep your feet dry.
There are no Nike models here – yet. We'll update this section once Nike releases the updated 'Shield' collection in fall – so check back sometime in October. We're also hoping that the Salomon Snowcross and the Saucony Razor Ice models will be updated. If that happens, we'll include them as well.
1) Asics GT-1000 8 GTX
The Gore-Tex version of the GT-1000 is basically the same shoe as the road edition except for the trail-biased outsole and a waterproof upper. This change also makes the upper sufficiently warm for cold-weather running.
Despite having a medial-post, the 1000 rides like a cushioned neutral shoe for daily training runs. The retail price is decent for a running shoe with a GTX lining.
2) adidas UltraBoost All Terrain shoes
If the Ultraboost ATR looks like a warm pair of socks from afar, that's because it happens to be one. An elastic cuff is integrated into the water-repellent knit upper for a sock-like feel.
The hard plastic part is limited only to the lacing eyestay. Thus, you're spared the intrusive plastic midfoot cage of the Ultraboost OG. The heel has reflective bits for low-light visibility.
The full-length Boost midsole creates a plushly cushioned ride experience. And this being Boost foam, you don't have to worry about the shoe firming up in the cold. adidas's tried-and-tested Continental rubber outsole is molded in an outdoor-friendly lug geometry for traction over damp surfaces.
3) Brooks Ghost 12 GTX
This is a waterproof and insulated version of the road-going Ghost. The rest of the shoe is the same – except for the higher sticker price, that is.
A cushioned and supportive daily trainer is an apt description of the Ghost. So if you intend to carry your training runs into the winter, the Brooks Ghost 12 GTX is a good shoe to do them in. The upper fits just right and covers the foot in plush comfort.
The shiny heel trim makes the Ghost 12 suitable for darker days as well.
4) New Balance 880V9 GTX
Only a tiny 'Gore-Tex' label stitched into the heel gives away the New Balance's 880's waterproofing capabilities.
Otherwise, the 880V9 GTX is nearly identical to the standard 880. Along with the blown rubber outsole, the dual-density midsole provides plenty of cushioning for all-weather runs. Do note that the outsole isn't custom-designed for snowy conditions, so limit shoes like the 880 and the Brooks Ghost to damp roads at most.
Snow running shoes – urban:
Use these running shoes for snow-covered sidewalks and parks. The longer lugs of these waterproof trail shoes bite well into damp surfaces while the waterproof uppers keep your foot dry and toasty. On the other hand, if running in deep snow is your game, skip this section and head to the next one.
1) adidas Terrex Agravic XT GTX
Thanks to the full-length Boost midsole, the Terrex Agravic GTX offers plenty of cushioning for long winter runs. The wide-spaced lugs of the Continental outsole provide reliable traction without clogging.
The upper is waterproof and protective due to the Gore-Tex lining and an upper design which incorporates fused Urethane reinforcements over a closed mesh.
2) Altra Lone Peak 4 Low RSM
The RSM in the shoe's name stands for Rain, Snow, and Mud. This is the winterized version of the standard Lone Peak so there are few extras. Like the eVent waterproofing membrane, a more protective toe-cap, and fused midfoot overlays (vs. stitched on).
Like the regular version, the outsole is made of a tacky compound for multi-terrain traction. Gaiter attachments are provided should you decide to use one. We'd like to point out that there is a high-top version of the same shoe in case you're planning to run in ankle-deep snow.
3) Asics Gel-Sonoma 4 GTX
Running shoes with Gore-Tex membranes tend to run expensive, so the Sonoma 4 GTX is a pleasant surprise from a pricing viewpoint.
This waterproof shoe will keep you warm and dry on a budget while doing everything which is required of a winter running shoe. The trail-friendly outsole is good for slushy roads and tracks with light snow. The upper uses a closed mesh and a combination of fused and stitched overlays for protection.
Cushioning the foot is an Amplifoam midsole which works for most daily runs.
Also see: The Saucony Excursion TR12 GTX
4) Salomon Speed Cross 5 GTX Nocturne
This is the shoe for dark winter mornings when there's very little light and plenty of snow. The Speed Cross 5 GTX Nocturne is the only product in the guide with 360-degree reflectivity.
In other words, the fused overlays on the waterproof upper are all made of a shine-back material so that you're visible to the others in an urban environment.
The foam midsole and the Ortholite insole offers cushioning for the miles, and the sharp lugs of the Contagrip TA outsole possess the traction you need.
Also see: The Salomon Sense Ride GTX Nocturne
Outdoor snow running shoes:
This is where things get serious. Outdoor running – be it on mountainous or forested terrain – means deeper snow, freezing slush, and more debris. Under the circumstances, a high-top shoe shields the foot better against the elements as compared to low-tops.
1) Columbia Mountain Masochist IV Outdry Extreme Trail running shoes
This is how the shoe works; there is a proper shoe inside the waterproof gaiter which is to be adjusted independently. Once cinched, you can pull up the zipper to create a waterproof shield which keeps the water, snow, and dust out.
The waterproof OutDry gaiter also blocks the wind and locks the warmth in. The Trailshield and Gryptonite outsole work together to deliver traction and protection. Use with winter running socks for best results.
Ice Running shoes:
If you're so hardcore that you're willing to trade the comfort of your treadmill for running in the icy outdoors, then lace these shoes up.
1) Saucony Peregrine 8 ICE+
We expect Saucony to release the ICE+ version of the Peregrine ISO soon. But for now, the Peregrine 8 ICE+ is what we have.
Very few running shoes use Vibram's Artic Grip rubber – a compound specifically designed for wet, icy conditions. This makes the Peregrine the ideal shoe for your icy winter runs.
The ICE+ version is based off the regular Peregrine, so you get the same comfortable Everun Topsole+ EVA midsole cushioning. The upper uses welded layers over a ripstop mesh and does a decent job of keeping the foot warm and free from dust. You can ramp up the insulation quotient by wearing a pair of wool running socks.
We will do a full review of the Peregrine ICE+ as soon as the running conditions become unsuitable.
2) Salomon Spikecross 5 GTX
As far as winter running goes, this is the nuclear option. After all, what kind of running shoes come with Tungsten spikes?
This extreme adaptation of the Salomon Speedcross adds a dozen spikes to an already sticky Contagrip outsole for universal traction on loose/compact snow and ice.
The upper is protected from the outside dampness by a full Gore-Tex bootie. Cinching the shoe comes easy with the bungee quicklace system – which is just the thing for gloved hands during the cold winters.