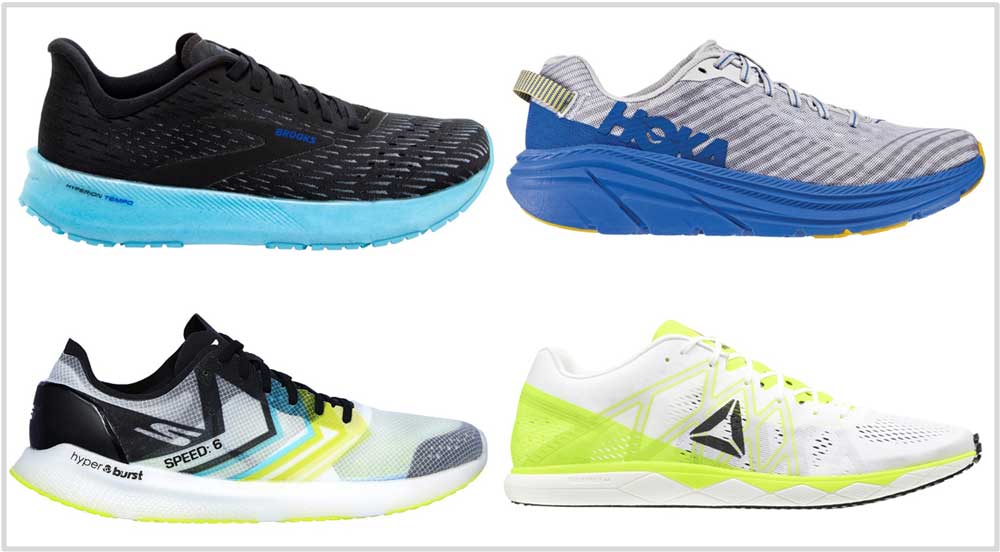 This article has been updated with current models for May 2020. The Brooks Hyperion Tempo, Hoka Rincon, New Balance Fresh Foam Tempo, Reebok Run Fast Pro, Saucony Kinvara 11, Skechers GoMeb Speed 6 are new additions. The New Balance Hanzo SV2, Nike Epic React, and Nike Vaporfly 4% have been removed.
The easiest way to write this guide would be to compile a list of lightweight running shoes with their weight sorted in ascending order.
But that would be a completely pointless exercise, for that list would be full of impractical racing flats and little else. A better way is to group the shoes by use-cases – in the same way some of our other guides are structured.
If this guide was written ten years ago, most lightweight shoes would feature injection-molded EVA midsoles with a token outsole placement.
Back then, running shoes had to conform to a strict weight budget – cuts made in one place had to be made up elsewhere. Design and material cutbacks usually meant a compromise in performance or durability.
Not any more. In 2020, lightweight running shoes match – and sometimes exceed – the median lifespan.
While the midsole foam materials have improved a lot, lightweight shoes are also the result of the upper and outsole. Single-piece knit or engineered mesh uppers help cut down on weight, as do thinner outsoles.
Thick outsoles made of superior rubber (eg. Continental) are still the most durable kind. At the same time, brands use a combination of improved compounds and clever engineering to reduce weight without a durability trade-off.
For example, the Pegasus Turbo 2 uses perforated thin lugs that flex together with the soft midsole. The New Balance Beacon 2 plugs small rubber lugs over what is otherwise an all-foam outsole.
Not long ago, 12 – 13 ounces was the acceptable weight range (refer to our 2011-2012 reviews) for a running shoe. Today, solereview will instantly dock a few points if a shoe weighs a sliver over 11 ounces.
In most cases, a lighter running shoe is always better. You're carrying less weight for every mile of your run, thus making the shoe less of a distraction. Runners love the NB Beacon or Reebok Run Fast Pro not just because they're cushioned and versatile but also how light they are.
Trail running shoes are an exception – removing things like the rock plate, a rugged outsole, and protective upper overlays affect the functionality. For example, the Saucony Switchback ISO is a great shoe but is limited to milder outdoor terrain due to a few missing features.
Also, certain stability shoes can't do without additional support features. Models like the Brooks Beast 20 or the Saucony Hurricane 13 have wide midsoles with raised rims and plastic stabilizers. Here, a lighter build will water down the functional proposition.
The bar for the 'lightest' tag isn't the same for every category. It would be unfair to expect a cushioned, high-mileage oriented shoe to weigh the same as a racing flat.
This guide is divided into three categories. The first group contains cushioned running shoes suitable for daily runs to a marathon. All these shoes have a high-volume midsole for long-distance comfort. Skechers rules this category thanks to its featherweight HyperBurst foam.
The second category has road racers and speed-friendly trainers in them, and the third has a couple of trail running shoes.
Category 1: The lightest cushioned running shoes
1. New Balance Fresh Foam Beacon V2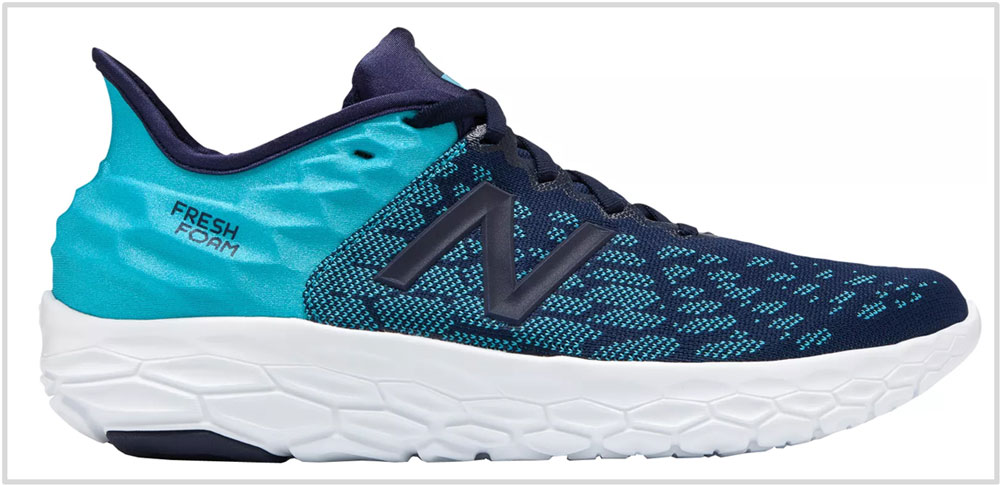 Of late, there have been so many Fresh Foam intros. It was hard to imagine that a new model would offer something different. But here we are – the Beacon made its debut in 2018 to unanimous praise. The V2 is the second year refresh, one that has the same ride as the V1 but with an updated upper fit and feel.
While there is no such thing as perfection, the Fresh Foam Beacon V2 differentiates itself by being an extremely lightweight and cushioned shoe. It takes a few good things from the old Zante design and borrows character traits from the Boracay. The end product is a running shoe that is useful for most runs – all at a low weight footprint.
Weight: 7.6 ounces or 215 grams.
2. Brooks Hyperion Tempo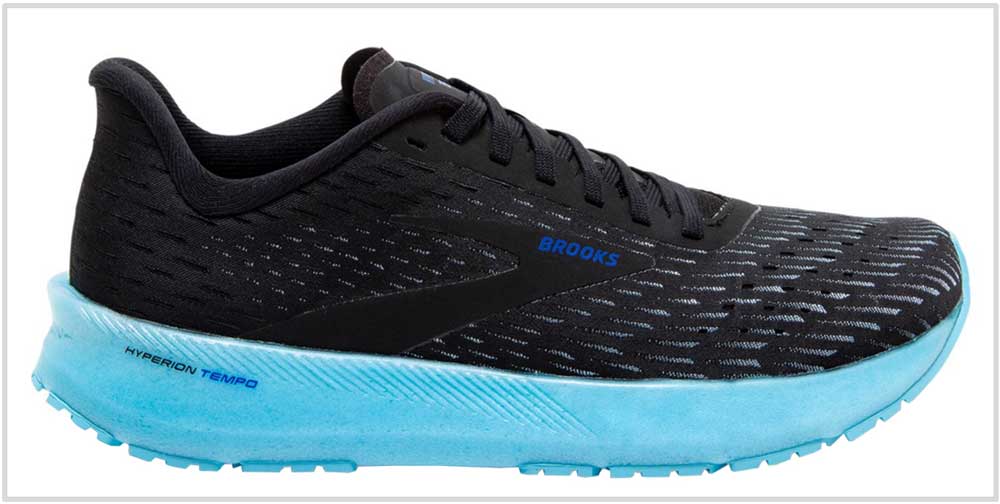 Brooks ups its lightweight shoe game with the Hyperion Tempo. For years, Brooks' assortment was based on comfortable but somewhat clunky products.
The Hyperion Tempo reverses that trend and offers a generously cushioned ride that is also lightweight. And by 'light', we don't mean 10-ounces. The Hyperion weighs just a smidge over 7-ounces. For a brand that sells mega trainers like the Beast and Transcend, that's saying something.
If it weren't for the outsole rubber, the Hyperion could have been lighter. But the extra rubber does make the shoe durable and grippy, so it's no loss.
The 8-mm drop midsole plays a huge role in weight savings. The 'DNA Flash' foam is akin to Skechers' HyperBurst, so the ride quality is similar. The firm cushioning is long-distance and tempo-friendly.
The snug upper is also unlike Brooks. Plushness is all but absent, with foam padding and aesthetically-pleasing overlays kept to a bare minimum.
Is the idea of the Hyperion Tempo original? No. But is it a lightweight and speed-friendly distance trainer? Yes.
Weight: 7.3 ounces or 207 grams.
3. Hoka One One Rincon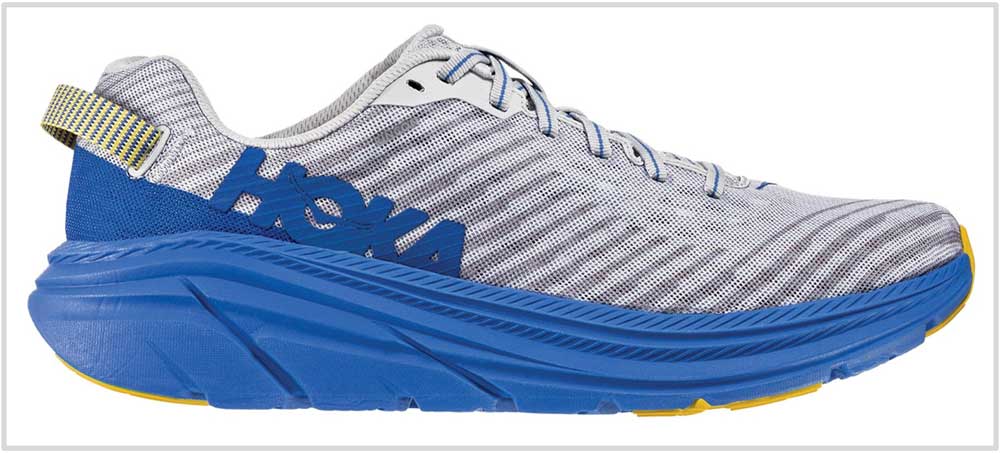 There are a couple of reasons why the Rincon weighs less than 8-ounces. This shoe sticks to the original Hoka template by minimizing the use of outsole rubber and leaving most of the cushioning work to the lightweight EVA foam midsole.
There's not much on the upper either. A single-piece, single-layer mesh forms the outer shell to create a secure and smooth fit. The tongue and heel are lightly quilted to make things comfortable in the back.
The Rincon is a great example of a maximally-cushioned shoe that is also lightweight. It doesn't cost as much as other maximal Hoka models, so that's a bonus.
Weight: 7.7 ounces or 218 grams.
4. Nike Zoom Pegasus Turbo V2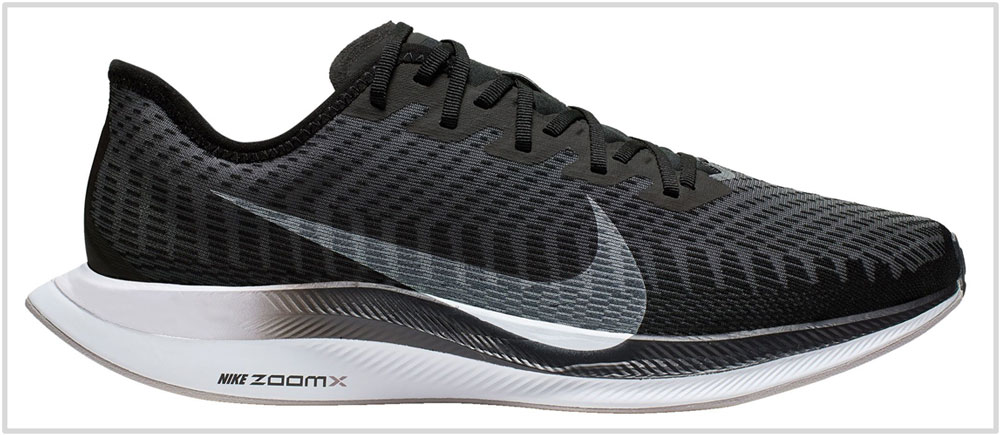 Love it or hate it, one can't ignore the fact that the Pegasus Turbo V2 offers one of the best cushioning-to-weight ratios in the business. The dual-density midsole has superlative cushioning that is capable of many things, be it daily workouts or a marathon.
The lack of midfoot rigidity might be unsettling for some – that, and the price are potential deal-breakers.
Weight: 7.7 ounces or 218 grams.
5. Skechers GoRun MaxRoad Hyper 4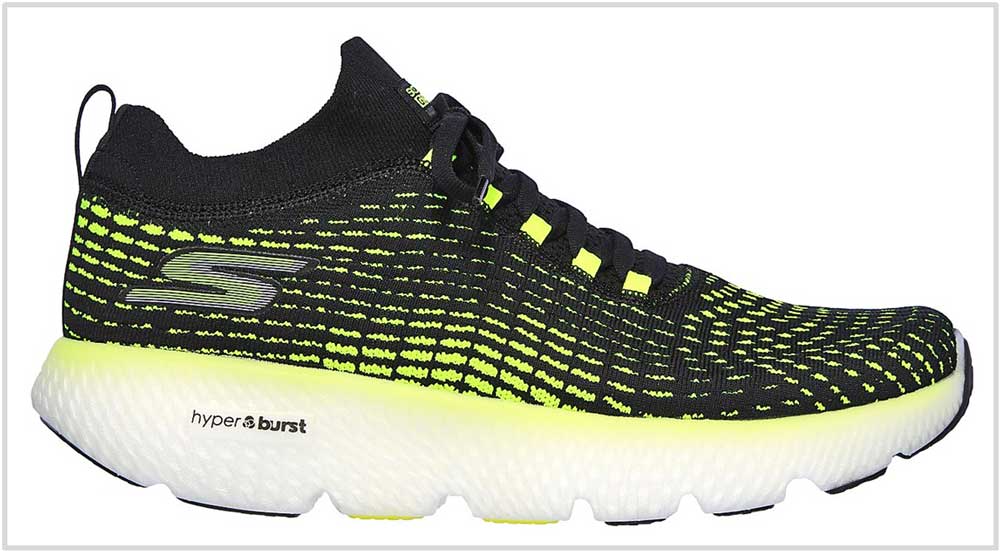 The MaxRoad Hyper 4 replaces the excellent MaxRoad 3 Ultra. Despite the use of the HyperBurst midsole, the V4 doesn't have a weight advantage – perhaps it's the thick and warm upper offsetting the gains?
Regardless, the Hyper 4 weighs just over 8-ounces; that's respectably lightweight for a max-cushioned shoe. Do note that the Hyper 4 isn't as soft as the outgoing V3. The bubbly HyperBurst foam has better responsiveness but lacks the plushness of the Max 3.
Weight: 8.4 ounces or 238 grams.
Also see: The Skechers GoRun Ride 8.
Category 2: The lightest road racers and fast trainers
1. Reebok Floatride Run Fast Pro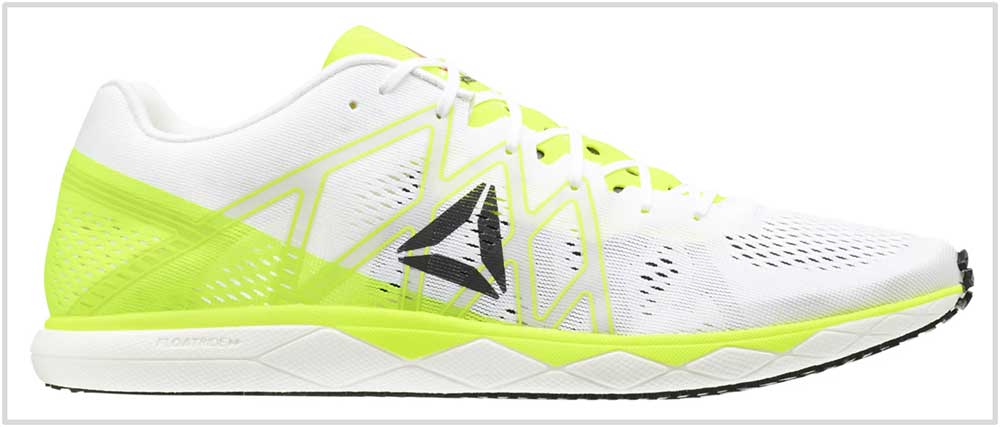 At a retail price of $250, this shoe is frightfully expensive. But then, it's rare for a racing flat to weigh 3.5-ounces (99 grams) and still manage to pack decent levels of ride comfort.
And what exactly does one get in return for that price tag? A featherweight Pebax foam (Floatride) midsole that is nowhere as harsh as traditional racing flats. There's also a full-length outsole that is dual-stenciled for weight savings and phenomenal traction.
Topping all of that is a breezy upper that disappears over the foot.
2. Skechers GoMeb Speed 6 Hyper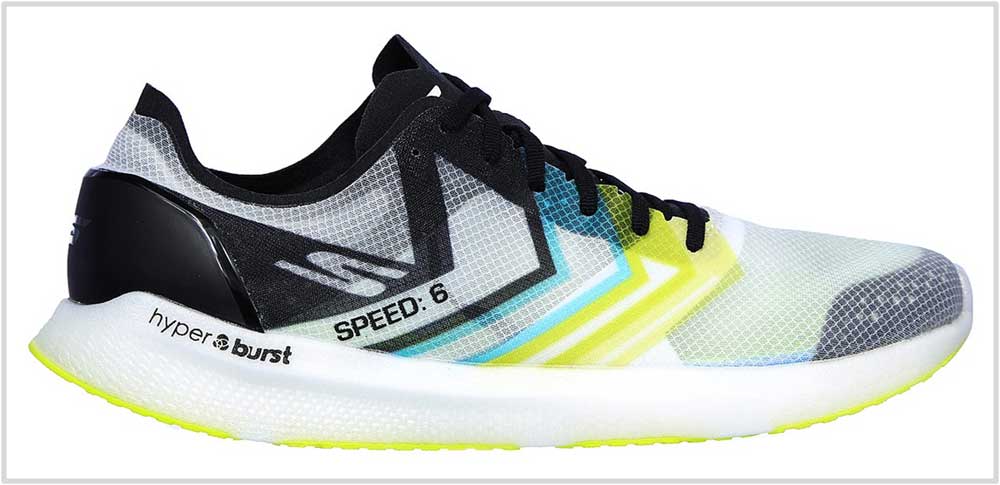 The GoMeb Speed 6 Hyper isn't in the same weight class as the Reebok Floatride Run Fast Pro. That said, a 5.2-ounce (147 grams) weight is an achievement – especially when you consider the full-coverage Goodyear-branded outsole.
The Hyper foam isn't soft – its firm density works best on low-profile midsoles such as the GoMeb Speed. The lightweight midsole provides excellent feedback while protecting the foot from the landing forces. We see the Speed 6 as the ideal speed shoe for up to 10-mile distances.
As with most Skechers, the synthetic-feeling upper with a plastic heel clip isn't perfect but there are no serious flaws either. The sizing fits small so we recommend to buy a half or full size larger. (US 9 = US 9.5 or US 10)
3. Skechers GoRun Razor 3 Hyper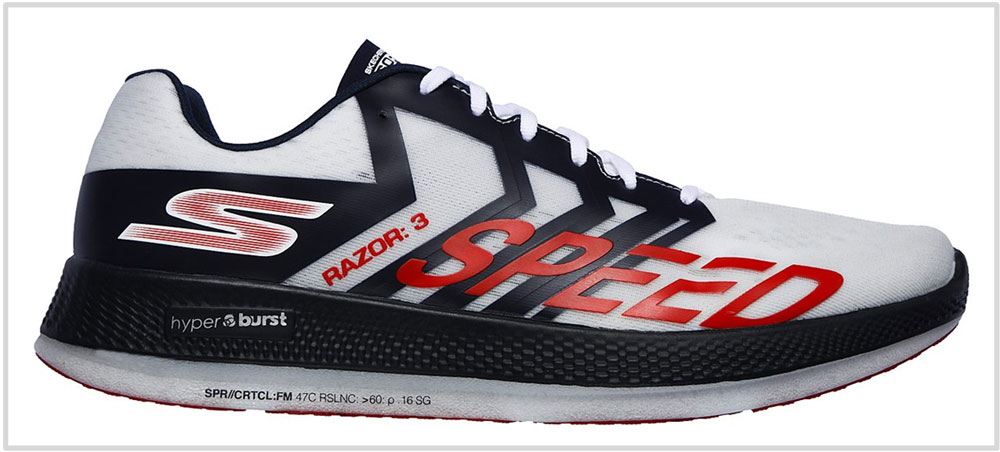 If hard-on-your-feet racing flats aren't your preferred choice of footwear, buy the Skechers GoRun Razor 3 Hyper. The latter isn't a racing flat – it's more like a speed-friendly shoe with lots of cushioning.
The Hyper Burst foam midsole provides an optimal mix of cushioning and responsiveness – all within a 6.4-ounce (181 grams) silhouette. If you're planning to run longer while maintaining threshold speeds, then the Razor 3 is the right shoe for the job. The upper fits narrow and somewhat shallow.
Also see: Reebok Floatride Run Fast 2.
4. Saucony Kinvara 11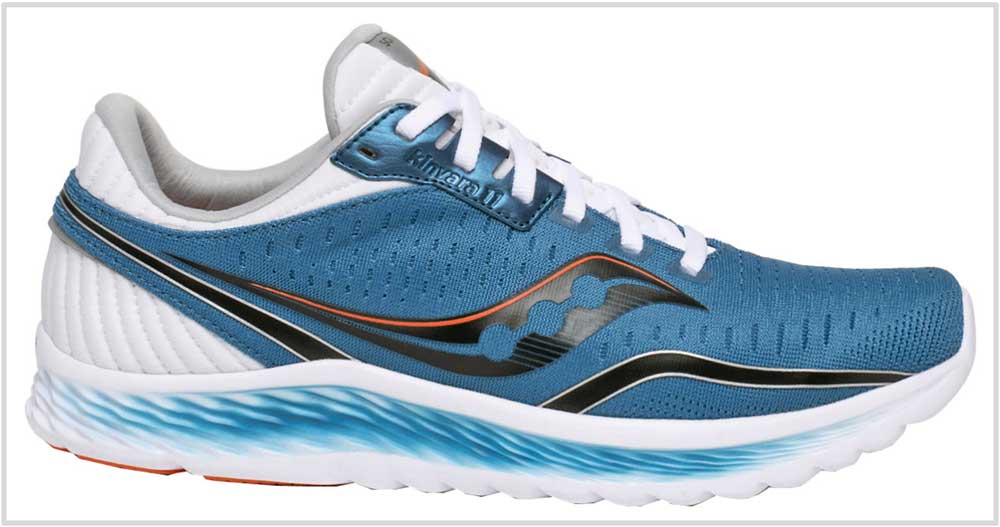 Except for the redesigned – and slightly snugger upper, the Kinvara formula hasn't changed since the V10. The shoe still weighs below 8-ounces and has the low-drop, medium-soft ride that delivers the versatility everyone loves.
The midsole has changed to Pwrrun (from the last year's EVA+) but the results are the same. There's enough cushioning to make runs of most distances comfortable. At the same time, it's not slow; the new foam is resilient and has ample ground feedback for tempo runs.
Weight: 7.8 ounces or 233 grams.
5. New Balance Fresh Foam Tempo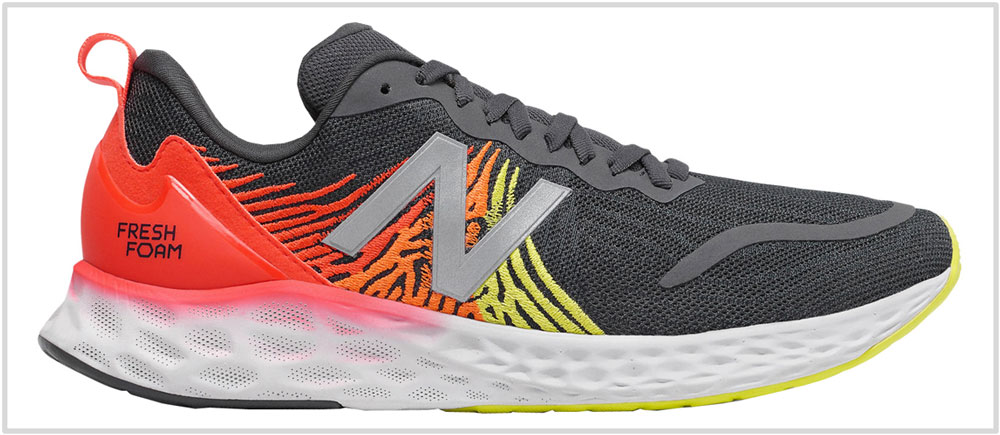 At just under 9-ounces, the Fresh Foam Tempo isn't the lightest of the bunch. After all, the Tempo shares screen space with 3.5 Oz and 5.2 Oz marvels like the Reebok Run Fast and the Skechers Speed 6.
And yet, the Tempo manages to hold its own among other lightweights. This is a shoe that is modeled on the Zante, so it packs a lot of the Z-shoe goodness. The Fresh Foam EVA midsole has a comfortable ride that doesn't feel lacking under higher speed tempo runs.
The snug-fitting upper is also comfort-oriented and a perfect fit for the do-it-all midsole.
Weight: 8.7 ounces or 247 grams.
Category 3: The lightest trail running shoes
1. New Balance Summit Unknown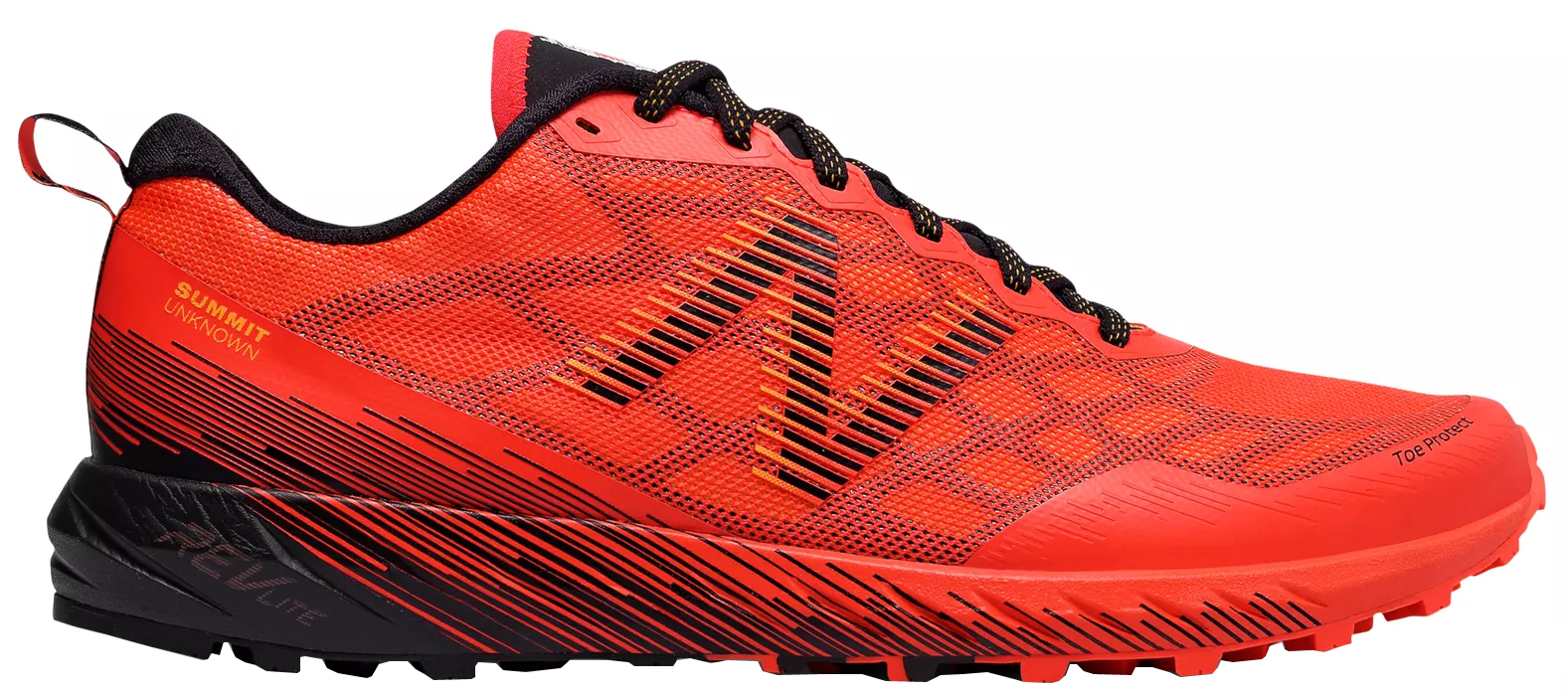 The New Balance Summit Unknown replaces the Vazee Summit – this means that the Unknown is a lightweight trail shoe meant for speed-work. This shoe weighs less than 9 ounces but offers all the essentials.
The forefoot has a protective rock-plate, the upper has a synthetic toe-bumper, and the aggressively treaded rubber outsole does what it's supposed to.
The midsole is constructed using dependable Revlite foam which balances cushioning with ground feel.
Weight: 8.6 ounces or 243 grams.
2. Saucony Switchback ISO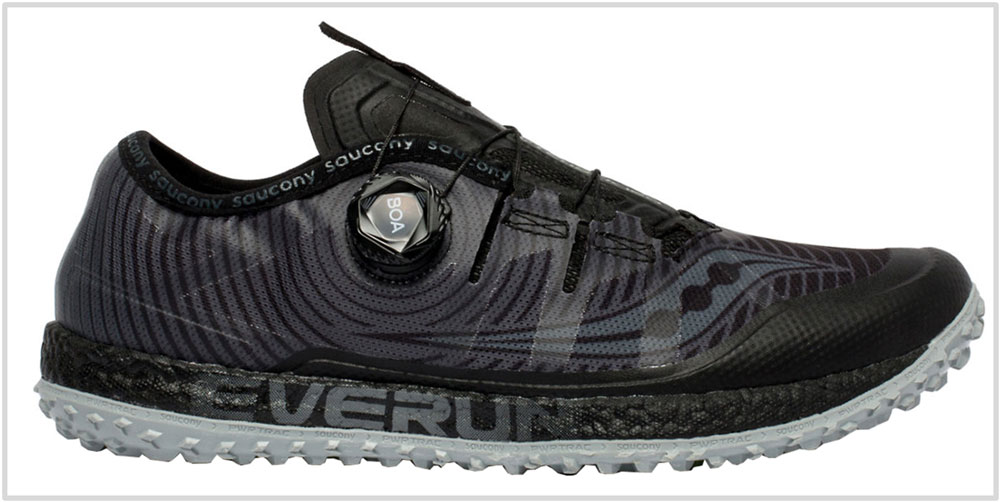 If your trails runs do not call for a forefoot rock plate, then the sub-10-ounce Saucony Switchback ISO should be on your radar. This is the only Saucony model where the ISOFIT complements the upper fit instead of being gratuitous. It meshes perfectly with the BOA dial-fit system for a great fit.
There's plenty of midsole cushioning – hello there, Everun – with the Saucony PwrTrac outsole providing traction and terrain protection. That is why, even though the Switchback is a lightweight trail shoe, it feels noticeably bottom-heavy.
Weight: 9.8 ounces or 278 grams.