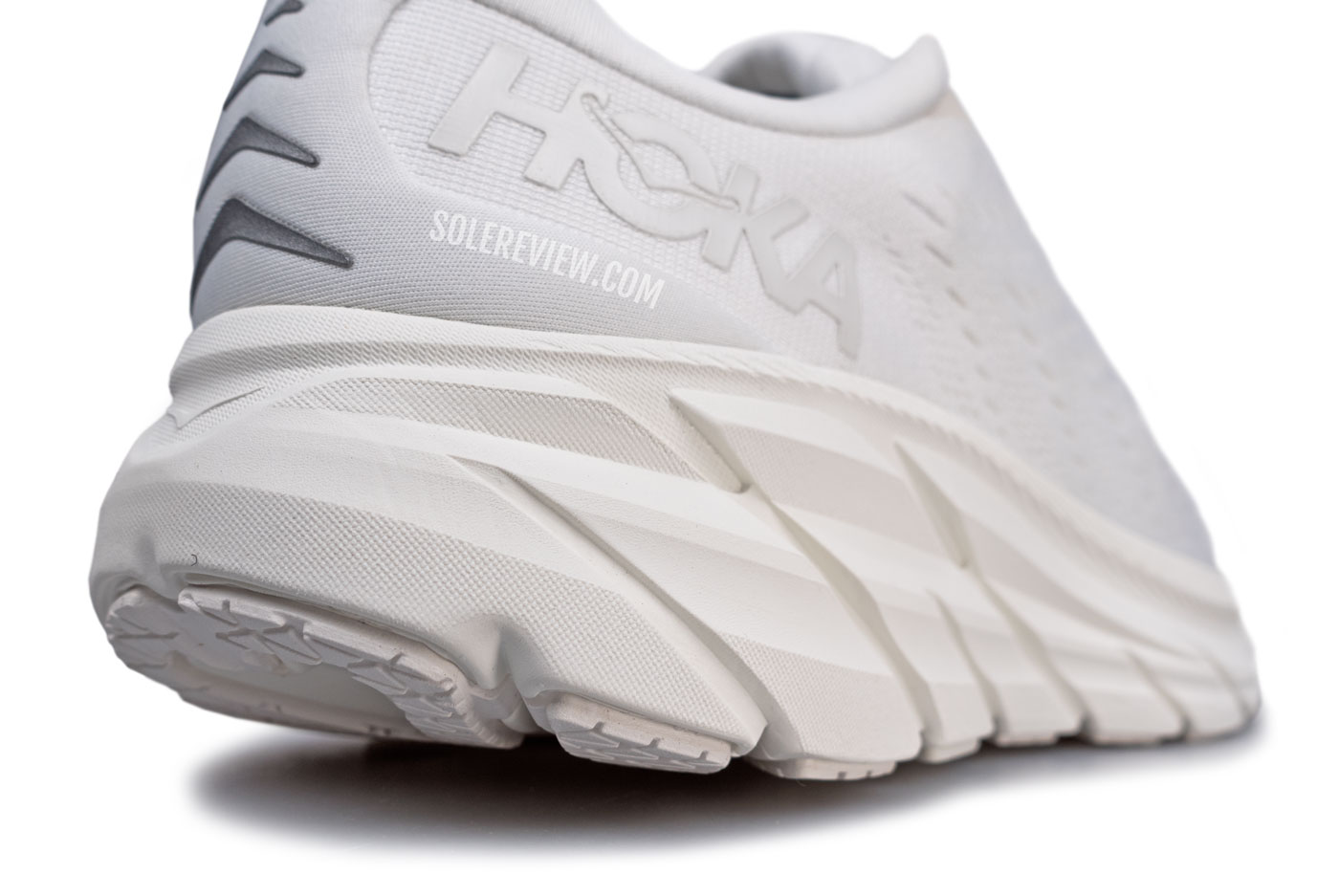 This article has been updated with current models for October 2022. The Hoka Clifton 8 is a new addition.
In our product guide for white sneakers, we called an all-white shoe the purest expression of footwear design. And that makes sense, doesn't it?
The absence of bold colors or contrasting patterns means that a white shoe needs to succeed on its merits – like the materials, construction, and even intangible strengths like a retro backstory. Evergreen classics like the adidas Stansmith and Nike AF1 fall in that category. A white sneaker is also a fashion staple that's loaded with style versatility.
Having said all that, we don't see a use case for all-white running shoes. White running shoes are easy to get soiled, and even more difficult to clean.
Unlike a sneaker that's usually made of leather or canvas, a running shoe is a mélange of meshes, synthetic overlays, outsole rubber, and foam midsoles.
A creased foam midsole is harder to clean than, say, a rubber cupsole of an adidas Stansmith or Vans authentic. A white mesh upper is also a dirt magnet.
But there's another reason why most brands steer clear of white-on-white performance running shoes. Sure, the low demand plays a role, but only industry insiders know how difficult it is to get an all-white running shoe right during manufacturing.
To be specific, the color matching of white components is a daunting task. It's very difficult to achieve an exact color match across the mesh, synthetic overlays, foam, and rubber parts.
For example, the mesh could be brilliant white, whereas the rubber outsole usually has a dull or matt finish. Here, the ON Cloud 5 is a good example – the upper uses mesh and synthetic bits, whereas the foam and rubber are white too. As expected, not all the white components match perfectly.
But all is not lost; there are many options when you go shopping for white running shoes. And that's what this product guide is about. There's even a trail running in here – the Salomon XT6.
1) All white Nike Pegasus 39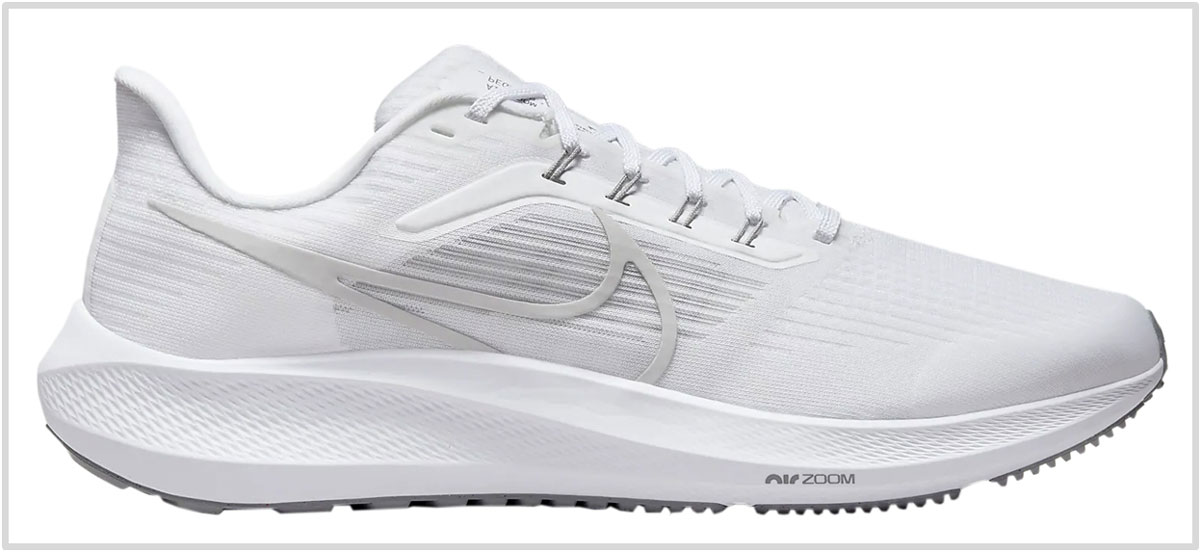 Besides its all-white color scheme, the completely redesigned Pegasus 39 has many things going for it.
Unlike the Pegasus 37 and 38, the Pegasus 39 has two Zoom Air bags – one each under the heel and forefoot. The midsole foam is softer, and the brand-new outsole has a better grip on the road. The end product is a running shoe with a balanced ride character. For greater detail, read our in-depth review of the Pegasus 39.
As an everyday trainer, it's highly versatile. The cushioning softness feels lively and efficient for even higher speed (4:40 min/km) runs, and there's plenty of comfort for longer runs of up to a half marathon.
The sleeved upper uses cord-assisted lacing and spacer mesh lining for a secure and comfortable fit.
2) All white ON Cloud 5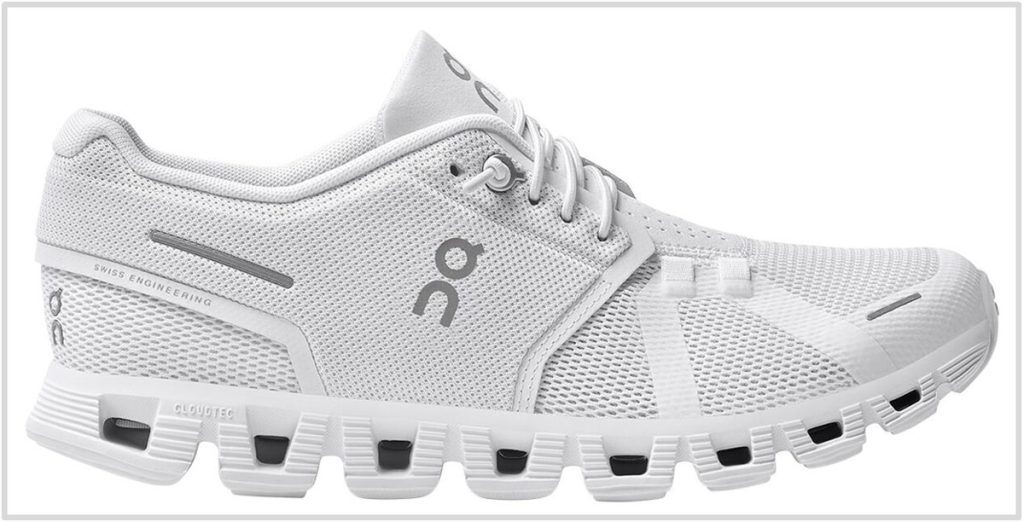 ON running used to be a fringe sportswear brand, until it was not.
As it turned out, it was always a matter of positioning. ON pivoted to become a lifestyle sneaker brand, and suddenly their sales have gone through the roof. Even though not much has changed from a design standpoint, ON shoes have become the modern athleisure sneaker of choice for the upwardly mobile.
Thus, it's fitting that ON also sells an all-white version of their Cloud model. The Cloud 5 uses a breathable mesh exterior that's supported with soft synthetic overlays for a comfortable and secure fit.
The hollow cushioning chambers or pods are a visual hallmark of ON running shoes. These EVA foam pillars compress when loaded and result in a unique ride signature. Outsole rubber lugs (in white) are placed in high-wear areas for traction and durability.
3) All white Nike Revolution 6 Next Nature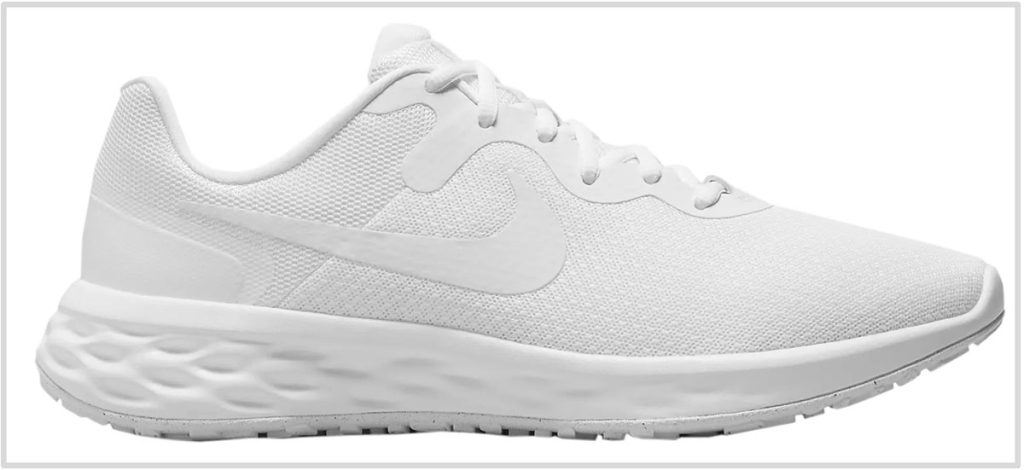 If you just want a comfortable all-white shoe for low-intensity running but without the high price tag, the $65 Nike Revolution 6 Next Nature makes an excellent case for itself.
There's plenty of all-day comfort available in the cushy EVA foam midsole. Its design makes it evident that the Revolution 6 borrows design cues from Nike's premium offerings like the Invincible Run.
For example, the wide flare under the rear midsole enhances the ride comfort – similar to how the Invincible Run does it.
The one-piece rubber outsole has tiny waffle lugs for traction while being pliable and flexible. The exposed windows increase the cushioning softness by allowing the outsole to flex together with the soft midsole.
Though the Revolution 6's sleeve-less upper is pretty basic, the fundamentals are in place. The mostly mesh upper delivers a secure and smooth fit, and also offers an option extra-wide for broad-footed runners.
4) All white New Balance Fresh Foam 1080V12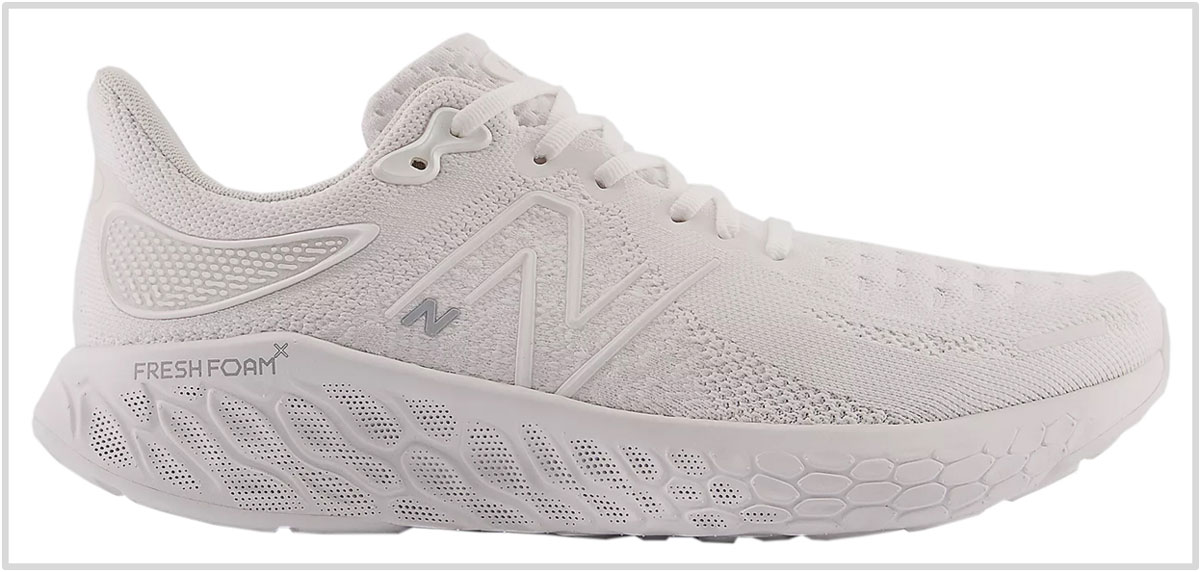 Our favorite long-distance cruiser is now available in an all-white color scheme. Well, not exactly white, but more like cream. But that'll do nicely, for now.
And why is the New Balance 1080 V12 our top pick as a high-mileage cruiser? For starters, it's got a very lively midsole made of Fresh Foam X – an improved version of New Balance's EVA-foam compound.
It's extremely cushioned and comfortable for long runs, and the articulated blown rubber outsole delivers smooth transitions. If you're interested, our full review is available to read.
The 1080's soft upper is also very comfortable; the stretch mesh exterior fits most foot shapes. And if it doesn't, just know that there are multiple widths available.
5) All white Hoka Clifton 8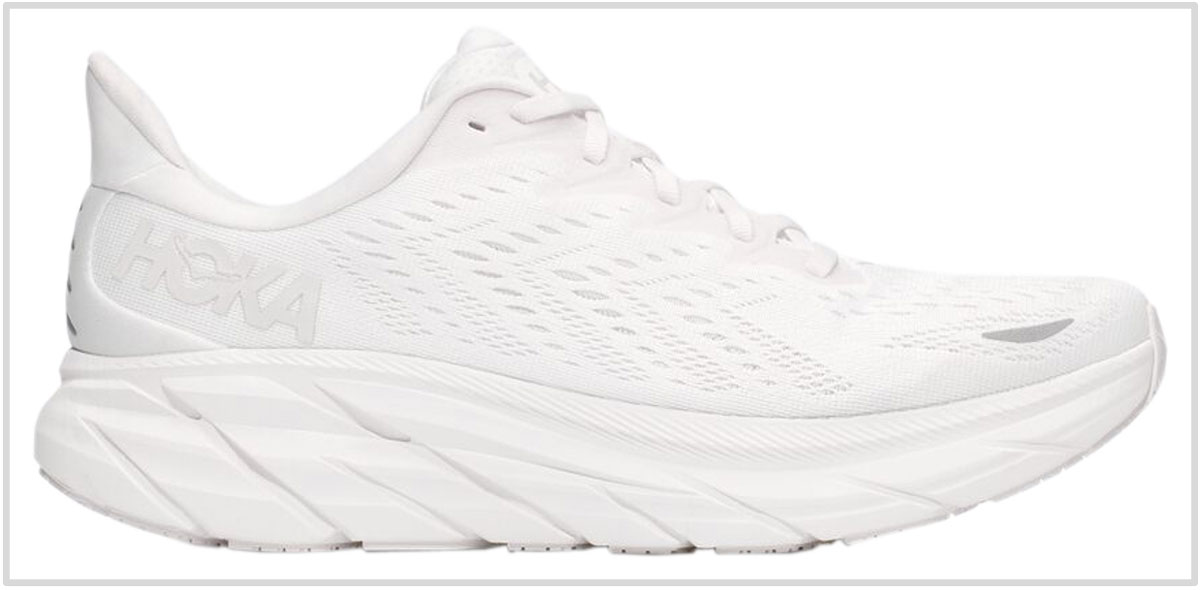 Just like the New Balance 1080, Hoka Clifton 8 is a legitimate trainer for daily runs and long-distance runs.
The Clifton was one of the original thick-stack running shoes with a rocker ride. While the world around it has changed, the Clifton hasn't – at least in spirit. In our detailed review, we explain why the Clifton 8 is cut from the old cloth.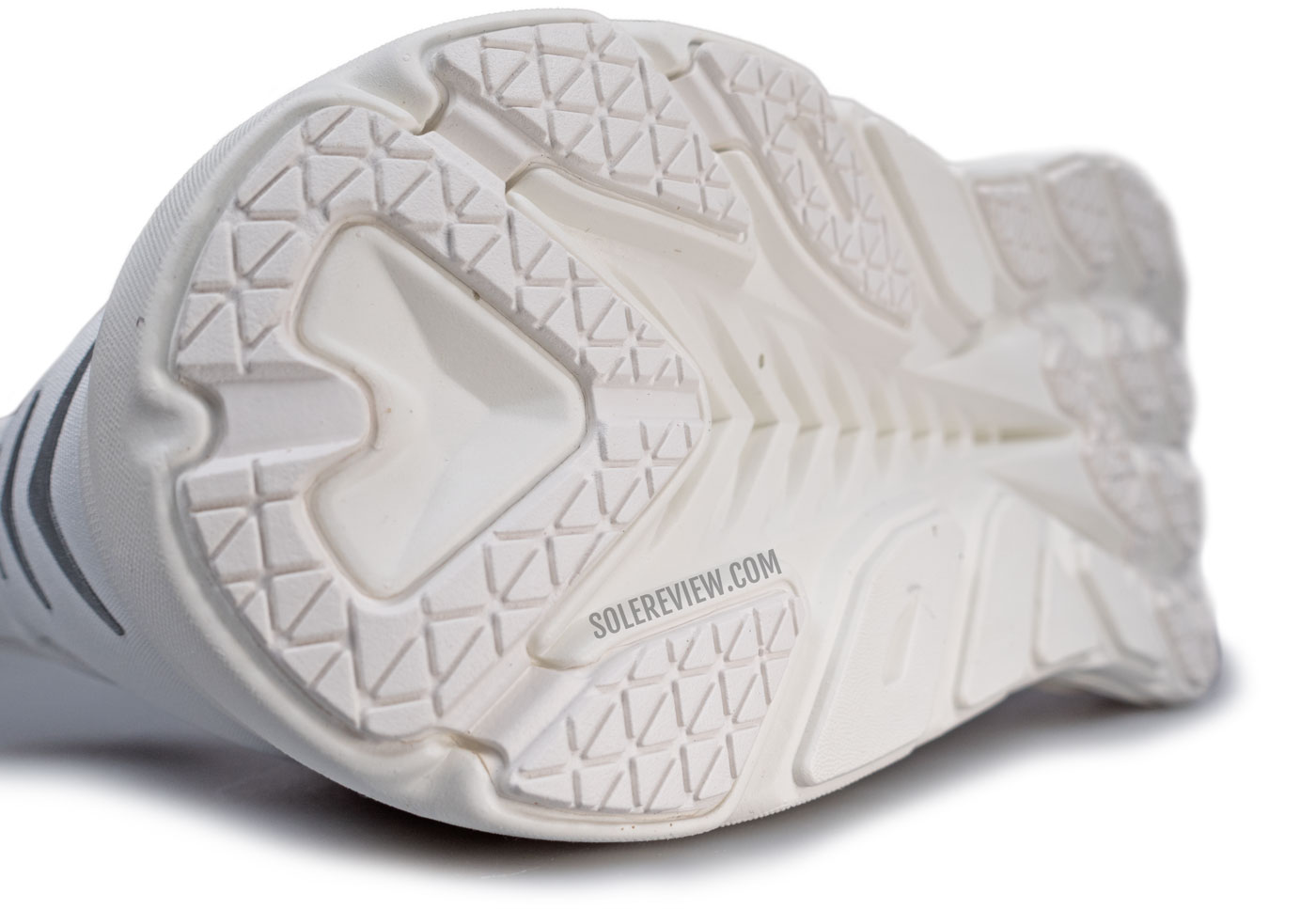 Under the soft and snug-fitting upper is an EVA foam-based midsole that is very similar to the parts used on the early Cliftons. This 7.2-ounce shoe blends everyday comfort with a transition-friendly character; the tall midsole with the rocker profile makes that happen.
Hoka's most popular do-it-all trainer is sold in two widths and over a dozen colors – including an all-white variant.
6) All white adidas Ultraboost 5.0 DNA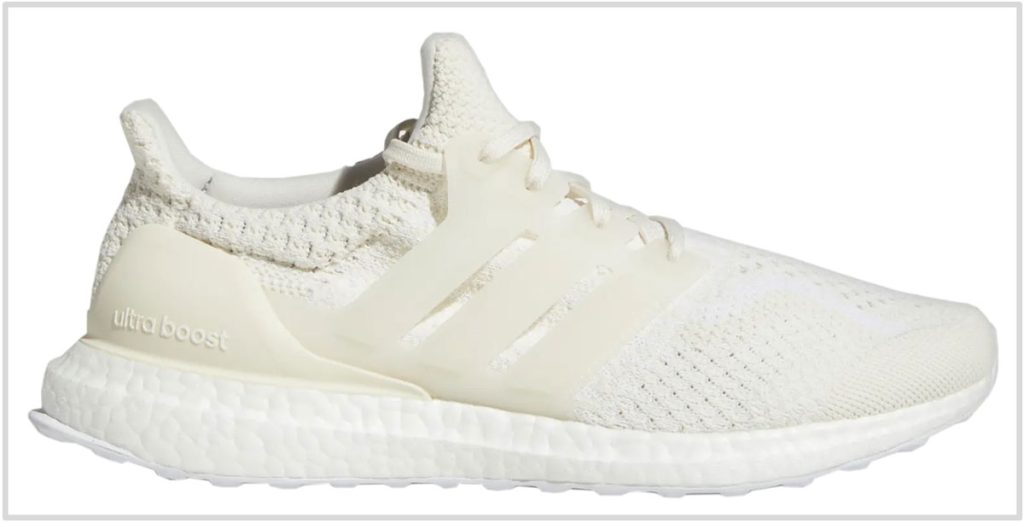 This modern rendition of the original adidas Ultraboost is also sold in an all-white color. Well, not exactly white, but more like a cream-colored upper with a white Boost midsole. It's almost as if the white upper was left in the sun for too long.
Under the off-white exterior is the same ride and fit comfort that people have come to love and hate.
The full-length Boost midsole provides a generously cushioned base for everyday comfort, whereas the snug and elastic Primeknit upper grips the foot in secure comfort. The plastic midfoot cage is a contentious design feature that divides opinion.
7) All white adidas Ultraboost 22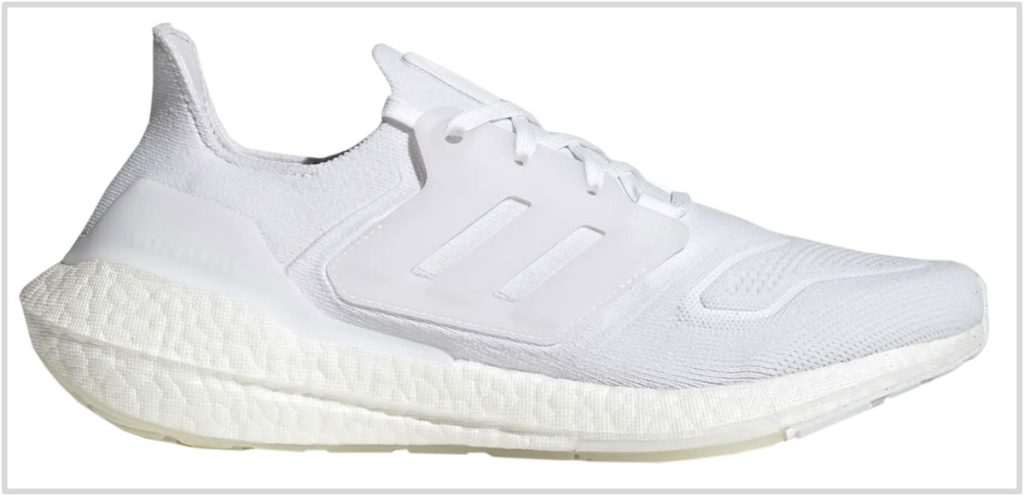 The color mismatch we referred to earlier in this article is very visible on the Ultraboost 22. The Primeknit mesh is a brilliant white, whereas the rest of the parts like the Boost midsole and Continental outsole are off-white.
However, that's very hard to tell from afar. Most people will see a white-on-white sneaker on the feet. We also recommend you read our detailed review of the Ultraboost 22 – it's a heavy, albeit highly-cushioned and stable sneaker that's going to last a long time.
The elastic Primeknit upper isn't offered in additional widths, but the elastic mesh can expand to accommodate a variety of foot profiles.
8) All white On Cloud Nova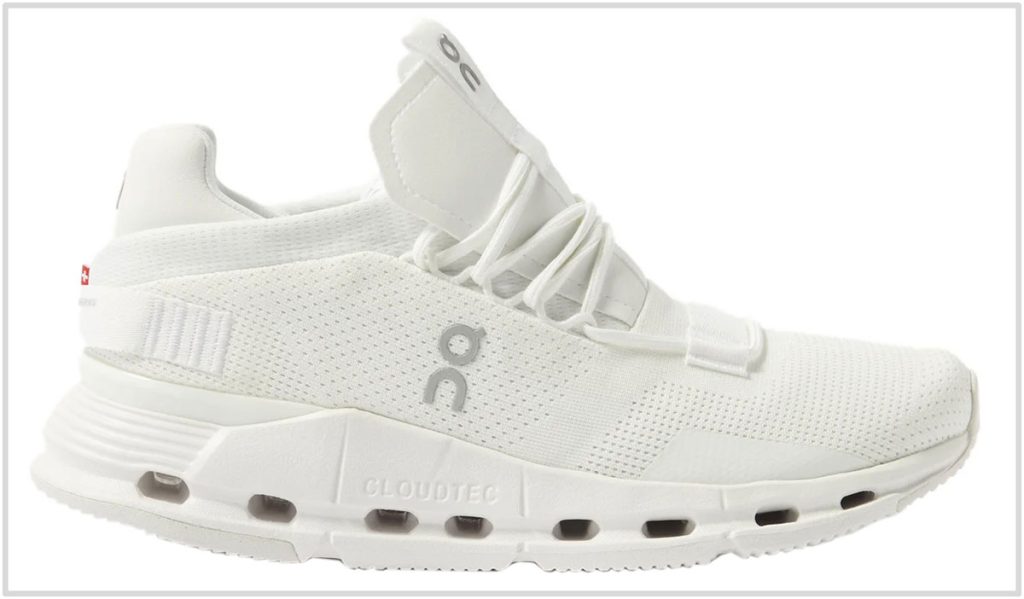 Think of the Cloud Nova as ON's equivalent of the adidas Ultraboost. Simply put, the Cloud Nova has an extra dose of everything a typical ON Cloud running shoe has, and then some.
Here, the midsole is taller and has a higher level of stability due to the raised sidewall and the stiff 'Speedboard' above the foam midsole.
The semi-bootie design and decorative straps on the forefoot and heel give the Cloud Nova its athleisure touch. And it's not a bad running shoe either.
If the adidas Ultraboost and Nike Invincible can be called running shoes, then the Cloud Nova surely is one. The hollowed-out EVA midsole packs sufficient ride comfort for everyday cruising, and the 'Speedboard' makes the transitions smooth.
9) All white Salomon XT6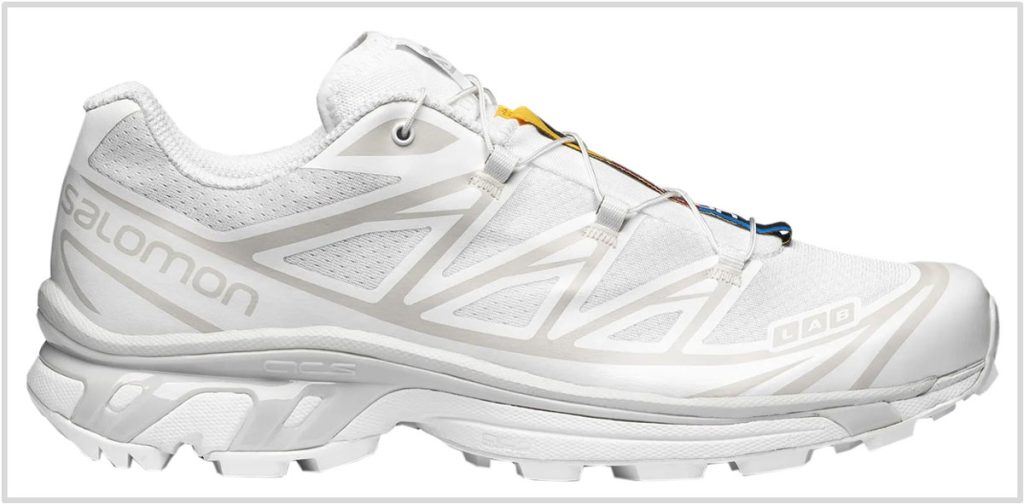 There's a color pop over the tongue, and there are traces of silver on the upper, but we'll let this one pass. That's because the XT6 is the only outdoor shoe in a visual scheme that's predominantly white.
Of late, the Salomon XT6 has become somewhat of a lifestyle sneaker; it's more likely to be found at Saks Fifth Avenue or Aritzia than your neighborhood running store. However, it's still a very runnable shoe.

Like most Salomon trail runners, the Contragrip outsole is off-road worthy. The supportive TPU frame reinforces the foam midsole to result in stable cushioning on uneven terrain. The removable Ortholite footbed makes the ride soft just under the foot.
The lacing is quintessential Salomon – a bungee-type closure that conveniently tucks into a 'lace garage' over the tongue. At the time of publishing this guide, the white Salomon XT6 is running low on inventory.
ALSO SEE
The following shoes are not all white, but either have silver highlights or black logos.
Asics Nimbus Lite 3: Mostly white upper with metallic accents.
Nike Vaporfly Next % 2: White upper and midsole with silver highlights.
adidas Duramo 10: All white shoe with contrasting black adidas logo.