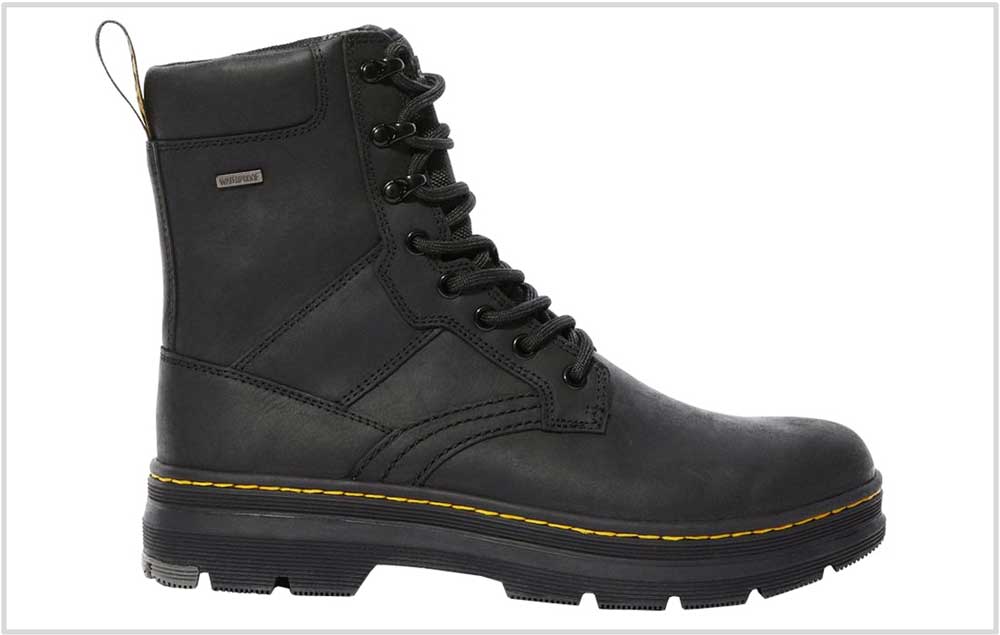 This article has been updated with current models for November 2022. The preface has been edited for clarity.
Regardless of the season, a pair of waterproof leather boots should always be a part of your shoe rotation. They are useful during spring showers and wet winters; buy a good pair and they'll last for years.
During winter, a waterproof boot does a better job of blocking the wind and cold than regular boots.
That being said, there's a difference between 'treated with a water-resistant finish' or 'water-repellent' and water-proofing that works in real-world conditions.
A water-repellent upper will briefly keep the feet dry during light rains. But if you're going to be spending a lot of time in wet conditions, a waterproof upper (and sole) is what the shoe needs.
Boots, by definition, are higher than low-cut shoes. Wearing them with a pair of water-repellent pants will keep the feet dry for longer.
By the way, if you're looking for quality water-repellent dress-casual pants, we highly recommend the dressy Theory Zaine Neoteric pant or the 7 For All Mankind Adrien tech-series pants in a casual 5-pocket style. An affordable option is the Perry Ellis Portfolio pant with a water-repellent finish and a slim dressy cut.
On a related note, we also reviewed the Eddie Bauer Guide Pro pants a while ago. These hiking pants have a water-repellent shell with an insulated fleece lining.
When shopping online, look for literature that includes the word waterproof. This means that the leather used on the boot has a hydrophobic treatment and is also lined with a waterproof membrane.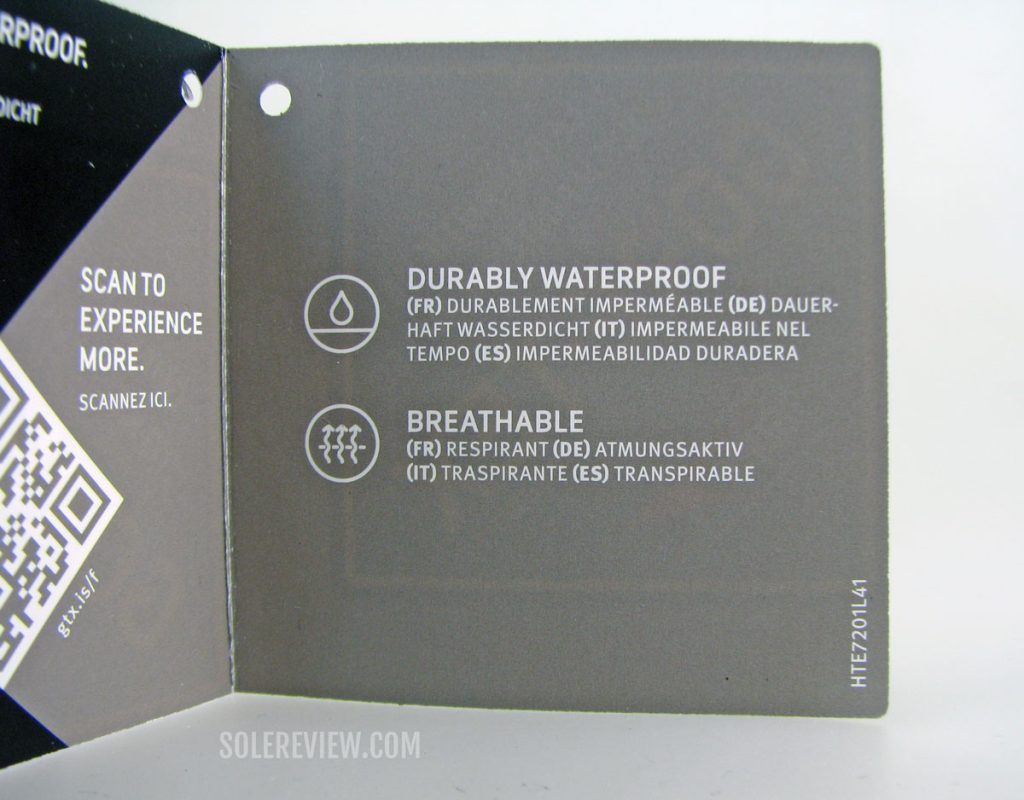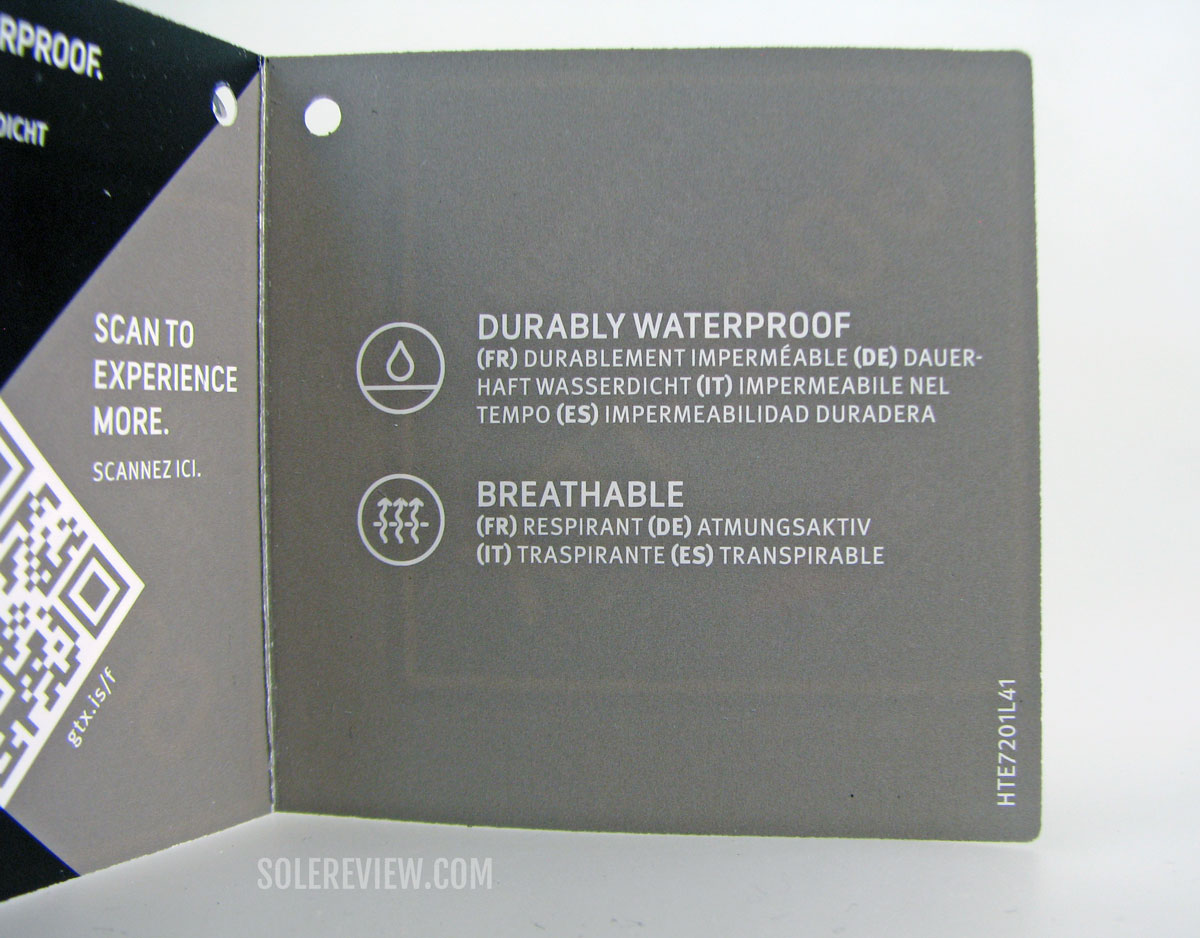 There are different kinds of waterproof inner linings. Some brands use Gore-Tex. Others, like Cole Haan and Johnston & Murphy, use other waterproofing technologies.
Next, we need to decide what occasion the boot is for. Is it a dressy pair for work, or a casual-wear boot for urban outings? On the other hand, if winter leather boots are what you're after, then you need more than just waterproofing.
To make the search process simple, we've grouped this guide into several categories:
A) Casual work boots and retro hikers: This category offers the widest range of waterproof leather boots. These versatile shoes are best used as casual wear and non-PPE work boots. The Timberland 6″ Premium and Dr Martens Iowa Tract II are good examples.
Some of the shoes have a casual-formal appearance and can pass off as office wear. The Timberland boot is also insulated, so it can be used during winter.
B) Dress boots: These are sleek Chelsea, Chukka, and lace-up silhouettes that can be paired with business casuals. On the other hand, if you're looking for low-cut waterproof dress shoes, here's our list of recommended shoes.
C) Winter boots: If you live in an area with sub-zero (below 0 C or 32 F) temperatures, then the shoe should be waterproof and insulated.
The outsoles should either have soft, deep lugs for walking in the snow or have anti-slip rubber. A leather upper that resists road salt is a bonus, as the salt tends to chew up non-treated leather.
Category 1: Waterproof work boots and retro hikers
1) Timberland Premium 6-Inch Waterproof Boot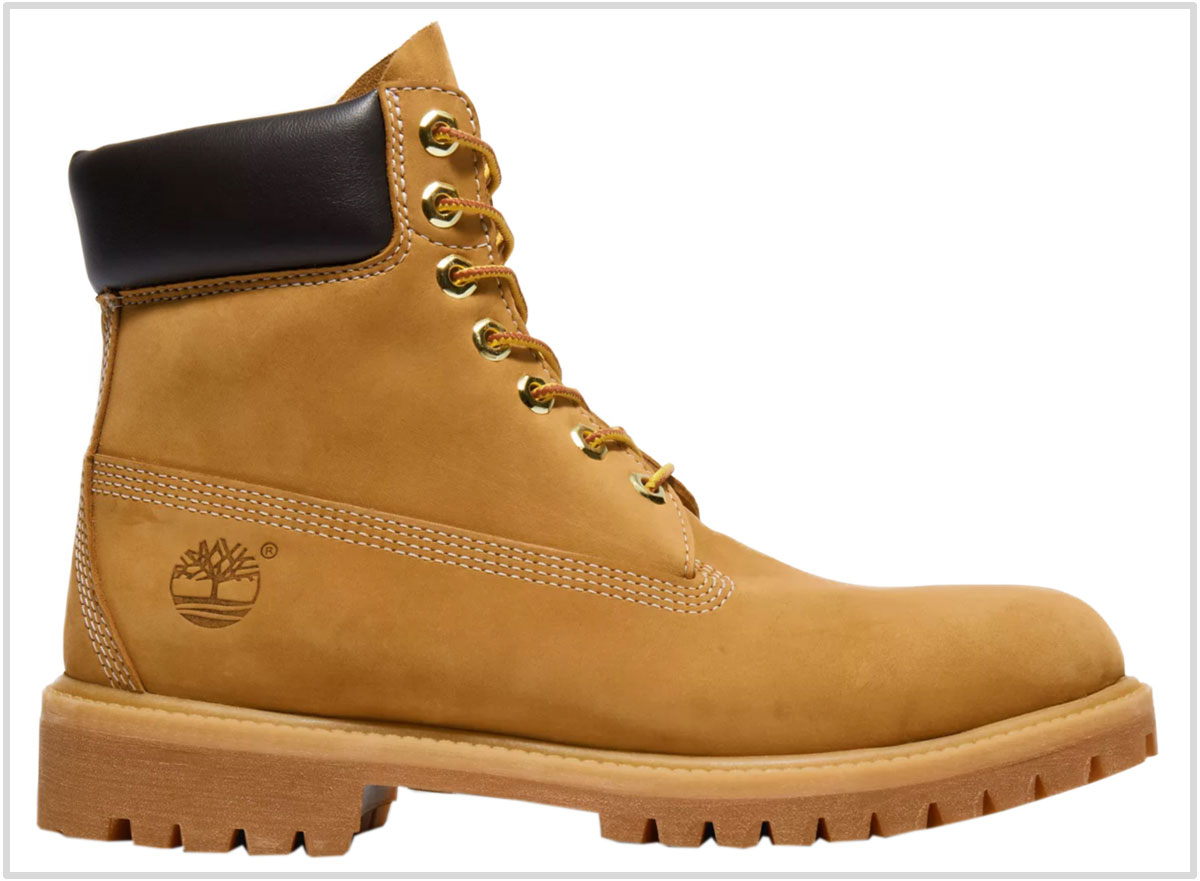 The Timberland 6-inch boot needs no introduction. The large Nubuck leather panels, metal eyelets, and four-line stitch make it one of the most recognizable silhouettes in the industry.
Featured here is the waterproof version with an insulated interior. The heel collar and inner lining use 400 grams of Primaloft insulation – an effective substitute for natural down. This makes the 6-inch boot an excellent choice for damp winters.
The ride comfort comes from the cushioned removable insole and rubber sole. The deep outsole lugs are durable and grip well over most surfaces except for icy sidewalks.
2) Dr. Marten's Iowa Tract II Waterproof Boot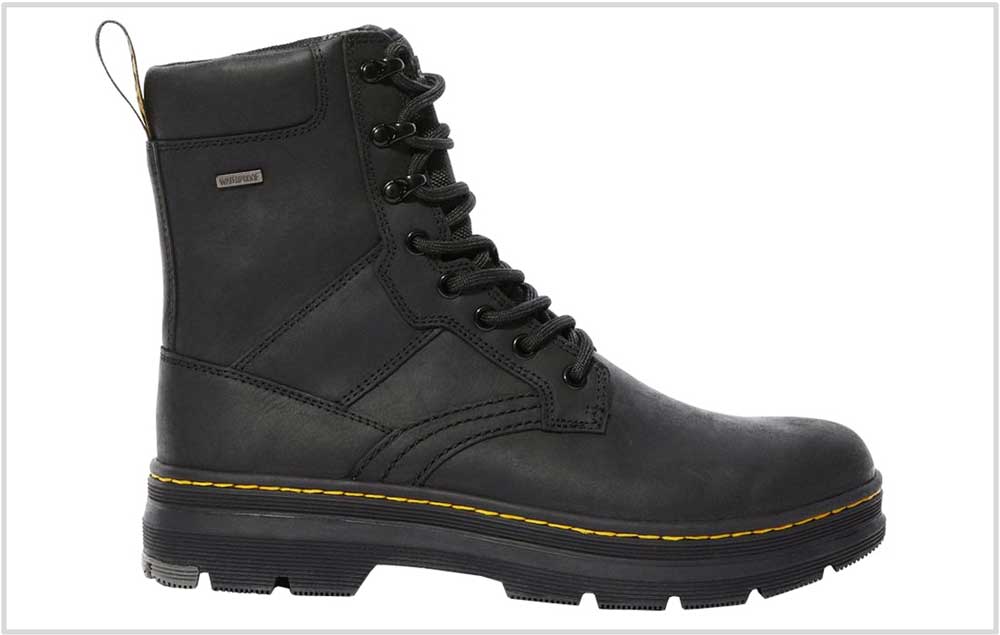 Most of Dr. Marten's boots – including the winterized kind – are water-resistant and not waterproof. So the Iowa Tract is the one you buy if you need a Doc M boot that keeps the water out. This has a 8-inch cut, thus making the Iowa Tract II a taller boot than the Timberland Premium 6-inch.
The Iowa also isn't your typical Dr. Marten. It features a chunky sole that isn't the same translucent kind as the originals, and it's a high cut (vs. regular mid) along with a ballistic Nylon tongue.
The upper uses the oiled 'Crazy Horse' material – an oil-pull leather that temporarily lightens when push your fingers under it.
Category 2: Waterproof leather dress boots
1) Allen Edmonds Higgins Mill Weatherproof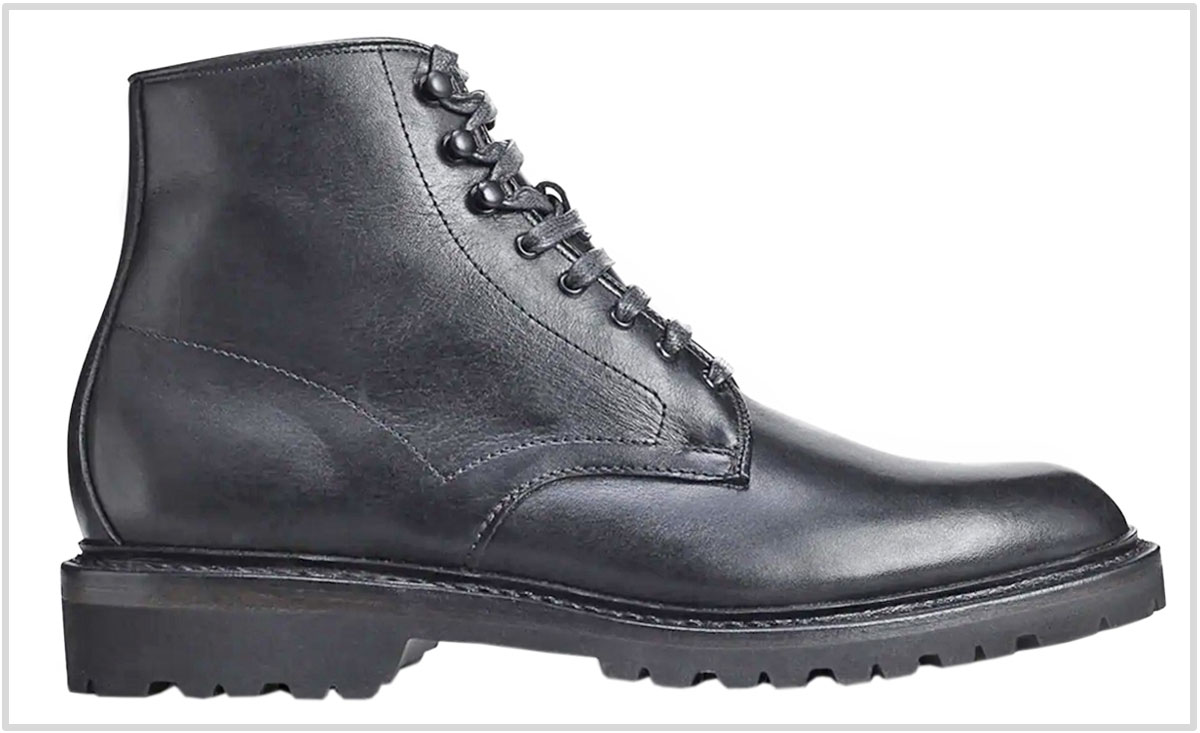 Calling the Allen Edmonds Higgins Mill a dress shoe is ironic, considering that this model is inspired by logging boots.
But in a world of sweatpants and smartwatches, the AE Higgins Mills boot is as dressy as it gets. The all-black in particular, is a dressy take on the Higgins.
There are two variants of the Higgins Mill – one with a leather sole and another with a rubber lug sole. Since we're discussing waterproof boots, we recommend the rubber sole version due to its grip and water-repelling properties.
The upper uses a simple Derby construction with large, waterproof leather panels and waxed laces. A Goodyear storm welt connects the upper to the rubber sole, and that gives the Higgins Mill a classic dress boot aesthetic.
It is expensive, but then this is a US-made boot with quality materials.
2) Cole Haan American Classic WP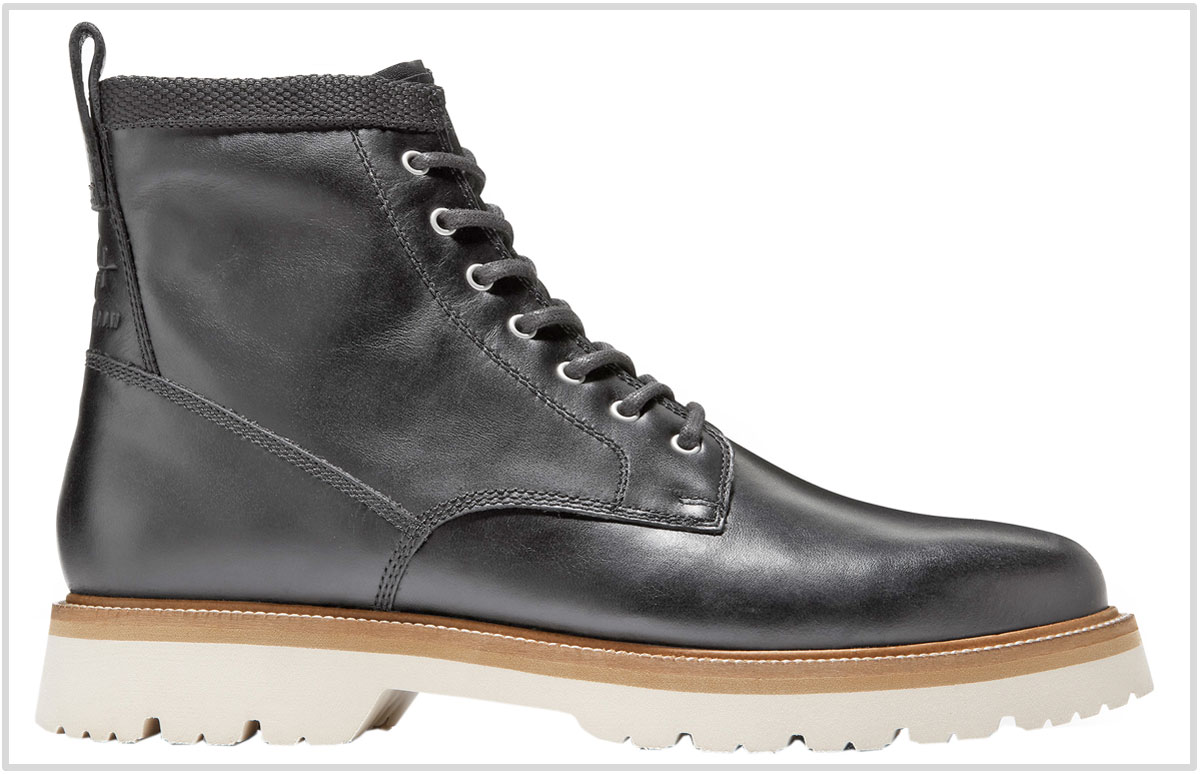 The Cole Haan American Classic is a less-expensive and more comfortable alternative to the Allen Edmonds Higgins Mill.
Instead of rubber, the sole is made of cut-and-buff EVA foam. This makes the boot relatively lightweight, and the softer midsole works together with the insole to make urban commutes comfortable.
The logging boot-inspired upper uses waterproof leather panels and a Nylon-tipped heel. A contrasting storm welt adds a dressy touch.
Also see: For a more comfortable ride, we recommend the Johnston & Murphy XC4 Tanner Plain Toe waterproof boot. The athletic midsole and soft insole make the ride softer than the Cole Haan boot.
3) Ecco ST1 Hybrid Chukka Gore-Tex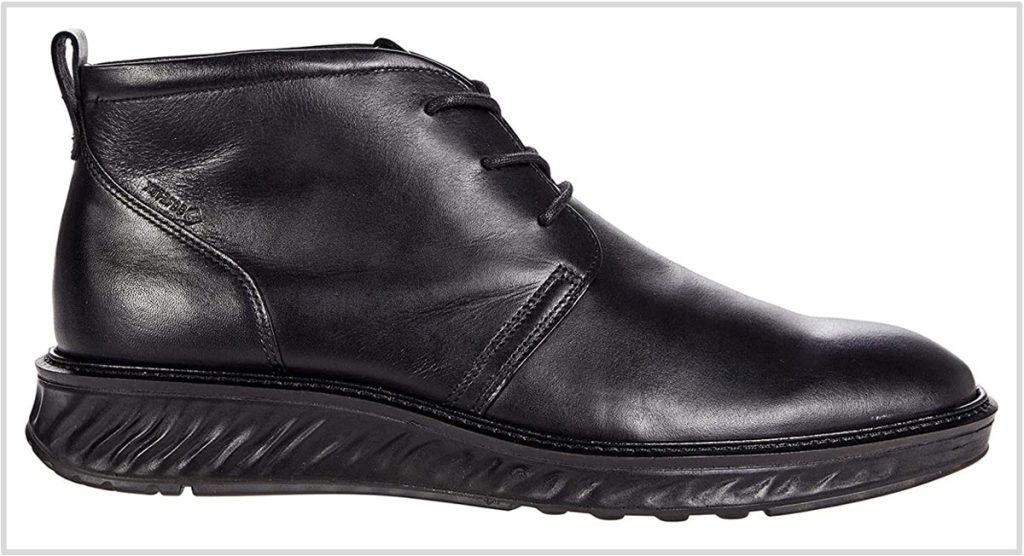 We have reviewed the low-cut version of the ST1 Hybrid GTX, and this dressy Chukka boot uses very similar materials and an identical sole unit.
The corrected-grain leather upper has a Gore-Tex membrane to keep the water out. Though this shoe lacks a gusset, the high-cut construction prevents moisture from entering. The secure upper fits true to size.
The Ecco ST1 Hybrid boot uses a functional welt that's stitched to the upper. The ride comfort and support is delivered by the Polyurethane midsole that Ecco calls 'Phorene'. When combined with the cushy leather-lined insole, the ST1 offers excellent comfort for everyday wear.
The synthetic rubber outsole grips extremely well on damp surfaces, thus making it a true all-season shoe.
4) Cole Haan 4.Zerogrand Chukka Waterproof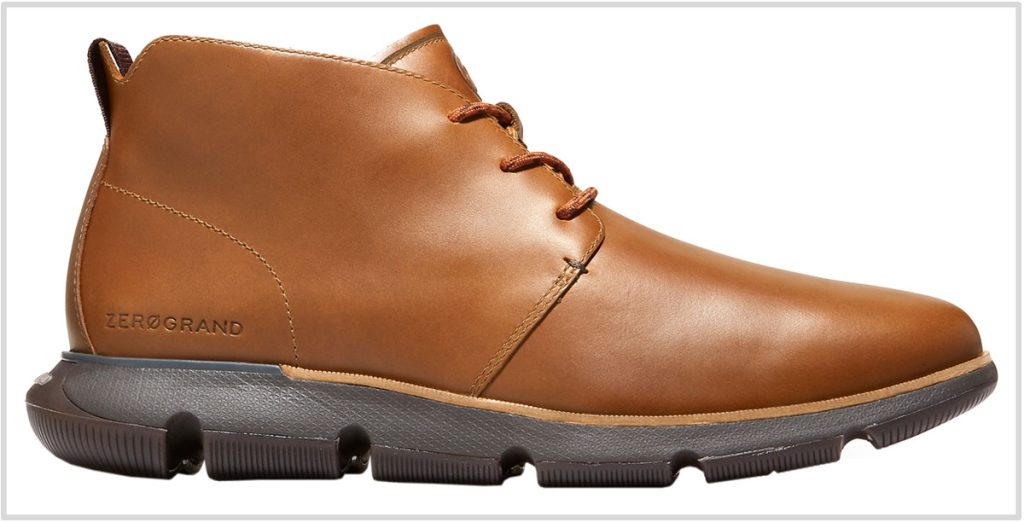 Cole Haan's Zerogrand series is inspired by Nike Free's flexible midsole concept – a connection to Cole Haan's past under Nike ownership. The two brands have since parted ways, but Nike-inspired elements continue to be a part of Cole Haan's identity.
The 4. Zerogrand Chukka Boot uses an updated version of the Zerogrand midsole. It's got fewer flex grooves than the generously-siped version of the Zerogrand, and a synthetic rubber outsole provides better traction than EVA foam.
A molded EVA foam insole and midsole makes the shoe cushioned and supportive enough for daily wear.
On top is a snug yet true-to-size Chukka-style upper with a waterproof lining. The smooth leather panels are stitched together to result in a clean and minimalist style that also looks premium.
The 4.Zerogrand Chukka also comes in a wide version for more interior space.
Also see: Cole Haan 4.Zerogrand Rain Boot – a Chelsea Duck boot that's based on the same midsole as the Zerogrand Chukka.
5) Johnston and Murphy XC4 Maddox Chelsea Boot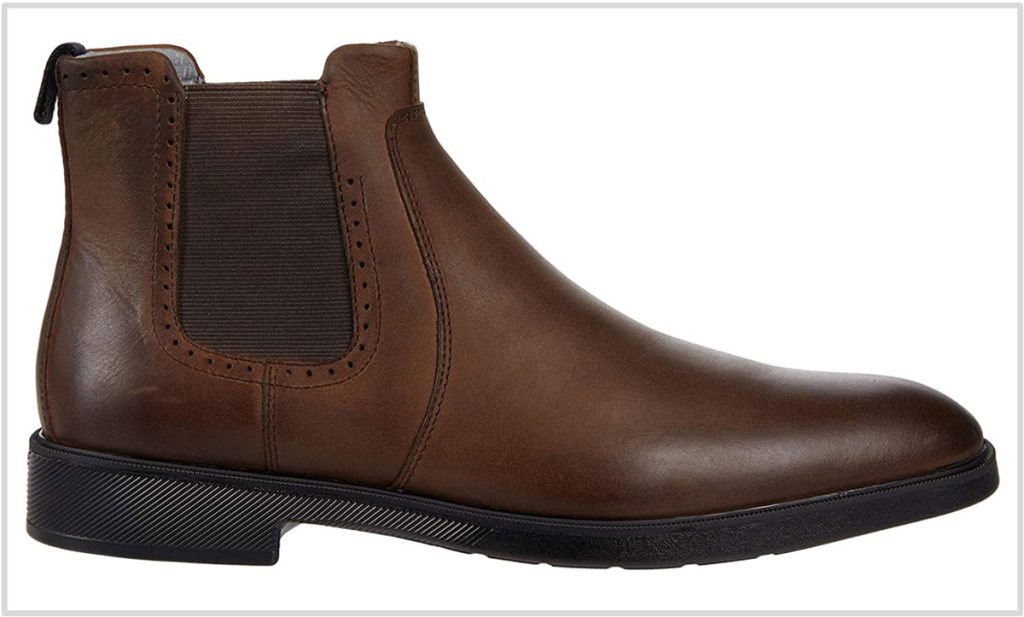 The last edition of this buyer's guide featured the J&M Elkins Waterproof Chelsea, and the Maddox delivers a similar value proposition. In our view, the Maddox is a functional improvement over the Elkins due to its foam midsole and performance textile lining.
There are two variants of the Maddox Chelsea – it's either the oiled brown leather upper or the glossy all-black. Regardless of the color, both deliver dependable performance in rainy weather.
The stylistically-clean upper design passes off as a dress Chelsea, and the dark-toned midsole helps too. The foam midsole is reinforced with selectively-placed outsole rubber for ride comfort and grip.
A comfortable leather-lined footbed adds plenty of step-in comfort over the cushioned foam midsole.
One of the things we love about J&M's 'dual width' system is that removing the insole creates enough space for a thick pair of woolen socks. The dual-width insole will also accommodate a thicker orthotic if necessary.
Category 3: Leather winter boots
1) Blundstone BL566 Waterproof Winter Chelsea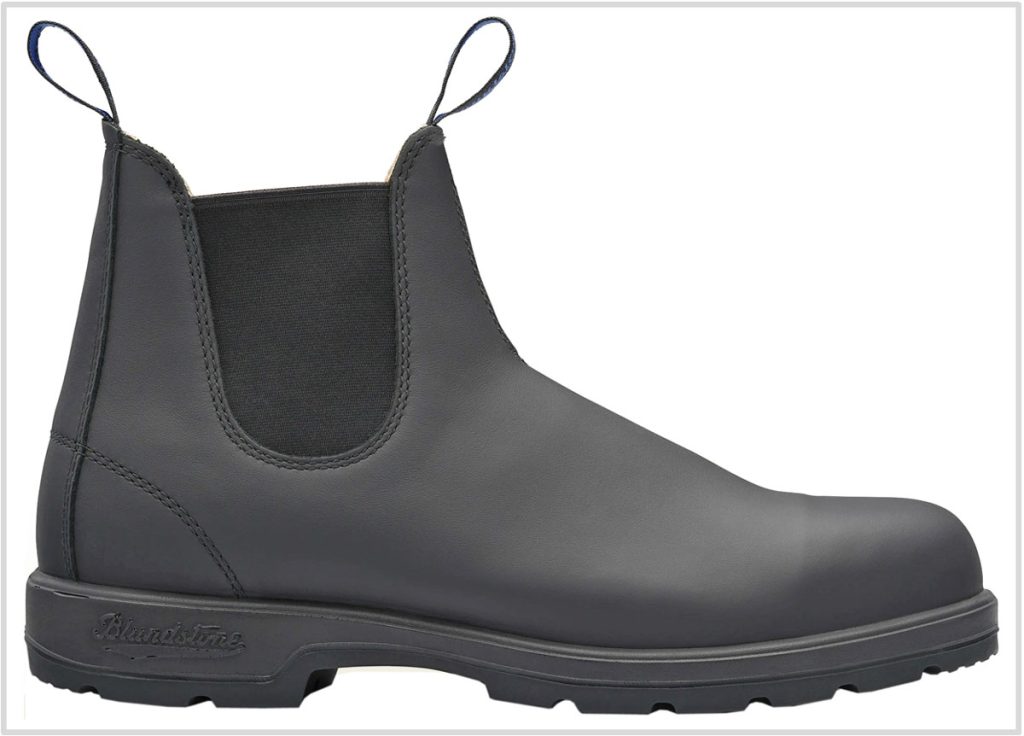 Just like Dr. Martens, the Blundstone began as a working-class staple out of Australia that eventually became a fashion icon. The twin pull tabs on a Blundstone Chelsea boot are instantly recognizable from afar.
If you're wondering why we chose this particular Blundstone instead of classics such as the 510 or 1918, the answer lies in the 566's insulated upper and shearling footbed that delivers better performance during the cold and rainy months.
It's worth underscoring that the Thinsulate insulation only covers the forward half of the interior; the rearfoot has a regular leather lining. As with most Blundstones, this style is unisex and available in sizes US 4 to US 13.
2) Keen Anchorage III Pull-on Waterproof Boots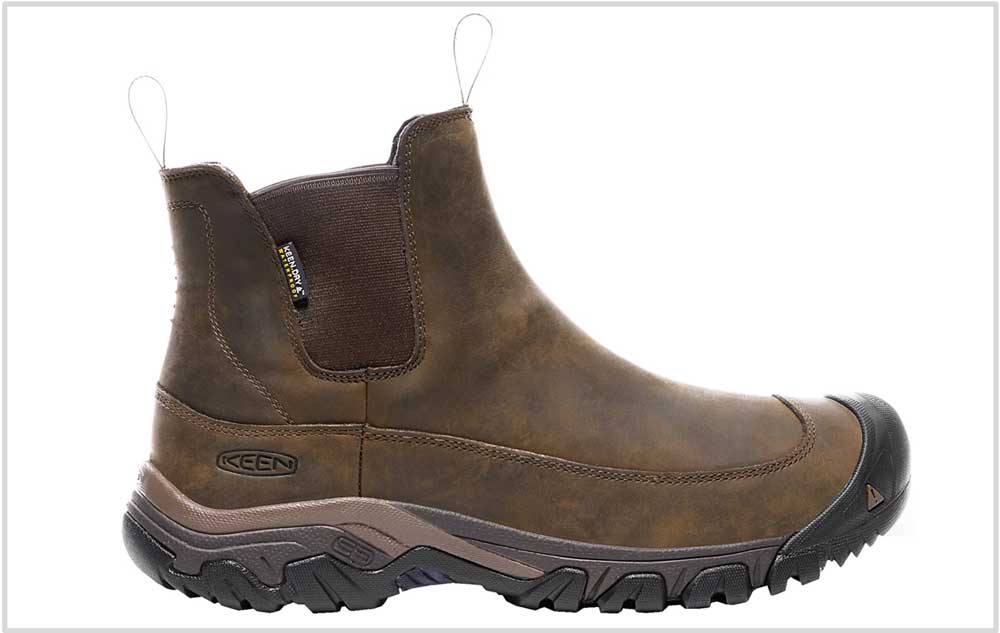 One of the things that people love about Blundstones is their dual pull tab. Though a Blundstone features in our next section (winter boots), there's a comfortable pull-on boot sold by Keen that happens to be comfortable, versatile, and waterproof.
Large pull tabs and the elastic Gore make putting the boots on a breeze; the roomy leather upper has a smooth interior fit. There's a lot of midsole and outsole on the Anchorage. The Keen's trademark kick-toe offers protection from the occasional bumps, and the sticky rubber lugs have plenty of traction.
The cushioning comes from the dual-density midsole and the specially-designed insole that also functions as a heat retention layer.
3) Sorel Caribou Wool Boot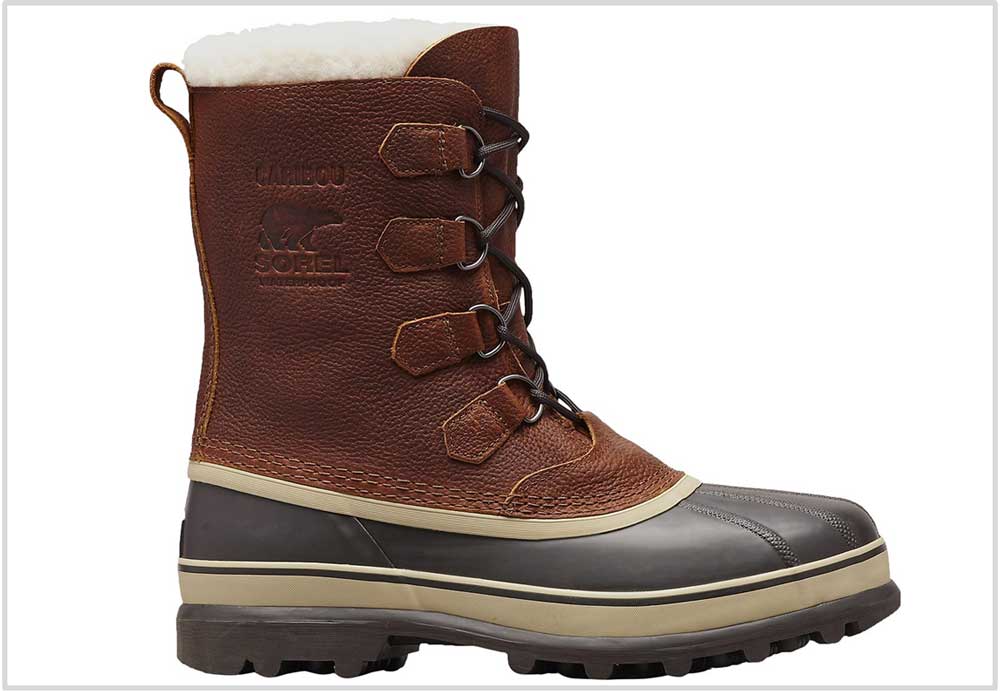 You thought you were going to be disappointed not to see a proper winter duck boot on this guide?
Well, here you go. The Wool version of the Sorel Caribou is the boot for snowy winters. Though Sorel rates them at minus 40, we'll take that with a pinch of salt. That said, this is a dependable do-it-all boot for sub-zero temperatures.
The wool liner and the vulcanized shell under a waterproof leather upper work together to keep the cold, water, and road salt out. And if the inner bootie catches some slush, you can always take it out and wash them.