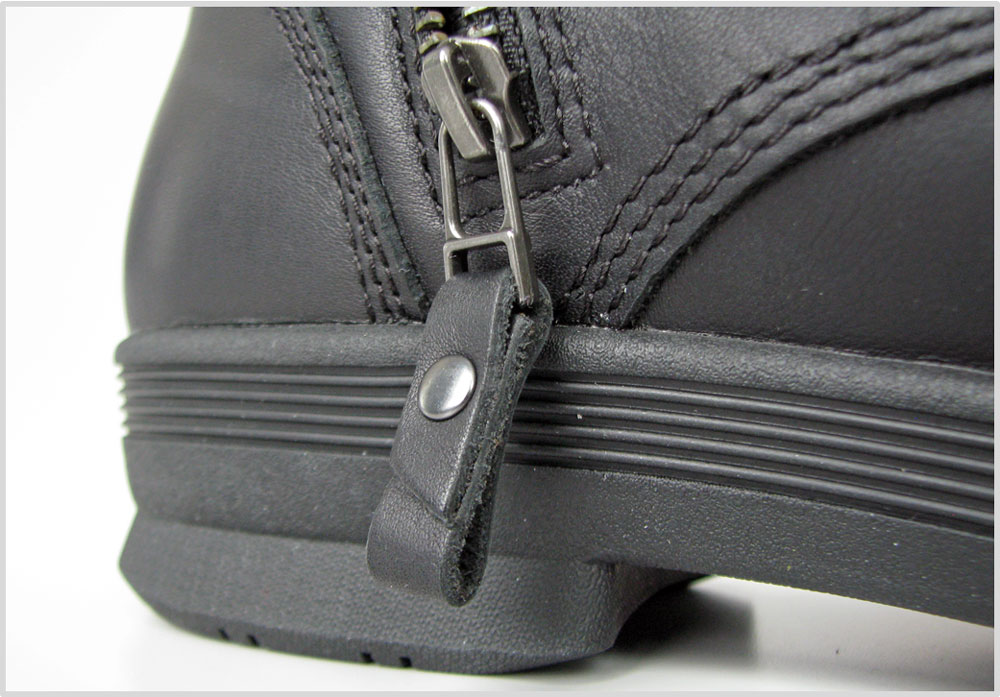 This article has been updated with current models for November 2021. Many models that were previously featured on this guide have been replaced with current models.
Regardless of the season, a pair of waterproof leather boots should always be a part of your shoe rotation. They come in handy during spring showers or damp winters; buy a good pair and they'll last for years.
During winters, a waterproof boot also does a better job of blocking wind and the cold over regular boots.
Curating a list of such boots is easier said than done. They are distributed across so many categories and brands that it's hard to fit all of them on a single buyer's guide.
When buying a pair, it is important to pay attention to the marketing literature. It is easy to be misled by terms like 'treated with a water-resistant finish' or 'water-repellent' and confuse it with water-proofing.
A water-repellent upper will briefly keep the feet dry during light rains. But if you're expecting a downpour or even the occasional splash of water, a waterproof boot is the way to go.
Boots, by definition, are higher than low-cut shoes. Wearing them with a pair of water-repellent pants will keep the feet dry for longer.
By the way, if you're looking for quality water-repellent dress-casual pants, we highly recommend the dressy Theory Zaine Neoteric pant or the 7 For All Mankind Adrien tech-series pants in a casual 5 pocket style. An affordable option is the Perry Ellis Portfolio pant with a water-repellent finish and a slim dressy cut.
On a related note, we also reviewed the Eddie Bauer Guide Pro pants a while ago. These hiking pants have a water-repellent shell with an insulated fleece lining.
When shopping online, look for literature that includes the word waterproof. This means that the leather used on the boot has a hydrophobic treatment and is also lined with a waterproof membrane.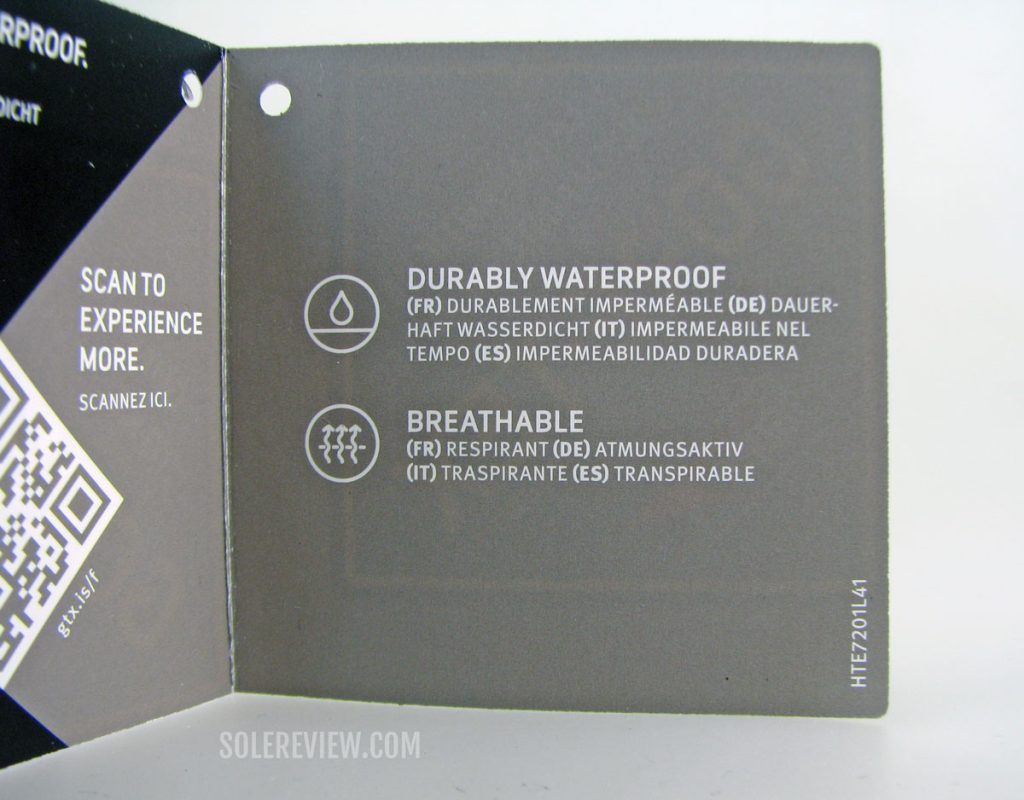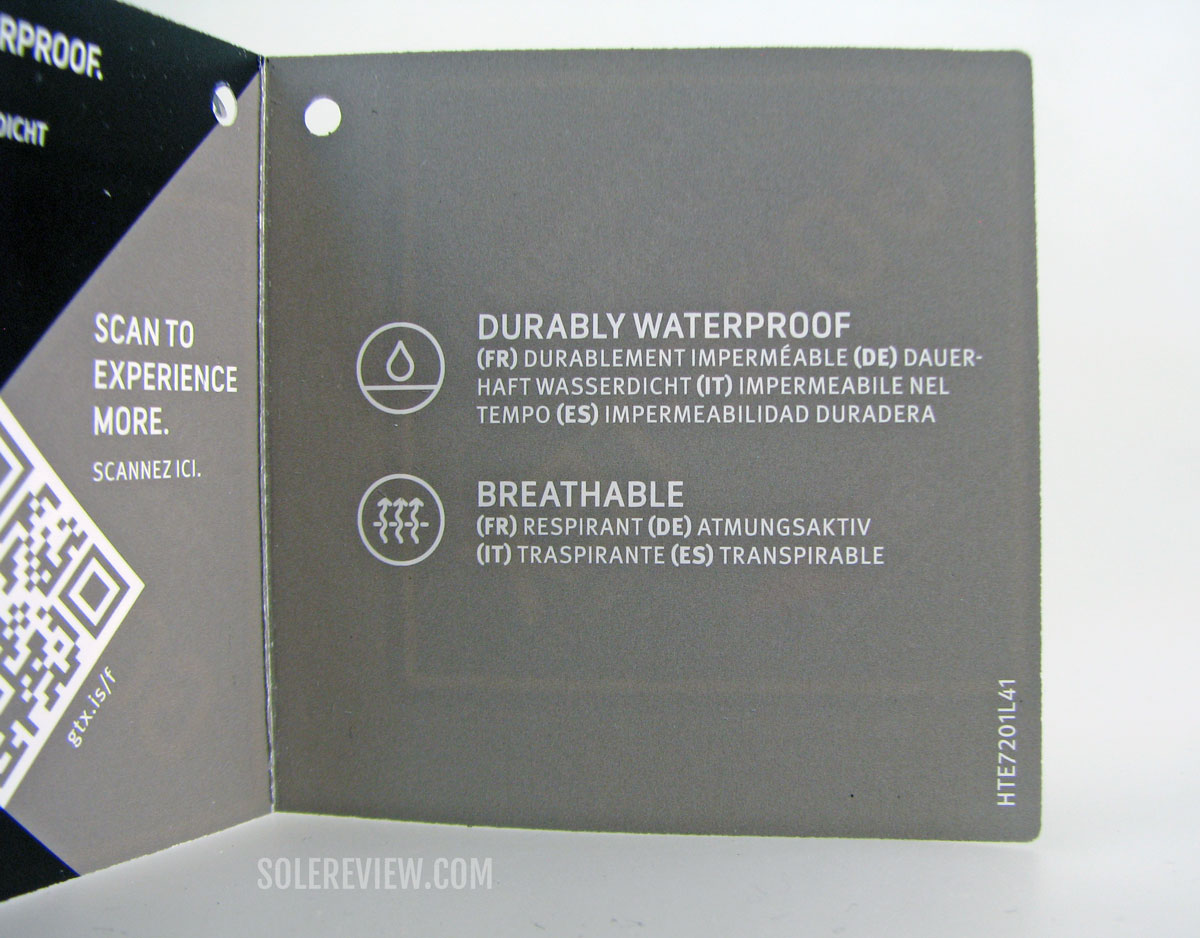 There are different kinds of waterproof inner linings. Some brands use Gore-Tex. Others, like Cole Haan and Johnston & Murphy use in-house tech.
Next, we need to decide what occasion is the boot for. Is it a dressy pair for work, or a casual-wear boot for urban outings? On the other hand, if winter leather boots are what you're after, then you need a lot more than mere waterproofing.
Choices, choices.
To make the search process simple, we've grouped this guide into three categories:
A) Dress boots: These are sleek Chelsea or Chukka silhouettes with low-profile outsoles that can be paired with business casuals. The sole and upper design differentiates a dress Chelsea Boot from a casual one. For example, casual boots like the Blundstone or Dr. Martens (the next category) have an aggressive outsole design with thicker leather uppers and work-boot trims.
B) Casual, work-boots, and athletic-inspired: This category houses the widest range of waterproof leather boots. These versatile shoes are best used as casual wear and non-PPE work boots.
Some of the shoes have a casual-formal appearance and can pass off as office wear. Though some boots can be used during winter, we recommend shoes from the next category for purpose-designed cold weather footwear.
C) Winter boots: If you live in an area with sub-zero (below 0 C or 32 F) temperatures, then the shoe should be waterproof and insulated.
The outsoles should either have soft, deep lugs for walking in the snow or have an anti-slip rubber. A leather upper that resists road salt is a bonus, as the salt tends to chew up non-treated leather.
Like our 'comfortable dress shoe' buyer's guide, we plan to publish individual reviews of these shoes soon.
Category 1: Waterproof leather dress boots
1) Ecco ST1 Hybrid Boot Gore-Tex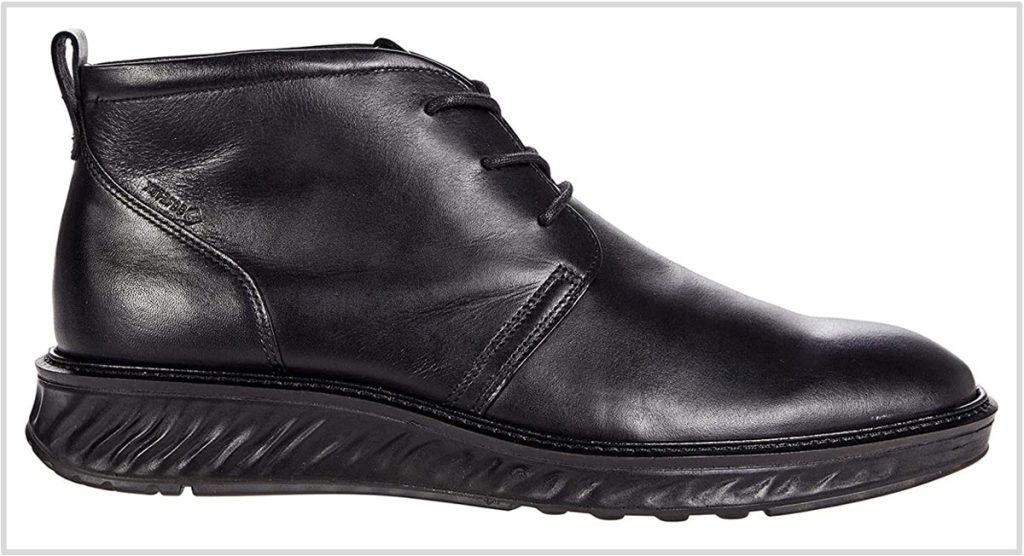 We recently reviewed the low-cut version of the ST1 Hybrid GTX, and this dressy Chukka boot uses very similar materials and an identical sole unit.
The corrected-grain leather upper has a Gore-Tex membrane to keep the water out. Though this shoe lacks a gusset, the high-cut construction prevents moisture from entering. The interiors fit snug and true to size.
The Ecco ST1 Hybrid boot uses a functional welt that's stitched to the upper. The ride comfort and support is delivered by the Polyurethane midsole that Ecco calls 'Phorene'. When combined with the cushy leather-lined insole, the ST1 offers excellent comfort for everyday wear.
The synthetic rubber outsole grips extremely well on damp surfaces, thus making it a true all-season shoe.
2) Cole Haan 4.Zerogrand Chukka Waterproof Boot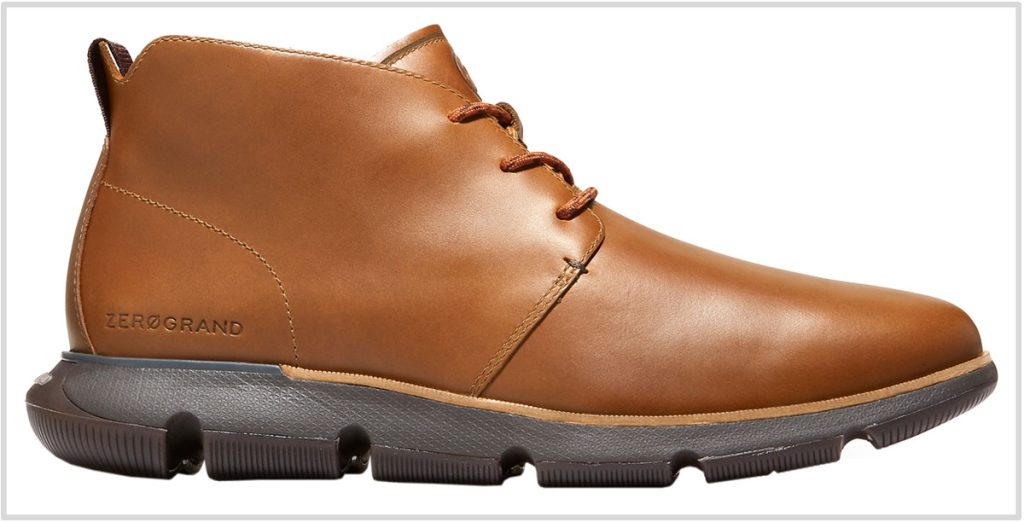 Cole Haan's Zerogrand series is inspired by Nike Free's flexible midsole concept – a connection to Cole Haan's past under Nike ownership. The two brands have since parted ways, but several running shoe-inspired elements continue to be a part of Cole Haan's identity.
The 4. Zerogrand Chukka Boot uses an updated version of the Zerogrand midsole. It's got fewer flex grooves than the generously-siped version of the Zerogrand, and a synthetic rubber outsole that provides better traction than EVA foam.
A molded EVA foam insole and midsole cushioning and supports the foot during everyday use.
On top is a snug yet true-to-size Chukka-style upper with a waterproof lining. The smooth leather panels are stitched together to result in a clean and minimalist style that also looks premium.
The 4.Zerogrand Chukka also comes in a wide version for more interior space.
3) Johnston and Murphy XC4 Maddox Chelsea Boot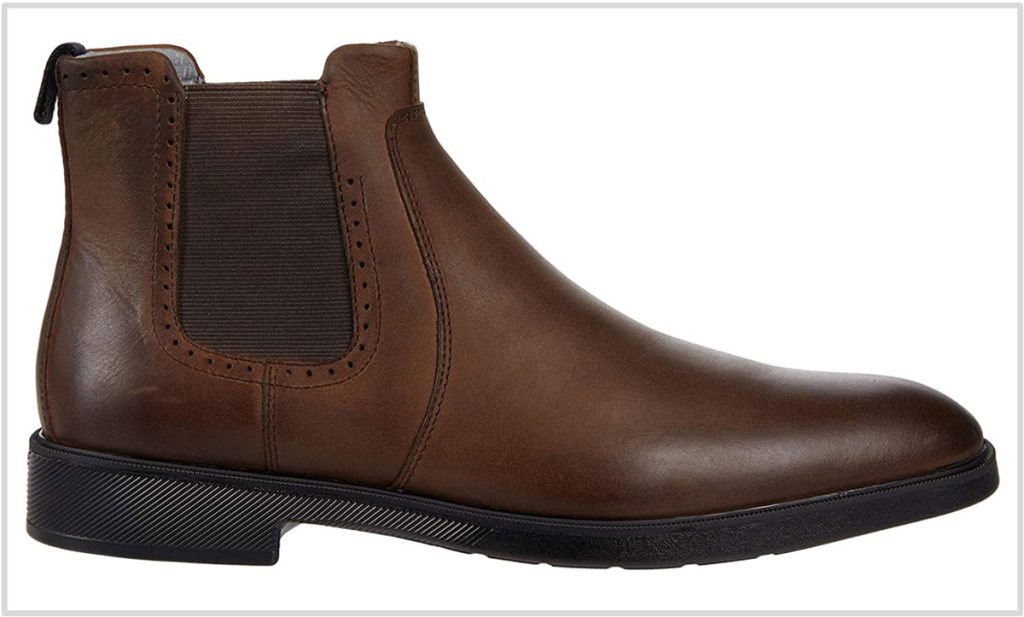 The last edition of this buyer's guide featured the J&M Elkins Waterproof Chelsea, and the Maddox delivers a similar value proposition. In our view, the Maddox is a functional improvement over the Elkins due to its foam midsole and performance textile lining.
There are two variants of the Maddox Chelsea – it's either the oiled brown leather upper or the glossy all-black. Regardless of the color, both deliver dependable performance in rainy weather.
The stylistically-clean upper design passes off as a dress Chelsea, and the dark-toned midsole helps too. The foam midsole is reinforced with selectively-placed outsole rubber for ride comfort and grip.
A comfortable leather-lined footbed adds plenty of step-in comfort over the cushioned foam midsole.
One of the things we love about J&M's 'dual width' system is that removing the insole creates enough space for a thick pair of woolen socks. Another use of the dual width insole is that a thicker orthotic can be inserted instead of the stock insole.
Category 2: Waterproof casual and work boots
1) Danner Vertigo 917 Boot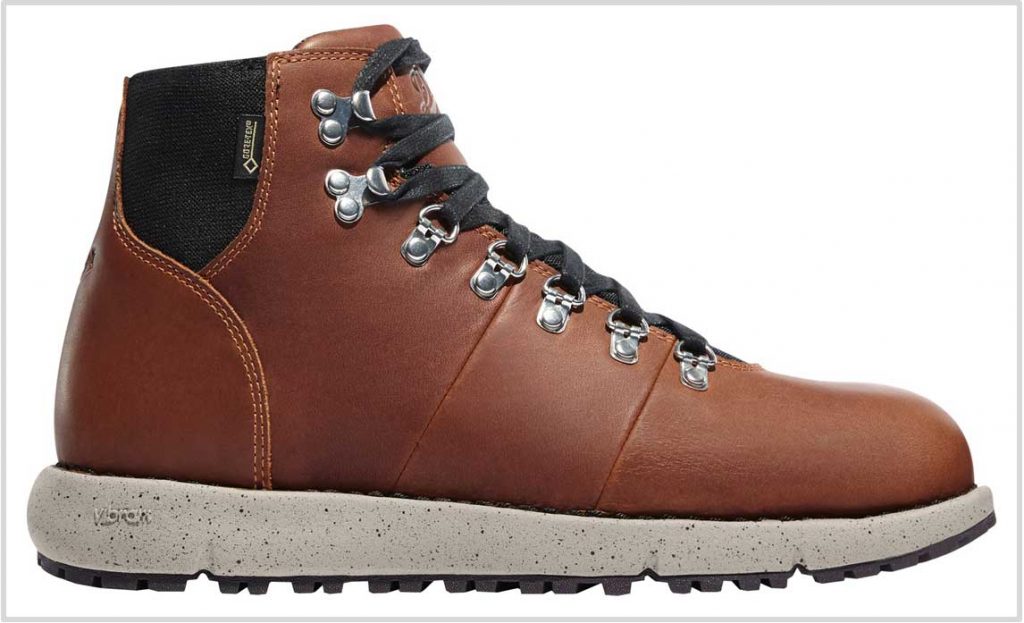 Here's another brand with beginnings in the work-boot industry that gradually crossed over to technical and hiking-inspired categories.
While Danner continues to produce work and tactical footwear, there are plenty of lifestyle boots. The Vertigo 917 is one of such.
The 917 modernizes the classic hiker silhouette by adding a Vibram outsole and EVA midsole under a removable Ortholite footbed. The leather upper is backed with a Gore-Tex membrane that keeps the water out.
If you're looking for style, the 917 delivers with its rich full-grain leather upper and metallic D-rings. The upper fits snug, so try before you buy.
Also consider at the Danner Mountain 600 – a narrow-fitting boot that is halfway between the 917 and the Mountain light – the 600's classic styling is paired with a molded EVA Vibram midsole and outsole. The 600 is available with an Arctic Grip outsole – a compound that grips better on ice.
2) Dr. Marten's Iowa Tract II Waterproof Boot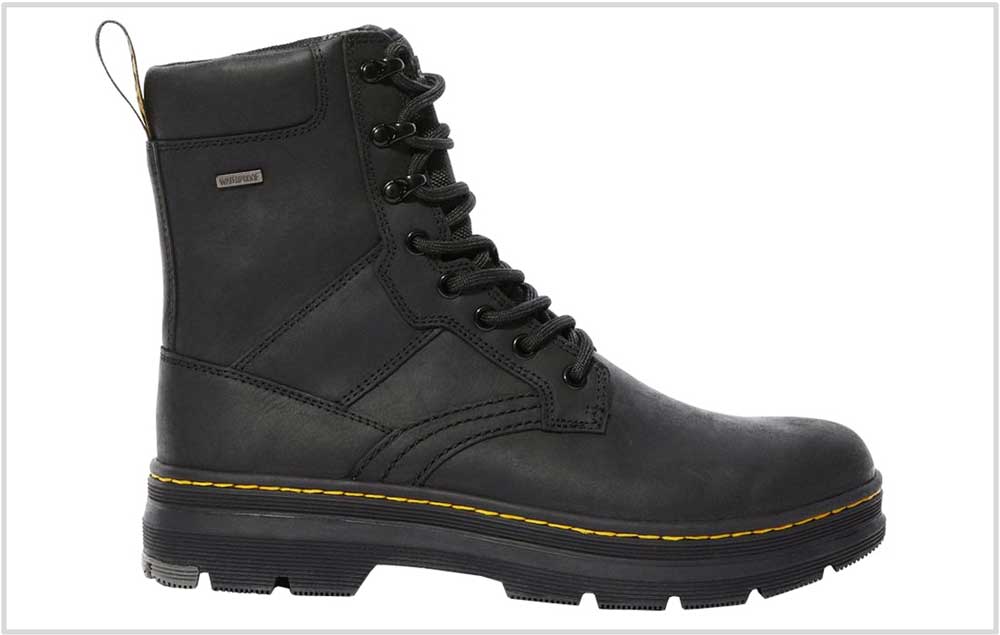 Most of Dr. Marten's boots – including the winterized kind – are water-resistant and not waterproof. So the Iowa Tract is the one you buy if you need a Doc M boot that keeps the water out.
The Iowa also isn't your typical Dr. Marten. It features a chunky sole that isn't the same translucent kind as the originals, and it's a high cut (vs. regular mid) along with a ballistic Nylon tongue.
The upper uses the oiled 'Crazy Horse' material – an oil-pull leather that temporarily lightens when push your fingers under it.
3) Ecco Turn Gore-Tex Chukka Tie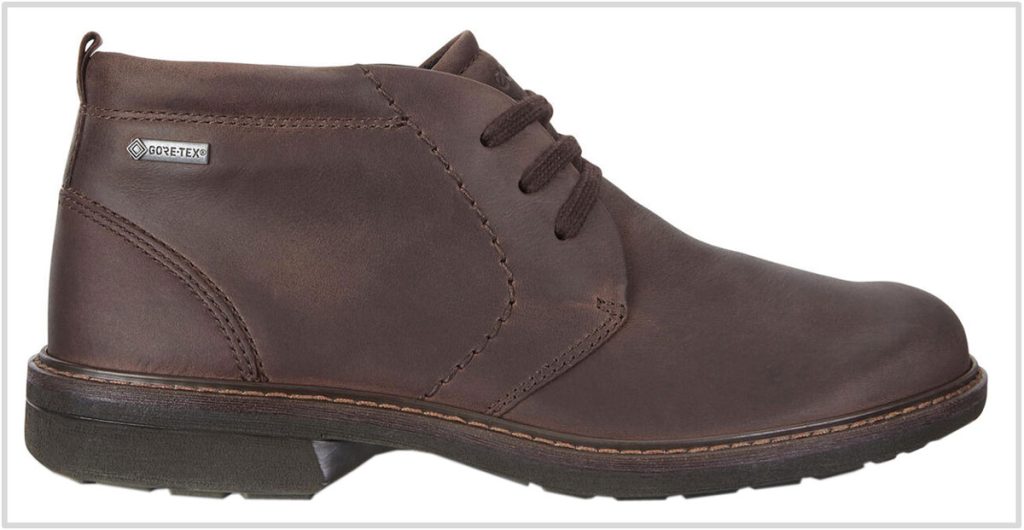 If this Ecco Chukka boot was constructed using smooth full-grain leather, it would have featured in our dress boot section. But it isn't, and that's what makes all the difference.
A milled leather upper in the matt finish and contrast color welts add to the casual work-boot vibe. A small Gore-Tex label is the only sign of the Ecco Turn's waterproofing capabilities.
Ecco directly injects a Polyurethane unisole to the welted upper for a strong, adhesive-free bond. As a cushioning material, Polyurethane foam is comfortable and weather resistant.
4) Keen Anchorage III Pull-on Waterproof Boots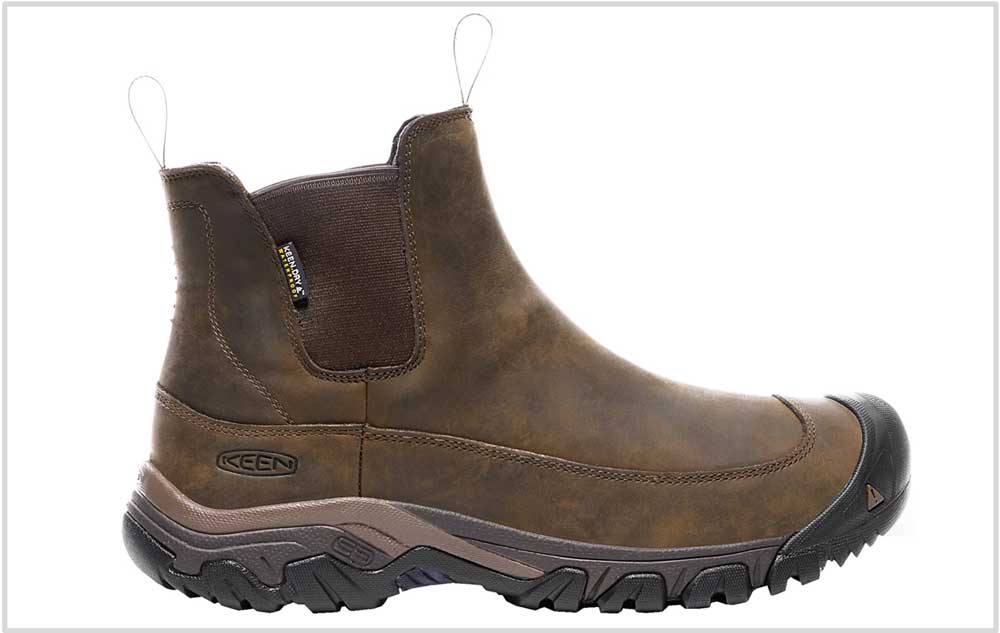 One of the things that people love about Blundstones is their dual pull tab. Though a Blundstone features in our next section (winter boots), there's a comfortable pull-on boot sold by Keen that happens to be comfortable, versatile, and waterproof.
Large pull tabs and the elastic Gore make putting the boots on a breeze; the roomy leather upper has a smooth interior fit. There's a lot of midsole and outsole on the Anchorage. The Keen's trademark kick-toe offers protection from the occasional bumps, and the sticky rubber lugs have plenty of traction.
The cushioning comes from the dual-density midsole and the specially-designed insole that also functions as a heat retention layer.
5) Sorel Madson II Moc Toe Waterproof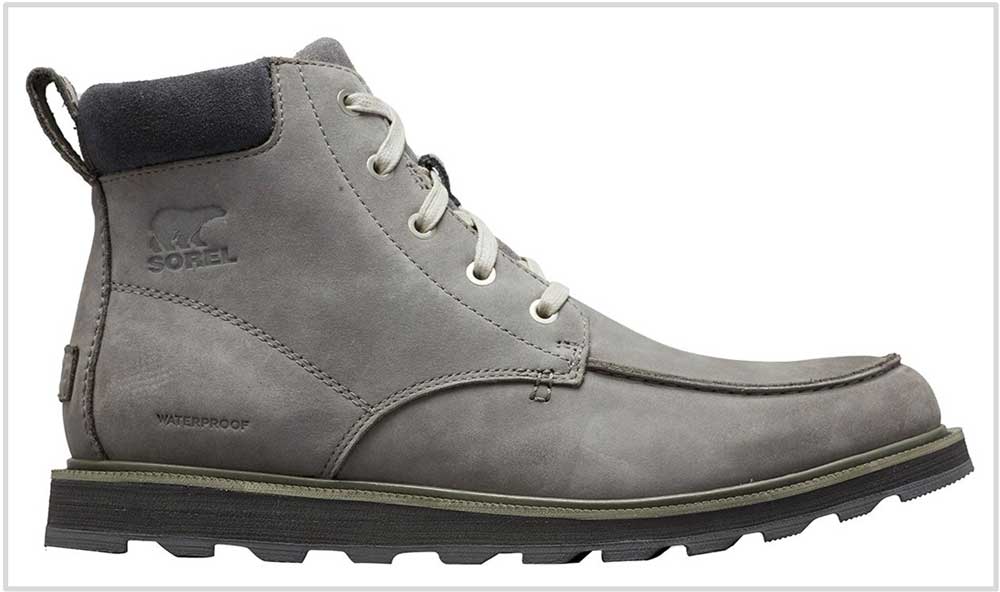 This guide lacks a Moccasin-style boot, so here you go. The Sorel Madson features a classic Moc toe on the soft yet waterproof Nubuck leather upper that's welted to the midsole.
Unlike most of the boots listed here, the Madson's midsole is made of cut-and-buff EVA – an excellent material for cushioning comfort. Underneath, a ribbed sheet of molded rubber provides the necessary traction for the damp roads.
Category 3: Leather winter boots
1) Blundstone BL566 Waterproof Winter Chelsea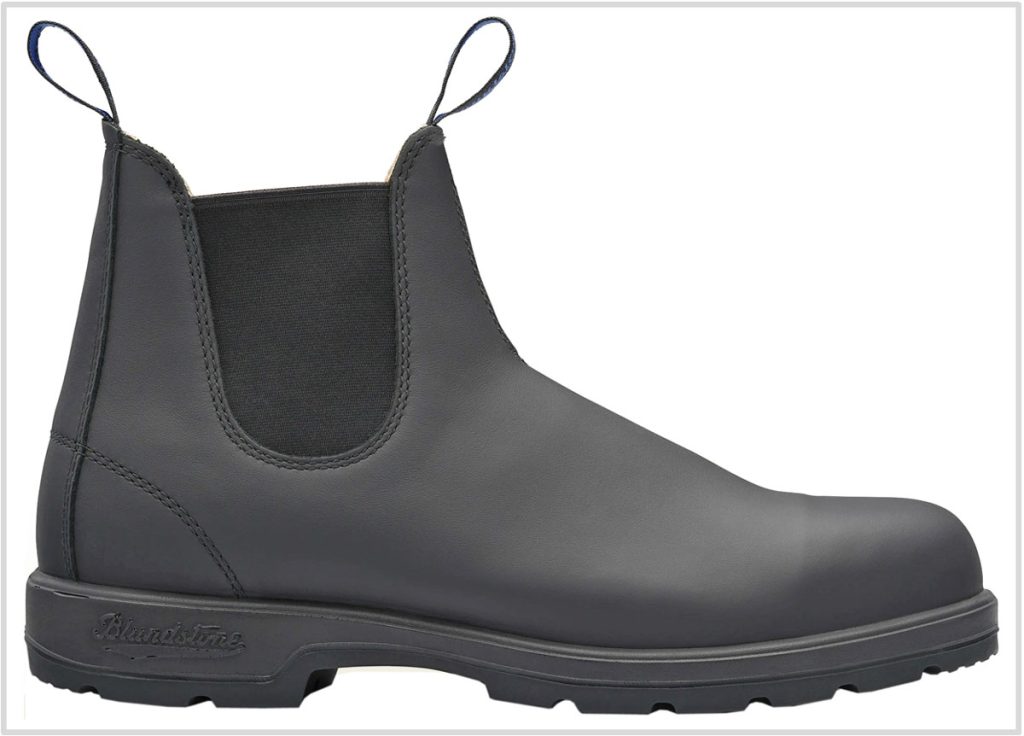 Just like Dr. Martens, the Blundstone began as a working-class staple out of Australia that eventually became a fashion icon. The twin pull-tabs on a Blundstone Chelsea boot are instantly recognizable from afar.
If you're wondering why we chose this particular Blundstone instead of classics such as the 510 or 1918, the answer lies in the 566's insulated upper and shearling footbed that delivers better performance during the cold and rainy months.
It's worth underscoring that the Thinsulate insulation only covers the forward half of the interior; the rearfoot has a regular leather lining. As with most Blundstones, this style is unisex and available in sizes US 4 to US 13.
2) Kodiak Dundonald Arctic Grip Saltshield Boots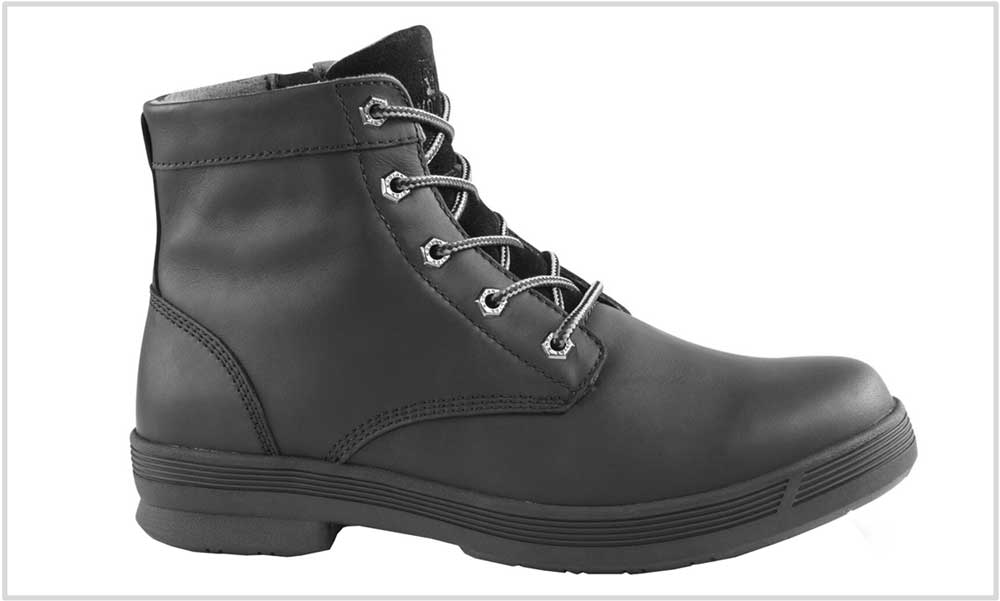 Road salt is excellent for traction on wintery days but bad for leather. Are you tired of the salt stains damaging your leather boots? This is your shoe; the Kodiak Dundonald is made of supple leather that is both water-proof and protects against winter salt.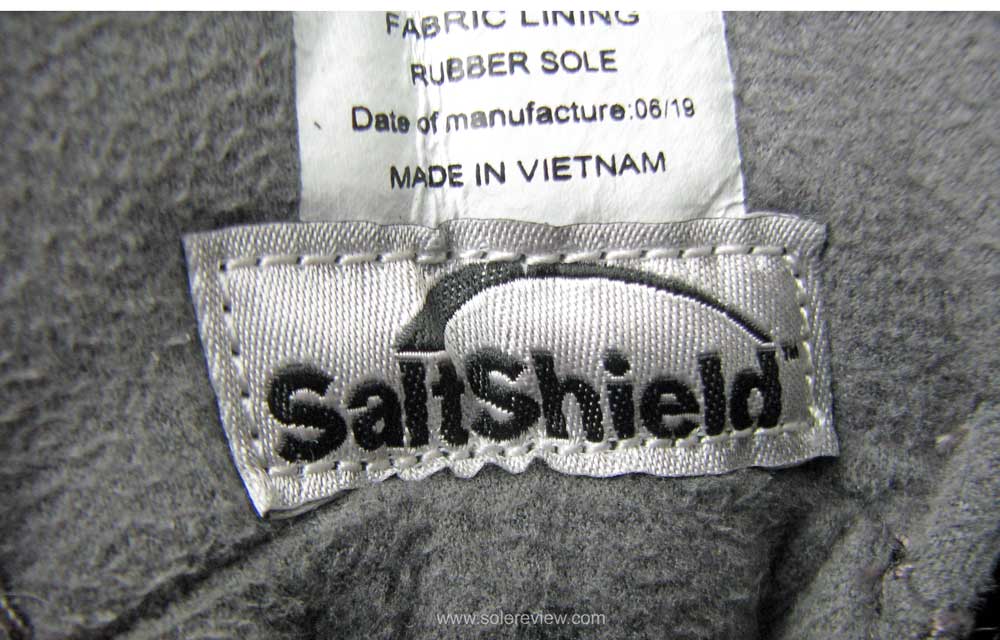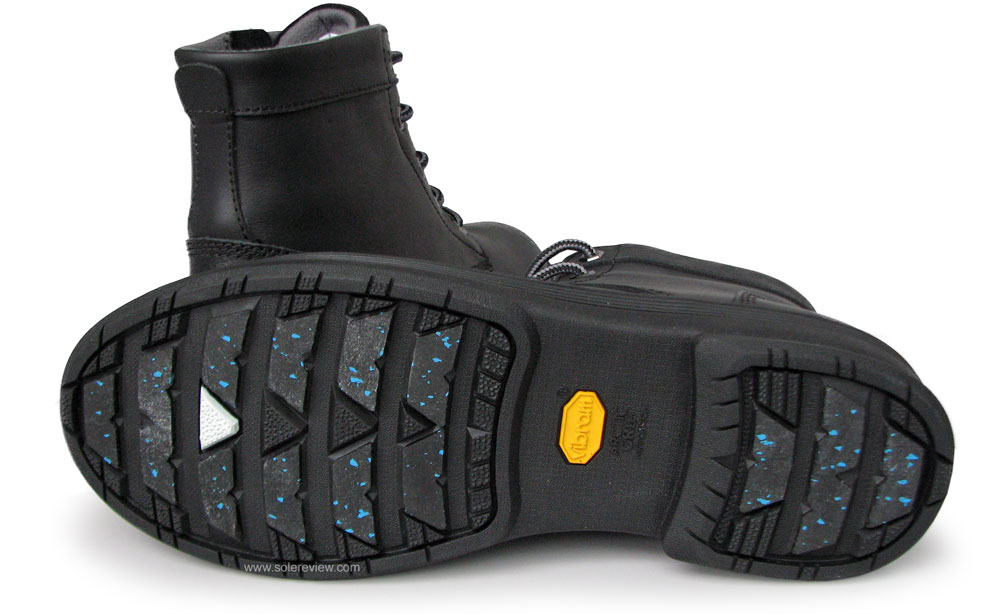 That isn't the long and short of it – not just yet.
The midsole and outsole are made by Vibram, and the bottom has Arctic Ice lugs for better traction on damp roads and packed snow. To manage expectations, it's worth pointing that the grip isn't great on powdery snow or flaky ice.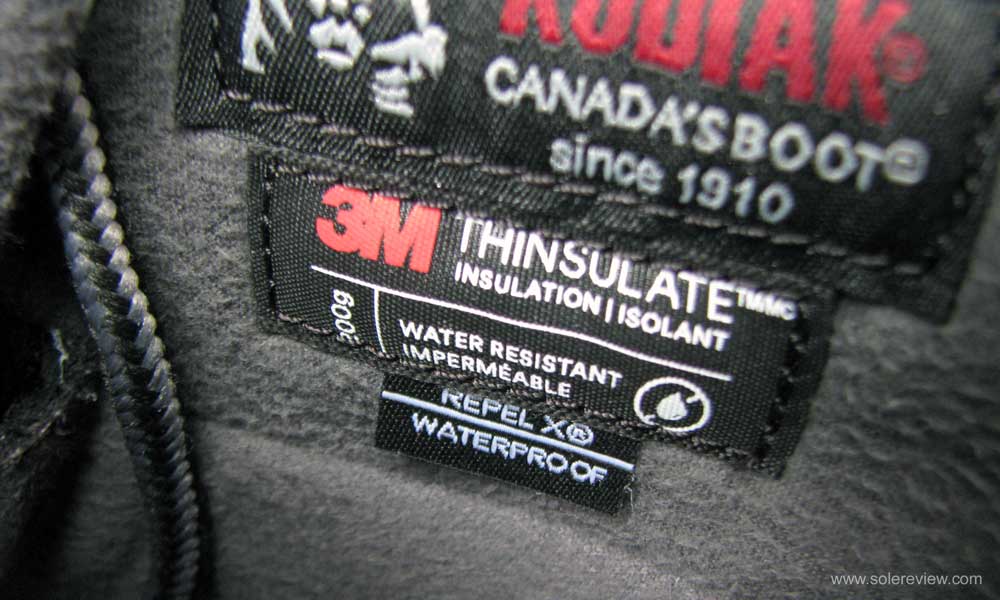 Because of its Thinsulate layer inside, the Dundonald is rated till minus 30 Celcius or -22 Fahrenheit. We tested this Kodiak boot in minus 10 Cel and -19 Windchill and it kept the foot warm and dry – with a caveat. As long as you're walking, the feet stay warm. The problem begins once you stand still – the cold seeps in from the bottom. Not many boots pass this test, and the Kodiak is no exception.
By the way, the Kodiak brand is owned by Dickie's workwear – a division that recently used to be a subsidiary of VF Corporation, the maker of Timberland, The North Face, Altra, Icebreaker, and Vans.
Our detailed review of the Kodiak Dundonald is here.
3) Sorel Caribou Wool Boot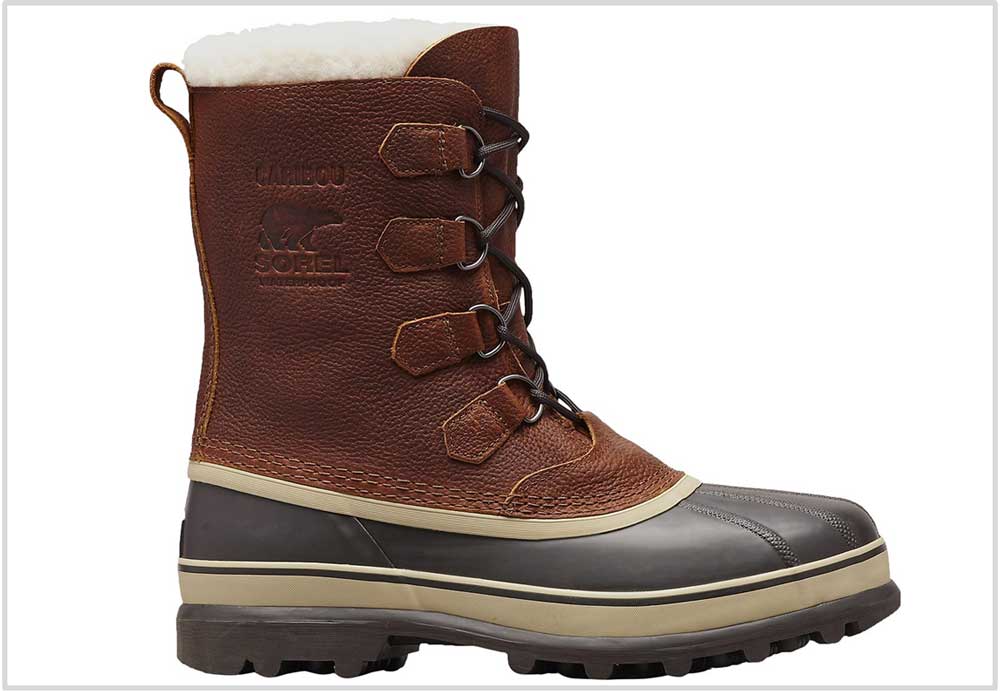 You thought you were going to be disappointed not to see a proper winter duck boot on this guide?
Well, here you go. The Wool version of the Sorel Caribou is the boot for snowy winters. Though Sorel rates them at minus 40, we'll take that with a pinch of salt. That said, this is a dependable do-it-all boot for sub-zero temperatures.
The wool liner and the vulcanized shell under a waterproof leather upper work together to keep the cold, water, and road salt out. And if the inner bootie catches some slush, you can always take it out and wash them.