Color: Anthracite Grey/Mars Red
Brooks' marketing pitch: A monster of support, stability and cushioning.
Surfaces tested on: Road, ambient temperatures of 20° C/68° F
Upper: Mesh, synthetic leather, fused overlays.
Midsole: Compression molded, quad-density EVA foam. Harder medial post in twin density, BioMogo foam, full length DNA Gel insert, plastic support shank, 12mm heel drop, the works.
Outsole: Carbon rubber.
Weight: 431 gms/ 15.2 Oz for a half pair of US11/UK10/EUR 45
Widths available: D-standard (reviewed), 2E and 4E in select colors
The big daddy of all pronation control shoes, full loaded. Heavy and firm with a snug fitting upper - you'd need to half upsize forward and sideways.
Brooks Ariel '14 (womens only), New Balance 1260 V4, Brooks Adrenaline GTS 14
Stability, arch support, quality of materials, adaptable DNA cushioning
Outsole durability, super tight upper
Around eight years ago, when we first thought of starting a shoe review website, one of the biggest challenges was deciding what to name it. Anyone who's ever had to deal with naming something knows how mind numbing that process can be.
Because you want something which is unique, yet sounds easy enough to roll off your tongue. It is more complicated with domain names, because most of the good ones are already taken. But we managed to brainstorm a list of over two dozen potential names, and then finally zeroed down to two. One of those names (not the solereview one) was taken, so we sent the domain owner a generous offer, but never heard back. So in the end, we ran with solereview. In retrospect, the turn of events worked out just fine.
We were helped by an excellent book about naming convention called 'The making of a name,' by Rivkin and Sutherland. It delves into the science of names, like what differentiates a good name from bad, and other finer aspects of that art. The book also talks about 'descriptive' names, the latter describing a characteristic, purpose or appearance of the product or service. Solereview is a good example of that name category, and aligns perfectly well with what goes down here.
By now, you must be wondering what does this anecdote have anything to do with the review? We thought it was worth a mention because the shoe in focus today is called the 'Beast'. And if it conjures connotations and images of something with monstrous built, then you'd be right to think so.
For the Beast is truly a monster of a running shoe. At 431 gms or 15 Oz for a US 11, this Brooks shoe has the weight of nearly two Hoka Cliftons, and easily the heaviest shoe we've ever reviewed. It is built like a truck, akin to a Dodge Durango of running shoes. This is for those runners who want the fully loaded version of a stability and support shoe, when lesser shoes simply won't make the cut.
Brooks has hit this shoe with everything they've got. You name it, and it's there. The Beast might be expensive at $150, but you need to see what this shoe packs in for that price.
For example, the midsole alone has four different foam densities, and eight different components. The upper is no laggard either, using top grade materials and construction, no expense spared. If you were looking for signs of cost cutting, then doing so on the Beast '14 will prove to be an exercise in utter futility. The shoe oozes with premium materials everywhere, and the high price sticker seems quite justified. If you want to have some fun, compare this with the flimsy $150 Hoka Huaka.
Just know who this shoe is for, because not everyone will like the Beast. This shoe is the last word for a 'maximal' pronation control shoe, delivering support by means of exaggerated stability features. Somewhat of a nineties throwback if you ask us, evoking stability shoe silhouettes of prodigious visual bulk.
The midsole is the key element which defines the Beast's ride character, so let's have a closer look at it first and see how it performs functionally.
Like most stability/motion control shoes, the Beast 14 uses a combination of multiple midsole foam densities, except that Brooks stretches this concept with four different hardness levels. A huge, grey section (firmest in Beast's midsole) is inset on the medial side, leaving little doubt of the shoe's purpose.
If you let your eyes follow the midsole curve's journey towards the lateral (outer) side, you'll notice the red colored foam layered between the grey and white section. The red foam is softer than grey, and firmer than white – making the latter the softest (relatively speaking) part of the midsole.
If you're confused, don't be. Reference the image above – the foam is softest on left, and turning firmer as it spreads to the right side. (White-red-grey)
The design of graduating foam firmness from outer to inner side is the cornerstone of any motion control shoe, used with the aim of reducing inward foot roll. A couple of other examples would be the Brooks Adrenaline GTS 14  and the new Nike Zoom Structure 18. The GTS 14 has a quad density midsole, while the Nike makes do with three.
Brooks calls this the 'progressive diagonal roll bar' or simply 'PDRB'.
And lest we forget, the Brooks Beast has two crash pads. There's a red one right on the outer (lateral) side, and another which extends (laterally) from midfoot to forefoot. It is important to call out that all these (five) foams are very firm, notwithstanding the difference in densities across colors.
This is in contrast to some stability shoes in which there's a marked difference between foam softness on medial and lateral sides.
There's also a huge plastic support piece in the midfoot which wraps the bottom of the outsole. It also extends upwards (and backwards) on the arch side to embed itself over the firm (grey) foam in an arch-like shape.
The outsole footprint is huge on the Beast; the area under midfoot is completely filled out, and only slightly less wider than rearfoot. The forefoot looks wide, but isn't any more so than regular shoes.
Forefoot midsole is dual density, the medial side being softer white foam and lateral a combination of (red) foam insert under white. So if you turn the shoe over, you'll notice the forefoot split equally along the center in red and white.
The Beast's got a few flex grooves, but it remains a very stiff shoe – due to sheer thickness of the material used.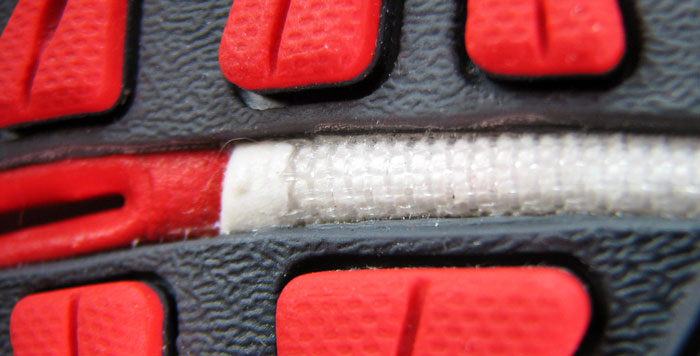 Inner half of the forefoot uses a filament mesh kind of material sandwiched between the outsole and midsole. You can see this going over the flex grooves; not sure what this meant for.
It is possible that this material adds extra stiffness to the (softer) white side, trying to compensate for the firmer density of the red half.
For cushioning, the Beast '14 depends on a full length insert of adaptable DNA gel. This is different from the new 'Super DNA' foam which has been in the news lately. This is the old school, original DNA which has non-Newtonian properties – the ability to change viscosity based on footstrike pressure.
In simple words, the DNA gel is soft when walking, and turns firmer when things speed up. The image above shows you how the DNA looks like inside the shoe – the picture is that of a Glycerin 9 tear-down.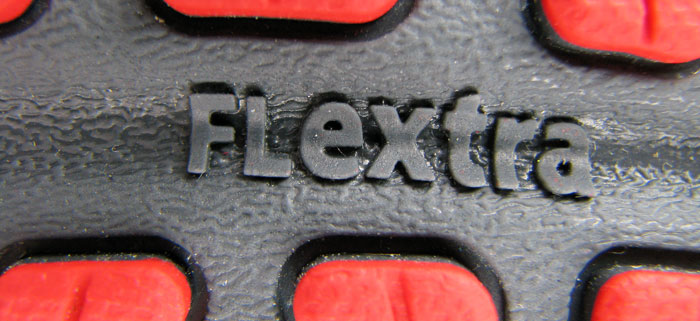 Plenty of coverage on the outsole, with the entire surface being hard rubber – no blown rubber under the forefoot. This is also a near-full contact outsole, except for the small midfoot gap covered by the plastic shank. Heel part is partially segmented by a groove, making it something which can be described as a semi-crash pad.
Rubber durability has always been something which Brooks shoes has been found lacking in, and the Beast '14 doesn't fare any better. Rubber will undergo some level of shredding around the footstrike area, even just after a few runs.
The ride is a bit off the beaten track, as there's a curious meld of stiff and cushioned. The foam sections are unyielding and firm; the DNA gel insert makes foot strikes relatively cushioned. Being what it is, the DNA material feels softer during slower speeds and yet decreasingly so during runs. Non-Newtonian, remember?
The cushioning feels extremely centered every time you land in it; the lateral bias is barely noticeable as the midsole foam walls resists collapsing.
You also have to consider the generously thick and padded footbed, which can put many aftermarket orthotics to shame. It is a three layered (fabric, foam, foam) drop-in piece with molded contours. Not really sure what material the base is made of; looks like poured foam (due to pores on its surface), but with a very silicone-ish feel to it.
The thickness makes the insole extremely well padded, and also forms the larger part of the shoe's under-arch support – which by the way is excellent on the Beast '14.
The sockliner volume also makes it ideal to be replaced by most aftermarket Orthotics in case you did not like the stock insole. You should be able to do so without impacting the default fit, as it is unlikely that replacement insoles will exceed the height of the Beast sockliner.
Beast'14 scores high on stability, helped by its larger midsole volume(and girth), lack of lateral bias and overall foam firmness. If you have weight training sessions weaved in along with your runs, then this shoe works perfectly for that. While heel to transition is smooth during runs, the forefoot's ultra stiff – making non-running duties more work for your foot.
With all said, just know that this is the exact same midsole/outsole design seen on the Beast '12, so while we haven't reviewed the Beast '12, it can be safely assumed that the ride will remain unchanged.
At the risk of generalizing, we think that this shoe to be a good option for heavier runners seeking a motion control shoe with rock solid stability. That is why the upper fit came as a surprise, because heavier runners tend to have slightly wider feet.
If the fact that we had ordered a standard 'D' width was unknown to us, we would have assumed that the shoe being tested had a 'B', or narrow width. It is tight in the forefoot, even for someone who has feet with normal width.
It is almost as if Brooks has used a adidas last for the Beast. Not only that, but the length runs smaller too. Even when compared to other Brooks shoes, the toe area feels cramped and pointy.
We don't say this in many reviews because of variables involved, but the Beast '14 is an exception – so we strongly recommend you buy half a size larger and also upsize sideways to at least a 2E (wide). Otherwise this shoe will be good only for shorter running distances; any longer and you'd wish you had a size bigger.
The shortness in heel to toe sizing can be attributed to the upper heel area. The Achilles dip curves in more than what's necessary, pushing the foot forward. And yes, that's another area which will have divided opinions.
Some will find the super snug collar area to their liking, while others might find the pressure on Achilles something which they could live without.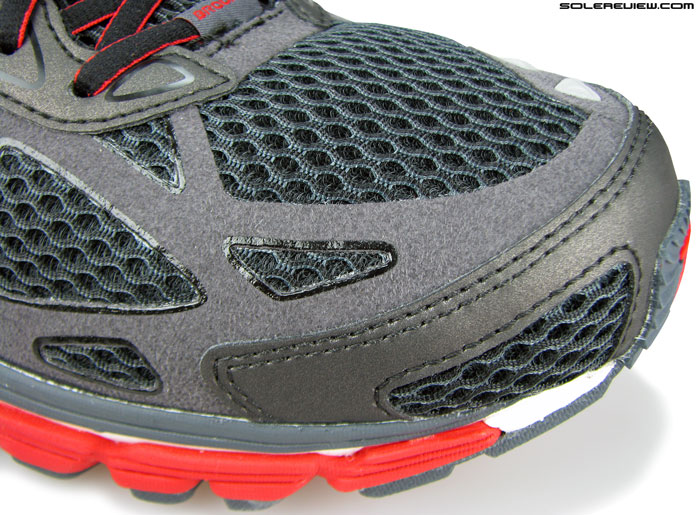 Otherwise the upper is top work, if you look past the need for upsizing. The spacer mesh's comfortable, lining has a premium feel all through from tongue to collar, the laces are soft and tongue stays in place as it is attached to the upper.
The overlays look swell too. There's a material combination of synthetic nubuck (with printed edges, no less), gunmetal finish synth. leather and stretch polymer panels which result in great midfoot fit. A couple of reflective tid-bits adorn toe the bumper and center of upper heel.
Breathability is a-ok for a shoe this bulky, as the spacer mesh comes unlined and stretch midfoot panels have a covering of thin mesh.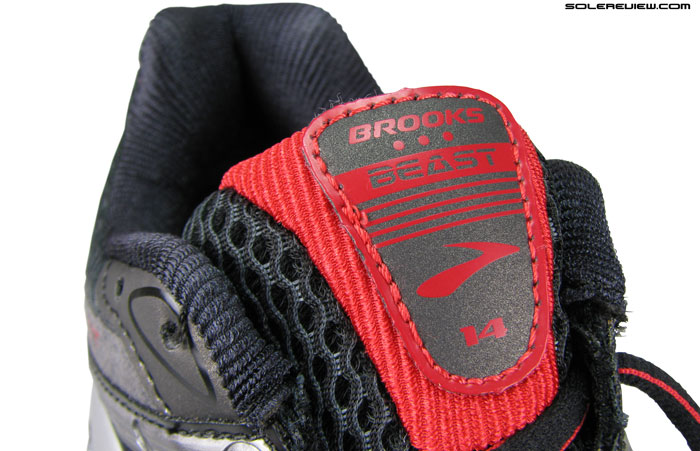 Know what the Beast '14 is useful for, and you'll be a happy customer. Just remember to upsize on this Orthotic of a running shoe.
(Disclaimer: solereview paid full US retail price for the shoe reviewed)