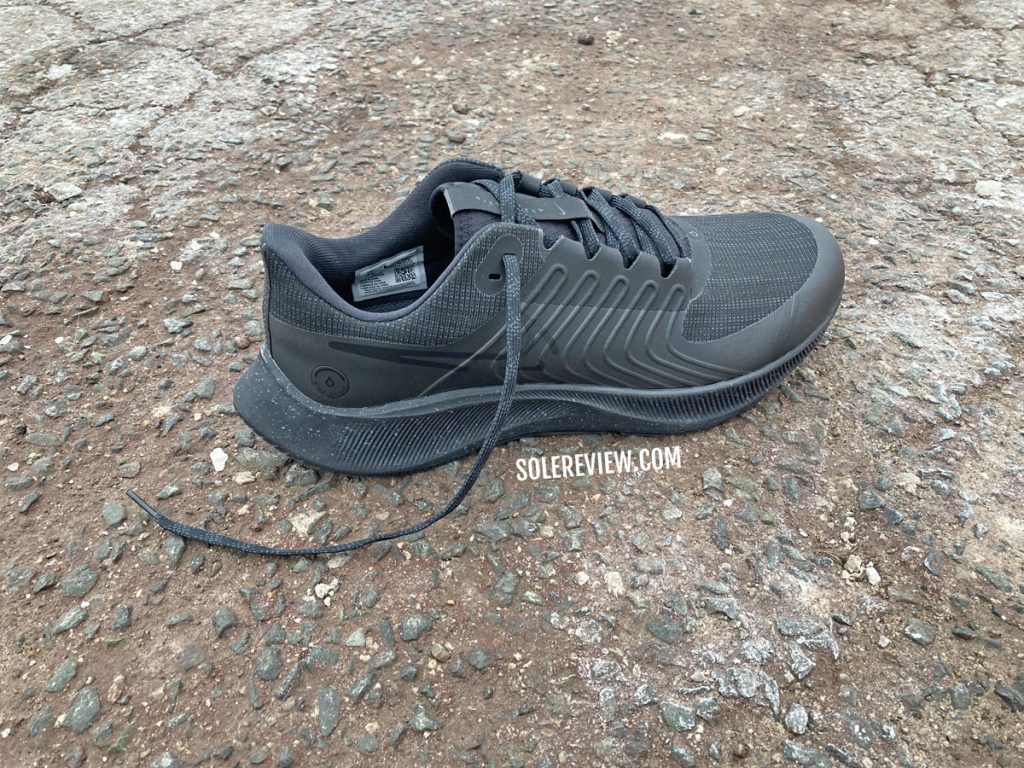 We don't have the data to back this up, but black appears to be the color of choice in athletic footwear.
A lot of them also happen to be running shoes. Having said that, we suspect that most of the people who wear black trainers don't use them for running.
However, running footwear is the preferred silhouette for an everyday shoe. The same qualities that create a good running shoe also make it an excellent everyday shoe. And mind you – we're not talking about Carbon-plated running shoes, but of a traditional kind.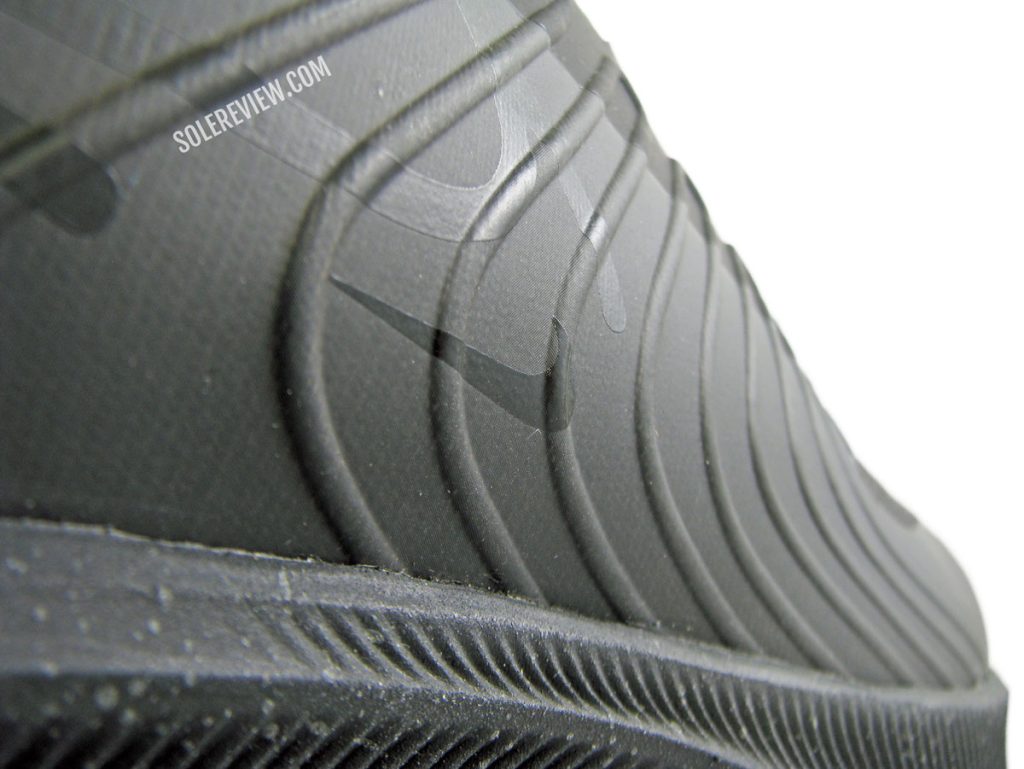 Since this is a Nike-specific product guide, let's use the Pegasus 38 as an example. It's a versatile neutral trainer with a cushioned midsole and an inoffensive upper design. The midsole is covered with an outsole that grips well on roads, sidewalks, and artificial floors.
The ride comfort of a running shoe is higher than that of a fashion sneaker, so that's very useful when walking to school or work. Many service industry and healthcare workers also wear running shoes because they're comfortable enough to stand on all day.
And unlike Air Force 1's and Air Jordans, the sleeker silhouettes of running shoes are a safe choice in toned-down colors.
And there's no safer color than black. Besides being a workplace-safe color, black running shoes are immensely practical. We can think of many reasons why:
Style versatility
A black running shoe goes well with anything that you throw over it, as well as most skin tones. It blends in with grey sweatpants, black running tights, and even dark denim.
And if your work or school uniform includes dark pants, then a black shoe is a near-perfect match.
Ease of maintenance
Taking care of light-colored running shoes is a tedious chore.
On the other hand, black shoes exact a far lesser toll on the wearer. The uppers are not easily soiled, and products like the Pegasus 38 Shield even have liquid-resistant uppers. It's not for nothing that our cold weather choice is the Pegasus 38 Shield.
Ideal for service industry professionals
Service and healthcare industry professionals are on their feet all day, and black pants are usually a part of the uniforms. A black running shoe solves two design needs – that of a comfortable shoe capable of withstanding all-day abuse, as well as being easy to clean.
Luckily for us, there's no dearth of Nike running shoes that sell in an all-black color scheme. For the sake of brevity, we have excluded black shoes with white midsoles or logos.
Solereview recommends: The Nike Pegasus 38 Shield (for winter)
For cold, damp days, the Nike Pegasus 38 Shield is our top pick. The all-black variant has a subdued aesthetic that doesn't scream Nike at all. The tonal logos blend into the upper, making it the most 'un-Nike' of running shoes.
The Peg Shield is also the easiest to keep clean. The mesh is treated with a water-repellent finish, so liquids bead off the upper. The synthetic mudguards and panels are also easy to clean as the material does not absorb water.
The tongue is insulated, so we don't recommend the Shield for summer use. Our in-depth review of the newest Pegasus Shield is here.
Solereview recommends: The Nike Flex Experience 10 (for summer)
For warmer months, we recommend the Flex Experience Run 10.
This $65 shoe is more breathable than the standard Pegasus 38 due to the lack of an inner sleeve. The Nike Free-inspired midsole cuts down on weight while producing a comfortable and flexible ride.
Besides these two, we've curated a list of other black Nike running shoes.
All of them are recognizable names that have spent many years in Nike's staple assortment of running shoes. They are relatively easy to buy – either in-store or online.
1) Nike Air Zoom Pegasus 38
Very soon, the venerable Nike Pegasus will be four decades old. At the heart of its success is a formula that works – which is to give the Pegasus a balanced set of attributes that makes it a versatile running shoe.
The Pegasus 37 and 38 share the same midsole; the React foam stack houses a Zoom Air bag in the front. The result is a cushioned midsole with a snappy forefoot – a ride character that works across varying mileage and pace levels.
Though we're not a big fan of leaving the heel Zoom Air bag out, most people will not notice the difference between the forefoot and heel cushioning.
Nearly all the details on the sleeved upper disappear on the black-on-black Pegasus 38. The embroidered logo, speed lacing loops, and the even the lining are black.
2) Nike React Infinity Run Flyknit 2
We reviewed this running shoe a while ago; it's a successor to the Epic React, Nike's first running shoe with the eponymous foam material.
Though React has been relegated to a tier 2 cushioning technology because of the ZoomX foam, it doesn't change the fact that it packs mileage-worthy comfort for everyday runs and walks alike.
Here, the React Infinity uses a single-density midsole with a TPU heel stabilizer for support. This results in a ride character that blends cushioning comfort with stability; something that any running or walking shoe should have.
The all-black iteration of this model marries a blacked-out knit upper with a tonal midsole and outsole.
3) Nike Free Run 5.0
The Nike Free Run 5.0 has shades of the original Free 5.0. We're referring to the bootie construction that lacks a separate tongue flap. So while it can be a bit challenging to get inside the shoe, the upper is comfortable and secure once the feet are inside.
Just like the vintage Nike Free models, the midsole of the Free Run 5.0 is generously grooved and flexible. The narrow grooves aren't just under the forefoot, but extend to the heel too.
The result is a very smooth ride that also happens to be soft and comfortable. It's also reasonably priced at an MSRP of $100.
This color of the Free Run 5.0 is completely blacked out, and that includes the Nike logo.
Also see: Nike Flex Run 2021 – all black.
4) Nike Winflo 8
Ah, the Winflo 8. This popular $90 running shoe has always been a 'Pegasus Lite' of sorts. The Pegasus 38 has a forefoot Zoom Air bag, and so does the Winflo 8. It may not have the React midsole foam, but the 'Cushlon' EVA foam provides cushioning comfort for everyday runs.
The lightweight upper uses lacing cords to support the midfoot and create a snug interior environment.
However, none of that is visible on this particular Winflo 8 color. All the details disappear into the darkness of the blacked-out upper, and so does the foam midsole and rubber outsole.
Also see: Nike Run Swift – all black.
5) Nike Downshifter 11
There's a price of entry into every brand. For Nike, the Downshifter is that shoe. While it's helpful to keep expectations low because of the $60 retail price, the Downshifter has its basics right.
The EVA foam midsole is comfortable enough for low-intensity activities, and the rubber outsole provides traction and ride stability.
The mesh upper isn't short on the detail either. The translucent midfoot panels are a nice touch, and so is the half-gusseted tongue. Unfortunately, your eye will miss most of the styling details on the all-black version.