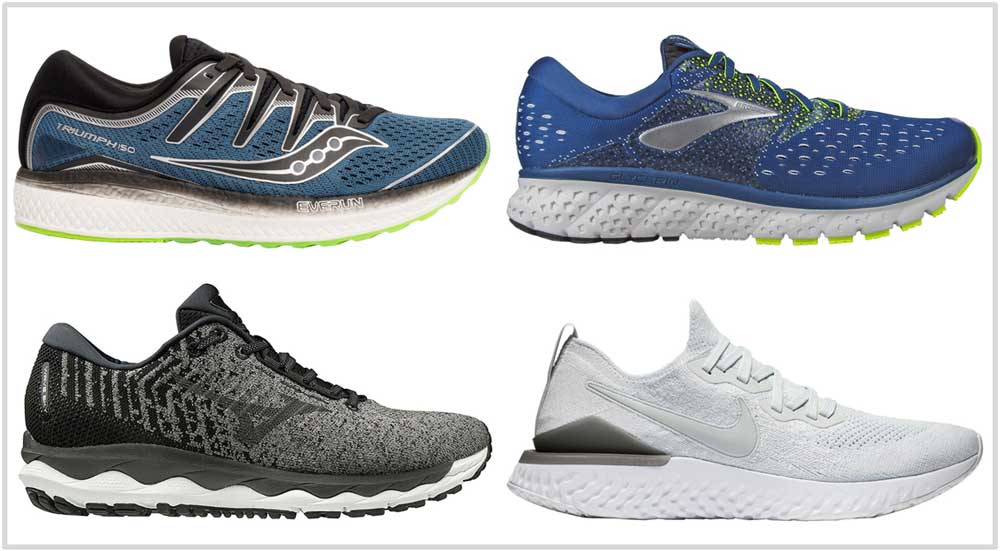 This guide has been updated with current models for October 2019. A similar article for women's footwear can be read here.
You're probably reading this guide because you weigh more than 200 lbs/90 kilos. The word 'heavy' has many contexts; maybe you just happen to be large-framed with large feet. Or one might not necessarily have low or flat arches – there are many heavy runners with a regular arch.
When you go searching for suitable running shoes, you'll likely hear the following shopping advice:
"Buy a running shoe which has the softest cushioning. They're the best for heavy runners." That, or "You can't go wrong with a stability shoe for over-pronators."
Wrong. That's not good advice at all.
We understand why most people recommend max-soft or motion-control shoes, though. The underlying (and misinformed) logic is that a softer ride equates to better shock absorption, but that simply isn't true.
In fact, an overly mushy shoe can do more harm than good when you're north of 200 lbs. Here's why:
An uber-soft running shoe is unstable for high bodyweight.
A shoe that feels supportive for a 150 lb runner might end up throwing a heavier runner around. If the midsole isn't supportive, then that translates into more work for the body.
During each phase of the gait cycle, the body will have to work hard to compensate for the shortcomings of the unstable shoe. This increases the chances of injuries.
Excessive midsole softness can cause the shoe to bottom out.
The Asics Nimbus 17 was a perfect example of this in action. Its midsole was so mushy that it bottomed out even if you were a 150 pounder, and parts of the outsole were felt during runs. That defeats the entire purpose of the midsole, does it not?
An extremely soft shoe will lead to significant variance between the static and dynamic heel gradient.
An often overlooked aspect is that there can be a huge difference between the published heel drop and the dynamic one – especially when it concerns soft running shoes. The heel offset is the difference between the heel height and forefoot midsole height, and brands often advertise this number.
But you should take the static heel drop with a huge grain of salt. The heel offset of a shoe when fully loaded can differ a lot from the static drop. Select a shoe with a firm midsole to minimize this variance.
Running in a very soft shoe will result in a lower heel gradient than expected; more so when the footstrike load is in multiples of 200 lbs.
For all you know, a '10 mm' drop might turn into a 4 mm offset or less during running. This might strain your Achilles or Calf muscle if you're not used to running in footwear with a lower offset.
Super-soft cushioning has lower durability.
Except for newer materials such as the adidas Boost, Nike React, Reebok Floatride, and Saucony Everun, foam-based midsoles tend to lose their cushioning over a few hundred miles. A heavy runner using a shoe made of a soft EVA foam compound is likely to fatigue it faster than a lighter runner.
So far, we've painted super-soft running shoes in a poor light, but there are exceptions to each generalization. Certain shoes made from new-gen foams can be very soft yet durable and not mushy.
Traditional 'stability' shoes can end up achieving the opposite effect
Conventional stability shoes have a firmer inner midsole and a softer outer midsole. While this design prevents rolling of the foot towards the inner side, it comes at the cost of midsole bias. The body weight will follow the path of least resistance and lean towards the outer side.
Not all 'stability' shoes are stable. This is the reason why you won't see an Asics Gel-Kayano or a New Balance 860 on our guide.
If very soft shoes and lateral leaning stability models are off the menu for heavier runners, then what's left to buy? Good question.
Softness and cushioning are often used interchangeably, but cushioning – the ability to protect the foot from impact forces – exist in firmer shoes too. So it is important to buy a shoe that is cushioned yet supportive One which is capable of handling a 200+ lb body weight over hundreds of miles.
There are a variety of such cushioned (and supportive) shoes but it can be a challenge to trawl through the confusing assortment of products.
To help narrow your search, we've curated a list of top 10 running shoes suited for heavy runners. This list is far from exhaustive but a good place to start.
Note: The Brooks Beast and the Saucony Redeemer are medially-posted exceptions because of their high levels of inherent support.
Category: Supportive neutrals, no medial post 1) Asics Gel Fortitude 8
The Fortitude 8 is purpose-built for heavy runners. It features a firm and stable midsole, and the updated engineered mesh upper makes the interiors smoother than the V7. Its price doesn't break the bank either, so this is a good value-for-money shoe.
Given all that extra material, the Fortitude isn't the lightest of running shoes. The Fortitude's ultra-stiff outsole is very noisy, so take note if that's something that bothers you.
Weight: 350 grams/ 12.3 ounces, 10 mm offset, available in multiple widths.
2) Brooks Glycerin 17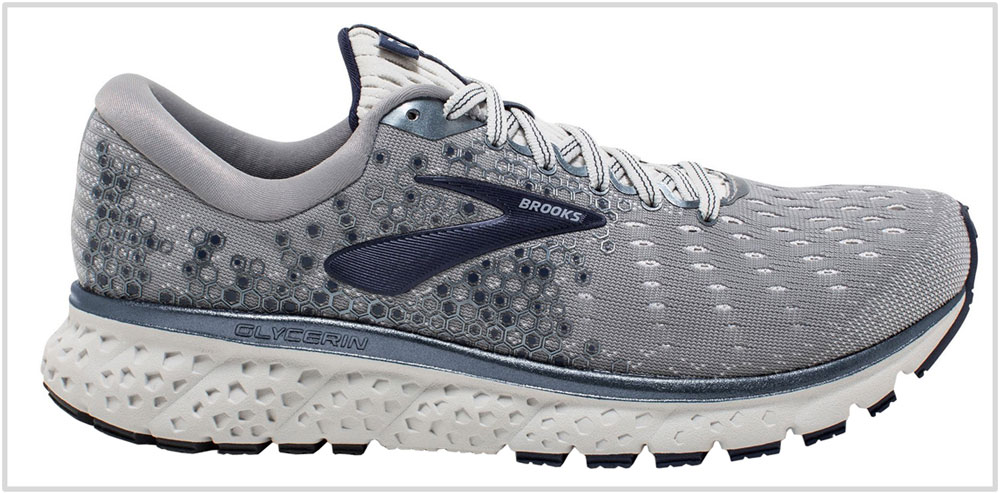 The Glycerin 17's midsole and upper design make it a very supportive neutral shoe. The DNA Loft midsole provides cushioning minus the sink-in softness; the Ortholite insole and lasting deliver underfoot comfort. The sleeved upper is plush, fits securely, and is available in 2 widths.
The outsole grips well and is generously articulated to help smooth transitions. The Glycerin 17 is available till a size US 15.
3) Brooks Adrenaline GTS 19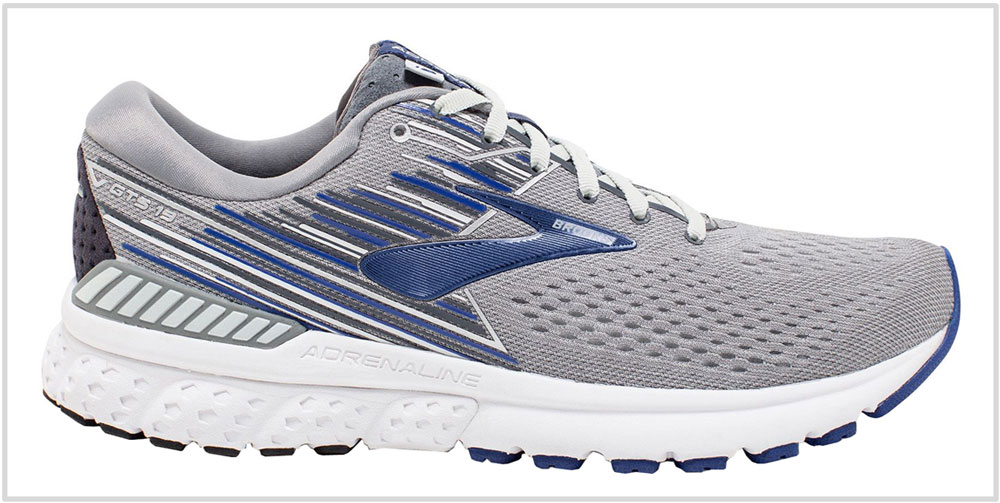 Until last year, we wouldn't have recommended the Adrenaline because of its firmer medial post. But the GTS 19 is a markedly different shoe than the one it succeeds.
There's no medial post here, just a supportive midsole with a DNA Loft crash pad. This is a Brooks shoe so the upper is pretty comfy and conforming.
The GTS 19 goes up to a size 15 and offers a total of four widths.
4) Brooks Transcend 6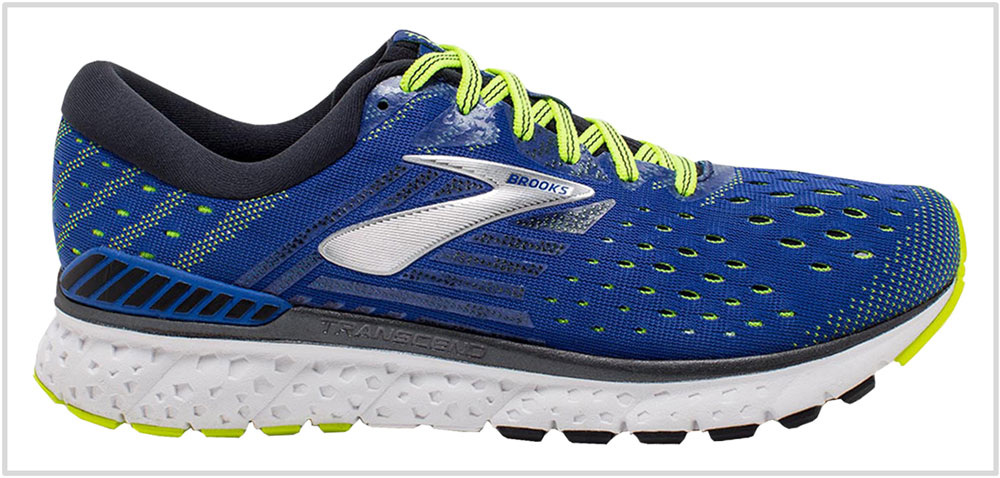 The Transcend was the first official stability shoe to ditch the medial post. Instead, Brooks uses an ultra-wide midsole and outsole along with raised sidewalls. These barriers cup around the foot to lock it down in position. The seemingly minimal upper fits securely and feels plush on the inside.
It's very cushioned too. The DNA Loft midsole makes runs comfy without being marshmallowy soft, and that's good news for runners who seek a stable platform. The Ortholite insole adds a soft topping layer over the supportive midsole.
Available in a single width till size 15.
5) Mizuno Wave Rider 23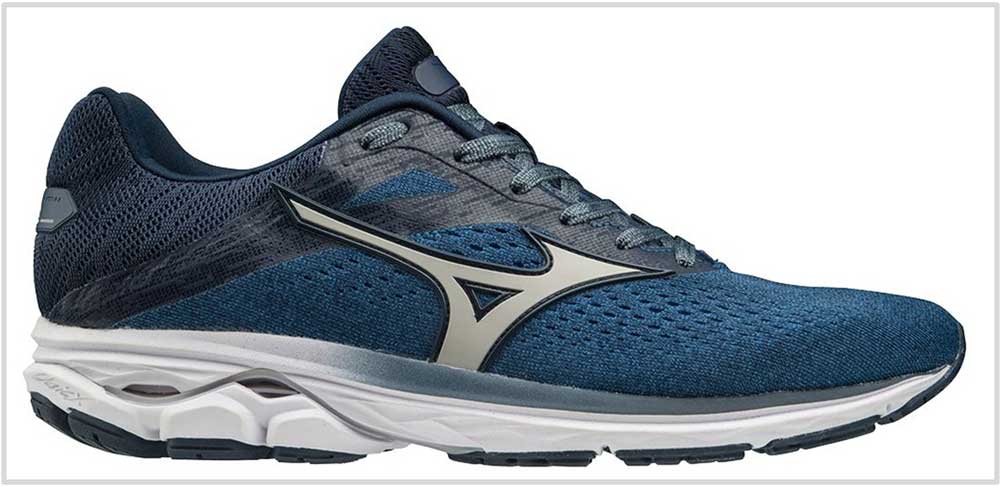 There are a couple of things which make the Wave Rider 23 suitable for heavy runners. The forefoot midsole has a wide flare and the rearfoot is reinforced with the Mizuno Wave plate. The Pebax insert prevents excessive compression and the flared forefoot keeps landings and transitions planted.
And if you're a heavy runner with wide feet, the standard 'D' width has sufficient room for splay. A 2E width is optional as well.
6) Mizuno Wave Sky 3 WaveKnit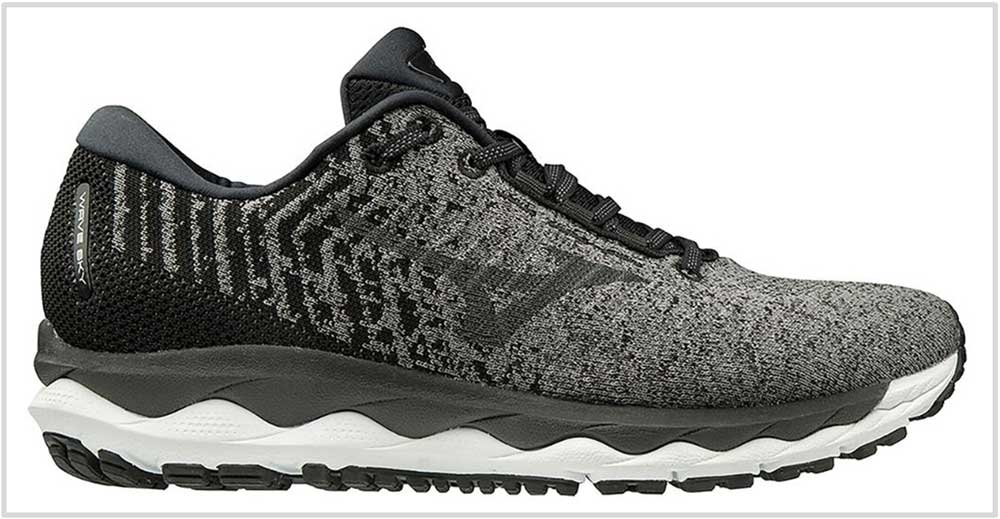 The Wave Sky 3 Waveknit is a Mizuno with a difference; it belongs to a new breed of Mizuno running shoes NOT to feature a Wave plate.
Thankfully, that doesn't affect the overall stability of the shoe. The Sky 3 uses a Polyurethane foam insert over a dual-density midsole, so the ride combines a bit of responsiveness with a plush ride which works well for heavy runners.
The plush stability is somewhere between the Saucony Triumph ISO 5 and the Brooks Glycerin 17 – and we say that as a compliment.
7) Saucony Echelon 7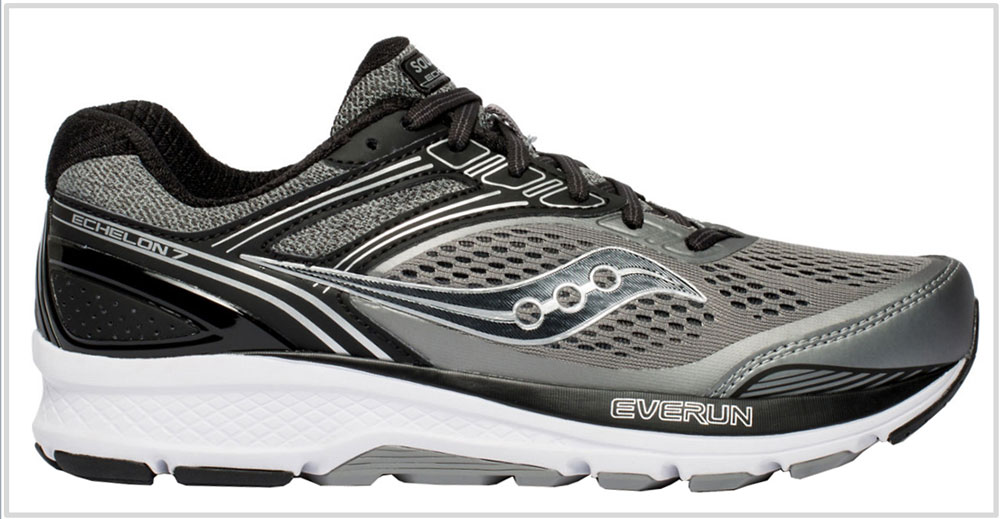 The reasons why the Echelon 7 weighs over 12 ounces is exactly why it's on this list.
Consider, for example, the ultra-wide outsole footprint and a girthy midsole above it. Or extras such as the contoured insole and the Everun topsole over the cushioned and flexible midsole. You can even swap the stock insole with aftermarket orthoses. These factors make the Echelon a very stable shoe for all-day comfort.
It's refreshing to see a non-ISOFIT upper for once. The 'Sauc-fit' design has bits and pieces you'll recognize from the older Saucony models – there are plenty of overlays for support mated with a plush heel and tongue lining.
Available till size 15 in an optional wide.
8) Saucony Triumph ISO 5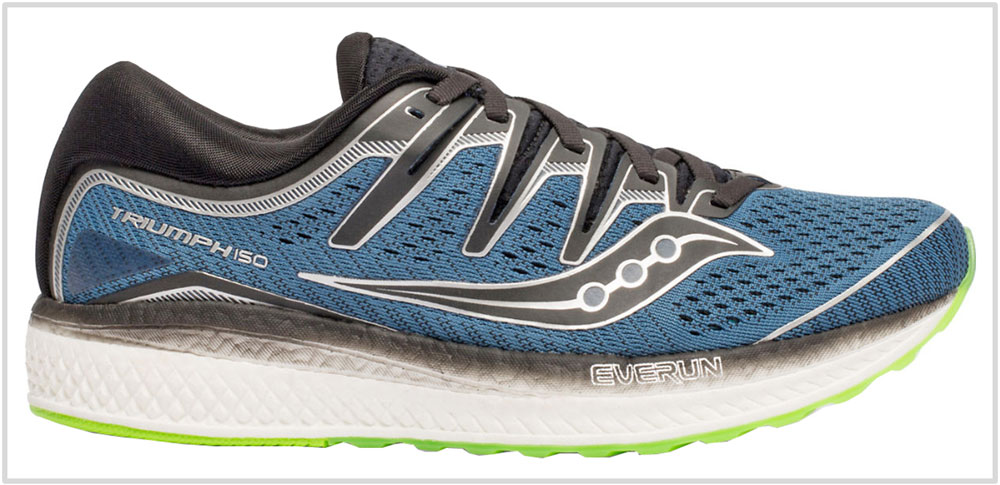 The Saucony Triumph ISO 5's full-length Everun midsole delivers a dense, responsive, and durable kind of cushioning, which is just the right thing for heavy runners.
Everun foam is made out of expanded Polyurethane beads, a material that is similar to the adidas Boost but firmer. The Triumph ISO 5 is pricey yet happens to be an excellent daily training workhorse. The translucent rubber outsole lasts long too, and has a good grip over dry surfaces.
The sleeved ISOFIT upper is secure, comfortable, and supportive. The Triumph ISO 5 is available till a size 15 in an optional wide.
9) Nike Epic React V2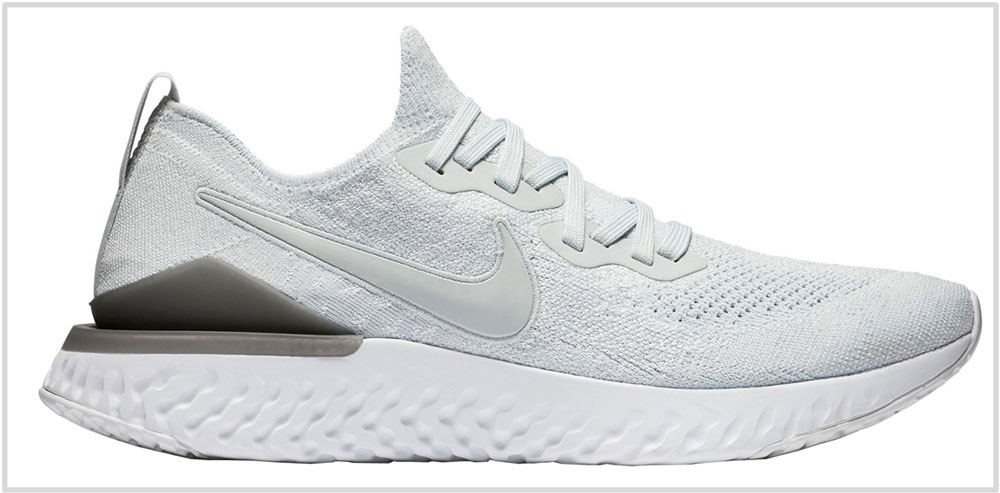 The Nike Epic React V2 has a cushioned ride thanks to its full-length React foam midsole. Admittedly, the Epic isn't as supportive as the other shoes on this list. And yet, the synthetic rubber-based midsole has a very dense cushioning which works for heavier runners. The heel sits atop a plastic stabilizer which reduces the chance of sideways bias.
The upper grips well, the midsole has a wide forefoot base and the React foam doesn't bottom out.
So if you're willing to trade a bit of stability for non-mushy cushioning and lower weight, the Epic React is an option. Available in a single width till size 15.
Category: Stability shoes with medial posts
9) Brooks Beast '18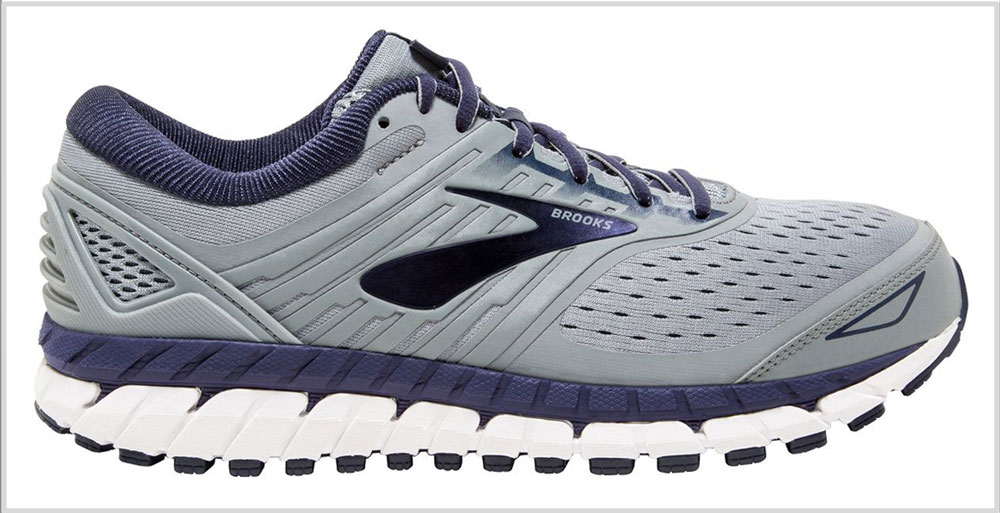 This is a shoe with a medial post – the same category we warned you about – but the Beast is extremely stable. The wide midsole and the outsole base form a very supportive foundation. What's more, the transition groove under the heel helps centers the weight and minimizes bias.
The Beast 18 finally gets a roomier toe-box and brings respite to runners with wide feet. The outer heel clip, midfoot saddle, and the plush upholstery help combine interior plushness with superior foot lock-down.
Goes up to a size 16 and is available in a wide and extra wide too.
10) Saucony Redeemer ISO 2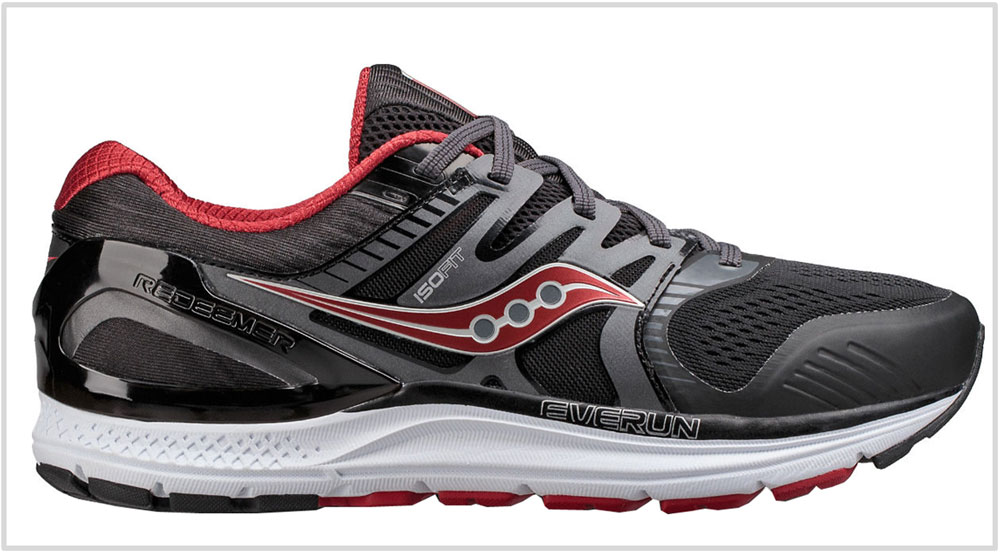 The Redeemer ISO 2 has a couple of unique features that differentiate it from other stability shoes. It's got an 8 mm thick insole which not only adds top-layer cushioning but also makes it possible to replace it with an aftermarket insole.
The second feature is its ultra-wide midsole and outsole geometry which makes it great for heavier runners. The Redeemer weighs 12 ounces but we don't consider it a negative in the context of this guide.
The midsole has the customary harder foam wedge but that does not produce an acute motion-control effect.
Weight: 340 grams/ 12 ounces, 8 mm offset, available in multiple widths.
---