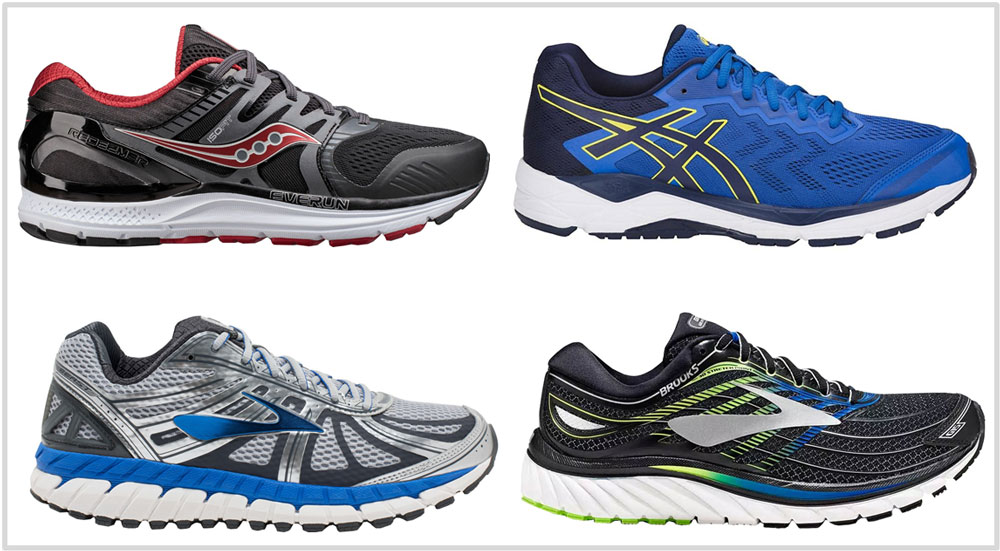 (This list has been updated for 2018)
If you weigh more than 200 lbs (90 kilos) and happen to go hunting for a pair of running shoes, it's likely that you'll hear the following shopping advice:
"Buy a running shoe which has the softest cushioning. They're the best for heavy runners."
Wrong. Nope. Nada. That's not great advice at all.
We do understand why many recommend max-soft shoes, though. The underlying logic is that a softer ride equates to better shock absorption, but that simply isn't true.
In fact, an overly mushy shoe can do more harm than good when you're north of 200 lbs. Here's why:
An uber-soft running shoe is unstable for high bodyweight.
A shoe which feels perfectly supportive for a 150 lb runner might end up throwing a heavier runner around. If the midsole isn't supportive, then that translates into more work for the body.
During each phase of the gait cycle, the body will have to constantly work hard to compensate for the shortcomings of the unstable shoe. This increases the probability of injuries.
Too much midsole softness can cause the shoe to bottom out.
The Asics Nimbus 17 was a great example of this in action. Its midsole was so mushy that it bottomed out even if you were a 150 pounder, and parts of the outsole were felt during runs. That defeats the purpose of the midsole, doesn't it?
An extremely soft shoe will lead to a significant variance between the static and dynamic heel gradient.
An often overlooked aspect is that there can be a huge difference between the published heel drop and the dynamic one – especially in the case of soft running shoes. The heel offset is the difference between the heel height and forefoot midsole height, and brands often advertise this number.
But you should take the static heel drop with a huge grain of salt. The heel offset of a shoe when fully loaded (with bodyweight) can differ a lot from the static drop. To make this variance as tiny as possible, choose a shoe with a firm midsole.
Otherwise, running in a very soft shoe will result in a lower heel gradient than expected, and more so when the footstrike load is in multiples of 200 lbs.
For all you know, a '10 mm' drop might turn into a 4 mm offset or less during running. This might strain your Achilles or Calf muscle if you're not used to footwear with a lower offset.
Super-soft cushioning has lower durability.
Except for newer materials such as the adidas Boost or Saucony Everun, foam-based midsoles tend to lose their cushioning over a few hundred miles. A heavy runner using a shoe made of a soft EVA foam compound is likely to flatten it faster than, say, a runner who is south of 150 lbs.
So far, we've painted super-soft running shoes in a poor light, but there are exceptions to each generalization. Certain shoes from Hoka or some of the adidas Boost models can be very soft but not mushy.
If very soft shoes are off the menu for heavier runners, then what should you get? Good question.
Softness and cushioning are often used interchangeably, but cushioning – the ability to protect the foot from impact forces – exist in firmer shoes too. So it is imperative that you buy a shoe which is cushioned yet supportive, and capable of handling a 200+ lb bodyweight over hundreds of miles.
There are a variety of such cushioned (and supportive) shoes in the wild, but it can be a challenge to trawl through the thick and confusing assortment of products.
To help narrow your search, we've curated a list of top 10 running shoes suited for heavy runners. This list is by far from exhaustive, but is a good place to start:
Category: Supportive neutrals, no medial post 1) Asics Gel Fortitude 8
The Fortitude 8 is purpose-built for heavy runners. It features a firm and stable midsole, and the updated engineered mesh upper makes the interiors smoother than the V7. Its price doesn't break the bank either, so this is a good value-for-money shoe.
Given all that extra material, the Fortitude isn't the lightest of running shoes.
Weight: 350 grams/ 12.3 ounces, 10 mm offset, available in multiple widths.
2) Brooks Ghost 10
The Ghost 10's supportive midsole design makes it a good fit for heavy runners. It's also well cushioned and reasonably lightweight for its class, so if you need a blend of cushioning and support, consider the Ghost.
The interiors are typical Brooks – comfortable, breathable, and relatively spacious.
Weight: 295 grams/ 10.4 ounces, 12 mm offset, available in multiple widths.
3) Brooks Glycerin 15
The Glycerin is a plusher and smoother riding version of the Ghost. You should get this instead of the Ghost if you crave a plusher ride experience. The midsole is supportive enough for heavier runners, and the upper has softer interiors.
Weight: 300 grams/ 10.6 ounces, 10 mm offset, available in multiple widths.
4) Brooks Transcend 5
Two factors make the Brooks Transcend suitable for 200 lbs+ runners. The first is the Transcend's wide midsole base combined with raised, cup-like sidewalls. The second feature is the Transcend's snug upper fit.
The tight fit is a double-edged sword, though. On one hand, it creates a supportive interior. On the flip side, some will find the Transcend too narrow for their feet, and there are no optional widths.
Weight: 306 grams/ 10.8 ounces, 8 mm offset, available in only a single width.
5) Mizuno Wave Sky
You seldom go wrong with a Mizuno when it comes to stability. The Japanese brand uses a patented cushioning system called the 'Wave' plate. This hard piece of corrugated plastic gives most Mizuno shoes their characteristic ride.
The Wave Sky is Mizuno's premium neutral trainer which does an excellent job of balancing cushioning with support.
Weight: 326 grams/ 11.5 ounces, 10 mm offset, available in only a single width.
6) Mizuno Wave Rider 21
Think of the Wave Rider 21 as a toned-down version of the Wave Sky. The low-profile Wave infused midsole with a wide forefoot offers plenty of support and adequate cushioning for most distances.
And there's plenty of room inside the upper for your foot to splay.
Weight: 272 grams/ 9.6 ounces, 12 mm offset, available in multiple widths.
7) Saucony Echelon 6
Unlike many recent Saucony models which have gone 100% 'Everun' with their midsoles, the Echelon sticks to good old EVA foam. Everun only exists in the form of a second insole called the 'Topsole.' This has helped the Echelon retain its stable character.
The Echelon also has an extremely wide midsole base and an upper which is structurally reinforced with synthetic overlays. All these factors combine to make a very supportive shoe. There's plenty of cushioning of a non-sink kind too.
Weight: 306 grams/ 10.8 ounces, 12 mm offset, available in multiple widths.
Category: Stability shoes with medial posts
8) Saucony Redeemer ISO 2
The Redeemer ISO 2 has a couple of unique features which differentiates it from other stability shoes. It's got an 8 mm thick insole which not only adds top-layer cushioning but also makes it possible to replace it with an aftermarket insole.
The second feature is its ultra-wide midsole and outsole geometry which makes it great for heavier runners. The Redeemer weighs 12 ounces but we don't consider it a negative in the context of this guide.
And of course, you have the customary harder foam wedge which keeps the midsole stable.
Weight: 340 grams/ 12 ounces, 8 mm offset, available in multiple widths.
9) Brooks Beast 16
Like we've said often about the Beast – it is truly the last word in stability. The shoe has a wide and supportive midsole with plenty of cushioning, and the upper is supportive too.
You'd need to buy a half-size larger, however. And at nearly 14-ounces, this shoe is heavy!
Weight: 385 grams/ 13.6 ounces, 8 mm offset, available in multiple widths.
10) Mizuno Wave Horizon 2
Traditionally, Mizuno has shied away from using harder medial posts even in their support shoe. The Horizon doesn't have it either, but the Wave plate has an aggressive design on the inner side. Which, in our view, qualifies as a medial post. And yet, this plate happens to be cocooned inside a dual-density foam midsole, so there's plenty of cushioning on tap.
The upper is a plush place to slide your foot into. The Horizon uses premium upholstery which translates into an comfortable interior environment.
Weight: 326 grams/ 11.5 ounces, 12 mm offset, available in only a single width.