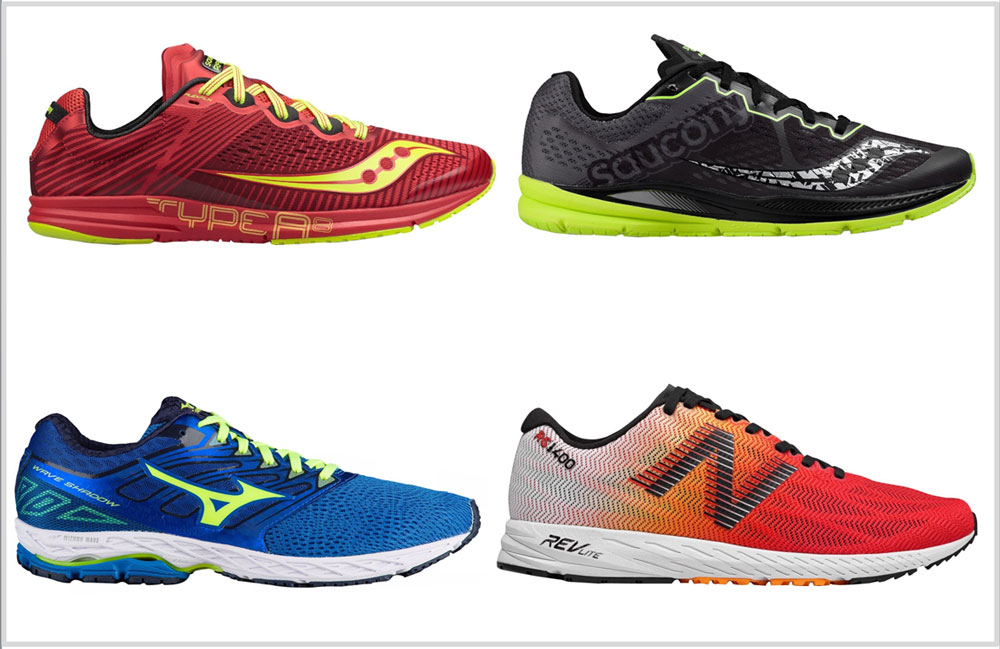 (This list has been updated for 2018.)
A 10k run is a popular distance choice for many reasons. It's a gateway for runners who eventually aspire to run half and full marathons; it gives you a glimpse of what longer races feel like. Even when you're not racing, a 10K training run is an excellent workout distance to build stamina without testing the limits of your body.
Running a 10K involves being on your feet anywhere between 30 minutes to a little over an hour. If you're running sub-40, that means you'd want (not need, though) a shoe which feels fast.
On the other hand, if finishing a 10K takes an hour or more, then you need a shoe which also has enough cushioning on tap. In other words, it has to be a running shoe which meets the speed+endurance requirements of a 10K run.
If you're wrapping up 10K runs in under 40 minutes, then perhaps you'd like to read our buyer's guide for 5K races. Those models will do just fine for fast 10K paces.
But for today's list, we thought of cobbling up a list of recommended shoes which work for both categories of runners. So regardless of whether you're running a 35 minute or an hour+ 10K, these shoes will do a splendid job.
There's another reason to consider this list. You can also use these shoes for half-marathons, a distance where thinner racing flats (otherwise suited for 5K races) could be found lacking in cushioning.
Our selection criteria is rather straightforward. The shoes below have a good blend of cushioning and fast; in other words, they're lightweight trainers with enough midsole to go the distance.
From a category point of view, these models sit halfway between full-blown trainers (Saucony Ride, Nike Pegasus et al.) and hyper-light racers like the Mizuno Wave Ekiden.
Here's our pick of ten best shoes for running a 10K, sorted alphabetically:
1) adidas adizero adios 3
This list is sorted alphabetically rather in the order of preference. But as luck would have it, the adidas adizero adios 3 happens to be our top pick for racing a 10K.
A full-length Boost foam midsole is paired with a durable Continental rubber outsole. The low-profile midsole has enough cushioning for 10K and beyond while feeling fast, stable, and efficient.
The upper has a retro-racer aesthetic with a snug fit and ample breathability.
2) adidas adizero Boston 7
The Boost version of the Boston debuted a few years ago, and since then, it's built a solid reputation as a cushioned lightweight trainer.
The simple mesh and synthetic upper is modeled on classic racers, and the low-profile Boost midsole provides plenty of fast cushioning for runs of 10K and beyond.
Also consider the adizero Tempo 9 if you like greater medial side support, or the adios 3 Boost if you want a lighter shoe.
3) Asics Dynaflyte 2
For a long time, Asics loyalists hoped for a neutral version of the popular DS-Trainer. Their prayers were answered last year with the release of the Dynaflyte, a lightweight and cushioned trainer which uses the Japanese brand's new Flytefoam compound.
The updated Dynaflyte 2 carries forward the V1's sole unit which has a firm yet cushioned ride – which happens to be just right for 10K races.
If a medially-posted shoe works better for you, then buy the DS-Trainer 23 instead.
4) Mizuno Wave Shadow
The Wave Shadow replaces the Mizuno Sayonara while retaining the same attributes which made the latter popular.
The Shadow is lightweight and cushioned enough for 10K races. The firm forefoot benefits quick transitions and the Wave plate infused rearfoot delivers snappy cushioning.
The inner sleeve equipped upper fits and breathes well.
5) New Balance 1400V6
The 1400V6 features on another buyer's guide for shorter races, and that's because the 1400 is an excellent do-it-all shoe.
The Revlite foam midsole is adequately cushioned for 10k distances without sacrificing the 'fast' feel. The mesh upper has a snug yet smooth interior which blends comfort with a secure fit.
6) New Balance Fresh Foam Zante V4
The Zante V4 gives the adidas Boston company when it comes to the level of cushioning available.
The Fresh Foam midsole is good for distances of up to a half marathon so it can tackle 10K races without breaking a sweat. The firm-ish midsole cushioning helps build the Zante's case as a fast, lightweight shoe for 10K runs.
The sleeved upper also has more interior room than the others on this list. So if greater ride comfort is what you're after, you know where to find it.
7) Nike Zoom Streak 6
On our list of shoes for 5K races, we featured the Streak LT4 – a lightweight road racer. The Zoom Streak 6 is a more 'cushioned' version of the LT4, though that's purely in a relative sense.
The Streak 6 has more midsole volume than the LT which makes it more comfortable while delivering the speedy ride experience. The gusseted interior delivers a smooth and secure fit quality.
8) Saucony Type A8
Saucony has an excellent history of making racing shoes, be it for road, XC, or track. The storied legacy reflects in the Type A8 – a lightweight and padded road racer with a soft and a minimal upper.
The 4mm drop midsole has just the right amount of cushioning and fast feel for runs of 10K to a half marathon. The small lugs on the forefoot rubber outsole provide excellent traction for toe-offs.
9) Saucony Fastwitch 8
The Fastwitch 8 is another Saucony racer with a low profile, 4mm drop midsole. Except that there's a hint of support in the shape of a medial wedge.
If you want more cushioning than the Type A8 but don't mind the mild stability feature, you should consider the Fastwitch. The outsole grips phenomenally well and the upper is a comfortable place to be in.
10) Skechers GoMeb Speed 5
The recently updated GoMeb Speed has a firm midsole cushioning coupled with a plastic shank for midfoot rigidity. The foam is a firmer variety of FlightGen foam (also used on the Ride 7) which provides adequate comfort for 10k races without slowing you down.
The knit upper of the Speed 4 trades place with a lighter and more breathable upper which fits true to size.