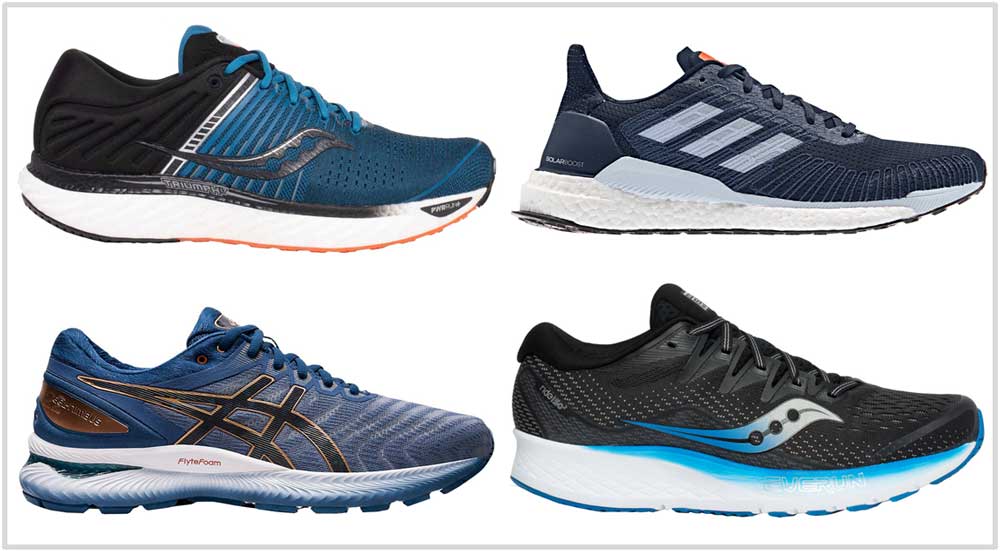 This article has been updated with current models for May 2020. The Brooks Glycerin 17, Nike Pegasus 36, and the Reebok Forever Floatride Energy have been replaced with their updated versions. The Asics Cumulus 22 and Nike React Infinity Run Flyknit are new additions. The Nike Epic React 2 Flyknit has been removed.
For a very long time, brands have made a killing selling products targeted at runners who were supposed to be "over" and "under" pronators.
There's scant scientific basis to support the idea that runners should be matched with running shoes based on their level of foot pronation. Even today, many running shoe stores and brands will 'analyze' your gait and suggest a 'suitable' running shoe – all based on how your foot rolls during running.
For example, if the 'gait analysis' indicates that the extent of inward foot roll was minimal (supination/under-pronation), then a neutral running shoe is likely to be recommended.
Conversely, a person with excessive foot roll (over-pronation) would be paired with stability running shoes.
We've been saying for years that all this is hogwash. If you want proof, just look around. Brands are divesting traditional stability shoes in favor of supportive neutral shoes.
Be the Brooks Adrenaline GTS or the New Balance Vongo, the switch to supportive neutral shoes has been swift and merciless.
Even Nike, the home to all things bold and new, is claiming that the new React Infinity Run showed a 52% lower injury rate than the Structure 22, their flagship 'stability' shoe. In short, old-school stability shoes have been a lie all along.
The same logic applies to supinator-friendly running shoes.
Conventional wisdom states that a person with a supinating foot with limited inwards roll should be matched with a soft, neutral shoe. In industry parlance, a neutral shoe is a type without stability features like a medial post.
Does this approach work? If the shoe is cushioned, supportive, and fits well, most runners should have no problem. That being said, dispel the notion that a running shoe is going to have a significant effect on your gait – unless the shoe is really soft or/and doesn't fit the way it should.
If you want to head down this rabbit hole, let us help you. Our guides for the best neutral shoes and runners with high-arches are based on a similar class of shoes.
High arches and supination are often used interchangeably, so why do two different buyer's guides exist? Well, even high-arched runners can over-pronate, so both circumstances shouldn't be conflated.
From our experience, all supportive neutral running shoes are a safe bet. This is regardless of whether you classify yourself as someone with supination or over-pronation.
We've divided this guide into three groups. The first has soft running shoes; no explanation needed. The second kind has a medium-soft ride – the kind delivers the cushioning without the excessive softness. In the last group, you find running shoes that are tinged with firmness.
So what you pick depends on your cushioning preference.
Category 1: Soft running shoes for underpronation
1) adidas SolarBoost 19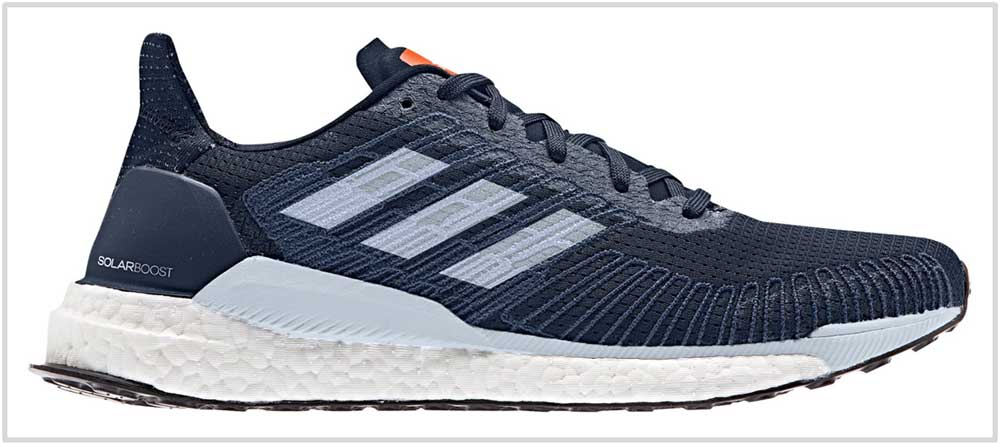 Though the Boost foam is 7 years old, it has aged nicely. The Boost midsole and Continental rubber outsole pairing have been around for such a long time that one knows exactly what to expect.
The soft foam is served along with a nice dose of bounciness, the kind that makes most runs enjoyable. The EVA side rims offer a touch of support so not everything is left to the Boost softness.
This shoe's durability is tried and tested, so you don't have to think about are a replacement for several hundred miles. Though the knit upper lacks optional widths, it fits smooth and true to size.
2) Asics Gel-Cumulus 22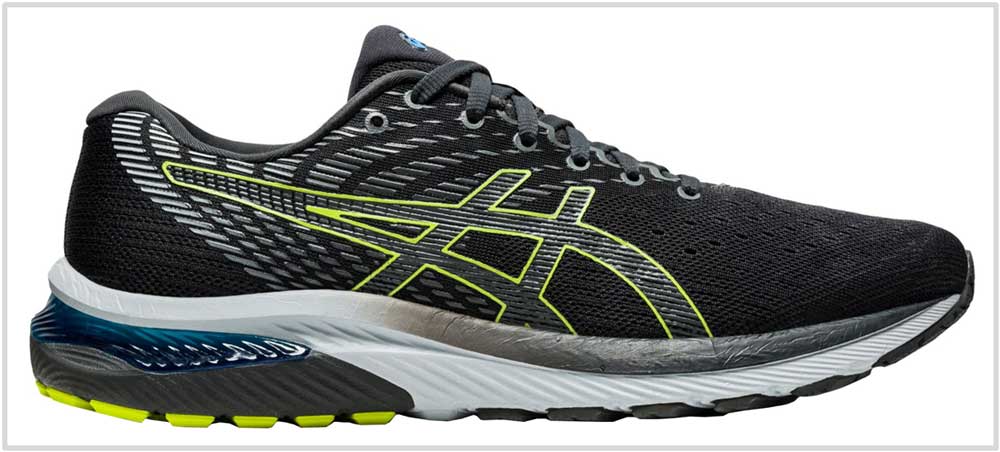 The Cumulus of 2020 is a much-changed, so forget what you thought you knew about this model.
The latest update morphs into a neutral trainer with a soft, comfortable ride – the kind that allows the foot to work through the gait cycle naturally. The upper is smooth-fitting, true-to-size, and is available in various widths.
Making the magic happen is a reformulated Flytefoam midsole that dials up the levels of cushioning and step-in comfort. The 22 is an upgrade from the 20 and 21 in more ways than one, so that's a reason why you should give this neutral running shoe a try.
3) Saucony Triumph 17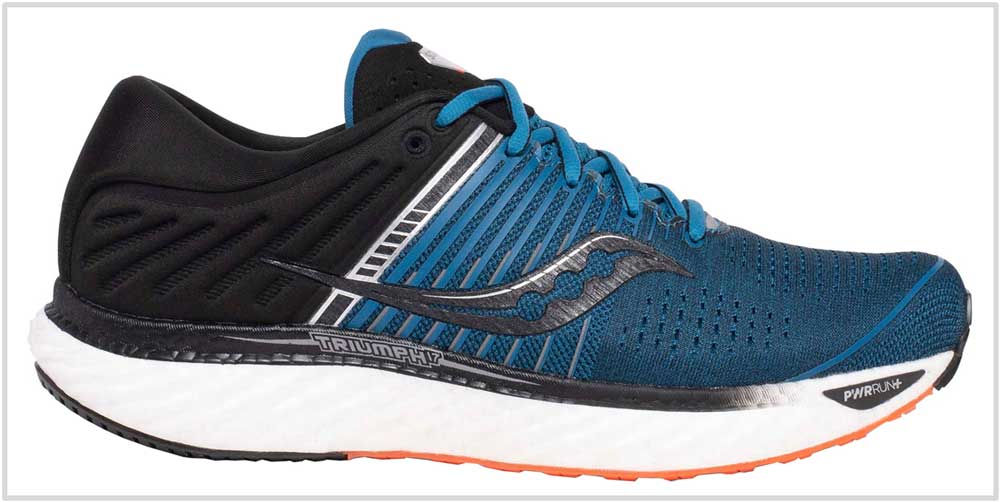 The reworked Triumph 17 is everything that the Triumph ISO 5 wasn't. The 17's new Pwrrun+ foam is halfway between the softer adidas Boost foam and the firmer Everun.
In other words, the cushioning is responsive without the mushiness. Additional design features such as a wide midsole base introduce stability to the transition cycle.
There's sufficient cushioning in the tank to last a marathon distance while being fun enough for your daily workouts. The plush upper is snugger than before, but hey – that makes the fit secure too.
Category 2: Medium-soft running shoes for supination
1) Asics Gel-Nimbus 22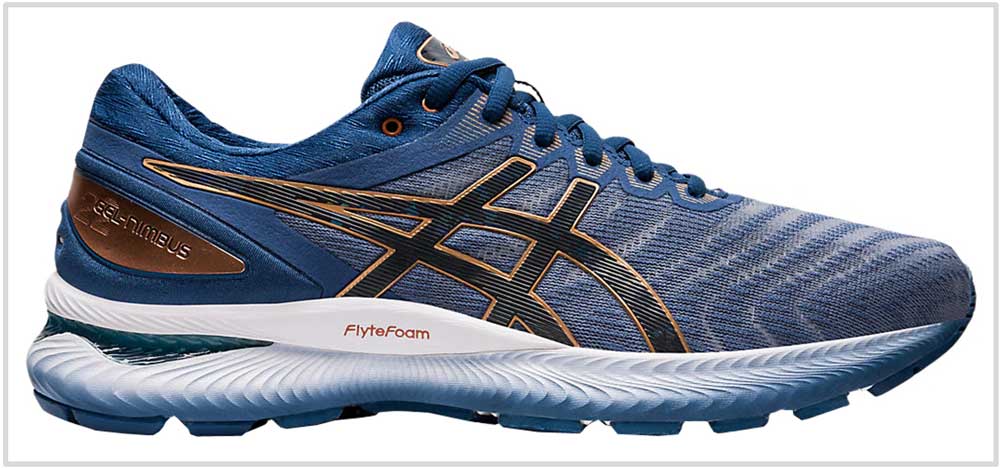 Barring the Nimbus 21 – which was a disaster – this neutral running shoe from Asics has always been a safe choice.
The Nimbus 22 is one of the better versions of this series; the cushioned ride is comfortable and supportive due to the redesigned Flytefoam midsole. This is an 11-ounce shoe, so it's best used as a daily trainer for runs at relaxed speeds.
It also has a plush and spacious upper to match.
2) Brooks Glycerin 18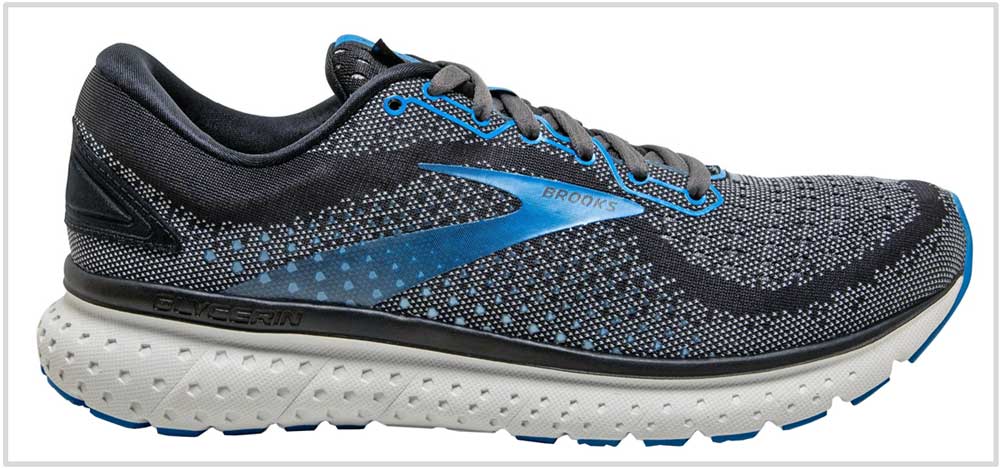 The Brooks Glycerin is the proverbial 'nice guy' running shoe. While it doesn't bedazzle in any form, the Glycerin's road manners are polite enough to please most runners. As a bonus, it's very neutral too.
In the sense that the cushioning is plush enough for all-day comfort while being smooth and supportive enough to let the foot do its thing. We share a similar opinion of the upper. The knit mesh exterior combines rearfoot plushness with a smooth, seam-free interior.
In short, the Glycerin 18 works for most runners, even if it lacks a cutting-edge cushioning tech or an exciting ride character.
3) Brooks Adrenaline GTS 20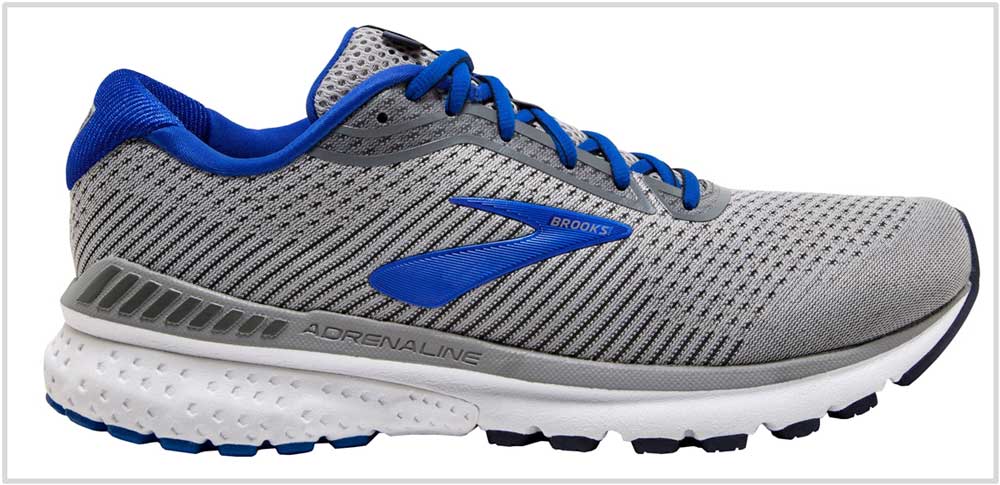 If you saw this shoe on a list of 'stability shoes for overpronators' on another website, take that with a large grain of salt.
The new GTS 20 (and the 19) is nothing more than a supportive neutral.
The midsole has an unbiased yet cushioned ride quality that works for most runners. Though it is marketed as a stability version of the Ghost, both the shoes ride very similar to one another. The Adrenaline no longer has a medial post.
In fact, if you want to get the Brooks Ghost 12 instead of the GTS, that will work too.
4) Nike React Infinity Run Flyknit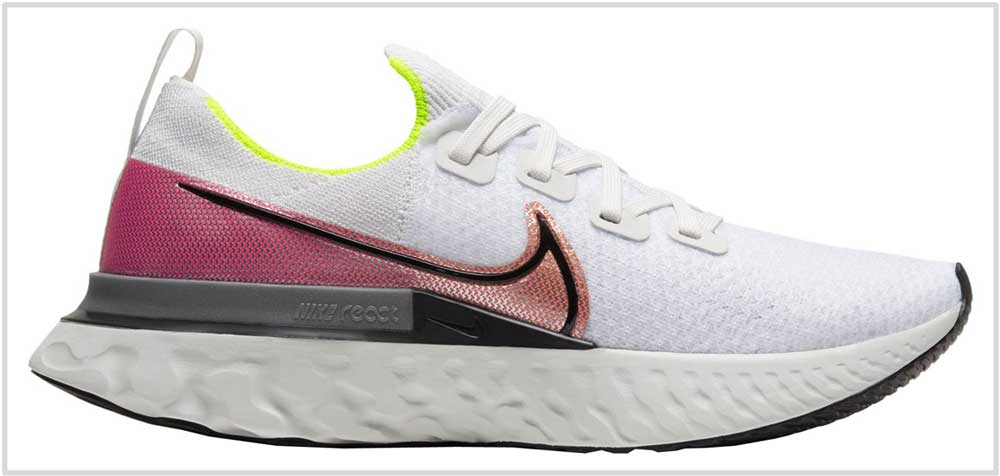 We featured the Epic React 2 in the January edition of this buyer's guide. Taking its place is the React Infinity Run – a running shoe that vaguely resembles the Epic but has a few tricks its own.
Among the bag of tricks would be the urethane stabilizer cupping the rearfoot and a wide, full-bodied midsole that packs a lot of React foam. It's also worth highlighting the grooved outsole that works with the midsole instead of adding stiffness.
All these features connect to deliver a cohesive ride experience. That kind that allows the foot to roll naturally while being supportive enough for road running.
We'd like to point out that the Infinity React is a soft shoe, so it's best used for straight-line road running and not off-road endeavors.
5) Reebok Floatride Energy 2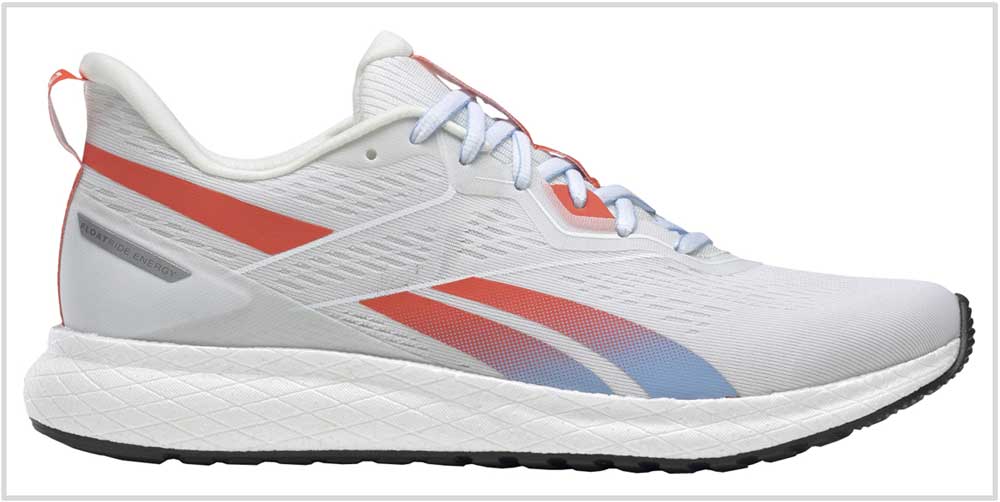 Reebok had a hit on their hands last year. We're talking about the Forever Energy V1, of course. The annual design refresh retains most of what was good in the first shoe, and that's the reason why it's here. The ride is identical, and the upper has several fit and structural refinements.
The expanded Polyurethane midsole is cushioned but far from soft. It's also dense enough to be supportive while being reasonably flexible.
Add all these up to create a neutral ride experience that works with the foot during transitions. There are no 'support' features that restrict the movement. On this guide, that's a good quality to have.
6) Nike Air Zoom Pegasus 37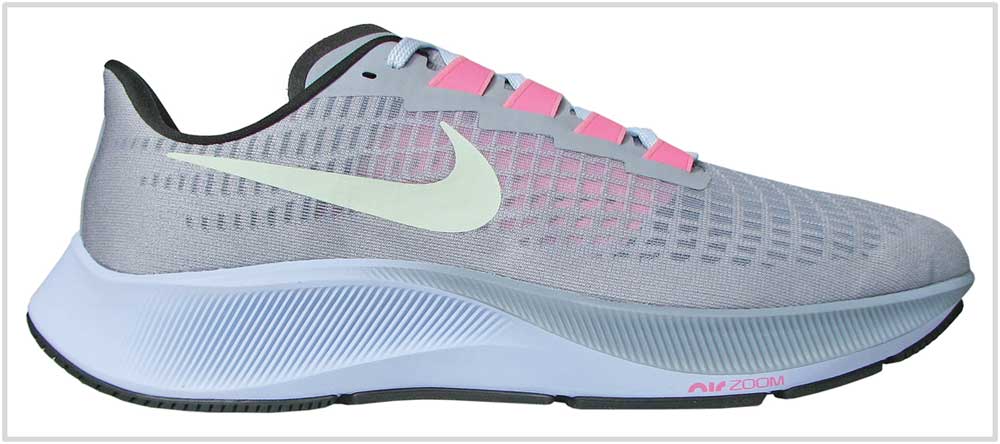 Now and then, a popular shoe series makes a drastic switchover to something nearly unrecognizable. The Nike Pegasus 37 versus the 36 is a good example.
The latest Pegasus is softer under the heel. That's because the Zoom Air bag has been removed and replaced with a React foam core. The forefoot still has Zoom Air but the ride behavior has markedly changed from the 35 and 36's full-length Zoom set-up.
All things said, the Pegasus is still an excellent neutral running shoe. The shallow scoop of the rear midsole adds stability and cushioning balance. Unlike the Structure, the midsole density is even on both sides and does not make gait corrections.
Category 3: Firm running shoes for under-pronation
1) Saucony Ride ISO 2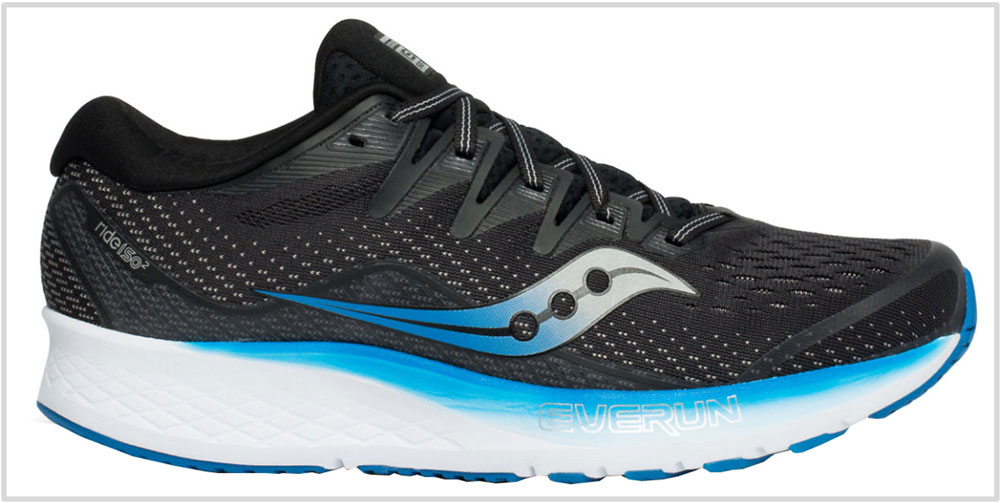 Dependable. Versatile. Peppy. Cushioned. Supportive. These are some of the adjectives that come to mind when describing the Saucony Ride ISO 2. That's the reason why the Saucony Ride has proved so popular over the years.
And it's not just the midsole that sits in the sweet spot between firm and soft. The upper combines soft linings, foam padding, and an engineered mesh to create an interior that not only fits securely but is also comfortable.
2) Mizuno Wave Rider 23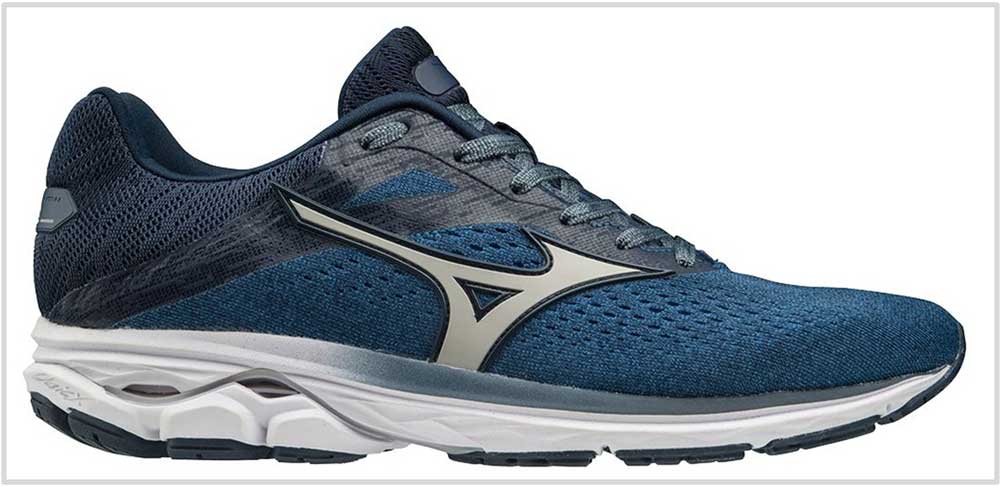 We recommend the Rider 23 for those who want their running shoe to be padded yet very supportive.
The Wave plate creates a stable foundation while adding a bit of responsive pop from its curved structure. The upper is old-school, yet has all the space and interior comfort that one needs.
No matter whether it's a case of supination or overpronation, the Mizuno 23 should have you covered. A word of caution however; the Wave plate is an acquired taste.
Also see: The Wave Inspire 16