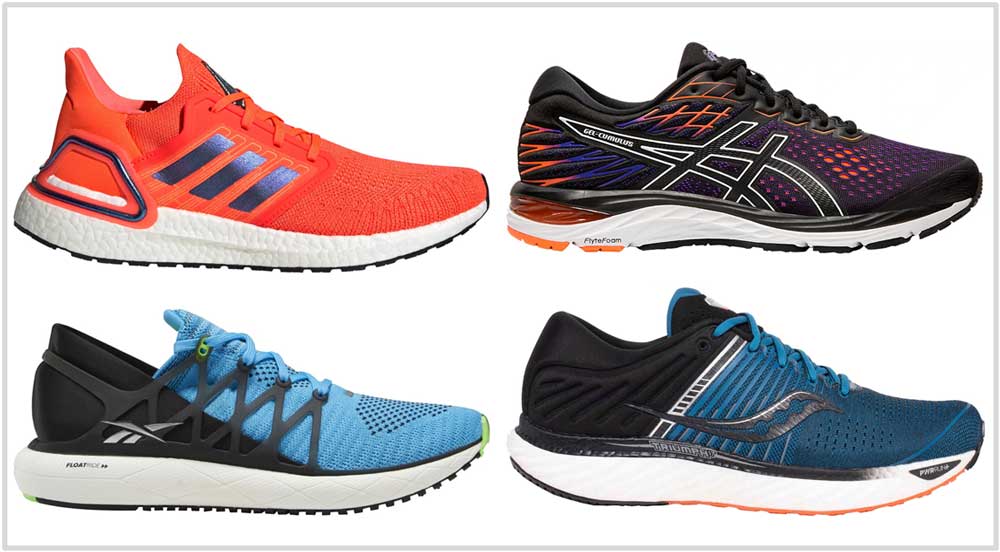 This article has been updated with current models for March 2020. We've replaced the Glycerin 17 with its updated version. The adidas UltraBoost 20 and the Asics Nimbus 22 are fresh adds, while the Nike Vomero 5 has been removed.
Standing is the opposite of running; the latter is an athletic activity involving dynamic movement, and the other is about being confined to a small area. But it is much harder than it seems – especially when you're on your feet the entire day.
People working in retail know this, and so do others employed in hospitals and hotels. Jobs that involve standing and walking put an enormous amount of stress on your feet. Just take a moment to think of it; the entire body weight rests on the feet over a period which could be anywhere between 6 – 14 hours a day.
Many ER personnel/doctors/nurses regularly work 12-hour shifts. If this is done wearing regular shoes, the experience can quickly become unpleasant. The sole feels tired and strained; you can't wait to get home and take your shoes off.
Even shorter shifts of 6 – 8 hours are tiresome. Solereview frequently receives footwear questions from readers employed in the medical and retail industry.
When choosing a pair of shoes for being on your feet all day, there are a few design attributes to look for. If this sounds somewhat similar to our walking shoe guide, then that's because both walking and standing have shared design needs.
1) The outsole design should preferably be wide and flat: An outsole with full ground contact is important as it helps spread the pressure in an even manner. Over a prolonged period of standing, protruding outsole lugs can eventually end up becoming a source of discomfort.
2) The midsole should be cushioned: You need a comfortable shoe if you're going to be standing all day. Also, both the forefoot and heel should have ample cushioning because you will constantly transfer weight between the heel and the ball of the foot.
3) A spacious upper for foot splay: A narrow fitting shoe can be torturous during long hours of standing, so you need a shoe with enough splay room.
4) Good grip for smooth artificial floors: Most jobs that involve standing are located indoors with artificial floors. So the outsole needs to have good traction.
Do running shoes check all the boxes for standing all day? It depends.
In our opinion, most running shoes do OK for standing – only if it is for 6-8 hours. People working in sporting goods stores fall under this category, where the shifts are relatively shorter. In some cases, sporting goods store employees get to choose a product to be a part of their uniform, so it makes sense to get a running shoe.
Anything longer than 6-8 hour shifts, and you'd want to adopt a different footwear strategy. We say this for a couple of reasons.
Most running shoe outsoles have rubber lugs and grooved separations which apply pressure from underneath. This isn't an issue for a few hours but tends to manifest itself over a longer period.
The other limitation is the narrow waist of the running shoe. The midsole is slim around the middle, which translates into a conforming upper fit. Running shoes are built this way for a reason, because the foot needs to be locked down during runs. But the same snugness which benefits running might be detrimental to comfort during 12+ hours shifts.
And there might be other footwear requirements based on the place of employment. For instance:
1) Plain colors: If the workplace atmosphere is formal, then conspicuously colorful running shoes could be a problem.
Many running shoes nowadays have more hues than a sprinkled donut, making it unsuitable for formal settings. Hence, plainer colors like all-white or all-black might be desirable. The second part of this guide addresses such aesthetic needs.
2) Maintenance-friendly design: Some jobs which require standing all day happen to be in the restaurant business, and the shoe is likely to come in contact with spilled liquids and the like. So a mesh upper won't cut it, but rather fully covered leather uppers which are easier to wipe clean. Most running shoes do not fit this description.
3) Non-marking outsoles: Certain workplaces require footwear to be non-marking. This is the property of outsoles that leave no black skid/scuff marks on the floor. If the shoes which are part of your uniform have non-marking outsoles, then you must find an appropriate replacement. Most running shoes do not have non-marking outsoles.
As you can see, finding a shoe which is comfortable for all-day standing isn't as simple as it sounds.
Considering the number of variables involved, we've compiled two recommendation lists. This updated guide has been edited to exclude a few models from our earlier line-up and add new ones.
For example, we've struck the adidas UltraBoost off our list and substituted it with the Reebok Floatride 2.0. The all-foam Mizuno Wave Sky 3 makes an appearance, so does the uber-soft New Balance Fuelcell Propel.
Best running shoes for standing all day:
1) Reebok Floatride Run 2.0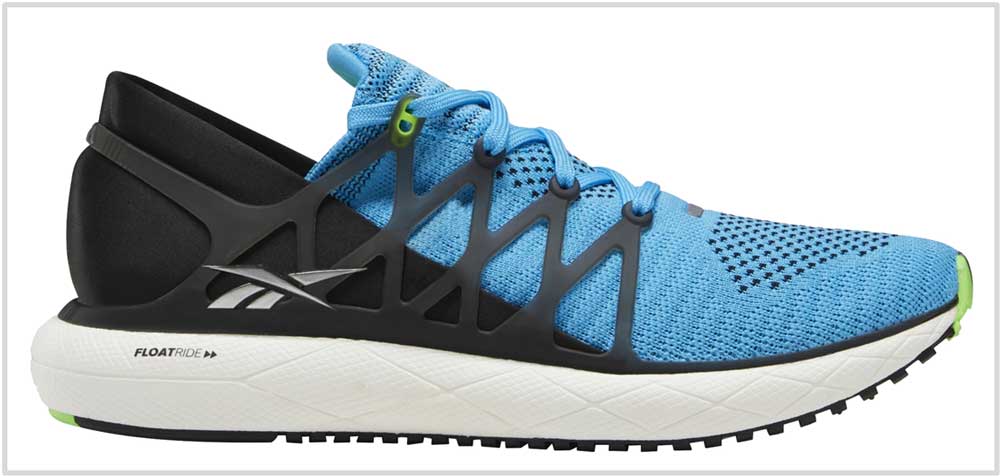 The Floatride Run 2.0 is the successor to the Reebok Floatride Run Ultraknit and an improvement in every way. Reebok has made the supportive frame thinner, thus increasing the volume of the soft Pebax foam midsole underneath the foot. The full-coverage outsole delivers decent levels of grip and support.
The comfortable upper retains a similar soft heel as the V1 while increasing the level of lock-down by providing an additional eyelet.
The Floatride 2.0 is our top pick of this section. The high cushioning-to-weight ratio works together with the lightweight build and comfortable upper fit to create the ideal shoe for being on your feet all day.
2) adidas UltraBoost 20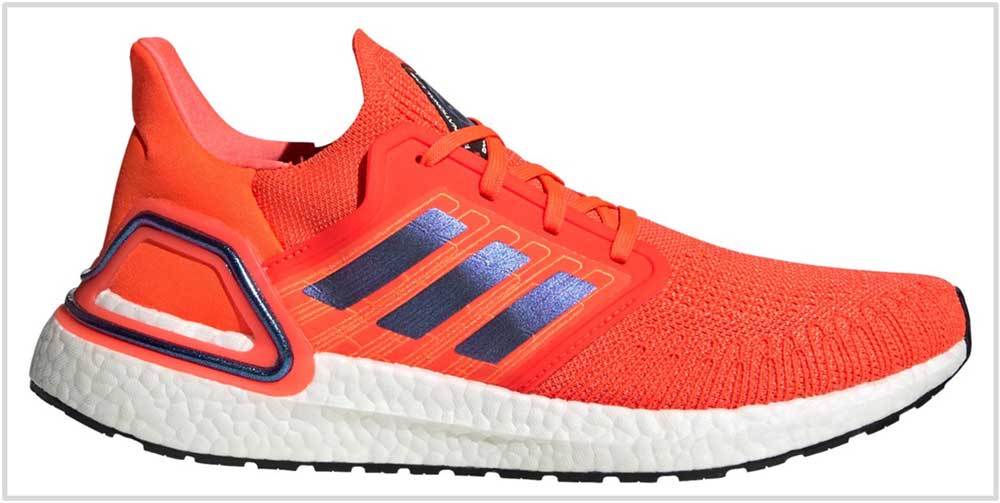 Several things make the UltraBoost 20 an excellent shoe for spending time on your feet.
The high-volume Boost foam midsole is supported by a large, unbroken outsole of Continental rubber outsole. This design results in a cushioned platform that is comfortable through long hours and doesn't bottom out. The full-coverage outsole geometry helps spread the body-weight evenly without pressure points.
The UltraBoost 20's upper is the most comfortable to date. The stretch upper fits securely without feeling overly narrow, and the soft heel lining keeps the foot locked in.
Out of all the UltraBoost versions we've seen so far, we like this midfoot panel design the best. Instead of firm Urethane, the midfoot uses soft rubber-like overlays that provide support without any hot-spots.

If you liked the UltraBoost 19, then you'll love the 20.
3) Asics Gel-Nimbus 22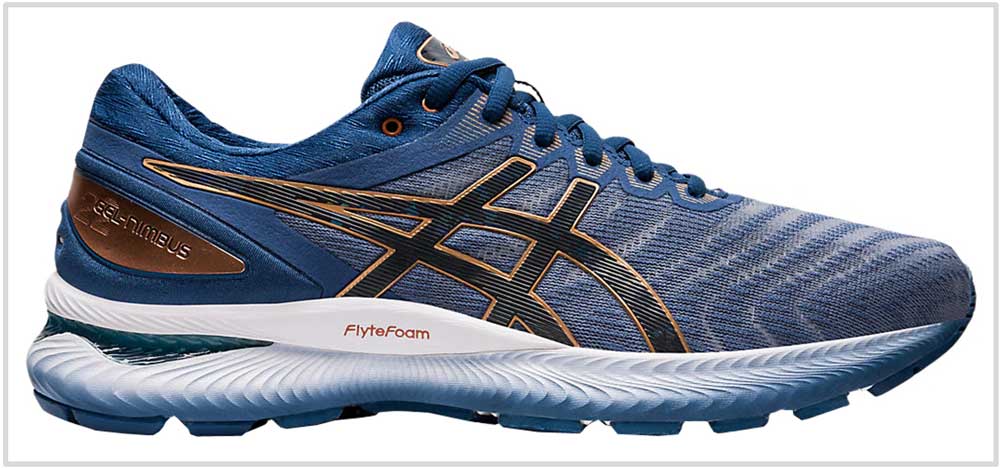 The Nimbus 21 did not make this guide in 2019 because of its sub-par ride quality.
That changes for 2020. The completely redesigned midsole of the Asics Gel Nimbus 22 gives this neutral trainer a cushioned foundation that works for all-day standing. Not only is the Flytefoam midsole comfortable, but the flared sidewalls create a supportive base for the body.
Even on the very average Nimbus 21, the quality of upper was an issue. It isn't for the 22 either. The spacious mesh upper wraps softly over the foot without being too loose.
4) Mizuno Wave Sky Waveknit 3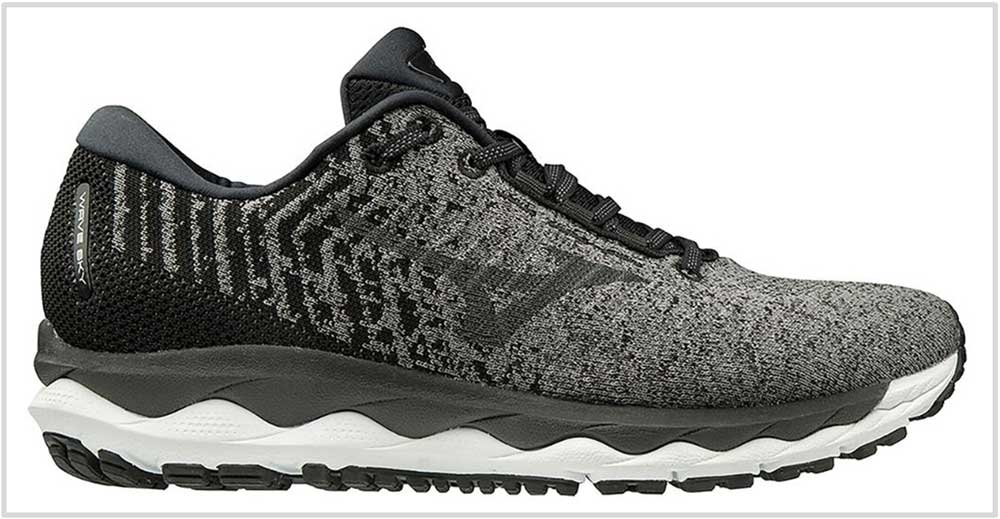 Unlike most Mizuno shoes in the past, the Wave Sky Waveknit 3 doesn't come equipped with a rigid Pebax Wave plate. Instead, its midsole is constructed using two layers of soft foam. There's also a PU foam insert on top.
As a result, there's a lot of supportive plushness available under the foot. The outsole geometry has been optimized for increased surface area contact and traction.
The upper marries a knit upper with plush lining materials so there's a lot of interior comfort for all-day use.
5) New Balance FuelCell Propel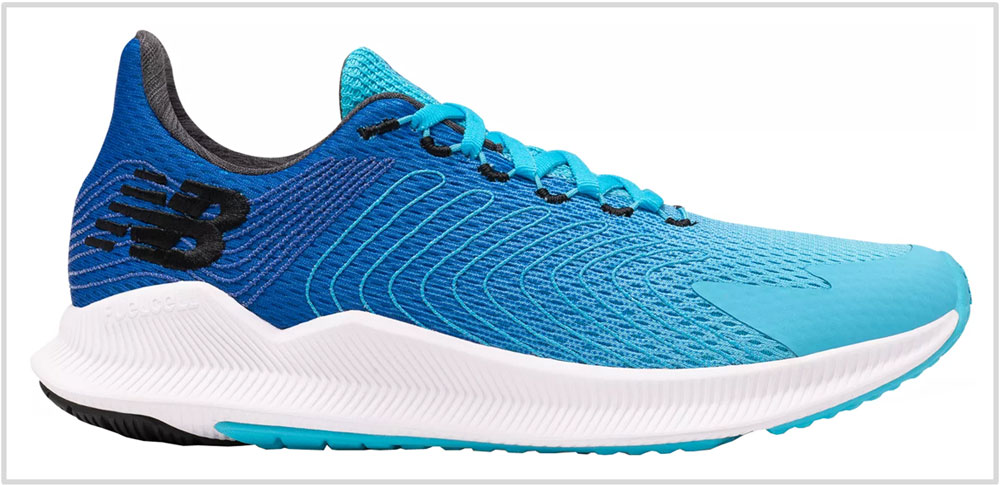 This is a very easygoing shoe with a very soft midsole and plenty of upper room – traits which make spending long periods in a shoe comfortable. The soft outsole is segmented to distribute pressure evenly while offering superb traction.
The soft cushioning of the new foam compound keeps your feet fresh even after several hours of standing. A soft ride doesn't mean sacrificing stability; the wide flare of the midsole keeps the foot planted.
The roomy fit of the Propel accommodates any increases in the foot volume after being stationary for an extended period.
6) New Balance Fresh Foam 1080 V10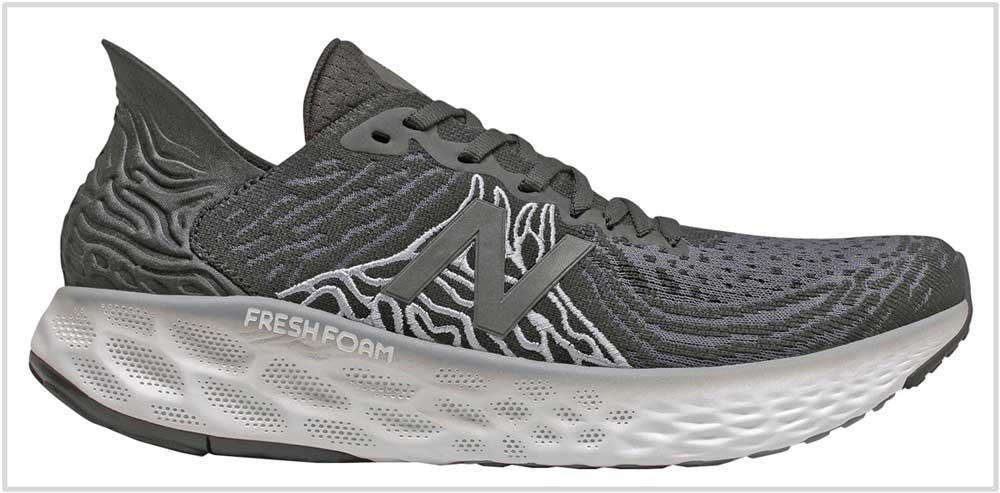 Often, a thick stack of soft and responsive foam under your foot is all that one needs – particularly when you're standing for long hours.
From a comfort standpoint, the 1080V10 is an improvement over the V9. The new Fresh Foam X midsole is softer than before, and the split outsole helps too. So no matter where (or how) you shift your body weight, the deep cushioning is effective at combating fatigue.
The new forefoot uses a stretchy mesh so you won't get the same feel of spaciousness as the V9. Buy the 2E if you want more forefoot space.
7) Saucony Triumph 17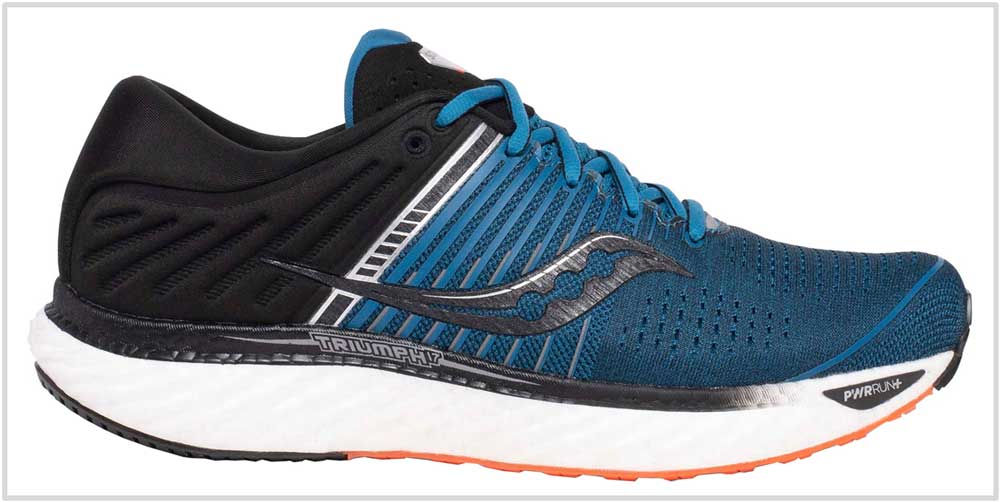 Saucony's new Pwrrun+ midsole foam is a bit like adidas Boost, but with a lot more snap in it. This combination of cushioning softness and responsiveness comes in handy if you're stationary – there is plenty of underfoot comfort but without the mushiness.
Not only is the Triumph 17's midsole thick under the heel and forefoot, but it also flares wide as well. This design makes the base supportive for weight-loading.
The interiors fit snug due to the new mesh and updated upper design, so pick the 2E (wide) size if you feel the need for more room.
8) Brooks Glycerin 18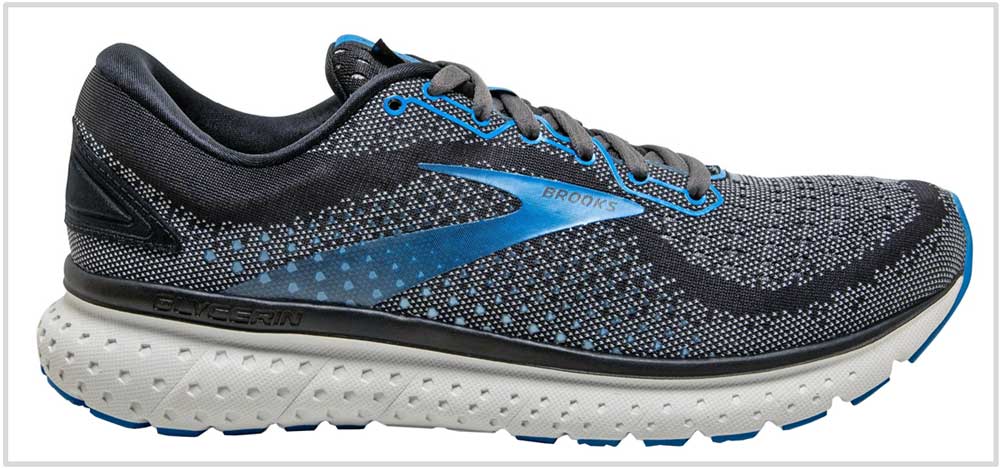 If you already have the Glycerin 17, then there's no need to upgrade. The 18 gets a new brand midsole and a redesigned upper but it's the same shoe under the skin.
Like the 17, the full-length DNA Loft midsole on the Glycerin 18 produces a comfortable base for the feet to rest on. The softness levels are right in the middle – neither too soft nor too firm.
This cushioning balance gives the midsole enough structure to support the weight over longer periods. The molded insole adds the obligatory layer of step-in comfort.
Just like the 17, the Glycerin 18's upper is plush and smooth on the inside along with plenty of splay room.
Other comfortable shoes for standing on your feet all day: (Non-running, 'safe' colors) 1) Nike Monarch IV
The Monarch IV is one of Nike's best-selling shoes and it's easy to see why. A full-length Air bag offers ample cushioning while the outer midsole is firm and supportive. The rubber outsole is durable and grips well without leaving marks.
The upper is robustly build and is offered in either an all-leather or mesh-leather combination. And let's not forget the Monarch's phenomenal value for money proposition.
The workplace-safe color(s) is another thing that the Monarch has going for it.
2) Brooks Addiction Walker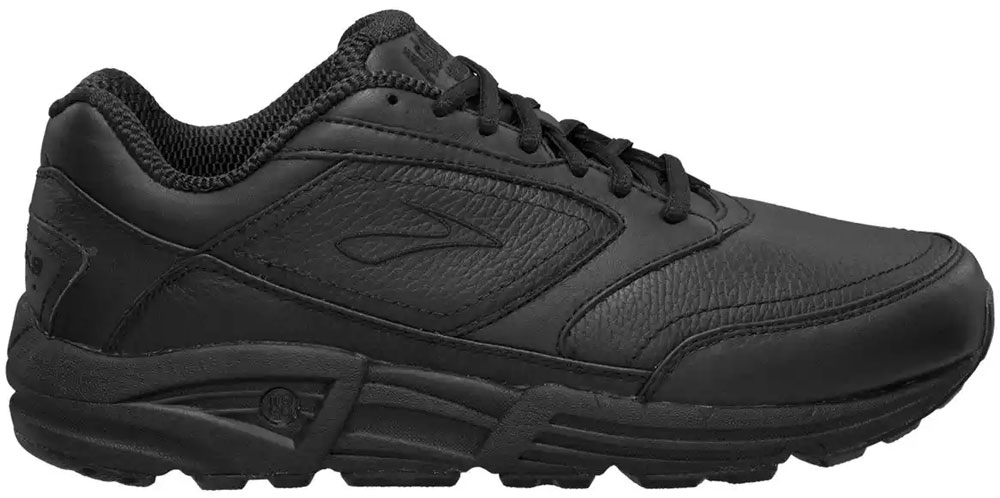 The Brooks Addiction works great for a lot of jobs where you're on your feet. There's a choice of either a brown Nubuck leather upper, or all-white and black milled leather versions with midsoles to match.
The ultra-wide outsole is a full-contact kind. The Addiction is the only Brooks shoe we know of which still uses 'Hydroflow' – an 80's cushioning technology that uses fluid-filled pouches inside the midsole.
Available in four optional widths and three colors.
3) Saucony Omni Walker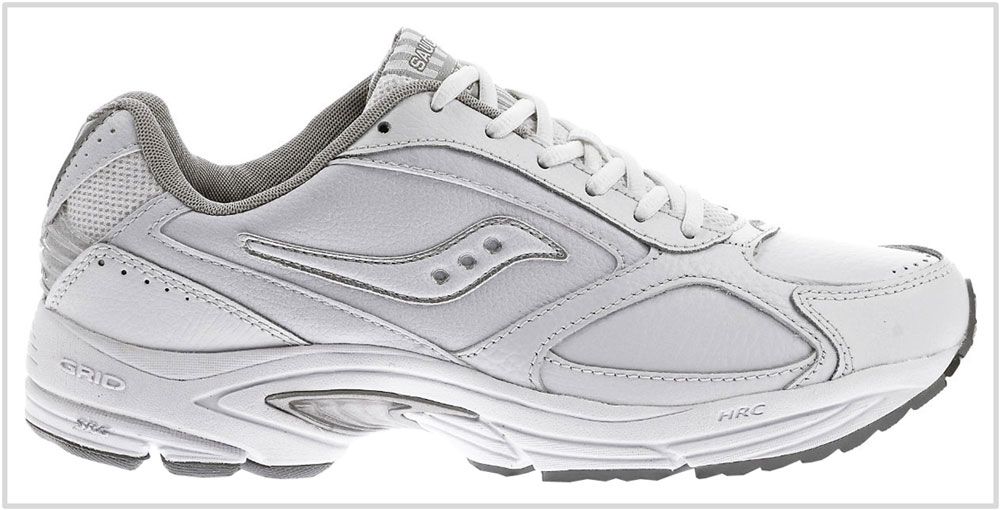 The Omni Walker has the original Saucony Grid system along with a dual-density foam midsole for cushioning. The upper uses 100% old-school materials and construction techniques, and with good results.
The garment leather upper and padded lining creates a cozy interior. The Omni Walker sells only in plain colors should your work environment require that.
The rubber outsole is a non-marking kind and is safe for streak-prone floors.