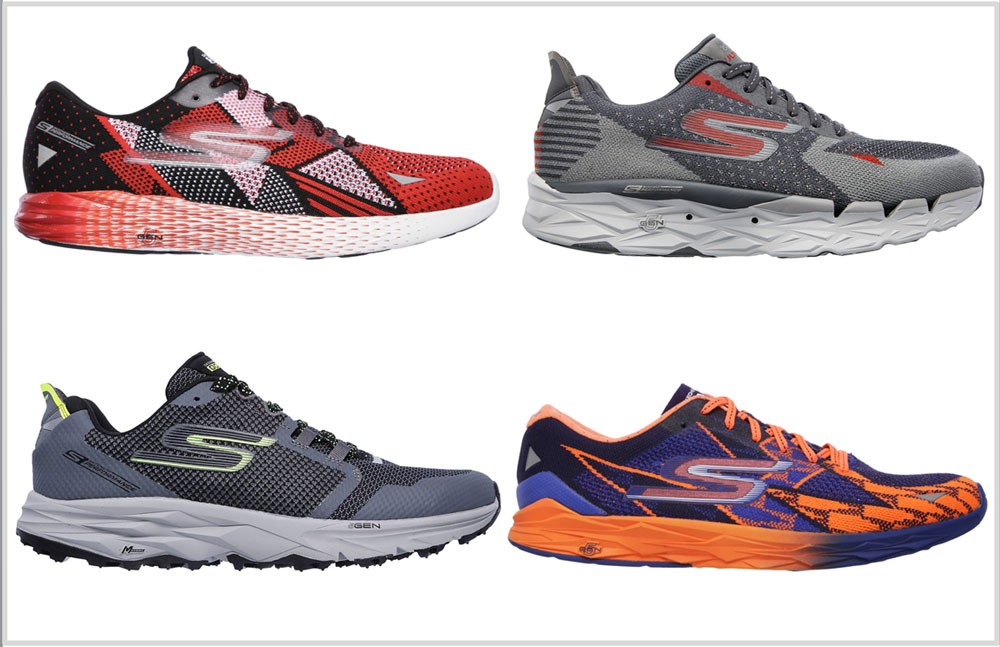 As a performance running shoe brand, Skechers was virtually unknown until Meb Keflezighi won the 2014 Boston Marathon. It is often debated whether athlete endorsements have a tangible effect on a footwear brand's fortunes.
While one might argue that it's hard to quantify the effect on larger brands, Meb's role in building the Skechers performance brand is indisputable.
Thanks to Meb, Skechers went from a fashion brand once endorsed by Britney Spears to a company whose performance products are now taken seriously. We can't think of any other brand which has achieved that. It is extremely hard for a brand to transition from lifestyle to performance.
In less than four years, Skechers has built a credible assortment of running shoes which are also value for money. They've got knit uppers on $100 shoes, a feature which other brands have a upcharge for.
There's just one problem – Skechers has a vast catalog even when you filter 'performance' on its website. So finding the pair of Skechers that's right for you can be a challenge. And this begs the question – why does Skechers have so many shoes?
Skechers caters to a slightly different segment than other athletic footwear brands. Purely from a pricing angle, Skechers is positioned between premium brands (adidas, Asics, Nike, Brooks, etc) and budget athletic footwear labels like Avia, Champion, and Starter.
This price segment is the sweet spot which Skechers captures pretty well. This allows Skechers to sell its products through a wider range of retail formats, and with this approach comes a wide assortment of shoes.
This is where solereview can help. We've filtered Skechers' vast selection to a list of just six running shoes. Stick to one (or more) of these, and you'll seldom go wrong.
| Category | Model | Check price |
| --- | --- | --- |
| Cushioned Neutral | Skechers GoRun Ultra Road 2 | Amazon.com |
| Cushioned Neutral | Skechers GoRun Ride 6 | Amazon.com |
| Firm Neutral | Skechers GoMeb Razor | Amazon.com |
| Lightweight Racer | Skechers GoRun Speed 4 | Amazon.com |
| Cushioned mild-support | Skechers GoRun Forza 2 | Amazon.com |
| Trail running | Skechers GoTrail 2 | Amazon.com |
1) Max-cushioned Neutral: Skechers GoRun Ultra Road 2
If you want a Skechers running shoe with maximum cushioning, buy the GoRun Ultra Road 2. The first version of the Ultra Road was excellent, and so is the 2017 edition.
For a reasonable sticker price, you get a smooth fitting knit upper and a cushioned ride which is perfect for long-distance road running.
The thick midsole with its 28 mm rear and 24 mm front stack height is now updated with the 5GEN EVA foam. This doesn't come with a weight penalty; the GoRun Ultra tips the scales at 8-ounces for a US size 9.
The Ultra is one of the few shoes to come equipped with a drainage system. The removable insole and the midsole have drainage holes to let the water out, so say goodbye to water sloshing around your toes.
2) Cushioned Neutral: Skechers GoRun Ride 6
The Ride 6 has a bit of 2015 Skechers nostalgia. It is the only shoe on this list to feature the older 'M-strike' midsole with a rocker design and the pillar cushioning.
It's got a knit upper like the rest, so the fit is smooth and spacious. It's a decent running shoe to get if you don't want to spend a lot, but want something lightweight and cushioned for your daily training.
3) Firm and lightweight Neutral: Skechers GoMeb Razor
The Razor is a sub 8-ounce trainer suited for fast-paced training. Actually, there are two such shoes in Skechers' line-up, the other being the GoRun 5.
We prefer the Razor's upper which feels more secure, and a midsole which is firmer than the GoRun 5. Incidentally, both the Razor and the GoRun 5 share the same sole design.
4) Lightweight Trainer/Racer: Skechers GoMeb Speed 4
Skechers doesn't have a racing flat, so the GoMeb Speed 4 is the closest you'll get to one.
Technically, at 7-ounces, it's more of a lightweight trainer than a racer, but look at the bright side. Thanks to its padded ride, you can use the GoMeb Speed 4 for anything from fast training runs to a marathon.
There's a rigid plate under the midfoot which gives the Speed 4 additional rigidity over the Razor. The upper fit is conforming and comfortable, though more minimal than its other GoRun and GoMeb cousins. The tongue doesn't have any padding, so the lacing has a snug feel to it.
5) Cushioned support: Skechers GoRun Forza 2
This is perhaps Skechers' most under-rated shoe. The GoMeb series and the other GoRun products are better known, but if you need a cushioned and supportive trainer, the GoRun Forza 2 should be on your list.
Its dual-density midsole adds stability without being intrusive. The generous outsole rubber coverage adds grip, durability, and ease of transitions. Though the upper is not GoKnit, it has a comfortable interior with a secure fit.
The only downside is that the GoRun Forza 2 is noticeably heavier than most Skechers running shoes. Due to the dual-density midsole and the high outsole rubber usage, the Forza 2 is 10.6-ounces  – at least two ounces heavier than the others.
6) Trail running: Skechers GoTrail 2
Skechers trail running shoes work best on packed/flat trails rather than on technical terrain. There are a couple of performance trail products, one being the GoTrail 2 and another which is the trail version of the GoRun Ultra. You should get the Ultra if you need Hoka levels of cushioning. Else, the GoTrail 2 works just fine.
The GoTrail 2 uses a durable mesh upper with limited water resistance properties. The lacing is split into two sections for better cinch, and the tongue is partially gusseted. The forefoot has an internal plate for protection.
In our opinion, you should look elsewhere for a trail running shoe. Brands like adidas, Nike, Saucony, Brooks and New Balance sell excellent trail running shoes in the $100-130 MSRP range.
Skechers is a relatively new player in the trail running game, and it'll be a couple of years before their products catch up (with others) from a feature-set perspective.