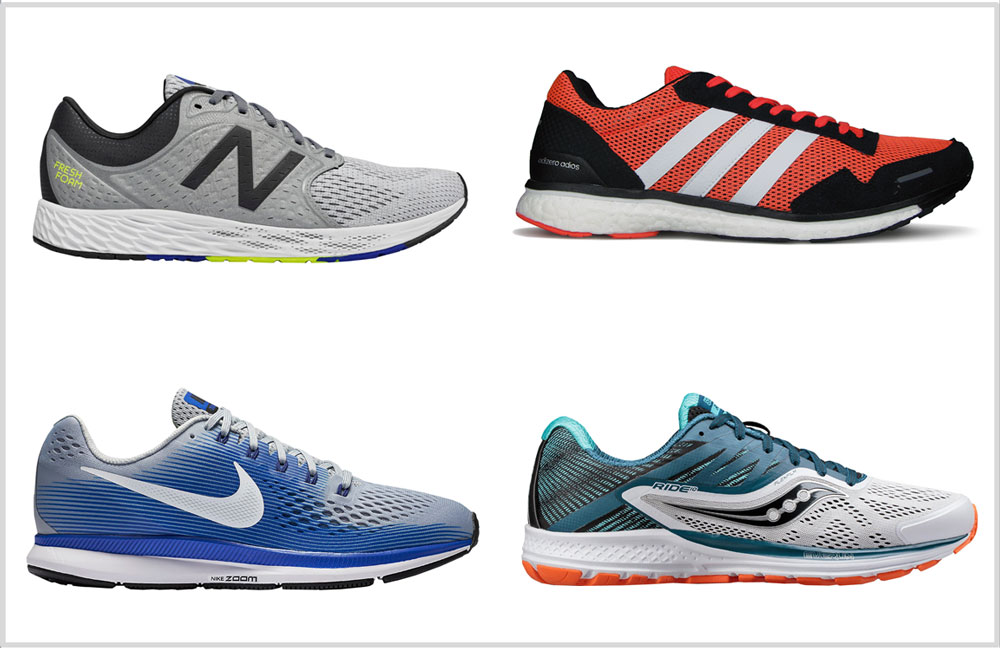 (This list has been updated for 2018)
Most people run on treadmills only if they have to. Maybe you're a business traveler trying to catch a quick workout. Or you live in one of these cities where the polluted air outside will turn your lungs black. Perhaps it's a snowy winter, or there're no sidewalks or parks nearby.
Whatever the reason, you've finally decided to embrace treadmill running, and guess what, you need a pair of running shoes. Sounds easy, right?
Before you go shopping, know that there are a couple of differences between road and treadmill running.
We'll begin by stating the very, very obvious:
On the road, if you stop running, you stop. On the treadmill, if you stop running, you don't. Also, people tend to run slightly faster on treadmills compared to road running. Which makes sense; considering how boring it is to run on a treadmill, you want to get it over with.
The moral of the story is: Treadmills are dangerous, and unfortunately, you run faster when on one.
To account for both of these factors, you need a running shoe which is firm, stable and grips well. Unless you're walking on a treadmill (why on earth, though?), a soft shoe is a big no.
Most treadmills are located inside a gym, and it is likely that you'll include stretching or light weight training before or after your runs. So again, a firm and stable shoe comes in handy. Needless to say, a shoe meant for treadmill running works very well on open roads too.
Another thing. We've made sure that some of the shoes on this curated list have flat laces. Why? Because they stay tied better than round laces, and there is nothing more irritating than to pause the treadmill and do up your laces mid-workout.
Here's our list of top 10 running shoes for treadmill use.
1) Adidas Adios 3 Boost
The adidas adios 3 Boost's supportive, low profile cushioning is responsive, and the upper grip is excellent. The same traits which make the adios great for races and fast runs make it ideal for treadmill running.
At the time of writing this guide, the adios 3 is solereview's favorite treadmill shoe pick.
2) New Balance 1400V5
It's no coincidence that there's an abundance of racing trainers on this list. The lightweight and 'fast' feel of race-day shoes make for great treadmill trainers.
The 1400V5 isn't a pure flat, so there's enough cushioning to power you through those quick 10K treadmill runs. And yes, even the 1500V4 will do.
3) adidas Boston 6 Boost
The Boston 6 is a severely under-rated shoe. Look at the Boston as a more cushioned version of the adios, yet fast enough for treadmill runs.
The upper fit is relatively relaxed over the adios. So if you have slightly wider feet, the Boston is a better pick of the two.
4) New Balance Fresh Foam Zante V4
If you want more cushioning than the adidas adios or the New Balance 1400, the newest Zante is a good choice. The redesigned midsole occupies the sweet spot between a cushioned trainer and race-day shoe, and the full-contact outsole offers smooth transitions.
This 2018 shoe has a snug upper fit, helped by the synthetic midfoot panel and an engineered mesh forefoot.
5) Asics Dynaflyte 2
The Dynaflyte has been refreshed for 2018 with a new upper. It has a nearly identical ride as the V1, which means that the Dynaflyte is lightweight, fast, and efficient – all the ingredients which make a great treadmill running shoe.
If there's any downside, it's the retail price. In our opinion, the Dynaflyte needs to have a price correction of $10~20.
6) Mizuno Wave Shadow
There's a good reason why Mizunos, in general, feel great on treadmills. The Wave Plate and shank gives the midsoles their trademark stability and snap. The Shadow has a Wave plate married to a slim midsole.
The result? A fast, lightweight, and supportive Mizuno which feels at home on the treadmill.
7) Brooks Launch 5
Very few brands pack so much shoe per dollar as Brooks does. Even at a price-band which is considered entry level for the premium running shoe category, the Launch 5 uses quality materials all around. There's no skimping on outsole rubber outsole.
And why is the Brooks Launch 5 ideal for treadmill running? Because it's firm, lightweight, snug fitting, and smooth, that's why.
8) Mizuno Wave Rider 21
Most Mizuno shoes have a running shoe trait which sounds paradoxical – a supportive yet cushioned ride. The firm support comes from the rigid plastic Wave plates inserted inside the midsole. The cushioning comes from the foam, the blown rubber outsole, and the horse-shoe shaped heel cavity.
Combine all these characteristics, and the Wave Rider 21 fits the description of a treadmill running shoe perfectly.
9) Saucony Ride 10
The Saucony Ride 10 is proof that daily trainers do not need to be soft. The Everun insole delivers a bit of responsive feedback while the EVA foam midsole delivers a cushioned yet economical ride.
The wide Saucony forefoot flare makes the ride planted – something which is required while running on treadmills.
10) Nike Pegasus 34
Lastly, not everyone likes fast, race-day trainers to run on treadmills. For a lot of runners, a comfortable cushioned running is what makes treadmill runs enjoyable. The Nike Pegasus 34 is the shoe which delivers the said ride quality.
The two Zoom Air bags fitted inside a foam midsole provides ample cushioning. The full-length rubber outsole grips great, and the secure upper locks the foot in place.