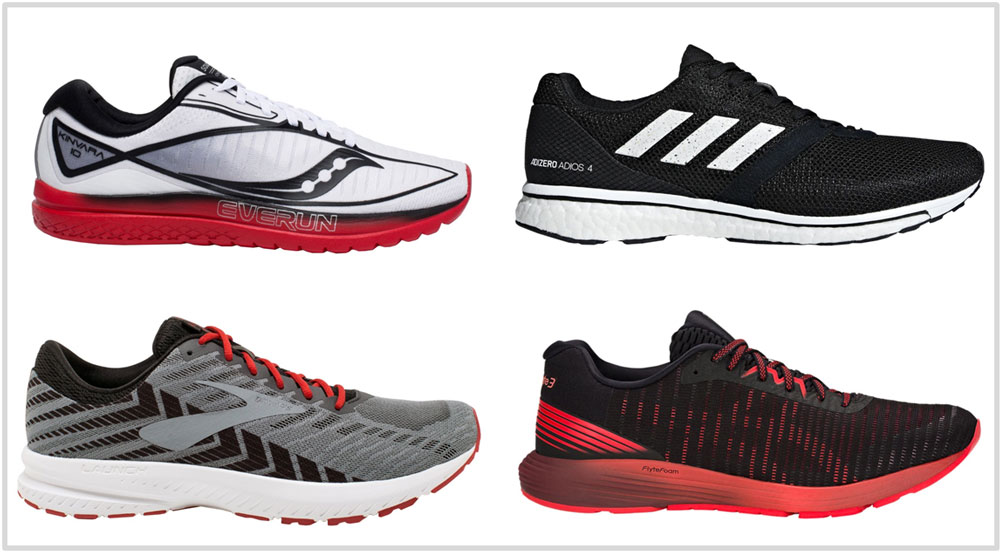 (This list has been updated for 2019)
Most people run on treadmills only if they have to. Maybe you're a business traveler trying to catch a quick workout. Or you live in one of these cities where the polluted air outside will turn your lungs black. Perhaps it's a snowy winter, or there're no sidewalks or parks nearby.
Whatever the reason, you've finally decided to embrace treadmill running, and guess what, you need a pair of running shoes. Sounds easy, right?
Before you go shopping, know that there are a couple of differences between road and treadmill running.
We'll begin by stating the very, very obvious:
On the road, if you stop running, you stop. On the treadmill, if you stop running, you don't. Also, people tend to run slightly faster on treadmills compared to road running. Which makes sense; considering how boring it is to run on a treadmill, you want to get it over with.
The moral of the story is: Treadmills are dangerous and you run faster when on one.
To account for both of these factors, you need a running shoe which is firm, stable and grips well. Unless you're walking on a treadmill (why on earth, though?), a soft shoe is a big no.
Most treadmills are located inside a gym, and it is likely that you'll include stretching or light weight training before or after your runs. So again, a firm and stable shoe comes in handy. Needless to say, a shoe meant for treadmill running works very well on open roads too.
Another thing. We've made sure that some of the shoes on this curated list have flat laces. Why? Because they stay tied better than round laces, and there is nothing more irritating than to pause the treadmill and do up your laces mid-workout.
Here's our list of top 11 running shoes for treadmill use.
1) Adidas Adios 4
The 8-ounce adidas adizero Adios 4 is a low-profile and cushioned road racer with a tight upper fit. Such running shoes are ideal for treadmill workouts; you get the rock-solid stability you need without compromising on cushioning. The tried-and-test Boost midsole and Continental outsole deliver responsive damping and superior grip.
We do wish the adios 4 had the DSP outsole of the adios 2 though – that would have made it perfect. The upper fits short and very snug so buying a half-size larger is required for most.
2) New Balance 1400V6
The 1400V6 has a more forgiving upper fit than the adidas adios 4. It is reasonably priced too – its $100 MSRP doesn't break the bank.
The lightweight Revlite foam midsole provides excellent feedback and the rubber lugs grip very well. There's enough cushioning to see you through treadmill runs of 10K and beyond.
It's one of the few road-racers which is also available in a wide.
3) Mizuno Wave Shadow V2
Truth be told, we've got a soft spot for Mizunos despite their antiquated design. The firm, Wave plate infused midsole is a great fit for this particular running surface.
The Wave Shadow 2 is efficient and stable while the snug upper locks your foot in. And really, that's all that you need in a treadmill running shoe.
4) adidas Boston 7
The Boston is a running shoe with greater long-distance comfort over the road racers listed above. It's long been our pick as a lightweight neutral trainer, the kind which also works great on human conveyor belts and gym floors.
The Boost midsole has all the responsive cushioning you need; components like the Torsion shank and Continental outsole provide stability and traction. The upper is snug yet packs creature comforts like a padded tongue and heel.
5) New Balance Fresh Foam Zante Pursuit
The Zante Pursuit is the spiritual successor to the Zante V4 rather than a direct replacement. What's new? It is much lighter due to the lower-volume midsole and a more minimal fabric upper.
The Pursuit carries forward performance traits like the low-profile cushioning and a snug fit; all of which complement treadmill use.
6) Asics Dynaflyte 3
Don't let the specs fool you – this shoe's full-length Flytefoam isn't the same as the one used on the Nimbus. The Asics Dynaflyte 3 is a firm, 9-ounce trainer which is stable and cushioned enough for fast-paced treadmill runs.
There's plenty of rubber outsole coverage for excellent grip. The upper fits narrow so take note.
7) Brooks Launch 6
The Launch 6 is somewhere between lightweight trainers and fully-loaded neutral trainers. A place where the cushioning isn't soft nor rock-solid hard, and the upper has sufficient room. And what makes the Launch 6 ideal for treadmill runs, you might ask?
The rubber outsole lugs have an aggressive pattern for great grip. The midsole has a foam stack thick enough for distance runs while the firmness prevents bias. These are important traits for a good treadmill running shoe to have.
8) Saucony Kinvara 10
There's a drought of low drop trainers in this guide, so here's the venerable Kinvara 10 to the rescue. This 4 mm drop running shoe weighs less than 8 ounces but has plenty of supportive cushioning for treadmill workouts.
We like Kinvara 10's cleaner upper design without the gratuitous 'pro-lock' strap. In some ways, the S-10's upper is a homage to the original Kinvara.
9) Mizuno Wave Rider 22
With this shoe, we're heading into the regular trainer territory. Which means the Wave Rider 22 and the two other shoes which follow have a lot more midsole than the models featured so far.
If you've seen one Mizuno, you've seen it all – at least most of them. The plastic Wave plate and the broad forefoot adds much-needed stability for treadmill runs. As far as the cushioning goes, the EVA midsole, the soft insole, and the blown rubber outsole do a good job of providing ride comfort.
The Wave Rider 22 has plenty of room inside to splay your toes too.
10) Saucony Ride ISO
As far as neutral trainers go, the versatile Saucony Ride has held its own for many years. An Everun layer over a firm EVA midsole creates a experience which blends high-mileage cushioning with smooth transitions. Despite its 10-ounce weight, the Ride ISO feels efficient over treadmills.
The ISOFIT upper isn't for everyone, so try before you buy. When compared to the previous model, – the ISOFIT equipped upper has a completely different fit.
11) Nike Zoom Pegasus 35
Like the Ride ISO, the Nike Pegasus 35 is a do-it-all trainer. You get the treadmill-friendly cushioning and outsole grip you need without the unwanted mushiness.
The upper has plenty of room even in the standard 'D' width. If you fall short of interior space, there are 3 additional widths.
---