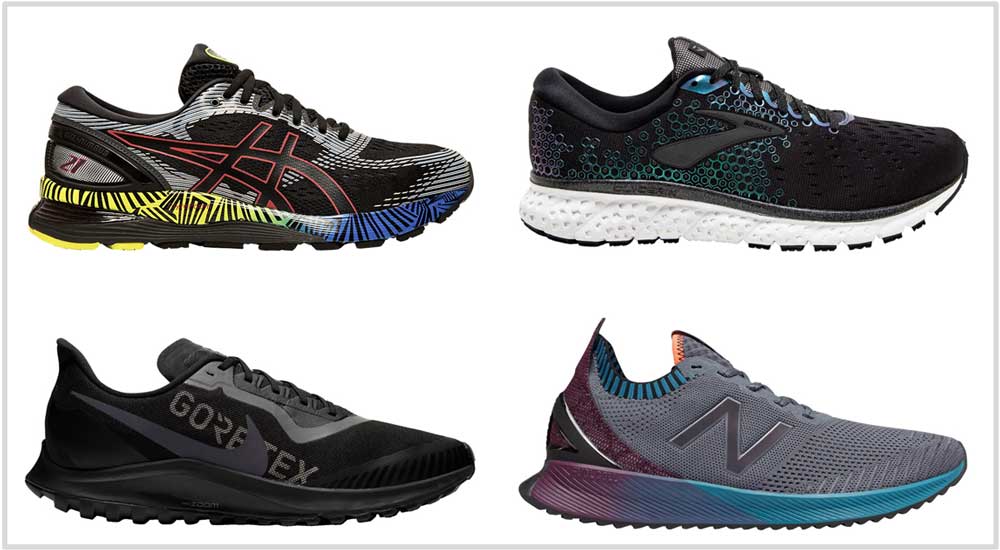 The daylight savings time ended earlier this month, and it's getting darker as we enter winter. Early morning or late night runs means doing so in low-visibility conditions, and it's very important to be seen – especially when you're crossing areas with vehicular traffic.
A 300+ Lumen headlamp and reflective clothing help, and so do running shoes that reflect light from a distance.
There was a time when regular road and trail running shoes came with all the reflectivity that one needed. More often than not, the tongue label, logos, the heel, and even the outsoles had reflective trims.
Brands like Asics, New Balance, and Saucony continue to offer low-light visibility aids on their summer catalog but they're nowhere close to 2013-14 levels.
To be fair to the brands, the evolution of the running shoe design hasn't been kind to reflectivity.
Knit uppers were a rare sight 7 years ago; today, most running shoes use a knit upper in some form or the other.
And when the shoe in question has a single-piece knit upper, it takes more effort to add a reflective layer. That's not an excuse though. Shoes like the New Balance 890V7 prove that knit uppers and shiny bits can happily coexist.
Nike and adidas switched to knit uppers before the rest of the industry followed suit. Companies like Asics and Saucony haven't switched over their entire collection to the knit form factor – and that is partly the reason why some of their regular models are suitable night runners.
To give credit where it's due, Nike has always offered a seasonal assortment of running shoes that combined visibility elements with weatherized features like water repellency. It is called the Shield collection, though there were a couple of years when it was also called 'Flash.' You can read a review of the 2011 Nike Lunarglide Shield here to get a sense of how far back this goes.
So far, Nike has been consistent with this winter release, and 2019 has the best Shield pack to date. Asics has also been selling a reflective pack called the 'Lite-show' for over 7 years now. Everything about the Lite-Show assortment is reflectivity for running in the dark versus being winter-friendly like how the Nike Shield is.
Adidas's 'All Terrain' variants are targeted at the trail-running crowd rather than being merely high-visibility. ATR running shoes have a warmer upper along with a more aggressive outsole design. These shoes aren't necessarily very reflective but are shinier than the standard variants.
The adidas SolarBoost 19 reflective is also an option. Strangely, finding this running shoe was a bit of a treasure hunt because adidas makes no mention of this variant. A quick search yields only the Nite Jogger – which is a reflective sneaker.
With the rest of the athletic footwear brands, shiny running shoes have been a sporadic affair. Saucony releases its 'Runshield' versions from time to time; this year, there's a Brooks Glycerin that happens to suitable for late night runs. New Balance occasionally does something for winter but we don't see anything except for the 'Chase the Lite' FuelCell Echo.
We recommend getting something from the Nike Shield pack. Most of the models offer a good blend of weather protection and low-light elements. If you want your reflective running shoe to do it all, then the Pegasus 36 Trail Gore-Tex is our top pick.
The adidas Nite Jogger comes in a mind-boggling number of color options – if you're ok with getting casual-wear sneaker.
1) adidas UltraBoost All Terrain
As the name suggests, the reflective adidas UltraBoost ATR is a trail-ready version of the standard UB. Only the full-length Boost midsole and plastic midfoot cage are shared with the road UltraBoost; the rest of the shoe has outdoor-oriented features like a rugged outsole and protective side panels.
There're plenty of low-light visibility on this adidas running shoe. The side logos and midsole overlay are designed to be seen in the dark – along with the woven strip over the forefoot and heel.
2) adidas SolarBoost 19 Reflective
Adidas has done a terrible job of advertising this particular SolarBoost; it hides in plain sight along with other non-reflective versions.
Though the luminous sections aren't as blinding as the Asics Nimbus or Nike Shield, the stitching details, tongue label, and the heel inserts are helpful in low-light conditions.
This model isn't weatherized like the UltraBoost ATR – it is just a standard SolarBoost with shiny trims.
3) Asics Gel-Nimbus 21 Lite-Show
The Gel-Nimbus 22 is out now, so why the Nimbus 21? That's because the 22 isn't available in this variant – yet.
Though there are other Lite-Shoe models like the Cumulus 21 and Kayano 26, the Nimbus 21 has the most reflectivity by far. We don't have a high opinion of the shoe by itself, but this upper has an incredible amount of the shiny stuff.
4) Brooks Glycerin 17 Reflective
This Glycerin isn't winterized nor is it repurposed for the outdoors. It's nearly identical to the standard road version except for the bright details over the midfoot and heel.
This model is a part of Brooks's 'Nightlife' collection which comprises mostly of apparel. Or is the reflective Glycerin one of the many to come? Time will tell.
5) New Balance 'Chase the Lite' Fuelcell Echo
At the time of writing this review, there are no other reflective special editions from New Balance except for the FuelCell Echo. The luminous bits are distributed across the tongue, midfoot and heel for multi-directional visibility.
But you need not limit yourself to the Echo; there's no dearth of luminous New Balance running shoes. Many of their regular road running shoes have shiny tongue labels and side logos.
6) Nike Air Zoom Pegasus 36 Shield
With front, side, and rear reflectivity, the Nike Pegasus 36 Shield increases your visibility on the dark roads.
We also featured this model in our winter running guide due to its water-repellent upper and sticky rubber outsole.
Also see: There are other Shield running shoes like the Winflo 6, Odyssey React 2 Shield, the Free RN 5.0 and the Legend React 2.
7) Nike Zoom Pegasus 36 Trail GoreTex
The Pegasus 36 Trail is a dependable soft-roader, which means that you can switch terrains between concrete and city parks without having to change your shoe.
But that's not the reason why the shoe makes this list. This waterproof shoe also happens to be very reflective – the entire lacing panel shines when the light hits it. That, and the logos and heel as well.
This is our top overall choice on this guide.
8) Nike Zoom Pegasus Turbo Shield
The Turbo Shield is an expensive shoe, so don't buy it merely because it's reflective – you'll find that in Nike models that are far less expensive.
It's worth considering if a waterproof upper is what you need. Because the Turbo Shield is the only waterproof shoe in the Nike Shield pack – the rest are all water-repellent.