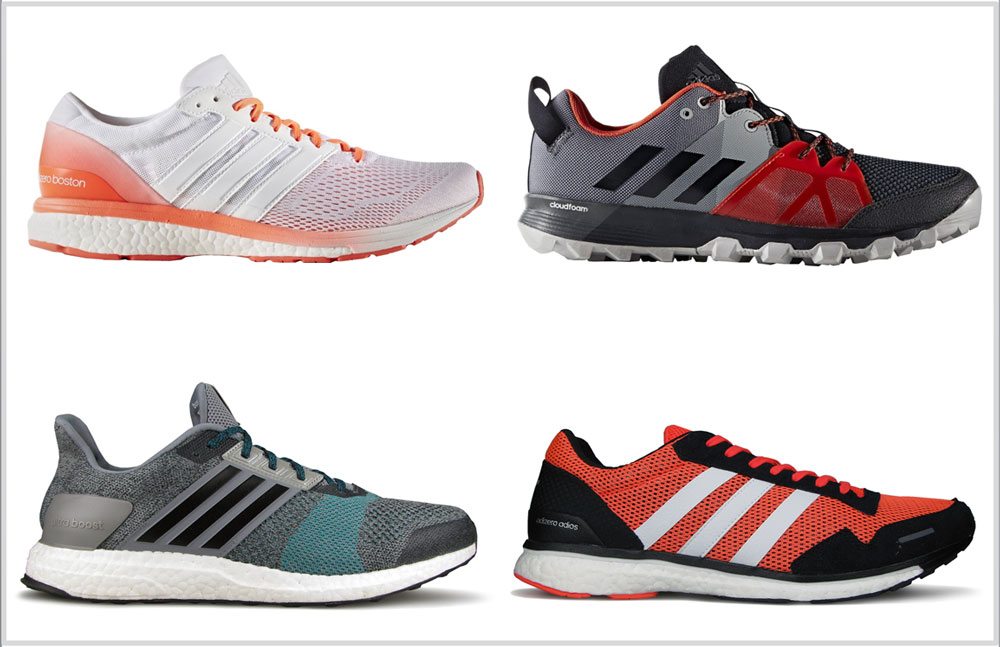 Much like Nike, adidas's 'running' footwear line is a strange mix of running shoe excellence and mediocrity. It wasn't always like this.
Rewind to just three years ago, and you had a nice collection of performance running footwear – even at the entry level price-band. The Sonic Boost was great, and even the $100 Response Boost wasn't bad. Even mid-priced running shoes like the Glide and Adios had more features than they do today.
The adizero adios 2 had a DSP outsole which had an amazing grip over synthetic tracks and roads. The Supernova Glide was an indestructible beast back then. It had the (first generation) Continental outsole which lasted nearly 1000 miles, and a ride quality which was just right.
It's a different story in 2017; most of adidas's business comes from their crossover products. These new shoes blend casual-wear and performance running characteristics.
adidas also replaced the excellent Glide with the much softer Supernova, and the Sequence is now the Supernova ST. This change isn't a problem if you're simply looking for a comfortable shoe to lounge in. But choosing a proper running shoe is now harder than before.
We won't list all the performance-lifestyle crossover models in this article. But here are a few guidelines to help you find the best pair of adidas running shoes:
1) Stay away from all adidas shoes which contain the word 'Bounce': Lately, adidas has introduced a few entry-level models based on the Bounce EVA midsole.
While the Bounce material itself isn't an issue, the overall shoe design isn't best suited for performance. All the Bounce shoes are targeted at casual-wear consumers who just want a pair of comfortable shoes to walk around in. Sure, you can run in these shoes, but only for shorter distances.
2) Skip all adidas running shoes which go by the name PureBoost: Some of the recent PureBoost models are a vast improvement over the terrible 2014 PureBoost, but keep in mind that this assortment is also focused on the lifestyle consumer.
On a side note: How did adidas manage to set the gold standard which is the Supernova Glide, but also make garbage such as the 2014 PureBoost? Both in the same year, no less.
3) Adidas running shoes with plastic cages are also best avoided: It's ironic how adidas markets a shoe made with recycled (plastic) Ocean waste, but uses so much plastic on their products in the first place.
For some strange reason, adidas shoes uses an enormous amount of plastic on their uppers. The pollution angle aside, the plastic cage design is a hit or miss from a functional perspective. We found the plastic panel to be a textbook example of over-engineering; in most cases, the plastic cage made the upper fit uncomfortable.
But if you look past the assortment of PureBoost, Bounce, and shoes with plastic cages, then you're left with an assortment of great running shoes. Without further ado, here's our pick:
| Category | Model | Check price |
| --- | --- | --- |
| Cushioned trainer | adidas Ultra Boost ST | Amazon |
| Lightweight neutral | adidas adizero Boston 6 | Amazon |
| Lightweight racer | adidas Adizero Adios 3 | Amazon |
| Lightweight mild-support | adidas Adizero Tempo 9 | Amazon |
| All-around trail running | adidas Kanadia 8.1 Trail | Amazon |
| All-around trail running | adidas Response Trail | Amazon |
1) Cushioned trainer: adidas Ultra Boost ST
If you need a super-plush ride, look no further than the Ultra Boost ST. It doesn't have the rigid plastic cage of the regular Ultra Boost or the Energy Boost, and the upper comes with lots of interior space.
Don't worry about the mild-support feature over the midsole; this shoe is as good as a neutral. If you don't see eye-to-eye with the Ultra Boost ST's high retail price, then the Supernova and Supernova ST are lower-priced options to consider.
The Supernova is a neutral shoe with a soft ride, and the ST is the Supernova's mild-support version.
2) Lightweight neutral: adidas adizero Boston 6
The adizero Boston 6 is perhaps adidas's best running shoe at the moment. Though the Boston is marketed as a shoe for fast training runs, it is equally suitable for a wide range of runs. You can use it as a responsive daily trainer and also as a race-day shoe for up to half marathons.
Its ride is cushioned but firm enough to feel fast, and the outsole is made of durable Continental rubber.
3) Lightweight racer: adidas adizero adios 3
The adios (even the pre-Boost versions) has always been a raceday favorite because of its cushioned ride and the breathable upper. It isn't technically a racing flat, but its low-profile midsole makes it suitable for fast runs.
It's more durable than a flat too, thanks to the Continental outsole.
4) Lightweight mild-support: adidas adizero tempo 9
Think of the Tempo as the mild-support version of the Boston 6. It has a low-profile midsole but has a small support element over the inner midsole.
The upper shares a similar design and fit characteristic with the adios and the Boston. The upper breathes well and fits snug – which is just right for fast training and races.
5) Trail running: adidas Kanadia 8.1
The Kanadia 8.1 is excellent value for money. For an MSRP of $80, you get a robust build quality with an upper made of high-denier mesh and a trail oriented 'Traxion' outsole.
The round laces are paired with circular eyelets and multiple tongue loops to make the cinching process faster.
The 8 mm drop midsole is made of the Cloudfoam EVA along with an Ortholite insole which adds comfort under the foot. This makes the Kanadia 8.1 a cushioned trail shoe to run in.
6) Trail running: adidas Response Trail
The Response Trail is a heavier and Boost-equipped alternative to the Kanadia. And what does a $20 up-charge over the Kanadia get you? A closed upper construction (vs. no sleeve on the Kanadia), a partial Boost midsole, and a trail-focused outsole made of Continental rubber.
The upper fit can be adjusted using the combination of variable forefoot lacing and the floating rearfoot straps.