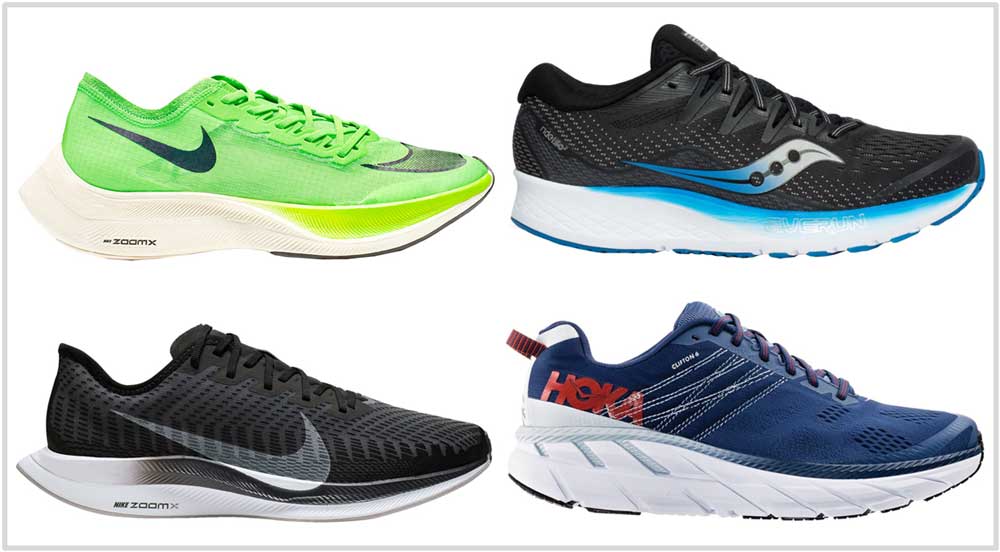 This article has been updated with current models for December 2019. We've replaced the adidas Solar Glide 19 with the Saucony Triumph 17, and the New Balance 1080V9 with the V10.
Marathons are hard.
We remember talking to someone many years ago about his first marathon. And this person didn't even train for one, he just decided to run a major marathon on a whim. Didn't ask how he managed to qualify though – perhaps he got in through the charity route. But his story checked out.
He remarked that his lower body was 'destroyed' after that marathon; he hobbled for a week after the race. But here's the thing – he wasn't out of shape. In fact, being a recreational/borderline competitive climber, he was supremely fit by most standards. He had a strong core, with exceptional upper and lower body strength.
And he worked for a major shoe brand, so he wore the best running shoe available at the time. That didn't help.
Aha – you'd say. It's the runner and not the shoe, after all. Our friend made it painfully evident that being accomplished in one sport doesn't mean you can run 26.2 miles without training – with even the best running shoe. Long-distance runs are a feat of endurance and not brute strength, thus requiring a completely different training regime.
Most of us have also seen elite runners break marathon PR's in a pair of racing flats which are nothing more than a thin piece of foam glued to a mesh upper.
So running shoes appear to make no difference at all, then why do we need this guide?
Let us ask you something – and be honest here. If you're a non-elite running a marathon in a pair of flats, don't you crave for more cushioning under your feet after mile 10? The kind of running shoe which goes easy on your feet along with an upper which lets your foot splay instead of squeezing it in a vice-like grip.
Even if you've trained religiously for over half a year before running a marathon, every bit helps – even running shoes.
While many experienced runners have no problem whatsoever running longer distances in flats, most of us will appreciate that extra comfort during a marathon. Thus, this guide focuses on cushioned running shoes. If you insist on flats or something of a similar nature, you could try shoes from our guides for 5K and 10K races.
If this guide was compiled in 2014, it would have looked completely different. Save for a few Hokas, there weren't many maximal cushioning shoes around. Midsole foam tech was also limited to e-TPU and EVA variants.
Back then, we would have also featured cushioned trainers such as the adidas Supernova Glide, the Nike Pegasus, and the Saucony Ride. Those kinds of shoes have always been a dependable, do-it-all option – something which doesn't change in 2019.
As you scroll down this page, you'll notice that the guide has models such as the Brooks Ghost, and a couple of others. Hoka does what it does best, so the Clifton features here. Our next update should have the Hoka Carbon X and Rincon too.
The more interesting shoes are the ones with new midsole tech. For example, the Nike Vaporfly 4% and Next% feature the ZoomX and Carbon plate combination. The Reebok Floatride midsole makes long runs comfortable, so the Forever Energy is here. The Saucony Triumph 17 makes an appearance too, thanks to its improved Pwrrun+ formulation.
We did not include the Nike Zoom Fly because of the Next% and 4%. And you know why the Nike Vomero 14 isn't here either.
Without further ado, here're our top marathon shoe picks. Unlike most of our guides, this is arranged in order of Solereview's preference.
1) Nike Vaporfly Next%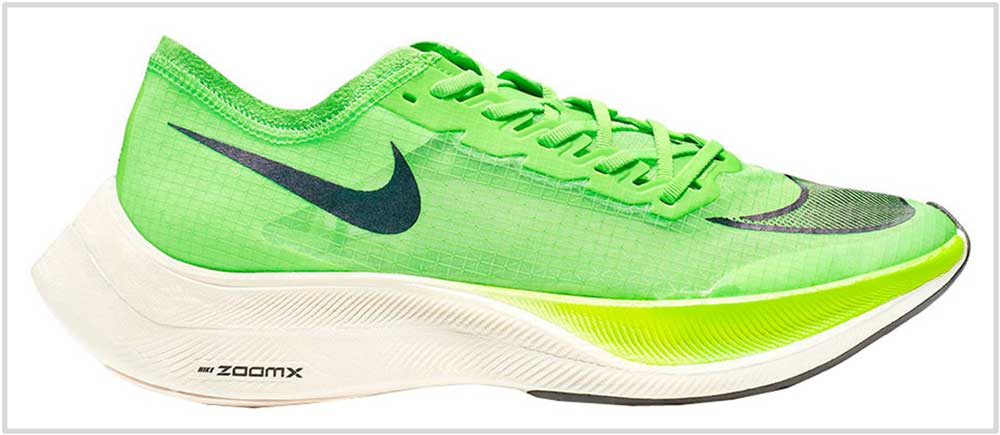 The Next% is the 'next' generation of the Vaporfly. At its core, a similar midsole set-up as the Vaporfly Flyknit powers the Next% – a full-length Carbon plate is suspended inside a soft and bouncy ZoomX foam midsole for a spring-like effect.
It differs from the Vaporfly 4% in several ways. The midsole has more ZoomX along with a grippier outsole. The heel to toe offset is lowered to 8 mm versus the 11 mm of the 4%. And instead of Flyknit, Nike uses an ultra-thin woven material which it calls the VaporWeave.
Along with the new material, the upper has a wider fit which allows the foot to splay better during a marathon. In the rear, the heel collar gets padding enhancements for improved grip. The lacing is laid out asymmetrically to reduce top-down pressure.
Even with all the changes, the ride feels very familiar to the 4%. The voluminous ZoomX midsole is soft, lightweight, bouncy, and speed-friendly at the same time; the embedded Carbon plate acts as a loaded spring which results in a very high cushioning turnover.
If fatigue-resistant responsive cushioning is your preferred shoe trait, know that no shoe does it better than the Next%. It is super-expensive at $250, but it's well worth the upper and midsole comfort.
2) Nike Vaporfly 4% Flyknit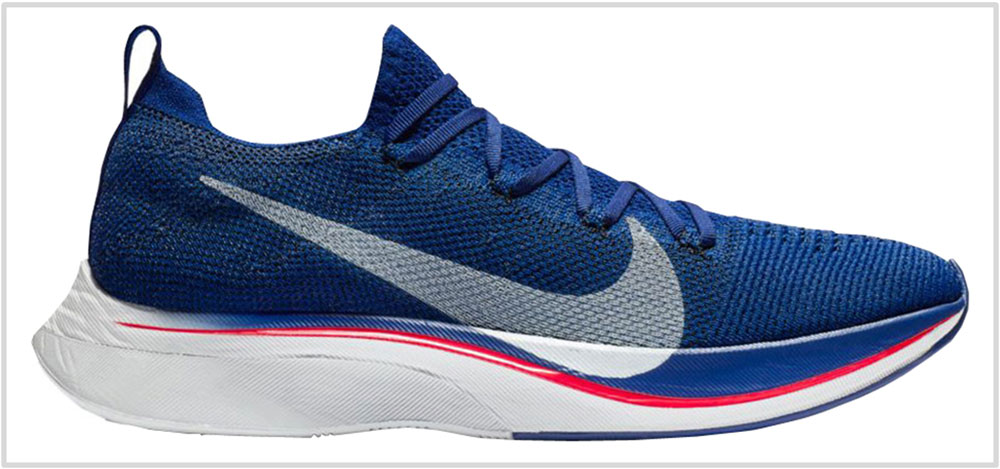 The Vaporfly 4% used to be so scarce in its non-Flyknit days that one had to spend several months of diligently tracking supplies to get a pair in the desired size and color. Not so with the 4% Flyknit; Nike seems to have remedied its inventory situation.
And what made the VF 4% such a coveted shoe? Nike combined the cushioned and springy ZoomX foam along with a Carbon plate for the ultimate in pace-friendly comfort.
And it's not just the easy-on-the feet cushioning but the sub-7-ounce weight which disappears on the foot during runs. The Flyknit upper fits snugger than the non-Flyknit 4% and also the Next%, but it is nowhere as narrow as traditional racing silhouettes.
Take your pick – both the 4% and Next% are priced identically with small differences in the fit and ride character.
3) Nike Zoom Pegasus Turbo V2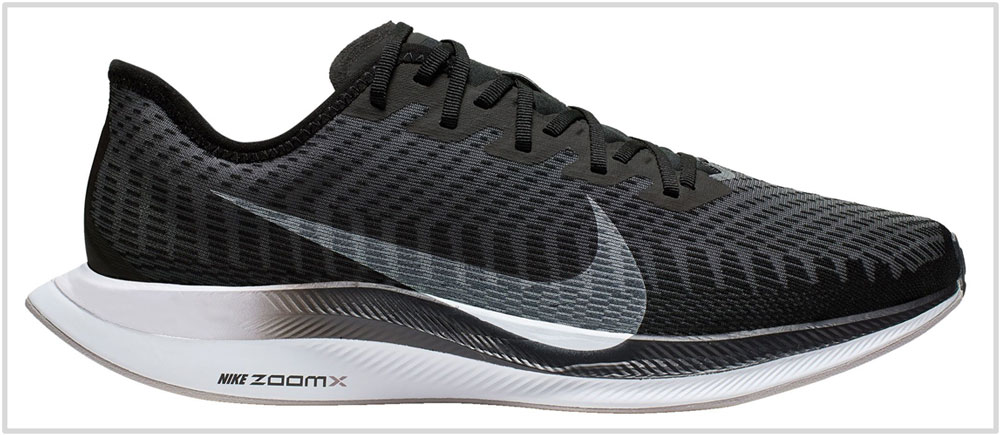 Unlike the 4% and Next%, the Pegasus Turbo 2 doesn't come equipped with a Carbon plate. Nor does it have ZoomX foam in a full-length setup; there's a layer of React foam underneath.
But what the Turbo has in spades is an anti-fatigue ride quality which works great for marathons. It is very lightweight too, and the new upper has an improved toe-box fit.
Also see: The Epic React Flyknit 2, Air Zoom Pegasus 36.
4) New Balance Fresh Foam 1080V10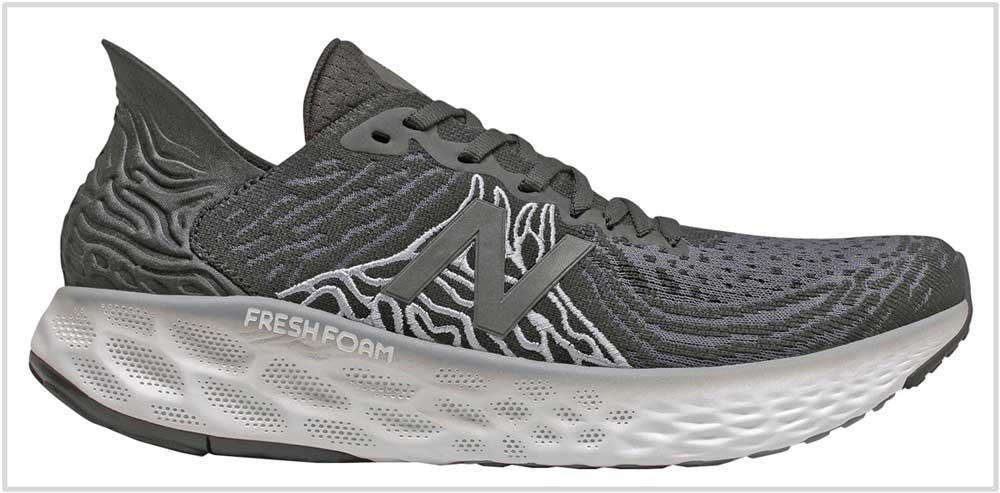 The V9 was the turning point for the 1080 series. After years of cushioning mediocrity, the updated Fresh Foam midsole finally delivered what it had always promised – a soft, responsive, and smooth ride.
As far as the ride quality is concerned, the 2020 model takes it further – in a good way. The midsole now has the tweaked 'Fresh Foam X' (feels like an EVA blend) that makes the ride softer and livelier. And it's not just the midsole.
Even the outsole goes the Fresh Foam Propel way by using blown rubber and areas of exposed EVA foam. The split outsole layout allows the midsole
It's not a surprise, then, that the 1080 V10 makes high mileage runs extremely comfortable. It's also enjoyable, as it produces the cushioning softness without feeling lazy.
The redesigned upper will divide opinions. Runners who prefer a snug forefoot will love the V10 due to its stretchy forefoot mesh. Others would rather prefer the roomier V9. The 1080 also trades one imperfect heel cup design for another. The V9's heel fit wasn't great, and the V10's outwards flaring collar is a love it or meh affair.
All that said, both the 1080 V9 and V10 are great picks for long-distance runs and marathons.
5) Hoka One One Clifton 6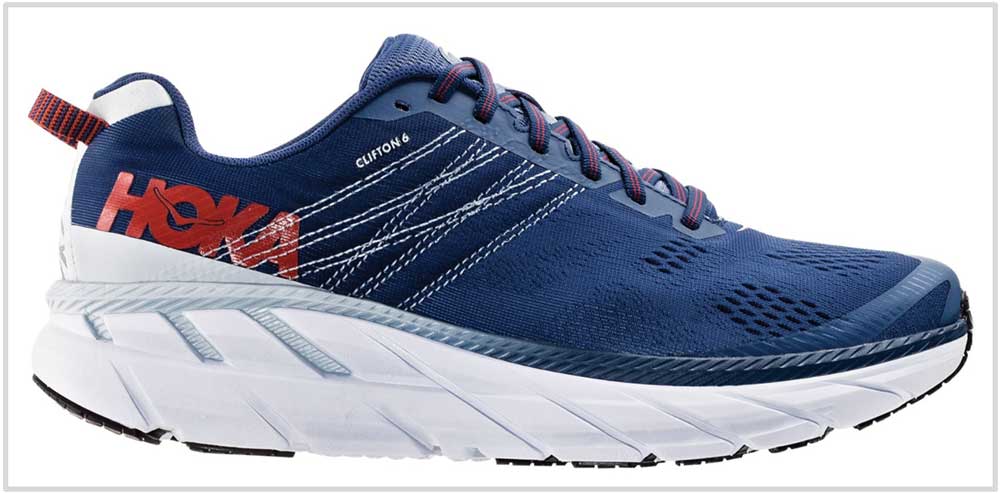 There was something magical about the first Hoka Clifton – that was a lightweight max-cushion shoe that felt surprisingly agile.
The Clifton 6 is based on the same premise – the thick, rocker-shaped midsole has high-mileage cushioning with a transition quality to match. It's not the same as the C1, but close.
Hoka has improved their uppers over the years, so the Clifton 6 fits true-to-size without any uncomfortable hot spots. This shoe even retails in a wide.
Also see: The Bondi 6, Carbon X.
6) Saucony Triumph 17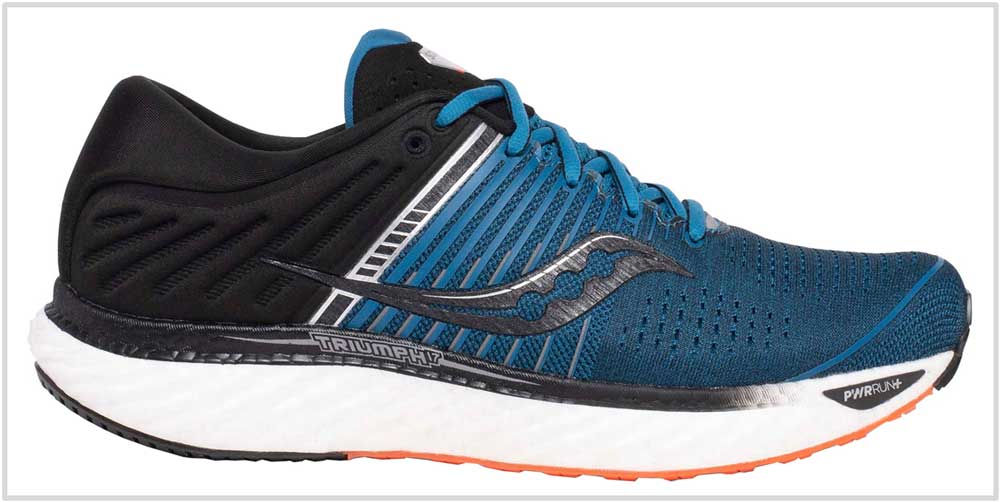 The Triumph ISO 5 did not feature on the last version of this guide, but new Triumph 17 does.
When you buy the Triumph 17, you get an uber-responsive cushioning that delivers comfortable long miles. You have the new Pwrrun+ foam to thank – it is snappier, softer, and lighter than the denser Everun. With the updated ride character, marathons are more enjoyable in the T-17 than the ISO 5.
Like always, the Triumph has a plush upper. It's worth bearing in mind that the new upper fits narrower and slightly shorter than the ISO 5; so try before you buy.
7) Reebok Forever Floatride Energy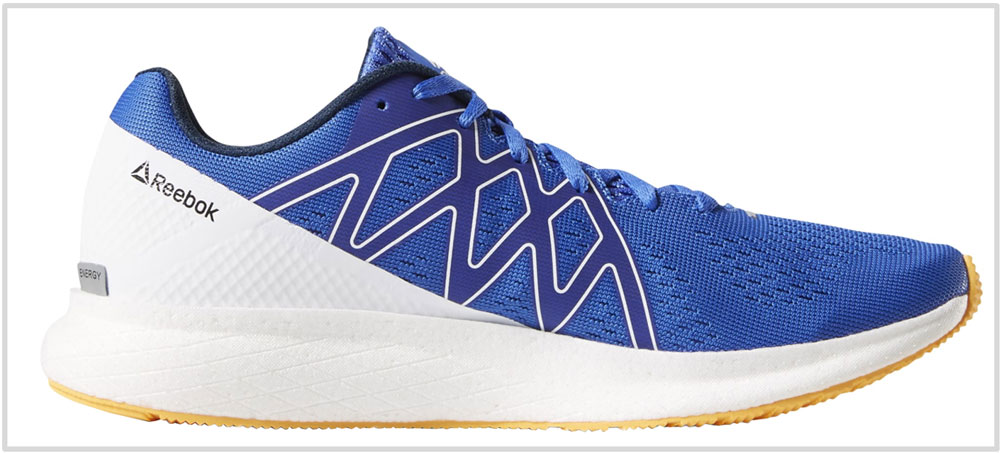 If you don't want to spend $150+ on a max-cushioned marathon racer, the $100 Forever Energy could be your shoe. It's comfortable enough for long-distance runs while being versatile and durable enough to be a daily trainer. The midsole is made of e-TPU foam, a firmer variant of what's found in adidas Boost running shoes.
The lightweight upper has a comfortable lining within a true-to-size fit profile.
Also see: The Road Harmony 3.
8) Saucony Ride ISO 2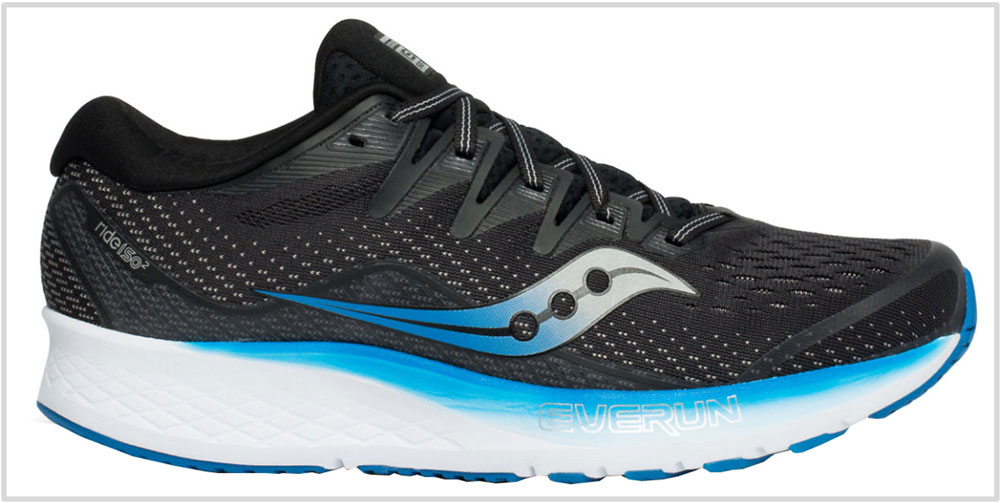 Not everyone wants a soft and bouncy running shoe for marathons. If you're one of those runners, then may we suggest the Saucony Ride ISO 2?
Saucony uses a relatively firm EVA foam-based midsole under an Everun (e-TPU) 'Topsole' to deliver cushioning here. So what you get is a mildly responsive pop along with a smooth and efficient cushioning character.
The sleeved ISOFIT upper wraps the foot in comfort during long-distance races.
Also see: The Saucony Triumph ISO 5.
9) Brooks Ghost 12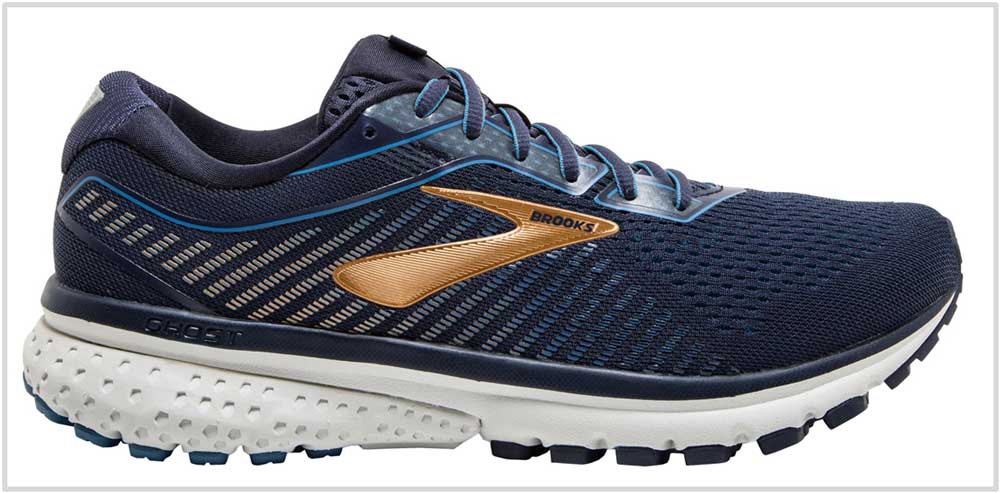 The Brooks Ghost 12 lacks the running shoe pizzazz of its e-TPU and Pebax-toting peers, but it does one thing very well – which is being a well-behaved neutral trainer with a smooth and supportive ride character.
The dual-density midsole has enough cushioning to make marathon distance runs comfortable. The Ghost 12's upper is extremely comfortable as it combines soft-touch materials with a spacious interior.
Also see: The Brooks Glycerin 17.