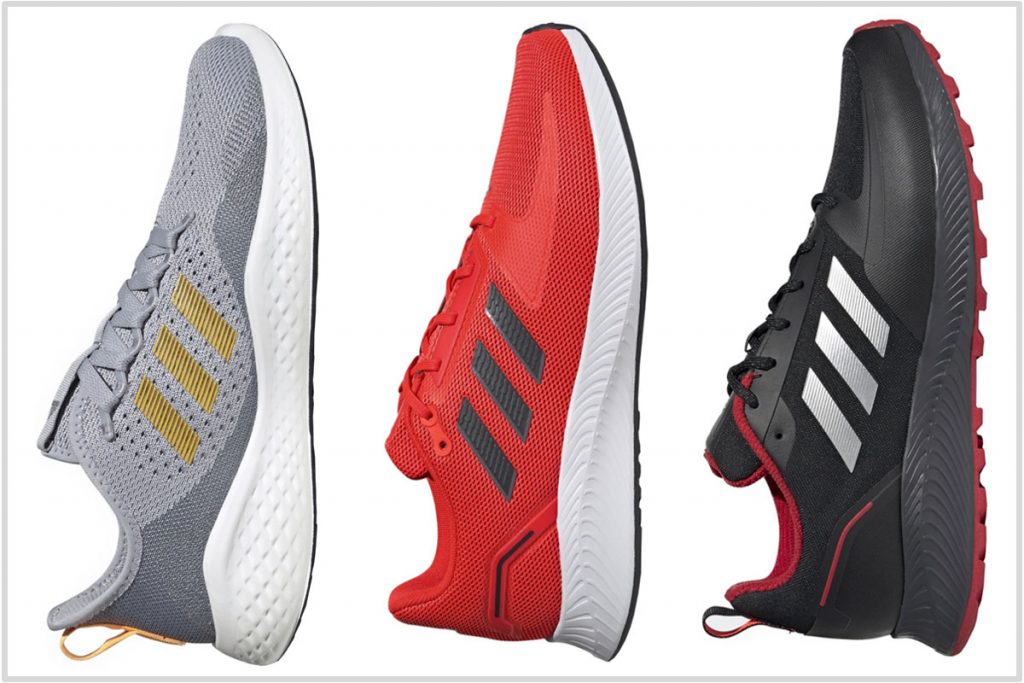 This article has been updated with current models for January 2022. The Response SR has been removed; the adidas Duramo SL 2.0 is a new addition.
While compiling this buyer's guide, we noticed that the number of affordable shoe models has decreased over the previous year.
We can take an educated guess why this has happened.
The pandemic has made things worse on the supply chain side, and has driven shipping and raw material costs through the roof. Running shoe prices will likely increase in the future, so now will be a good time to stock up on your favourite models.
Last year, prolonged gym closures also led to a sizable population taking up running as a fitness activity. The pandemic surge may have also caused the short supply; the global container crisis isn't helping either.
So either there's a genuine shortage of running shoes, or adidas has simply decided to trim its sub-$100 assortment. Time will tell.
Under normal circumstances, adidas sells a high number of sub-$100 running shoes. The brand doesn't allocate significant marketing spend on this segment, so these shoes have lower visibility when compared to higher-priced products.
While most of the budget adidas products are available on their website, lower-priced footwear also finds its way into family footwear stores and online merchants like Zappos, DSW, and Famous Footwear.
This guide is grouped into two categories – road and outdoor. Naturally, road-running shoes can also be used on the treadmill. But there's a separate solereview guide for that.
If you visit the adidas website, chances are that you'll find a good deal on many of these models – at least in select colors if not all of them.
Until last year, adidas used to sell many outdoor and trail running shoes under $100. With just two models, that doesn't seem to be the case for 2022. Maybe it's a pandemic-fueled inventory shortage; we don't know for sure.
Here're our top affordable adidas picks, but if you want to see a broader, multi-brand guide, you can read it here. And the Nike one is here.
Category 1: Road-running shoes
1) adidas EQ21 Run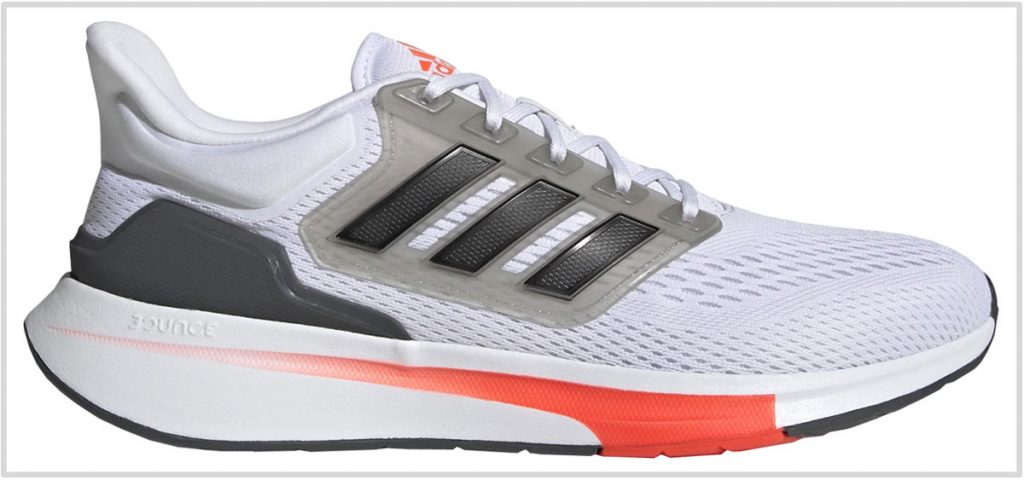 There's no Boost foam inside the EQ21's midsole. However, if everyday comfort is what you're looking for, the EVA foam midsole (Bounce) has that in spades.
The cushioning isn't overly soft, so the ride quality is versatile enough for higher-paced runs as well. The full rubber outsole also assists with the transition and grip.
The mesh upper is heavily inspired by the higher-priced Ultraboost (our review is here) and Solarboost – signs of that are visible in the plastic midfoot frame and heel design.
Regardless of its design source, the EQ21's upper delivers a secure and smooth interior fit. You may need to go a half size up, so try before you buy.
2) adidas Fluidflow 2.0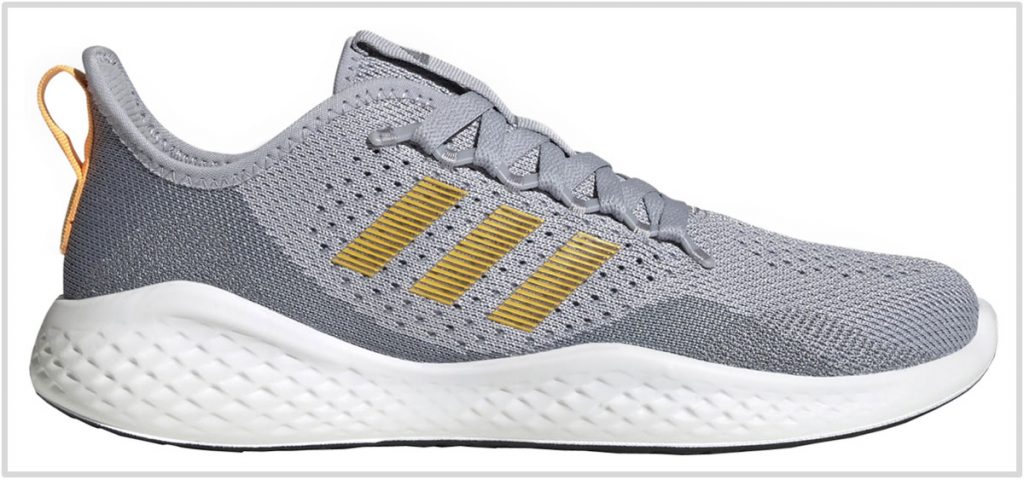 The Fluidflow packs a lot for $80. For example, there's a full-length 'Bounce' midsole made of EVA foam for a smooth and comfortable ride. There's a rubber outsole with full coverage for grip and durability. On top is a snug-fitting knit upper with a seamless interior and padded collar.
The upper has a proper lacing set-up with multiple rows for a better lockdown. In short, this sub-$100 running shoe is a decent buy as a comfortable daily trainer.
Though this is version 2.0 of the Fluidflow, not much has changed. The EVA foam midsole is the same; only the upper receives a few minor tweaks.
3) adidas Response Super 2.0
adidas does something different with the $90 Response Super. Instead of going full-length Boost or single-density EVA, this shoe employs both in moderation. The heel has a softer Boost plug whereas the midfoot and forefoot are made of a firmer EVA foam.
This unusual design loads most of the cushioning softness in the rear. As a result, the Response Super doesn't exactly have the smoothest ride. The difference between the Boost core and EVA midsole is noticeable under the foot, so this is a shoe best reserved for mild intensity runs and workouts.
The heel crash pad also has a deep groove, and that makes the heel softness only more noticeable.
The upper is rather unusual but it makes sense when one considers the midsole design. Except for the heel, the upper design is fairly simple; an engineered mesh shell is combined with no-sew overlays for a smooth fit.
The heel, however, has a rigid clip that adds some stability over the soft, Boost-infused heel. And it does work, so the clip is not a mere decoration.
On the first edition of the Response Super, the long tongue with its flat racer-style flap felt out of place. Perhaps adidas shared the same opinion as well – so now the Response Super 2.0 has a padded tongue flap with a smoother heel lining.
The lacing density has increased for improved midfoot cinching. In short, the Response Super 2.0 is worth the upgrade from the 1.0.
4) adidas RunFalcon 2.0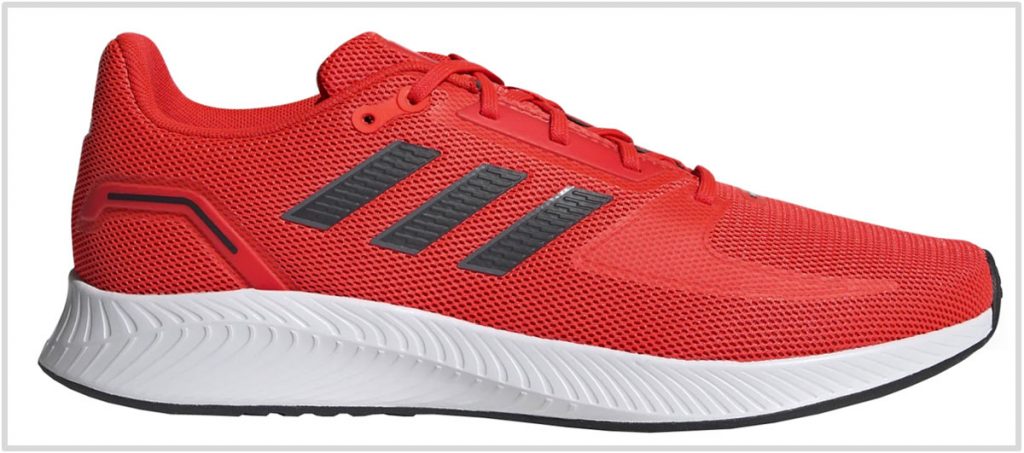 The Galaxy 5 doesn't feature on this buyer's guide, so the $60 RunFalcon 2.0 is the next best thing.
This is a very basic running shoe with an EVA foam midsole and a single-piece mesh upper that has welded pieces for structural and visual support. While the RunFalcon 2.0 won't win any awards in the cushioning department, it serves decent levels of ride comfort and stability. The snug-fitting upper is smooth and breathes well.
There's one feature that sets the RunFalcon 2.0 apart though. The outsole may not look like much, as it's a single sheet of rubber that covers the underside to deliver adequate traction and protection.
However, it is made of a non-marking compound – in other words, the outsole doesn't leave dark streaks on artificial floors. Thus, the RunFalcon 2.0 makes a good case for itself when it comes to being an affordable everyday shoe to do it all – be it easy runs or going to work.
5) adidas Duramo SL 2.0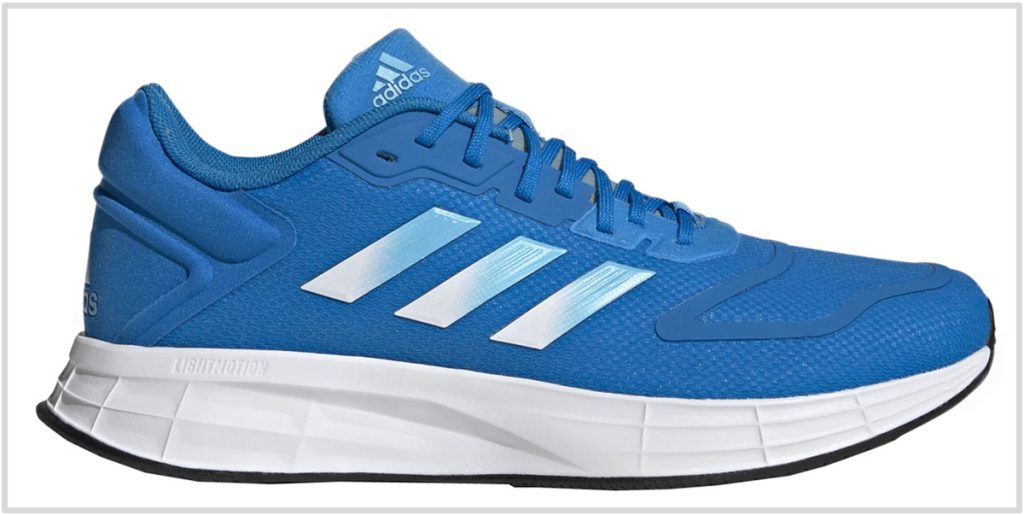 The Duramo SL 2.0 has arrived; and what has changed over the previous model? Not much, if you ask us.
This running shoe is (still) very basic in its design and fit, it works as long as the runs remain of a low-intensity kind. The midsole is made of adidas 'Lightmotion' – a relatively firm EVA blend foam that delivers functional everyday cushioning. A full outsole covers the midsole to offer satisfactory levels of durability and traction.
Adidas claims that the Duramo SL's upper now contains at least 50% recycled materials – which is a good thing, even if that isn't accompanied with incremental performance benefits. From a fit point of view, the upper has a snug yet smooth fit. The design gets the fundamentals right though. There's a padded tongue and heel for comfort, and the eight eyelet lacing creates a secure fit.
To sum up, the Duramo SL 2.0 is a decent daily trainer if you're ok with a somewhat firm ride.
Category 2: Trail-running shoes
1) adidas Terrex Agravic TR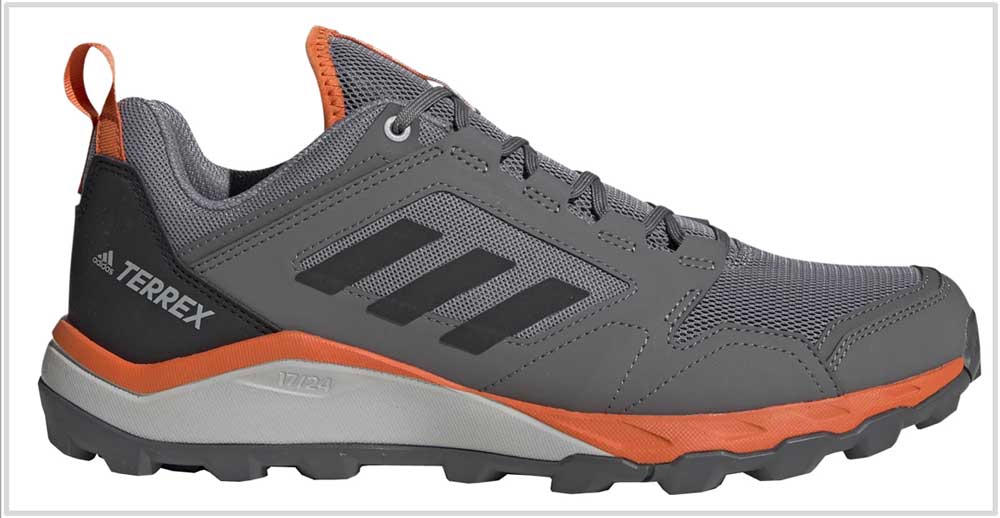 The Terrex Agravic TR is a fully functional trail shoe that delivers excellent value for its $90 price.
There's nothing fancy about the upper or midsole; the Agravic TR relies on the age-old combination of thick, stitched-overlays over a mesh base with a gusseted tongue. This makes the upper protective as well as resistant to dust and debris.
The lacing works like a charm. Thin laces find their way through speed-loops without much struggle, so the cinching process is quick and effective. A heel loop makes putting on the shoe easy.
There's not a lot of free space inside the upper; the thick stitched layering on the upper sees to that. Buy a half-size larger for some wriggle room.
Else, the fit is very secure – be it the forefoot, midfoot, or the heel. The exteriors aren't waterproof, but there's a Gore-Tex version at hand for a slight premium.
The cushioning comfort is provided by the insole and the EVA midsole, and that's sufficient for most non-technical trail runs. Though there's no plate inside the forefoot, the firm midsole and the full-coverage outsole prove fairly protective.
The outsole has a cleverly designed layout. The lugs are spaced wide to reduce clogging while allowing for optimal grip.
If you require water-proofing, the Terrex Agravic TR also sells in a GTX (Gore-Tex) version. But that'll be $20 extra, please.
2) adidas RunFalcon 2.0 TR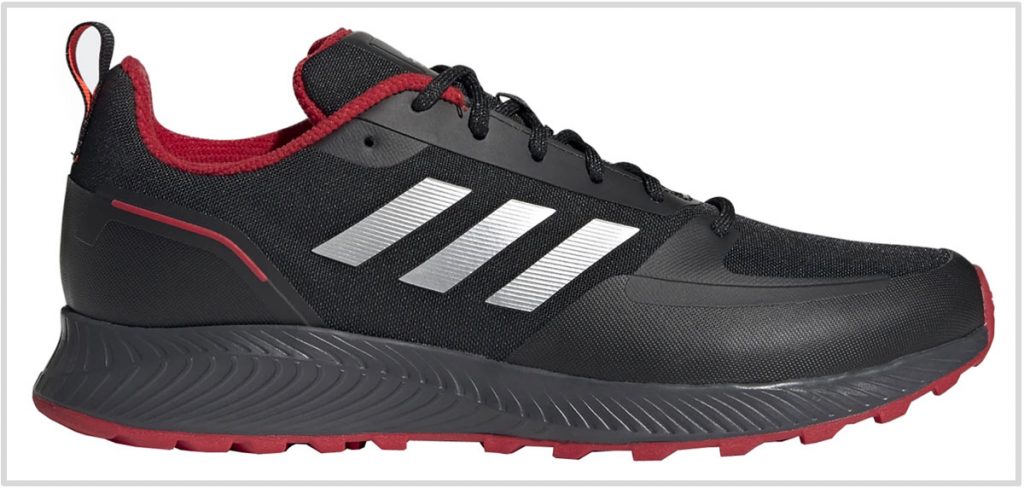 If we had to think of a product similar to the RunFalcon 2.0 TR, the Saucony Cohesion TR14 is a close match; both models are the rugged variants of the respective road model.
The road version of the RunFalcon 2.0 features on this guide as well.
The trail edition gets an outdoor-oriented outsole with deeper lugs; its upper has a closed mesh and fused overlays to prevent the dust and debris from getting inside. There's no price up-charge over the road model, so that makes this shoe good value.
It retails at $60, so it's not a bad hybrid shoe at all. The firm EVA foam midsole provides supportive cushioning on easy trail runs while being versatile enough for the occasional road use.