This article has been updated with current models for March 2021. The New Balance 1080V10 and Saucony Kinvara 11 have been replaced with their updated versions. The Asics Novablast, Brooks Hyperion Tempo, Brooks Launch 8, and Saucony Endorphin Shift are new additions. The Hoka Clifton 7, Mizuno Wave Inspire 16, and New Balance 1500V6 have been removed.
On one hand, snug-fitting running shoes have their place in a rotation. Let's say you're running track intervals or racing a 5K distance. In both cases, an upper with a reassuringly secure fit is a prerequisite.
But for long-distance runs or daily training, a shoe fit that allows the foot to splay works far better. The feet tend to swell during long runs so having an accommodating upper makes the ride experience enjoyable.
So how does one go about finding a running shoe with a spacious upper?
Some brands do a great job of offering optional widths. New Balance, in particular, offers at least a wide (2E) for most of their running shoes. Brooks comes a close second.
Though adidas now sells widths in some of their lower-priced products, and Nike does the same for a few of their popular models, the big two come nowhere close to New Balance or Brooks when it comes to widths.
The problem with only a single width is that it's based on the 'one-size-fits-all' approach. That's one of the reasons why it is so frustrating to find a shoe that fits and feels right; footwear purchase is a highly personal choice.
And even if you found a pair that hugged your foot in secure comfort, that might change with the next year's 'redesign.'
There's a similar guide on how to find running shoes for narrow feet, and we'll stick to the same format. In other words, we'll split our list of recommended products into two groups.
The first category has running shoes with a standard width that should fit most foot profiles. The shoes in the second group have a spacious regular fit and are sold with an optional 2E (wide) and/or 4E (extra wide) sizing.
A few retailers also mention 2E and 4E as EE and EEEE. They might also use the terms 'standard', 'wide', and 'extra wide' instead of alphanumeric sizes. Don't be confused; these all mean the same thing.
There is one difference between this and the narrow shoe guide. It is usually easier to find standard (D) width running shoes with a snug fit than it is to discover regular width shoes with a roomy forefoot.
It makes sense, though. After all, a running shoe with a sloppy interior isn't a good one. Having too much space inside a standard D fit doesn't lock the foot down securely.
And we're talking the forefoot width here and not the stick length. Many shoes fit a half size larger (in the front) than they should, but that does not necessarily make the shoe wider.
At times, even 2E or 4E widths aren't what they seem. For example, if a D width shoe is based on a very narrow last, the regular width will fit like a 2E.
Though the 'D' width shoes featured here have a relatively easygoing fit, you should explore 2E and 4E options if you have wide feet.
But first, here are our recommended shoes that have an easy-going fit in their standard 'D' width. The list is sorted alphabetically for your reading pleasure.
Category 1: Running shoes with a roomy D (regular) fit
1) Asics Novablast
During our review, one of the gripes we had with this Asics shoe was its longish sizing and overly roomy fit. Guess what, that works perfectly well here.
If you don't go a half-size down as suggested in our review, the stock Novablast has plenty of room for the toes to splay. And it's very breathable as well – just in time for summer (If you aren't in Australia, that is).
The Flytefoam midsole is fun to log mileage on. It's responsive, cushioned, and peppy enough for high-intensity runs.
2) Brooks Hyperion Tempo
We think highly of the Brooks Hyperion Tempo, and that's not just due to its surprisingly spacious upper. The Tempo is an extremely versatile running shoe.
The low weight makes the shoe disappear on the foot, and the firm ride gives it enough agility for speed runs. The Nitrogen-infused EVA foam midsole keeps the foot from getting beat down during tempo workouts, and the outsole traction is superb even on damp roads.
And that's why the spacious fit is surprising. Usually, such speed-friendly running shoes have a snug fit, but this one does not.
3) Brooks Launch 8
The Brooks Launch 8 has changed a lot this year. The updates are significant, so this is not a mere refresh. The ride quality is the highlight of the update; the midsole is a lot softer than the stiff Launch 7.
So while the lightweight (8.6 oz/ 244g) Launch 8 is a good fit for fast-paced training, it's more comfortable than the 7. But that's not what we're here for, are we?
The lightweight mesh upper of the Launch 8 is roomy enough to accommodate most foot profiles. The Launch uses an air mesh (sponge-filled) textile, so the seamless interiors wrap the foot in soft and breathable smoothness.
4) Mizuno Wave Rider 24
Mizuno is one of the first brands that come to mind when discussing interior space. Except for their speed trainers or road racers, daily trainers from this Japanese company have a relaxed fit.
The Wave Rider used to be a lot roomier before the 23 due to an external toe-bumper. Last year, the Mizuno Rider 23 switched to an internal toe-bumper that made the forefoot a mite pointy. Despite that, the all-mesh forefoot does a good job at accommodating most foot types.
The Wave Rider 24 has a softer midsole and a smaller Wave plate, so the ride is softer than before. Though the midsole still has the unique ride signature of the plastic Wave plate, the shoe doesn't require a break-in period as it did before.
Also see: The Mizuno Wave Inspire 17.
5) Saucony Endorphin Shift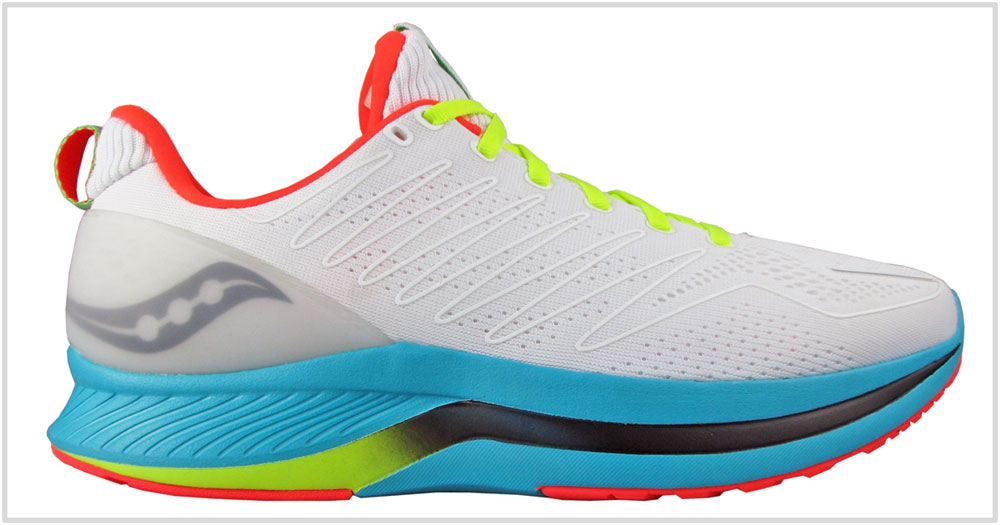 We praised the Endorphin Shift's thoughtfully-designed upper during our review of the shoe. Along with excellent ventilation and interior smoothness, the Endorphin Shift's spacious upper will fit a wide range of foot profiles, broad-footed runners included.
The exteriors are made of a single piece, so there're no seams or hot spots that press against the side of the foot. The gusset keeps the tongue centered without adding bulk, and the tongue and heel have soft and smooth padding for grip and comfort.
The Endorphin's firm yet deeply cushioned ride makes it an ideal daily trainer. Its midsole geometry also makes it suitable for runs where long-distance runs and faster paces come together.
6) Skechers GoRun Ride 8 Hyper
The Hyperburst-based Skechers GoRun Ride 8 is a running shoe with plenty of forefoot room. This is not unique to the GRR8; even the earlier versions had a generous amount of room. The sizing also runs a bit long, though.
Though this is a buyer's guide about upper fits, it's worth pointing out that the Ride 8 is a markedly different shoe than the 7 – thanks to its firm and responsive Hyperburst midsole.
Category 2: Running shoes with optional 2E (wide) and/or 4E (extra wide) sizes.
1) Asics Gel GT-2000 9
The GT-2000 has always been a safe, please-all stability shoe with a medial post. The 'safe' character also applies to the upper fit.
In its stock D (regular) width, the engineered mesh forefoot offers a just-right interior volume. For runners with wide feet, Asics sells a 2E (wide) and 4E (extra wide) in the GT-2000 9.
2) Brooks Ghost 13
The forefoot room was never an issue with the Brooks Ghost, and that doesn't change for the 13th model either.
The upper is devoid of a full inner sleeve or forefoot overlays, thus making its regular 'D' width comfortable for most feet shapes. The Ghost 13 is also available in an optional wide and extra wide.
For this year, the Ghost 13 gets a new midsole that makes the ride smoother and softer than the 12. The midsole no longer uses a separate heel crash pad. The entire midsole is made of a softer foam that leads to the said changes in the ride quality.
Regardless of the redesign, the Ghost 13 continues to be a daily trainer with excellent versatility.
3) Brooks Adrenaline GTS 21
Here's a 'supportive neutral' running shoe with a just-right forefoot fit. If the standard 'D' sizing doesn't fit, the optional 2E and 4E widths will help get you out of a tight spot.
Just like the Ghost 13, the Adrenaline's perforated mesh and lack of layering create a Goldilocks fit inside the forefoot.
The Adrenaline GTS hasn't been the same since the 19th edition. Brooks removed the medial post of the V18 and substituted it with a 'Guiderail'. Here, the midsole has raised sidewalls that cup the foot on either side.
The Adrenaline GTS 21 has been updated with a softer midsole that no longer uses a separate crash pad. In essence, the GTS 21 is exactly like the Ghost 13, but with the raised 'Guiderails' and an inner tongue gusset.
4) New Balance Fresh Foam 1080V11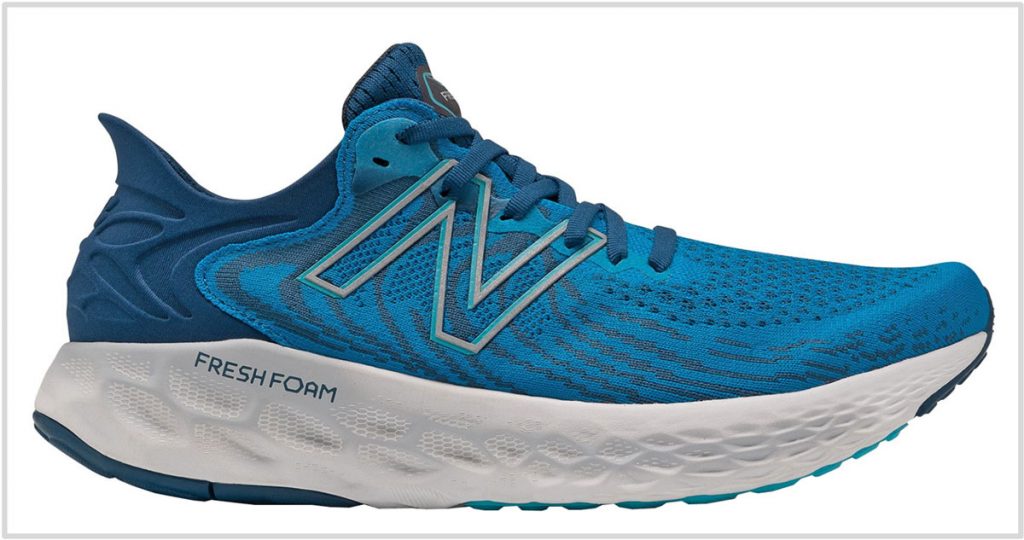 Given the soft and stretchy mesh upper, the 1080 V11's regular fit is relatively snug. However, New Balance sells this model from a B (narrow) to 4E (extra wide) width for narrow and wide-footed runners alike.
Offering multiple widths isn't the only trick up the 1080's sleeve. This thick Fresh Foam midsole makes short work of long-distance runs by minimizing foot fatigue. The rocker shape of the 1080 also promotes smooth transitions.
5) Saucony Kinvara 12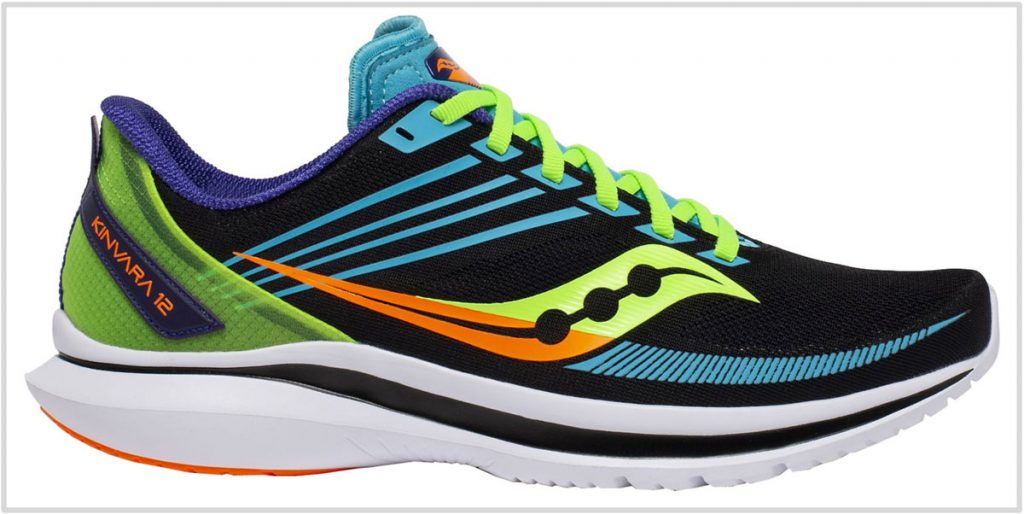 This is the best Kinvara we've seen in years. The upper has been stripped down to its essence without gratuitous frills, so that results in a smooth-fitting upper with accommodating interiors. Even with the assistance of the optional 2E (wide), the K-12 will fit most runners.
The redesigned midsole and outsole translates into an improved ride quality that feels leaner than the Kinvara 10 and 11.
So if you're in the market for a lightweight, low heel drop trainer with a comfortable fit, the Kinvara 12 gets a lot of things right.