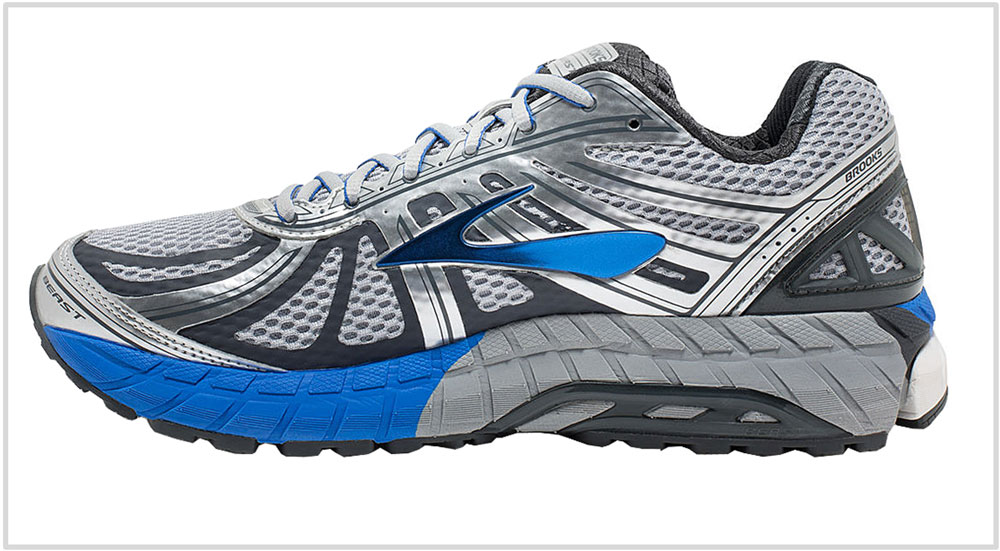 At a very basic level, the current assortment of running shoes can be split into two halves – one with a firmer medial post, and another without it. This categorization is commonly known and marketed as 'stability' (with a medial post) and 'neutral' (without a medial post).
But when you begin to wade through the vast selection of stability shoes, you quickly realize that you cannot paint all with the same brush. Some stability shoes have a small medial wedge, while others have a gigantic post which extends from the heel to the forefoot.
Then there are countless other variations, such as the difference in the shoe weight, midsole softness, or the outsole footprint.
Due to the sheer breadth of available features and models, stability shoes can be further divided into sub-categories. Some stability shoes exhibit a noticeable 'motion-control' behavior, which means that the outer midsole is far easier to compress than the inner side.
Then there are other stability shoes which feel like neutral shoes or lightweight trainers, minus the prominent sensation of hardness which comes from the medial post.
So why do 'stability' shoes exist? All brands which promote stability running shoes claim that the latter minimizes inward foot roll, and how only 'over-pronators' should wear the said category of running shoes. We've spent enough time discussing this subject in the past, so we'll skip that today.
Whether a runner likes a stability shoe or not is purely a matter of personal preference. Some like the sensation of a firmer medial post under the foot, and that's a good reason enough to buy them. In the same vein, not all stability shoes are the same, so an extremely subjective decision-making process will apply in each case.
What solereview can do here is to break down popular stability running shoes into three different sub-categories, a step we hope will make your running shoe search less arduous.
The first category is what we view as the most popular assortment of stability shoes. These shoes are your daily trainers with mild support features. The medial post isn't very intrusive, and in some cases, you don't feel it at all.
The second category is max support. Here, weight and silhouette considerations go out of the window, and brands pull no punches in building the most stable running shoe. Design features like an over-sized medial post, an ultra wide outsole footprint, and a high shoe weight are what commonly constitute such a shoe.
Lastly, there are lightweight trainers with a mild stability treatment. These shoes are fast trainers, but with a difference; the midsoles (except for Mizuno) are fitted with a tiny medial-post.
Without further ado, here're our recommended lists of running shoes – arranged by stability sub-categories:
Stability shoes – mild support:
We've excluded the adidas Ultra Boost and Supernova ST because of their soft ride. By the way, the last year's Sequence would have made it to this list.
| Model | Midsole | Check price |
| --- | --- | --- |
| Asics GT-2000 5 | Medium soft | Amazon |
| Brooks Adrenaline GTS 17 | Firm | Amazon |
| Mizuno Wave Inspire 13 | Firm | Amazon |
| New Balance 860V7 | Firm | Amazon |
| Nike Zoom Structure 20 | Firm | Amazon |
| Saucony Guide 10 | Firm | Amazon |
| Skechers GoRun Forza 2 | Medium soft | Amazon |
1) Asics GT-2000 5
Five years ago, the very popular GT 2160 evolved into the present day GT-2000 series. The shoe might have changed during the transition, but is based on the same premise – a blend of mild medial-side support with a cushioned ride.
2) Brooks Adrenaline GTS 17
The suffix '17' indicates that the Adrenaline has been around for nearly two decades. This Brooks shoe has a few things going for it, like a very stable ride without the nervous motion control behavior.
Note: Brooks changed the cushioning system (DNA Gel to foam) from the GTS 15 onwards, so the ride has turned firmer since.
3) Mizuno Wave Inspire 13
In what's an unusual stability-neutral pairing of the Inspire and the Rider, the Inspire feels just as cushioned as the Rider 20.
The Inspire 13 is the only shoe on this list which does not use a firmer medial post. Instead, it uses a different design of the Wave Plate to produce slightly more support on the inner side.
4) New Balance 860V7
The 860 has all that you expect of a traditional stability shoe. There's a visible medial post under the arch, the upper uses a conventional mix of synthetic and mesh, and the outsole is generously covered with rubber.
The outer midsole is softer that the medial side, but there's none of the skewed cushioning we experienced on the 860 V5.
5) Nike Zoom Structure 20
Nike's stability workhorse is in its 20th year, and the Structure's design has kept up with the changing times.
The upper is made of an engineered mesh, and underneath is a firm midsole with a forefoot Zoom Air bag. There's a harder medial wedge, but the overall ride has a balanced quality.
5) Saucony Guide 10
The Guide is Saucony's mid-priced stability shoe with a firm and supportive ride. There's an Everun footbed used in combination with a removable insole, so the ride is slightly responsive too.
6) Skechers GoRun Forza 2
For years, Skechers got a lot of flak for their fashion-oriented footwear. But its performance line is a different beast with plenty of competent yet under-rated models. The GoRun Forza 2 is one of them.
It uses an oddly designed medial post which looks like a first grader's depiction of mountain peaks, but it gets the job done. The ride is cushioned and supportive, and in what's a departure from the norm (4 mm offset), the Forza has a 8 mm heel drop.
Stability shoes – Maximum support:
These are no holds barred shoes with stability features that can put bulky 80's running shoes to shame.
| Model | Midsole | Check price |
| --- | --- | --- |
| Asics Gel Foundation 12 | Firm | Amazon |
| Brooks Beast 16 | Firm | Amazon |
| Brooks Transcend 4 | Medium Soft | Amazon |
| Saucony Redeemer | Firm | Amazon |
1) Asics Gel Foundation 12
There's something to be said about shoe names which sound descriptive. The Foundation 12 is aptly named, given its humongous medial post and a wide outsole footprint. If the Kayano and GT series doesn't cut it for you, get the Foundation instead. Also available in a 2E.
2) Brooks Beast '16
The Beast has long been a favorite with runners who wanted a shoe with maximum stability. The Beast delivers just that; the wide outsole footprint when combined with a firm and thick midsole produces a stable ride like none other.
The upper fit is a hit or miss though, as it fits narrower than most Brooks shoes.
3) Brooks Transcend 4
When the Transcend debuted three years ago, it was said to be an unofficial replacement for the Trance; the Transcend is anything but.
Though it is positioned as a support shoe, it does not have a medial post. The midsole delivers stability through its wide midsole and outsole, and has a lot of cushioning despite its support categorization.
4) Saucony Redeemer
Not only does the Redeemer have the widest Saucony outsole, but it also comes with additional features which make it an absolute support monster. This is the only shoe we know of which is fitted with hard TPU 'pillars' over the medial post.
The upper is built on the ISOFIT platform, and the heel has an external support frame. Also available in wide and extra wide versions.
Stability shoes – Lightweight support:
Running shoes with mild support for those speedy training runs.
| Model | Technology | Check price |
| --- | --- | --- |
| adidas adizero Tempo 8 | Boost | Amazon |
| Asics DS Trainer 22 | Flytefoam | Amazon |
| New Balance 1500V3 | Revlite | Amazon |
| Nike Air Zoom Span | Zoom Air | Amazon |
| Mizuno Wave Catalyst 2 | Wave plate | Amazon |
1) adidas adizero tempo 8
If you're smitten with adidas Boost but don't like the softness of the Supernova ST, then the adizero Tempo 8 is just the shoe for you. The midsole is a mix of a firmer EVA foam component and Boost foam, a combination which delivers both cushioning and support.
2) Asics Gel-DS Trainer 22
This lightweight stability favorite is now updated with Asics's new Flytefoam midsole material.
The lightweight upper is modeled on road racers, and the DSP (Dual Stencil Process) outsole has plenty of grip for those fast training runs.
3) New Balance 1500 V3
The 1500 series might be only a couple of years old, but it has already built quite the reputation as the lightweight trainer.
The superbly fitting upper is a joy to run in, and the small medial post embedded into the midsole isn't bothersome at all.
4) Nike Zoom Span
The Zoom Span makes its comeback in a much lighter version of itself. Nike cobbles up a lightweight upper, a Zoom Air equipped midsole, and an all-rubber outsole to deliver a lightweight trainer with a hint of support.
5) Mizuno Wave Catalyst 2
This one's like a support version of the Sayonara, similar to the Inspire-Rider pairing. There's an absence of medial post, but Mizuno makes up for it by changing its Wave Plate design on the inner side.
There's also no gap between the plastic Wave Plate and the midsole foam, which makes that side of the midsole firmer than the lateral side. The upper is built on the familiar Mizuno template which uses a combination of mesh, welding, and molded logos.