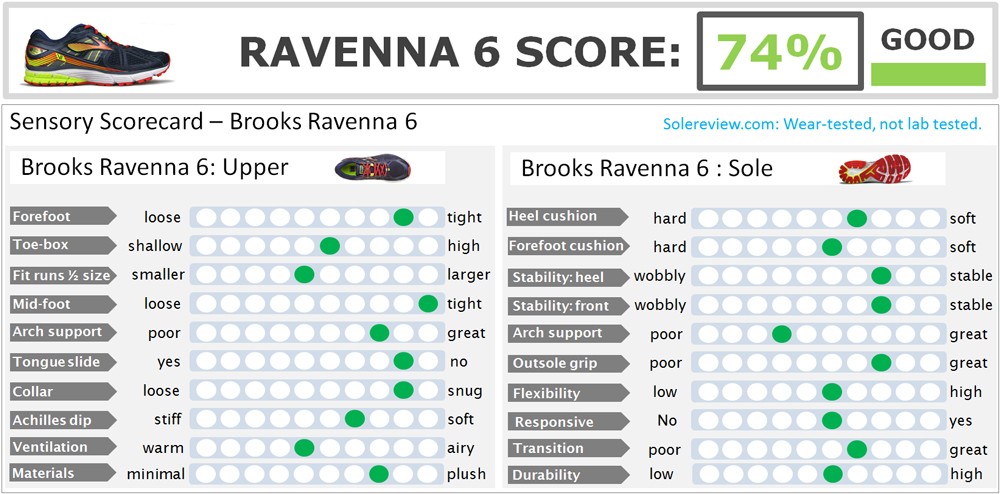 Color: Peacoat/Torch-nightlife
Brooks' marketing pitch: Step into a whole new world of cushion and stability.
Surfaces tested on: Road, ambient temperature of 23° C/74° F
Upper: Mesh, heat fused and stitch-less synthetic leather overlays.
Midsole: Triple density compression molded midsole with 'DRB' medial post, plastic medial shank. 10 mm heel to toe drop
Outsole: Hard carbon rubber in  heel, softer blown rubber under mid and forefoot.
Weight: 350 gms/ 12.3 Oz for a half pair of US11/UK 10/EUR 45/CM 29
Widths available: Normal (reviewed), 2E-wide in select colors.
The Ravenna 6 is a 'light' support shoe, with its medial post barely noticeable in action. Very well padded with minimal bias. The silly toebox overlay is the only serious blemish on what would otherwise have been a good shoe.
Saucony Guide 8, Asics GT 2000 3, Mizuno Wave Inspire 11
Cushioning, quality of upper materials, snug midfoot and collar fit
High chance of toe box overlay rubbing/catching against the big toe.
An impressive array of 'motion control' or 'stability' running shoes adorn retail shelves, but confusingly enough, no two models feel the same. While based on the same fundamental design – midsoles using a harder medial post – a shoe's character can depend on factors such as foam density and stacking, position/size of the medial post and other variations in design execution.
So in the end, these shoes deliver a range of ride manners which can swing from firm to soft, and from overbearing medial side support to near-neutral behavior. The trick is to know which from which. Easier said than done.
Some runners want a shoe with the support of a harder medial midsole insert combined with soft cushioning. The Brooks Ravenna 6 sets out to make a case for itself in this category, together with other soft-support roadsters such as the New Balance 860 V5 and adidas Sequence 7 Boost.
On the face of it, these models appear to belong in the same segment, but in reality only partly so. Running shoes are never as simple as that, are they?
Similarity with a soft motion control shoe like the New Balance 860 V5 begins and ends at the level of midsole cushioning. Separation becomes clear as the ride character starts to manifest itself, which happens to be an almost-neutral bias for the Ravenna and not so much so for the 860.
Ok, now throw in the Saucony Guide 8 and Asics GT 2000 3 into the picture. Both shoes show minimal to moderate lateral (outer) midsole lean during footstrike. So from that standpoint, shouldn't those models be comparable to the Ravenna? Again, no, because if they share something similar, they also are different in more ways than one.
Our review has barely begun, and it's already looking more twisted than a circus contortionist going about his day job in a small box. The whole point of this is: even in the generalized footwear category which is 'motion control', it is hard to look at shoes with a presumptive lens. The only way to get a good hang of what you're buying is to try them on first – there is absolutely no substitute for that, not even 3,000 word shoe reviews with a wedding album's worth of photographs.
If we feel like it later, we'll revisit how the Ravenna compares to some of other brand's  support shoes. But for now, let's see how Ravenna fits into the Brooks play board. There are many motion control shoes in the current Brooks assortment. We'll name a few. There's the ultra supportive Beast 14, which is every bit as formidable as it looks and sounds. The $120 price-point is filled in with the popular Adrenaline GTS (now going on 15). And finally, placed just above the $100 bracket, lies the Ravenna.
Just one wearing of the Beast '14, and there'll be no doubt of how that shoe is differentiated from the Adrenaline and Ravenna. But we'll take a moment to explain the difference between the two aforementioned models, which will conversely lay bare the gist of what these shoes have to offer.
The Adrenaline GTS 15 is the more supportive of the two. In other words, the midsole cushioning is much firmer than the Ravenna, and the whole motion control thing comes into play a little earlier during transitions. A common overlap would be how both shoes behave on the lateral side; the outwards midsole leaning is controlled, unlike shoes like the 860 V5 or Nike Structure 17 which does exactly the opposite.
The Ravenna 6's midsole is made using triple density foam. Break it down, and that's the medial post (hardest) on the arch side, the main Biomogo DNA midsole (softest), and the lateral crash pad in lime green (firm) which runs from heel to midfoot. Ok, make that almost-triple density, because the DRB (Diagonal Roll Bar), which is Brooks-lingo for the firm insert, actually seems to have two densities.
Towards the heel the DRB insert is somewhat cushy, not very different from the white DNA foam. But as you go in further towards the midfoot, the density becomes harder, almost rock like at the point just above the plastic shank. Once the medial post ends, the soft forefoot foam begins again.
Outsole is mostly softer blown rubber compound, laid out over midfoot and the entire forefoot. Harder carbon rubber is only applied in a horse-shoe shaped formation under the heel.
Both heel outsole halves are split by a flex groove under the medial side, which allows the lateral crash pad to behave autonomously during landings. There're plenty of cut-outs and grooves through-out the outsole geometry, which help both flexibility and smoother transitions.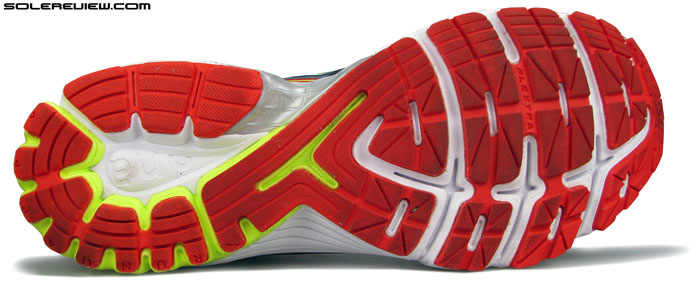 Outsole rubber grips well, but as with most Brooks models, you'd wish they were tad more hard wearing.
We know it's always a catch-22 when it comes to traction vs. durability, but Brooks can certainly do better with rubber durability without making them as noisy and clunky as Mizuno outsoles.
Removable insole is molded Biomogo EVA with a soft top cloth, a type which should look and feel very, very familiar if you've been wearing recent Brooks models.
EVA foam strobel below it is a standard component which is used throughout Brooks' footwear line. Has enough amount of squish, and works as a cushioning equalizer over the multi-density midsole.
For a support shoe, the Ravenna 6 has a lot of midsole softness, almost at par with the Ghost 7 and Glycerin 12, both of which are Brooks' cushioning cornerstones. The heel is very well padded and centered in weight loading. The firmer density pads on either sides helps plant the foot, and keeps excessive outside lean at bay. There is only a slight trace of outward heel lean, as a compression groove is set over the crash pad surface. Transitions are smooth and unbroken, as the majority of  the midsole is soft, single density foam. The cushioning is not very responsive, just soft and comfortable.
We summarized Ravenna 6's motion control behavior right at the beginning, and we'll add to that in a little more detail. Given the way how the inner midsole is constructed, the support aspect of the shoe kicks in at a much later stage. The medial embed is placed closer to the midfoot than heel, and its density changes along its length. So any sensation of motion control mechanism comes in around midpoint of gait cycle, and not before that. The medial post is sensed during the gait cycle, but feels inconspicuous – as if working in the background
This transition quality produces a sense of neutral-ness in how the Brooks Ravenna 6 rides, and we can see that this aspect appealing to a larger segment of runners. The said segment will also include those seeking a neutral ride experience; the Ravenna wears both support and neutral hats quite well. It scores well on stability too, given its tendency to keep the foot centered, combined with a wide forefoot base.
Although the Biomogo DNA midsole delivers cushioning softness like most foams do, we've got a thing against it. Some readers might wonder why we're constantly ranting about the Brooks' use of DNA foam? How does it matter if it was made of Gel, foam or spaceship goo? Cushioning is what matters, correct? Not really, especially when you read Brooks' claims with respect to how the DNA foam is supposed to perform.
We would have had absolutely no issues with Brooks DNA foam if it worked as advertised. Brooks says that the BioMogo foam is non-Newtonian in nature, and so far, we're yet to see that come to life during runs. We do pay for the shoes reviewed, so we're paying customers first, and shoe reviewers second. If a shoe doesn't work as intended, that's good enough a reason to be mad about.
Non-Newtonian materials (be it gel, foam or liquid) have a distinct quality – when stress or pressure is applied, they firm up. Which means, soft while walking, and firm when running. The original Brooks DNA gel had this, and in the past, we're illustrated examples of other foam based compounds which do that.
Except that none of the new Brooks DNA foam based shoes (Ghost, Glycerin and Transcend) exhibit any non-Newtonian behavior. Take the Ravenna for example. It stays soft, regardless of the speed. Even when you shorten the cadence, and do silly things like over stride and apply high intensity heel strikes, nothing changes. So all the marketing talk about 'adapting to your running style' is pure eyewash.
The midsole is well cushioned, landfill friendly, comfortable and responsive to some extent. Brooks would have done well to just describe BioMogo as such and leave it there. Why complicate matters?
The Ravenna 6's upper is very snug fitting, with special mention of the midfoot and heel. A split strap snakes through between the upper and lining, from the base to the lacing area.
The strap converts into a row of speed lacing, and delivers a high level of wrap when laced through. It is more effective than rest of the eyelet rows, as the loops work independently, and stretches the straps taut.
This has an impact on the how the collar fits, even when you don't use the last row of lacing. Actually, if you do end up lacing all the way to the top, you'll fall short of lacing runway which is the tongue.
The latter is shorter than the Brooks Adrenaline GTS 15, so the topmost row of lacing will end up being not entirely comfortable.
Forefoot has a snug fit and heel to toe size runs true. Going for a 2E width in the Ravenna will buy you more sideways room, but then there's that invasive toe-box overlay. Right at the very tip of the shoe, a thick band of synthetic runs over the toe box.
Although there are no seams inside the shoe, the area below the overlay forms a ridge, and tends to catch/rub against the toe.
It did bother us, and it will be potentially be felt by many others. This is more noticeable when you're going downhill, when the foot slides forward into the toe box. So if you're a San Francisco native for example, you'll probably get a stronger taste of the ridge.
Don't see a solution for this except to size up, in which case your toe will stop short of the ridge with some distance to spare. That however, might come with other unwanted side-effects, so not an ideal scenario.
This design oversight is a pity, because it mars what could otherwise have been an excellent shoe. There are a number of things to like about the Ravenna 6, apart from its smooth ride.
To begin with, the choice of upper materials is well thought of, with nice touches of functional and aesthetic detail here and there.
For example, the meshes used feel premium and with a plush hand-feel, and the upper minimizes overlays which eliminates most internal seams.
The tongue isn't sleeved in, yet there's no slide because of an extra loop which locks in the lacing.
Apart from the soft lining, the tongue layers in a thick sheet of perforated foam, which absorbs potential lacing pressure. Reflectivity is also taken care of, with bits on the forefoot, tongue and heel proving effective in low light.
You don't get a sense that Brooks has skimped on the quality of materials anywhere. In fact, we see the $100 Ravenna as great value in its price segment when it comes to material execution.
The Ravenna will still work perfectly well for some, but treat your purchase with caution. Buy only after you've had an opportunity to try these on. Go for a short treadmill burst in your local running store, and see if it passes the fit test. If it does, the Ravenna 6 will prove to be a good choice of footwear, especially when it comes to mixing up cushioning and support in well balanced doses.
(Disclaimer: For this review, Solereview.com bought the shoe at full US retail price.)