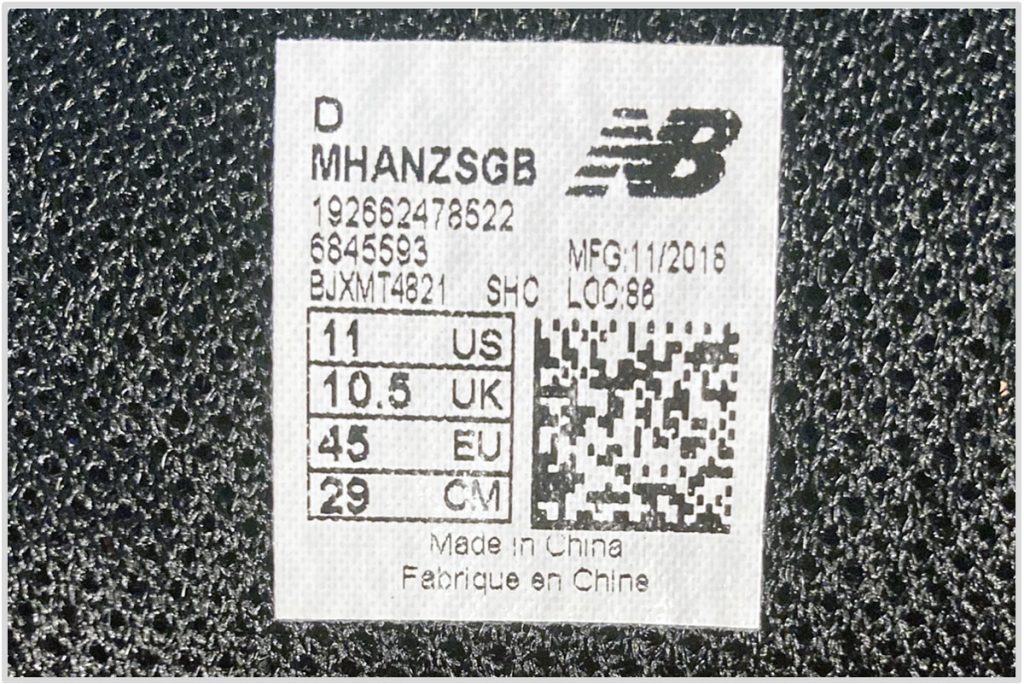 This sizing chart has been updated for November 2021 to reflect the larger sizes available in New Balance's catalog.
New Balance follows a slightly different shoe size conversion than most of the other brands.
Besides Hoka, New Balance is the only other shoe brand in the United states to feature a half size conversion between UK and US sizes. adidas follows the same sizing convention too for US and UK sizing, but differs when it comes to EU and CM sizes.
If you look at the sizing chart of other major sports footwear brands like Nike, Reebok and Underarmour, they feature a US-UK conversion difference of one. Confused? Let us explain with a few examples.
A US size 10 in Nike is UK size 9.
A US size 10 in Reebok is also UK size 9.
But when it comes to New Balance, a US size 10 converts into UK 9.5. Naturally, all this can be confusing when switching across brands.
So here's the golden thumb rule of maintaining proper sizing across brands: Ignore the US, UK, and EUR sizes, and use the CM/JP (Centimeter) size as your yardstick. Because out of all the different sizing conventions (US, UK, EU, FR), only the CM size represents the true stick length of the shoe.
For instance, if you have a US 10 in Nike, then that converts into CM 28  – so when buying a pair of New Balance shoe, buy the same 28 CM size.
This is why you should always reference the CM size when switching brands. We also hope that you'll find the following buyer's guides helpful as well.
Best running shoes in large sizes 14 to 20.
Best running shoes for narrow feet.
Best running shoes for wide feet.
New Balance size conversion chart – Men's shoes
| US size | UK Size | EU/FR Size | CM/JP Size |
| --- | --- | --- | --- |
| 4 | 3.5 | 36 | 22 |
| 4.5 | 4 | 37 | 22.5 |
| 5 | 4.5 | 37.5 | 23 |
| 5.5 | 5 | 38 | 23.5 |
| 6 | 5.5 | 38.5 | 24 |
| 6.5 | 6 | 39.5 | 24.5 |
| 7 | 6.5 | 40 | 25 |
| 7.5 | 7 | 40.5 | 25.5 |
| 8 | 7.5 | 41.5 | 26 |
| 8.5 | 8 | 42 | 26.5 |
| 9 | 8.5 | 42.5 | 27 |
| 9.5 | 9 | 43 | 27.5 |
| 10 | 9.5 | 44 | 28 |
| 10.5 | 10 | 44.5 | 28.5 |
| 11 | 10.5 | 45 | 29 |
| 11.5 | 11 | 45.5 | 29.5 |
| 12 | 11.5 | 46.5 | 30 |
| 12.5 | 12 | 47 | 30.5 |
| 13 | 12.5 | 47.5 | 31 |
| 14 | 13.5 | 49 | 32 |
| 15 | 14.5 | 50 | 33 |
| 16 | 15.5 | 51 | 34 |
| 17 | 16.5 | 52 | 35 |
| 18 | 17.5 | 53 | 36 |
| 19 | 18.5 | 54 | 37 |
| 20 | 19.5 | 55 | 38 |
New Balance size conversion chart – Women's shoes
| US size | UK Size | EU/FR Size | CM/JP Size |
| --- | --- | --- | --- |
| 5 | 3 | 35 | 22 |
| 5.5 | 3.5 | 36 | 22.5 |
| 6 | 4 | 36.5 | 23 |
| 6.5 | 4.5 | 37 | 23.5 |
| 7 | 5 | 37.5 | 24 |
| 7.5 | 5.5 | 38 | 24.5 |
| 8 | 6 | 39 | 25 |
| 8.5 | 6.5 | 40 | 25.5 |
| 9 | 7 | 40.5 | 26 |
| 9.5 | 7.5 | 41 | 26.5 |
| 10 | 8 | 41.5 | 27 |
| 10.5 | 8.5 | 42.5 | 27.5 |
| 11 | 9 | 43 | 28 |
| 11.5 | 9.5 | 43.5 | 28.5 |
| 12 | 10 | 44 | 29 |
| 12.5 | 10.5 | 45 | 29.5 |
| 13 | 11 | 45.5 | 30 |
| 13.5 | 11.5 | 46 | 30.5 |
| 14 | 12 | 46.5 | 31 |
| 15 | 13 | 48 | 32 |