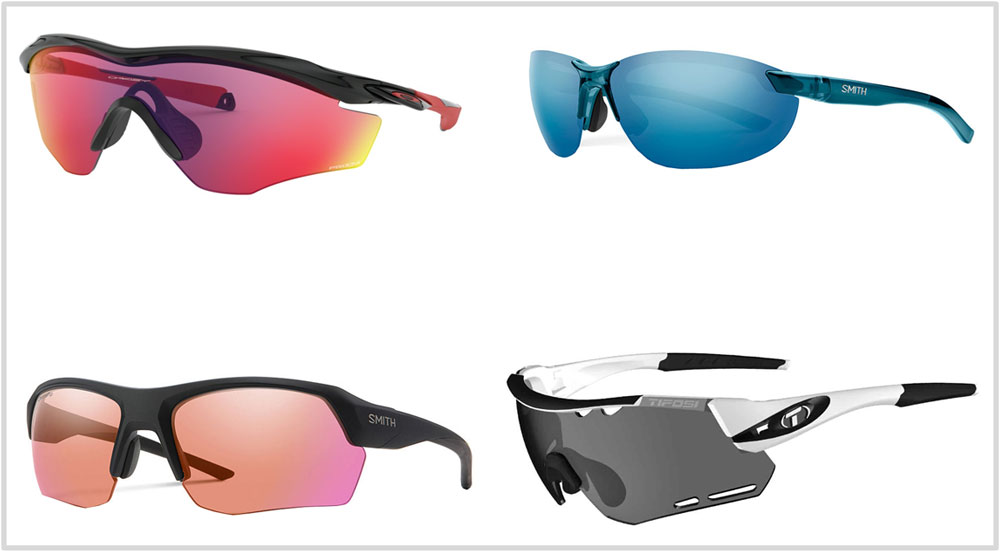 Just like sunscreen lotions, sports sunglasses should be a part of your run-ready ensemble. Not only do sunglasses offer protection from UV rays, but they also act as a barrier against small debris, water, and bugs when on the road or trail.
If you're running on the sidewalk, it helps to have protection against the occasional chip sent flying by a passing vehicle. Some of us run outside during rain-showers, and having a pair of medium to full-coverage sports glasses means less squinting and a better focus on the road.
And if you're racing on a trail, the eyes require protection against potential insects and other micro-debris.
So what kind of sunglasses should one buy? Besides the UV-blocking capabilities – which now most of the lens possess – a pair of running sunglasses should be lightweight, durable, and have a fit secure enough not to be affected by movement.
For this reason, lifestyle sunglasses aren't the best choice for running. It's also why you won't see any classic Ray-Ban Wayfarer style frames on this guide – though we know that it is a popular choice for runners. The relatively flat front profile of these frames isn't universally suitable for all face types. The last thing one wants when running is to have the frame slide up and down the bridge.
Though there are some eye-wear brands which have adapted the classic silhouette for performance use, these glasses are still inferior in fit and lens coverage to purpose-built sports sunglasses.
The following sunglasses are likely to stay on your face even when the pace goes up or when you're running technical trails – regardless of your nose-bridge shape. We chose just three brands for this guide.
Oakley and SmithOptics sell sunglasses at the higher end of pricing. Tifosi is our favorite eye-wear brand when it comes to affordable sports performance. Though Tifosi has a wide assortment of sunglasses, we've featured two models.
Some of the models can also be ordered with Rx or prescription lenses – we've called out which ones have those. Also worth mentioning is that if glare protection (snow or running next to a waterbody) is one of your goals, then consider buying polarized lenses. They're very helpful in cutting glare.
And lastly, sunglasses are much like running shoes – try on them in the store before you buy.
1) Oakley Radar EV Path
The latest generation of Oakley's Radar sunglasses is built on the success of the Radarlock Path. A single over-sized lens offers an extended view which isn't obstructed by the lower frame of traditional sunglasses. They're easily swapped with other lenses due to the accessible clip-on design.
The rubberized stems grip both sides of the head comfortably and securely without slippage. The rubber nose-pads work well for a variety of bridge shapes.
The polycarbonate lenses are available in standard, polarized, and a photo-chromatic version which changes from clear to dark under brighter conditions. Also available in Rx (prescription lenses).
Also see: Oakley Radar EV Pitch
2) Oakley M2 Frame
The original Oakley M-Frame brought the lightweight and over-sized half-frame sports sunglass design into the mainstream. The long rubber-clad temple stems extend around the sides to prevent the sunglasses from moving during running and other athletic activities.
Sells in a standard, Polarized, Rx (prescription)and Prizm (a coating for improved color perception) lens variants.
3) Smith Tempo
If you do not prefer the over-sized design of sports sunglasses, the Smith Tempo could be just the thing. A low-key and durable half-frame holds the lenses in place – which, by the way, are also interchangeable.
They're available in different color choices, ranging from a muted grey-on-black to bright red and green.
4) Smith Parallel 2
The successor to the popular Smith Parallel, these medium-coverage sunglasses offer more lens and less frame. The invisible top-frame gives the Parallel 2 a clean and subtle aesthetic while offering sun and impact protection.
Available in polarized, non-polarized, and prescription lens variants.
5) Tifosi Alliant
The Alliant is our affordable full-coverage running sunglass pick. More than half of the lens periphery floats free of the frame, thus giving you a clear view of the surroundings. The vented design helps ventilation and reduces the chances of fogging.
The side stems and nose-pads are made of a hydrophilic rubber for a comfortable non-slip grip. The frame is a good fit for larger faces.
Also see: The Tifosi Jet.
6) Tifosi Vero
If you want a pair of affordable sunglasses for a smaller face, we recommend the Tifosi Vero. This medium-coverage pair of sunglasses doesn't break the bank, and yet gives you all the sports performance you need.
Also available with prescription lenses.