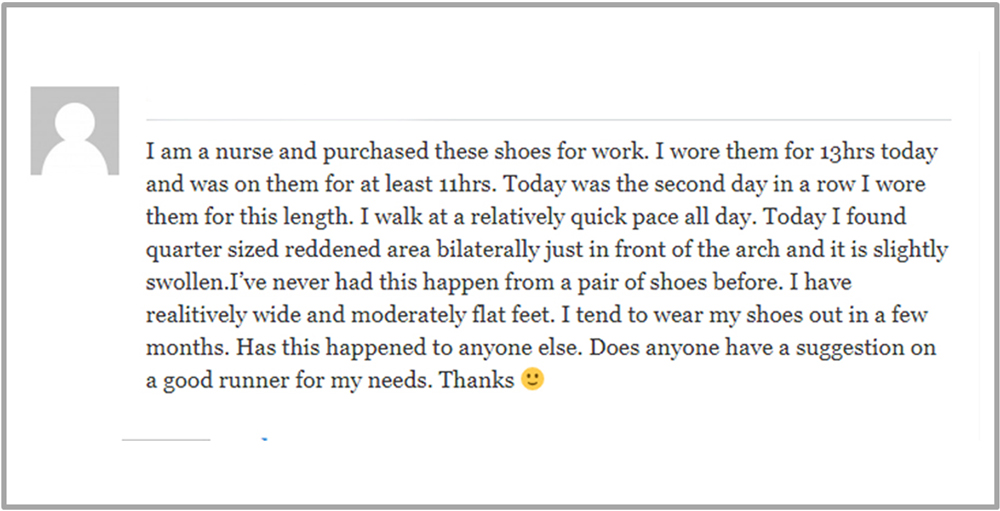 This is an actual reader comment on solereview, one of the many similar questions we've answered over the years.
So what took us so long to put this buyer's guide together? To be honest – there's no particular reason. But as they say – better late than never.
Along the way, we also realized that there's a lack of credible footwear guides for nurses and doctors. Most of them are based on the following assumptions and offer little else than the standard boilerplate text followed by a brief list.
1. All healthcare nurses (RN) and CNAs are female.
2. Nurses should wear some type of clog.
The first assumption is mostly true – for now – but the available data suggests a rapidly evolving trend. According to the US Census Bureau, 9.6% of the nurses in 2011 were men, a huge change from 2.7% in 1970. The same data also pegs the male representation among nurse anesthetists at a whopping 41%.
A 2018 report by the New York Times estimates the percentage of male nurses at 13%. So you get the idea – a shoe guide for nurses should account for both genders.
The second piece of conventional wisdom – which suggests that nurses should wear only clogs – doesn't necessarily work for all situations. If one had to argue in their favor, clogs have a few things going for them.
Once your shift is over, clogs are easy to clean with a disinfecting bleach wipe. The high heel-to-toe gradient of a clog goes easy on your Achilles or calves over long hours.
In our opinion, the aesthetics of a work clog is one of the primary drivers of purchase. Many nursing schools and some medical facilities mandate a dress code of black or white footwear – sometimes of a formal kind. Under the circumstances, opting for a pair of clogs is a safe decision. You'd rather focus on school instead of researching shoes.
One could also argue that clogs provide a lot of comfort due to their thick soles and sockliners. Their insoles can be substituted with an aftermarket orthotic for enhanced cushioning and support.
But then, there's a wide variety of sports shoes which are much more comfortable and offer equal or superior on-the-job performance.
Clogs are extremely heavy; most models weigh between 12 ounces to a pound. Judging by contemporary sports shoe standards, that's nearly twice that of a running shoe.
Also, if your shift involves just being on your feet all day in a theater or Cath lab without doing a lot of walking, then a clog could work.
On the other hand, if you're responding to codes in a large hospital and walk (or run) around a lot, clogs aren't the best choice of footwear. They're too heavy and clunky to be brisk-walking in. Most ER and Trauma unit nurses, or even the ones working in hospice/LTC environments stay on their feet all day and walk a lot.
We won't list clogs in this guide, but we recommend the Dansko XP 2.0 or the Alegria Keli Professional in case you're interested.
So if not clogs, what kind of shoes does solereview recommend for nurses and doctors?
Here is the short answer: there is no perfect shoe. There will be some features you like, and others which you'll find lacking. A lot also depends on what specific footwear trait you'd want to prioritize over the others.
Let's go over the potential requirements of healthcare-compatible footwear in detail.
A) Shoes in an all-white or all-black color scheme: As stated previously, certain units or facilities require the nursing shoe to be either black or white. Suitable options are easily available without compromising on fit and comfort, so no worries there – our guide has you covered.
B) Protective and easy to clean uppers: Smooth leather or synthetic uppers are easy to maintain and also prevent the potential entry of fluids. They also offer protection from the occasional bump. While leather doesn't breathe as well as mesh, it strikes a good balance between ventilation and protection. If you have a choice, opt for leather over synthetic.
C) A cushioned and stable sole: The overall sense of under-foot cushioning is delivered by a combination of the foam midsole and the insole inside the shoe. Shoes with a thick insole tend to deliver better step-in comfort for standing and/or walking all day.
There are many running and walking shoes which combine a cushioned feel with a copious amount of stability, so this combination isn't hard to find.
Although, one should be careful not to end up with a shoe with too much cushioning. Those tend to be unstable – not something you need inside a medical facility. For that reason, we've left out sports shoes which contain adidas Boost foam, Reebok Floatride, or Nike Max Air. We understand that some prefer the cushioned feel of Hoka One One shoes, but we're advocating safe choices which are likely to work for most people.
D) A slip-resistant sole: Some sections of hospital floors tend to have fluids, so a slip-resistant outsole is useful and should be a non-negotiable. Being a nurse may also involve transporting patient beds, wheelchairs, and monitoring stations so the shoe needs to have good traction.
Most shoes with a rubber outsole do well in this regard, and certain models like the Brooks Addiction Walker and the Skechers Work series outperform the others with a non-slip outsole.
E) A breathable upper: The feet can get warm inside a shoe with a leather or synthetic upper. On the other hand, most running shoes (refer to the first group of recommended shoes below) have a mesh/textile construction which breathes well and also provides high levels of underfoot comfort.
On the flip side, the kind of shoe which lets the air in easily isn't resistant to fluids. In medical facilities, you're potentially dealing with a wide range of fluids – IV, blood, vomit, and even from the stray commode under the patient's bed.
While you use add stain and water-repellent sprays, they aren't helpful in sports shoes with an open mesh structure. Nurses also use shoe covers inside Trauma units but those aren't very practical during general nurse duties. A disposable shoe cover also goes under the shoe, which means you'll lose the grip benefit of the outsole.
F) Water resistance: Though there are a few shoes with a waterproofing membrane like Gore-Tex, most leather upper shoes do a decent job at keeping the water and fluids out.
G) Orthotic or aftermarket insole compatibility: Shoes can be made more comfortable or supportive after you replace the stock insole with a custom or aftermarket kind. Many shoes come with a standard insole which is thick enough to be replaced. We'll call out which shoes on this guide are orthotic friendly, but you can also refer to this guide.
H) A high-to-toe offset: Buying a shoe which has a higher heel than the forefoot doesn't stretch and strain your calves and Achilles Tendon over a 12-hour shift. Most shoes have a heel drop of 8 mm and higher. We know that this is a subjective thing and some healthcare professionals may prefer low or zero-drop footwear. But a higher drop will work for the majority.
Luckily for us, we're in 2019, and most attributes from A) to H) are easy to find in many shoes. However, it is hard for breathability and waterproofing to coexist due to their inherently opposite nature.
To make the purchase process simple, we've split this guide into three shoe categories.
1. We've grouped lightweight, cushioned, and flexible shoes separately. Most nurses and doctors love the forefoot flexibility of these shoes which are breathable and easy on your feet. They're not what you would call stain and spill-resistant, but they can be hand-washed from time to time.
A flexible shoe also feels better during squatting or crouching movements. These are pretty much 'running' shoes, so they are a good fit for code responders. Skechers sweeps this category clean with their affordable (sub-$100) shoes. Nike has lost the plot with the 'redesign' of their Flex and Free series, so we've left them out for this year.
2. The second category has shoes with all-black and all-white uppers. You can choose from athletic brands like Asics, Brooks, New Balance, and Skechers.
Most of these models have a cushioned and supportive midsole which make standing and walking comfortable. Overall, these kinds of shoes strike the right balance between muted aesthetics, protective design, and comfort needed for long shifts.
3. Lastly, we've compiled a list of versatile sports footwear which have an optimal mix of upper protection, cushioning, stability, and outsole grip. These are solid options if your nursing school or medical facility does not mandate a dress code.
You'll notice an overlap with the shoes highlighted in our buyer's guide for walking and standing all day – because being a nurse involves doing both. If you don't your shoe to be bulky, skip this and buy shoes from the first category.
With that, here's our pick. Unlike our other guides, the shoes are listed in the order of our preference.
Best flexible and lightweight shoes for nurses and doctors
1) Women's Work Comfort Flex SR – HC
This is our top pick in this category. And why? Because you get an excellent mix of midsole flexibility and comfort along with an outsole which is slip-resistant on wet and oily surfaces to ASTM F1677-96 Mark II standards. It's strange, however, that Skechers advertises this standard which was superseded by ASTM F1677-05; the latter was withdrawn by ASTM in 2006.
These shoes need some time to break in as compared to regular Skechers due to their relative stiffness. On the other hand, the firmness gives the shoe extra stability.
There's a protective toe-cap and heel counter too on a wide-fitting upper made of a close-knit fabric. This shoe also retails in an all-black version.
2) Women's Skechers Flex Appeal 3.0 – the insiders
Here's a no-frills lightweight and ultra-flexible Skechers shoe with a comfortable sole. Though the upper feels soft over the feet, the fit means that you need to go a half-size up to be able to wear it with a pair of thick socks. At an MSRP of $60, it's easy on the pocket too.
If your hospital or school doesn't have a dress code, there's a variety of colorways to choose from.
3) Men's Skechers Work Flex Advantage SR
Think of this shoe as the men's version of the Work Comfort Flex SR. Just like the women's shoe, the Work Flex Advantage has a slip-resistant outsole under a supportive midsole. The insole is made of memory foam for step-in comfort.
You also get an easy to maintain leather forefoot on this model; this makes wiping the shoe easier at the end of the shift.
4) Men's Skechers Flex Advantage 2.0 – the Happs
If you've liked some of the older Nike Free or Flex models but can no longer find a replacement, then consider the Skechers Flex Advantage 2.0.
Here, a flexible foam midsole is paired with a textile upper – a design which makes walking and staying on your feet comfortable.
You can also try the Skechers Flex Advantage 3.0 and different variants of the Overhaul.
Best all-black and all-white shoes for nurses and doctors
1) Brooks Addiction Walker
As a nurse-friendly shoe, this shoe checks most of the boxes. It's available in tonal colors, the leather upper is easy to maintain, and there's plenty of support cushioning underneath for walking and being on your feet all day.
Brooks has shod the Addiction Walker with a certified slip-resistant outsole, so it's a double win here. Orthotic-friendly too, and sells in both female and male versions.
2) New Balance 928 V3
The 928V3 has so many things going for it as a nurse-friendly shoe. The interiors have an odor-resistant treatment, and the insole is made of thick Polyurethane for all-day comfort – you can remove it to place your orthotic. There's ample cushioning and stability from the supportive midsole.
The non-marking rubber outsole grips well, and the leather uppers are easy to wipe off. Comes in both women's and men's models.
3) New Balance 813
This leather shoe has a retail price of less $100 but comes in five different widths so that you can get the fit you want. The smooth surface is easy to clean, and the midsole is cushioned and supportive enough.
The full-contact outsole provides sufficient traction over smooth floors. The 813 is available for both men and women.
4) Asics Gel-Contend 5 Walker
If you want a comfortable all white or black sneaker from a reputed brand without spending a lot of money, the Asics Contend 5 Walker is a great pick. The smooth exteriors are easy to wipe clean, and the forefoot has small pores for ventilation.
The cushioning provided by the foam midsole is adequate for multi-hour shifts; underneath, the rubber outsole offers good traction. You can choose from either a men's or women's Contend 5 Walker.
Best supportive and cushioned shoes
1) Brooks Beast '18
Like the Addiction Walker, the Brooks Beast has a copious amount of cushioning and support under a roomy upper – all which are desirable traits for walking and being on your feet all day.
It also has a thick insole which can be substituted with an orthotic insert of your choice. The Women's version of the Beast is called the Brooks Ariel 18.
2) Brooks Transcend 6
The Transcend 6 is another cushioned and stable shoe from Brooks but with contemporary aesthetics.
Brooks uses its latest DNA Loft cushioning for its midsole so there's plenty of all-day comfort. The wide outsole footprint and rubber coverage give you the grip and stability you need for your job.
3) Saucony Redeemer ISO 2
Giving the Redeemer a high level of step-in comfort is Saucony's 8 mm thick 'foundation' insole over an Everun foam 'Topsole' and a high-volume midsole. Just like the Brooks Beast and Transcend, the rubber outsole has a wide footprint for a planted feel.
The interior uses soft materials and is also available in a wide fit should you require it. It is Orthotic friendly and sells for both genders.
We hope you found this guide useful. Any thoughts? Suggestions? Agree? Disagree? Write to us at [email protected]