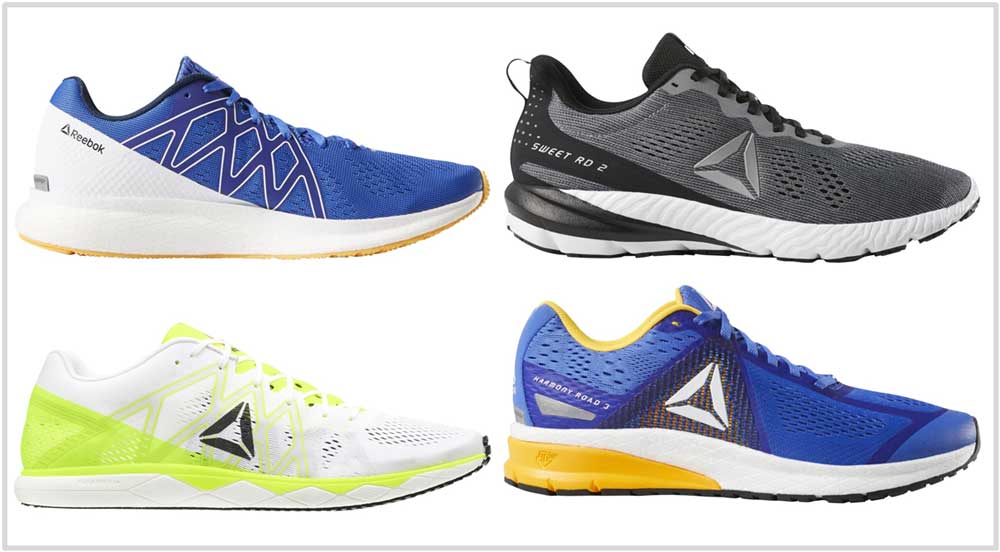 This article has been updated with current models for October 2019.
The fact that the words 'Reebok', 'best', and 'running' are used in the same sentence show Reebok's quick resurgence as a running shoe brand.
Between the late eighties and early 2000s, Reebok used to be a powerful force in the athletic footwear industry. And we aren't talking about just running shoes; Reebok had its claws dug deep into other categories such as basketball, tennis, cross-training, aerobics, and lifestyle footwear.
The '90s were the golden period for Nike and Reebok, an era of hype and innovation. Footwear tech like Reebok Pump, DMX, and Hexalite went head-to-head with different versions of Nike Air. The Air Jordans competed with signature Reebok Allen Iverson basketball shoes. And who can forget the Reebok Shaqnosis?
And it went far beyond loud marketing. At one point, Reebok used to make excellent running shoes. First released in 1993, Reebok's excellent Aztrec runner was a worthy competitor to the Nike Pegasus. Ditto for the 1992 Pyro. Reebok also brought single-piece EVA midsoles into the mainstream with the 3D Opus, Electrolyte, and the Areeba.
You get the idea – Reebok, like Nike, played an important part in shaping the sports footwear industry as we know it today.
On a side note, if you like reading about the history of the sports shoe industry or shoes in general, we recommend this guide. We have curated a list of books on this topic – collectively, the books cover the stories of the large brands and then some.
Reebok's decline in fortunes began soon after adidas acquired it to grow in the competitive North American market. For a while, Reebok running footwear had a good home within the 'Premier running' category and held its own in a competitive technical running market.
Performance products took a backseat with a new focus on lifestyle and toning. That backfired spectacularly in the form of FTC fines, and Reebok began reinventing itself as a fitness brand around cross-training.
So far, that approach has worked well for Reebok – its partnership with CrossFit and Les Mills has allowed it to create and sell merchandise to a dedicated group of consumers.
Thus, it was a surprise – and a rather pleasant one at that – when Reebok suddenly began selling performance running shoes at both ends of the spectrum. It began with the casual Floatride Run in 2017;  things quickly turned serious with the Floatride Run Fast and its Pro version – shoes meant for fast training and races, respectively.
That was last year. 2019 ushered in the excellent Floatride Forever Energy and a few upgrades. For example, both the Road Harmony and the Grasse Road ST ditched their EVA midsole casing and adopted the Forever Energy E-TPU foam – which is a firmer version of the adidas Boost foam.
It is important to know the difference between the two versions of Reebok's 'Floatride' foam. Lightweight Pebax foam is used on more expensive models like the Run Fast and Pro. The Pebax formulation makes the shoe lighter and softer as compared to the lower-priced models like the Floatride Energy and Harmony Road which use a firmer e-TPU foam.
Reebok still has a lot of flab around its running shoe assortment, but here's our pick of the top seven Reebok shoes. We've prefixed each shoe with its use-case so that it's easier for you to find what you're looking for.
1) Daily neutral trainer: Reebok Forever Floatride Energy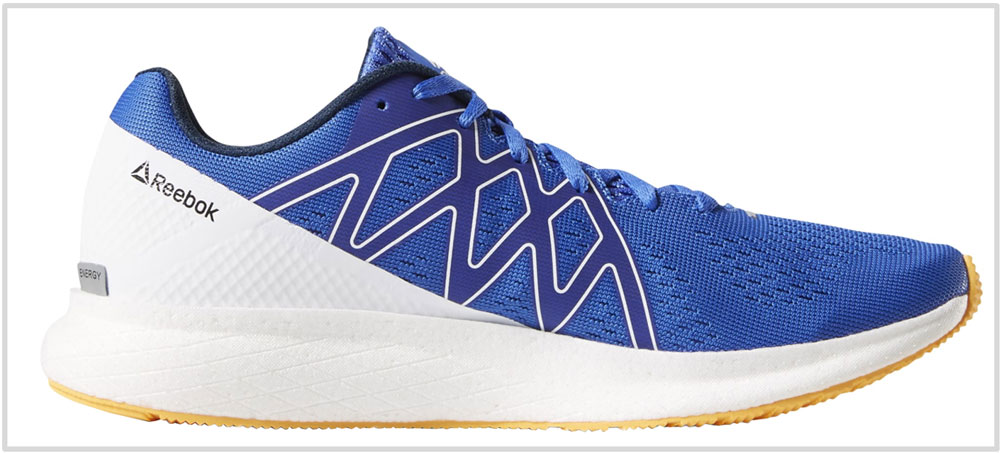 The Reebok Floatride Forever Energy offers great value for its $100 retail price. It has a single-density, full-length Floatride foam midsole along with a full-coverage rubber outsole. The result is a ride quality which is good for most distances without being mushy; the e-TPU foam provides a superior blend of cushioning and responsiveness.
Though the upper fits slightly long, it is comfortable and spacious with adequate ventilation. Read our detailed review for the lowdown.
2) Daily neutral trainer: Reebok Sweet Road 2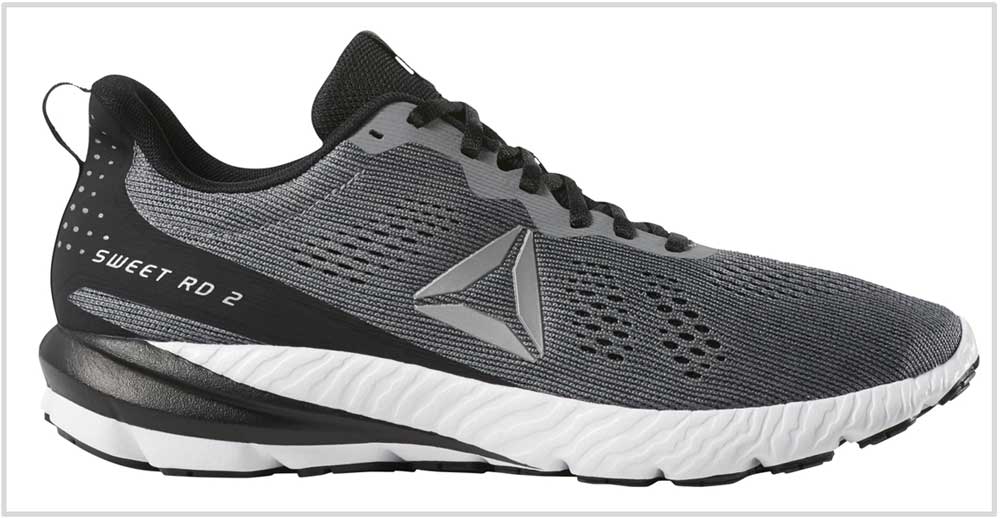 The Forever Energy is all over the news so it's easy to neglect the Sweet Road 2; please don't. The SR-2 is an under-rated $100 neutral running shoe with serious performance running chops. Sure, its midsole isn't made completely of TPU but it does have a core made of the said material inside an EVA midsole.
With this unique set-up, the ride delivers a balance of cushioned responsiveness and transition-friendly support. The engineered mesh upper is comfortable and fits true to size.
3) Daily neutral trainer: Reebok Harmony Road 3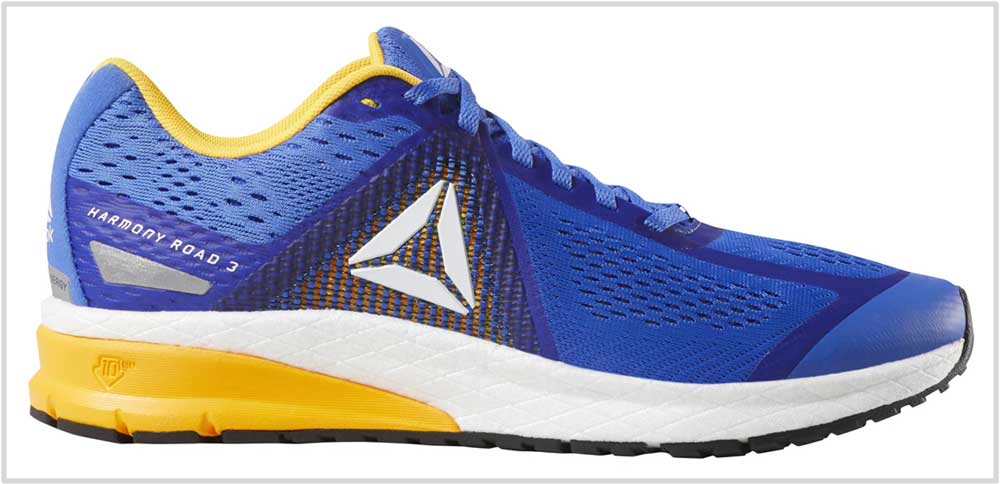 For its third year, the Harmony Road gets a major ride update. The midsole is now made mostly of Floatride Energy, an expanded Polyurethane foam which has superior cushioning than the EVA compound used on the Harmony 2.
Though the previous design used the 'KooshRide' TPU foam, it was confined within the firmer EVA midsole. The Harmony Road 3 uses an EVA foam plug under the heel for enhanced stability while the Floatride provides consistent cushioning and transitions with its 3/4th configuration.
The new outsole geometry and material helps increase durability, traction, and the quality of transitions. The breathable and roomy upper is good for summers while offering a secure, comfortable fit. In short, this is an excellent 10 mm drop daily trainer for most runs.
4) Soft neutral trainer for easy runs: Reebok Floatride Run 2.0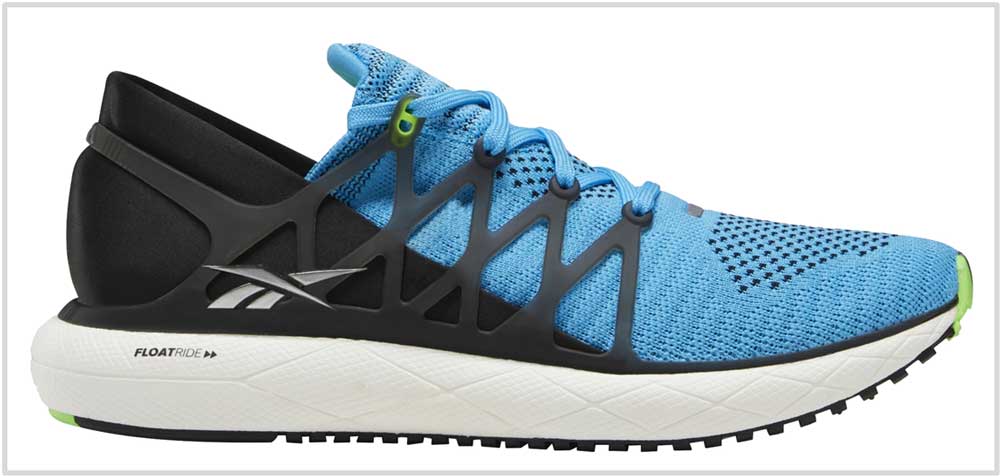 The Floatride Run 2.0 might not have the performance cred of the Forever Energy or Run Fast, but cushioning softness is one thing that it does very well.
Easy-paced runs are made comfortable by the high-volume Pebax foam midsole which creates a soft, yet responsive and lightweight cushioning experience. The stretchable knit upper has an equally comfort-oriented fit character.
5) Daily stability trainer: Reebok Grasse Road 2.0 ST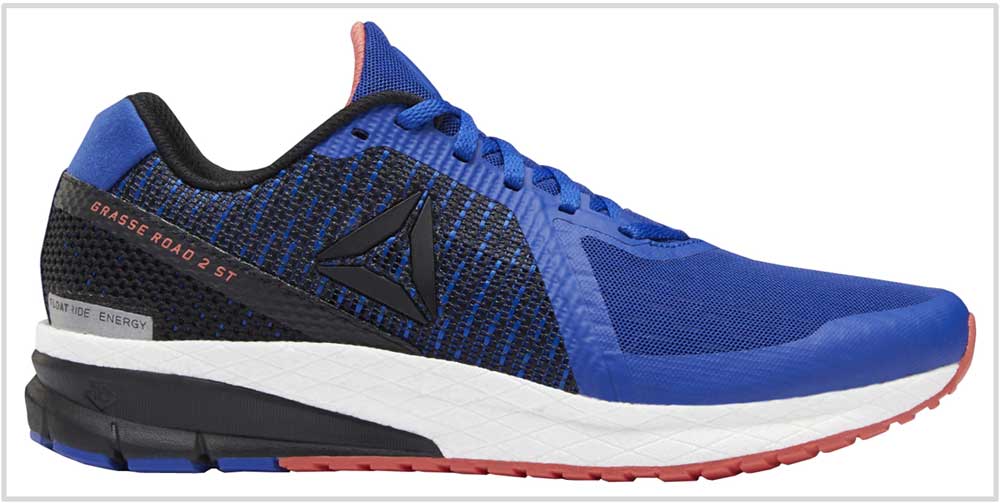 The Grasse Road 2.0 ST is the stability version of the Harmony Road 3. The midsole is configured similarly by combining the cushioned Floatride Energy Foam with an EVA clip under the heel.
So what's the difference, and why does it ride firmer?
The Grasse ST's EVA portion also has a firmer medial post on the inner side. This section is the firmest part of the midsole, and provides the medial-side stability under the heel and midfoot.
Still, the wedge design is nowhere as aggressive as ones seen on traditional stability shoes – the foam piece tapers downwards towards the midfoot and there's plenty of Floatride foam padding on top. There's a bit of an outwards midsole bias due to the deep grooving over the EVA foam clip.
So who should buy the Grasse Road 2.0 ST? A runner who is looking for a supportive trainer with responsive cushioning for daily training.
Though the closed nature of the upper makes the insides slightly less breathable than the Harmony Road, the true-to-size upper fit keeps the foot locked down in place.
6) Cushioned Speed Trainer: Reebok Run Fast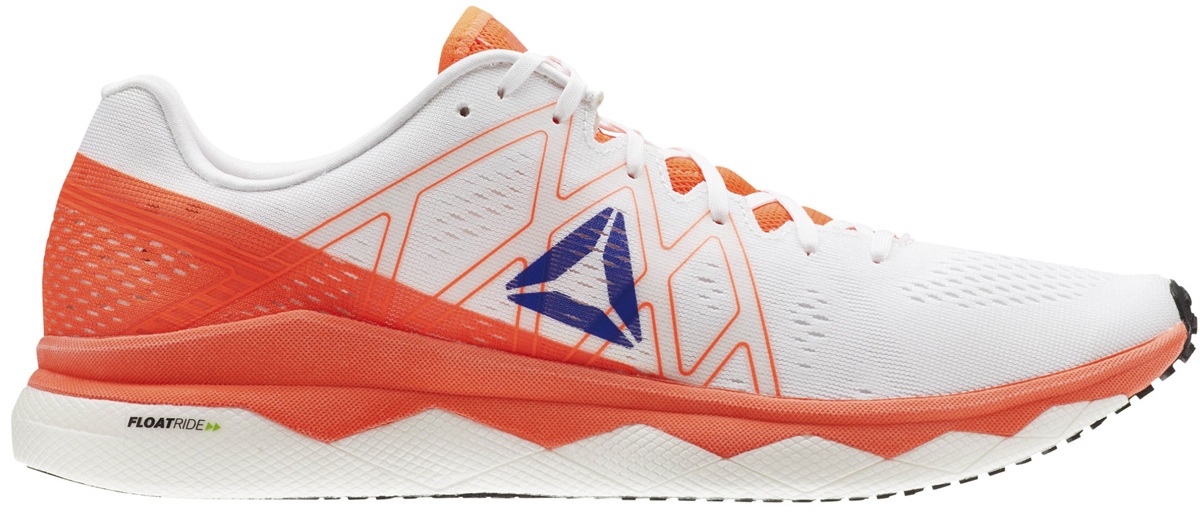 The Run Fast performs a repertoire of acts that go beyond its 'Fast' label; it is versatile enough for most runs.
Unlike some running shoes, there's no penalty for going slow. The midsole uses the Pebax foam-based Floatride, a compound that produces a near-perfect blend of lightweight cushioning and bouncy responsiveness. So there's ample cushioning underfoot no matter whether you're cranking tempo runs or simply going about your daily run at moderate speeds.
And when you do decide to speed-charge your runs, the low-profile cushioning works together with the firmer EVA rim to make the transitions smooth and economical. The colony of small lugs on the full-contact outsole has excellent traction over most surfaces.
The lightweight upper is a perfect match for the low-slung ride. The all-mesh upper allows plenty of air to circulate, and there's just enough padding to make the interiors comfortable. It fits a bit snug, but then, most shoes in this category do.
7) Cushioned Racing Flat: Reebok Run Fast Pro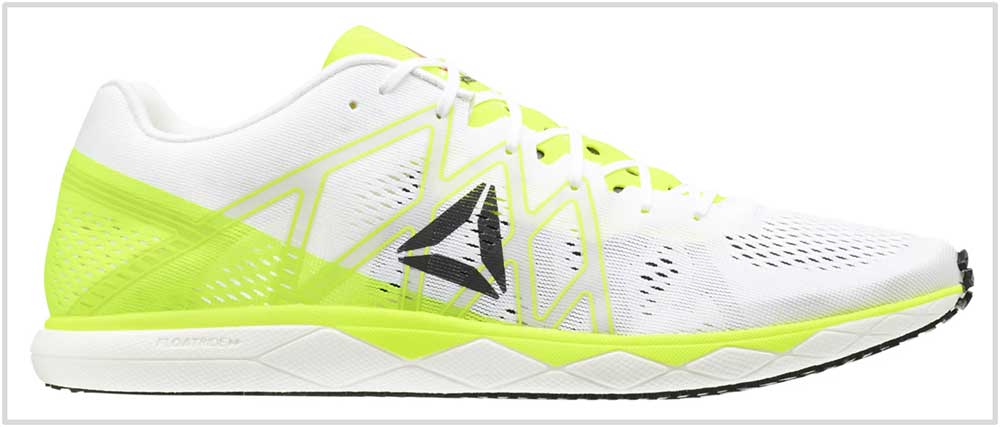 When selecting a pair of racing shoes, you can go two ways. Experienced runners who can do with minimal cushioning prefer racing flats – or some version of it. The other approach is to get a lightweight shoe with maximal cushioning – some of them even come with Carbon plates.
If you are in the first group of runners and have $250 to spend, there is no better flat than the Reebok Run Fast Pro. This isn't to say that there aren't other great flats – but the Run Fast Pro does a lot of things better.
The midsole material has a significant advantage over others in this category. By using Pebax foam for its midsole, the Pro's ride is nowhere as jarring as flats with EVA-based midsoles. As a matter of fact, the Fast Pro offers an unbelievable amount of responsive cushioning for – hold your breath – 3.6-ounce weight.
Apart from the inherent lightness of the Pebax foam, you can see where weight-saving measures have been deployed. The snug upper is a very breezy set-up with only a minimal amount of heel padding. There's a full outsole that uses directly injected lugs to reduce bulk while making the underside sticky.
Though our budget racing flat pick is the New Balance Hanzo S V2, you know which Reebok shoe to buy if money is no object.