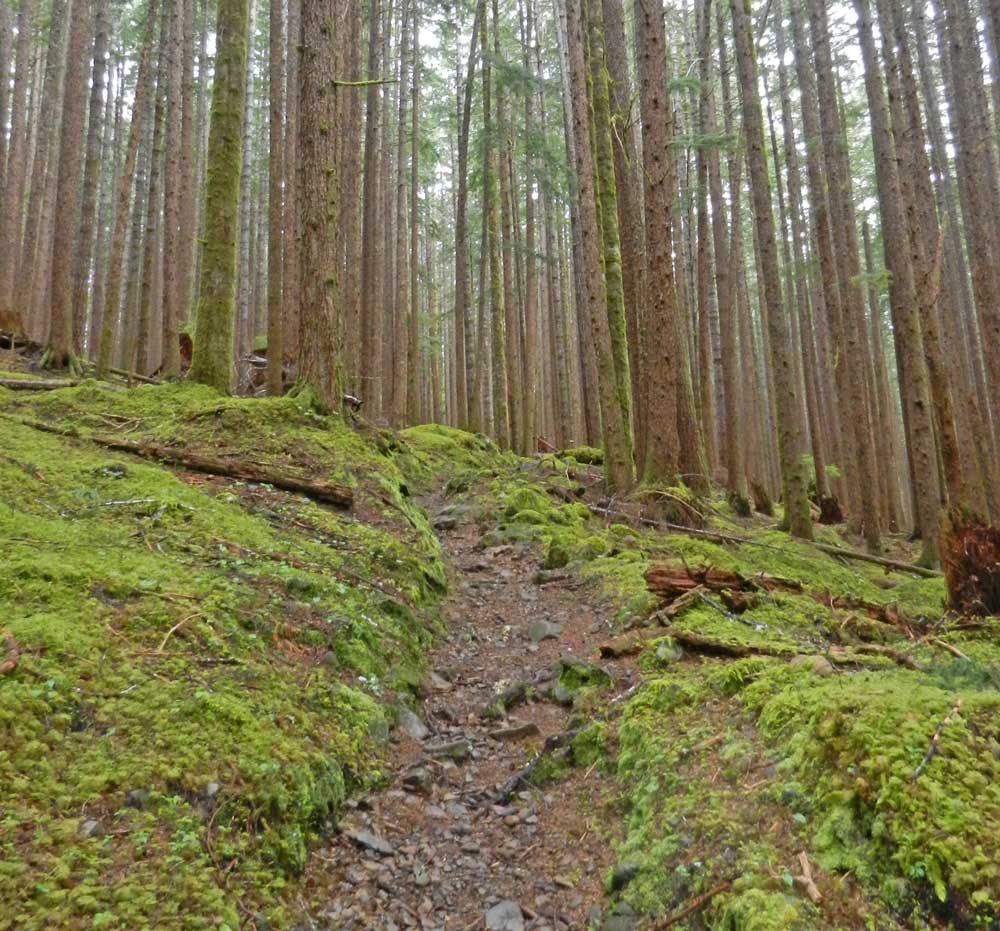 If you consider use-cases, trail running shoes are a lot like their road-going counterparts.
How so?
Take, for example, a versatile road trainer capable of most runs. Here, the Reebok Floatride Forever Energy is a good example. You can use them for fast runs, slow runs, unpaved gravel roads, packed trails, or even marathons.
Sure, it doesn't excel in one specific area but if you to buy just one shoe, this is as good as it gets.
Likewise, there are many trail shoes with do-it-all versatility. In both the shoe categories, the uppers have a secure fit. However, trail exteriors differ by being non-elastic and having protective overlays.
'Technical' road shoes are primarily designed for racing and fast running times. These could be low-profile racing flats or newer designs such as the Nike Vaporfly. The uppers tend to run narrow for a superior level of lock-down during speed runs.
There's a parallel in the trail running world as well – at least in spirit. For technical trail running is a lot more than speed; unless you're racing, it is less about the speed and more about the engaging experience that it is.
And there's no single definition of what that term means – a lot depends on the geography and/or the climate.
That said, all technical trails present a high level of difficulty due to their uneven surfaces consisting of rocks and/or roots. When one accounts for variables such as dust/mud, ice, snow, and the occasional stream crossing, the level of 'technical' is dialed up by a few notches.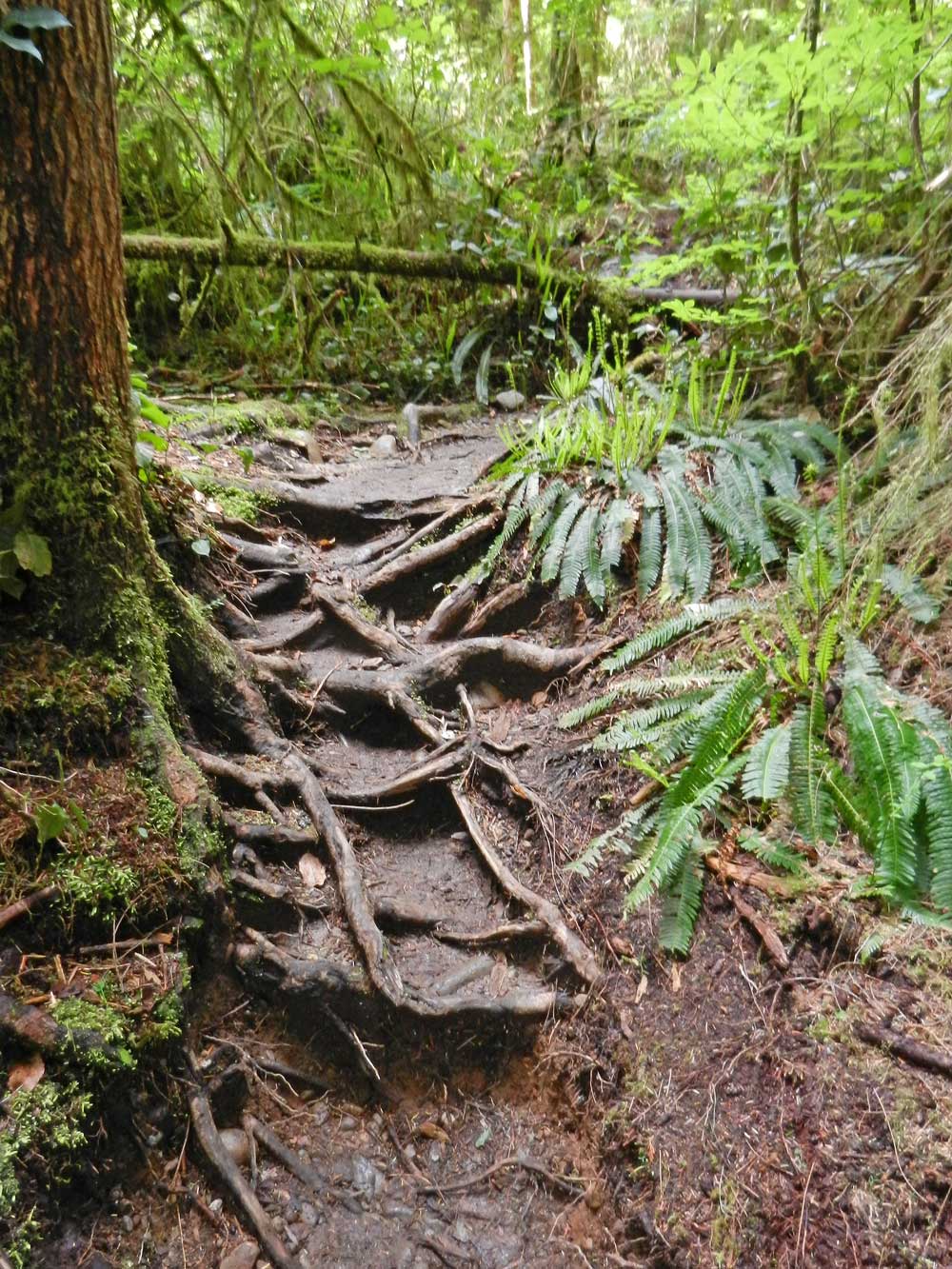 It is common for technical trails to have steep uphill and downhill sections, both of which have different requirements for running shoes. Your running speed is a lot higher downhill and you're constantly scanning the surface for good landing spots between the roots and loose rocks. This is a high speed, high foot cadence activity.
Unlike road or flat gravel paths, technical running isn't linear. Where and how you land isn't predictable; you're thinking on your feet.
A technical trail runner will make a lot of side-to-side movements spread across a variety of foot-strike patterns. You could be forefoot, midfoot, or heel landing depending on the situation. That was just downhill running; climbing steep verticals present its own set of challenges.
So your choice of a trail shoe will depend on where you plan to run.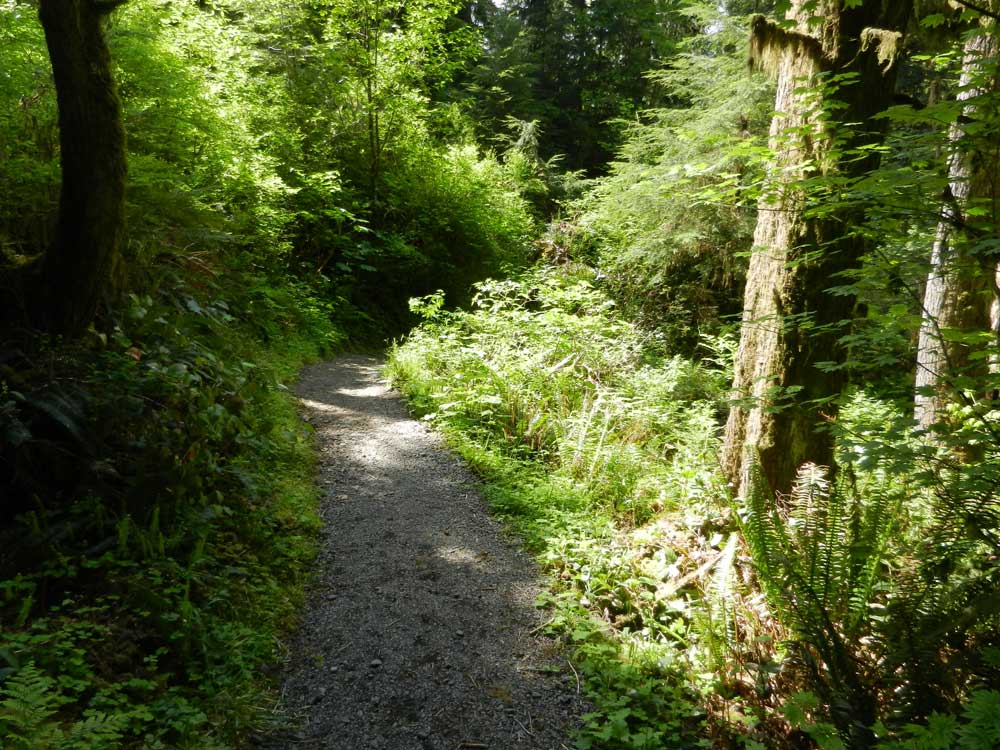 Are your runs limited to gravel paths in the neighborhood park? In that case, you don't even need a purpose-built trail shoe. You can use your regular road-running shoe if you like.
If you want an outdoor-sey feel, then get one of those 'soft-roaders.' These are outdoor versions of the road shoe(s) with a rugged outsole and an upper made of dust-resistant mesh. They're like the footwear equivalent of compact SUV or cross-over vehicles. The Saucony Guide ISO 2 TR and the Asics GT-2000 7 trail (we've included them in our list) are such examples.
Versatile trail running shoes like the Altra Lone Peak 4.0 and Saucony Peregrine perform well on everything from entry to medium-difficulty level trails. The uppers and the sole composites are decently protective, and the cushioned ride absorbs a lot of the bumps and pokes from the trail. They even work well on the road sections too.
Technical trails are where shoe choices get complicated. Should you get a shoe with a thin sole, so that you can feel the ground for a better sense of weight and power transfer? But risk getting jabbed under the foot with rocky edges or sharp roots?
Or does it have to be a highly cushioned shoe for impact protection and high-mileage comfort?
And if you're running on wet terrain, you need trail shoes shod with the right kind of sticky rubber. That, of course, would be an overkill on dry trail paths because they might offer too much grip.
Nailing the upper fit is the key. Too much room, and you may end up with the unwanted 'sliding off the midsole' sensation. Too short, and the downhill hill sections will cause your toes to jam forward into the reinforced toe bumper.
Hence, the best we can do is to recommend trail running shoes based on intended use-cases. The first two groups – the soft-roaders and versatile trail running shoes – are pretty straightforward.
The 'right' kind of technical trail shoe will depend on how you like them – so our third group brings together a diverse selection of models to choose from.
Crossover trail running shoes – these are the outdoor interpretation of road shoes.
These are your familiar road models re-purposed in a trail form. This way, you get the favorite parts of the road shoe – including a medial post – but with an off-road-ready outsole and color scheme.
1) Asics GT 2000 7 Trail
The 'trail' version of the GT-2000 is almost identical to the regular version except for a more aggressive outsole lug pattern and a color scheme which is less likely to soil during an off-road run.
Just like the road model, the trail GT-2000 has a medial-post wedged into its midsole.
2) Nike Air Zoom Pegasus 36 Trail
Ok, the Pegasus 36 Trail is not a regular Pegasus retrofitted with a new outsole. While it does have a trail-oriented outsole for enhanced traction, the upper is redesigned ground up with a wider fit.
There are extra bits too. Things like the urethane toe-bumper which offers protection over mild trails, and the reconfigured cushioning which features separate heel and Zoom Air bags instead of the full-length Zoom of the road Pegasus.
3) Saucony Guide ISO 2 TR
Saucony's treatment of the Guide ISO 2 TR is the same as the Asics GT-2000 7 – except for one important distinction.
The Guide ISO's Trail outsole is made out of the tackier PwrTrac rubber compound in the forefoot, thus giving the trail version a grip advantage over the standard outsole.
Versatile trail running shoes.
Use them every day for most trail runs – as long as they aren't technical grade.
1) adidas Terrex CMTK
As we've said many times before about the Terrex CMTK – this $90 shoe is one of the best, all-around trail shoes you buy.
The Continental rubber outsole without latticed windows makes the underside protective yet grippy over dry surfaces. The EVA midsole has enough cushioning for a range of distances.
The upper design is a great combination of comfort, breathability, and protection. The closed mesh lets the air in yet keeps the dust out; the thick Urethane reinforcements shield the foot from trail debris.
2) Altra Lone Peak 4.0
The Altra Lone Peak may not look very 'modern', but it has all the functionality required of a versatile trail shoe. The 'stoneguard' plate offers protection from underfoot jabs while the EVA cushioning delivers sufficient levels of ride comfort.
Traction is good – courtesy of Altra's MaxTrac outsole compound and geometry. The Lone Peak is also gaiter-friendly if you want to use one.
Also see: The Saucony Mad River TR, another shoe which can accommodate gaiters.
3) Hoka Challenger ATR 5
Some trail runners prefer a max-cushioned midsole for long-distance comfort; here's a shoe for that. The Hoka Challenger ATR 5 does not have a rock plate but its midsole is thick enough to act as a protective barrier. The wide midsole and outsole geometry makes the ride supportive too.
The upper fit is quintessential Hoka One One; a snug wrap which holds the foot securely on uneven surfaces.
4) Nike Air Zoom Wildhorse 5
The Wildhorse has all the right bits and pieces for an excellent, all-purpose trail running shoe. There's a protective rock plate under an outsole which uses a sticky rubber for traction. Cushioning needs are met by the thick EVA foam midsole and a heel Zoom Air bag.
The mesh part of the upper allows ventilation during warm summer runs while the synthetic welding over the toe and midfoot add support and protection.
5) Salomon Sense Ride 2 – wet and dry trails
The Salmon Sense Ride is a goldilocks shoe in which everything feels right. The sleeved upper has a quick bungee lacing and a comfortable yet protective fit. The ride is adequately cushioned for long-distance runs thanks to the Ortholite insole and EVA midsole.
This also happens to be a trail shoe which suits different surface conditions. The Contagrip MA rubber is designed for wet, dry, and loose gravelly surfaces. And all of this is packed into a respectable 9.5 ounces/270 grams frame.
6) Saucony Peregrine ISO
Here's a trail running shoe capable of wearing many hats. The outsole brings together an aggressive lug geometry and Saucony's PwrTrac compound for an above-average grip over most surfaces.
Long-distance cushioning is delivered by the three-layer stack of an Everun Topsole, the insole, and a thick EVA midsole. The upper feels surprisingly plush for a trail running shoe, thanks to the soft lining and the inner sleeve.
Also see: If you want a lighter yet cushioned Saucony trail shoe, look at the Switchback ISO with its full-length Everun midsole. The low-profile construction allows plenty of proprioception, thus allowing you to feel the trail for optimal power transfer. The BOA lacing is quick to lace and the fit stays dialed in during the run.
Technical trail running.
Reserve these shoes for the toughest of terrains and gradients. Most of them work on wet, slippery surfaces.
1) adidas Terrex Agravic Boa – for use on wet and dry surfaces
Why did we choose the BOA version instead of the laced Terrex Agravic? The BOA lacing and midfoot panels do a fantastic job at keeping the foot tied down, and you can dial the upper fit tightness up or down without having to fiddle with the lacing.
The Boost midsole is good for making runs comfortable, but its inherent softness also promotes ground feel along with the grippy Continental rubber outsole.
A thick, fused toe-box in the front guards the foot against the occasional bump.
Also see: The laced, non-BOA version.
2) Brooks Caldera 3 – wet and dry
The Caldera works for muddy trail runs which might also involve stream crossings. On the top, the quick-drying Ariaprene upper mesh maximizes water drainage. The bottom uses Brooks's sticky TrailTack outsole for grip on wet surfaces. The DNA foam midsole cushions and protects the foot on the off-road tracks.
There's additional upper reinforcement in the form of a synthetic toe-cap and edge protection. Also, the Caldera has attachment points for a gaiter should you require one.
It's worth noting that the outsole is generously articulated or grooved, thus making the Caldera very adaptable over uneven surfaces.
3) Hoka Speedgoat 3 – wet and dry
The fact that this Hoka shoe comes standard with a Vibram Megagrip outsole shows that it means business. This Vibram compound offers traction over wet slippery surfaces while the 5 mm lugs bite into the ground for confidence-inspiring grip.
The upper comes standard with reinforced toe and midfoot sections for protection. And of course, you have the bottomless Hoka midsole for ultra-distance worthy comfort.
4) New Balance Summit KOM – wet and dry
Here's another technical trail running shoe with a Vibram Megagrip outsole. The Summit KOM also has a protective rockplate, so the combined result is an outsole which delivers superior grip over varied terrain and protects the foot from the rocks and roots.
The upper construction and fit is standard trail design – fused toe-bumper along with running shoe lining for a comfortable yet secure-fitting interior.
Also see: The Summit Unknown.
5) Nike Terra Kiger 5- Wet and Dry
This may be the best Terra Kiger edition yet. Nike combines a knobby outsole design with a 004 sticky rubber material to make the Kiger work on most trail surfaces – even wet ones.
The rock plate isn't one solid piece but segmented. This means that ground protection need not come at the cost of reduced proprioception. A heel Zoom Air bag inside a React foam midsole keeps the ride cushy during long trail runs.
The upper achieves a fine balance between ventilation and structural reinforcement due to its mesh and synthetic build.
6) Salmon S-Lab Ultra 2
The S-Lab Ultra 2 is the trail running shoe you pick when you want to go racing. Its no-nonsense design sticks to the essentials and discards everything else.
The upper uses a closed, lightweight mesh with TPU-injected reinforcement to reduce weight while creating a smooth and protective upper fit. The desired level of lacing cinch is achieved swiftly through the cable lacing system.
The PU+EVA midsole is packed with cushioning for high-mileage comfort; the Contagrip rubber compound is suitable for wet and dry terrain.