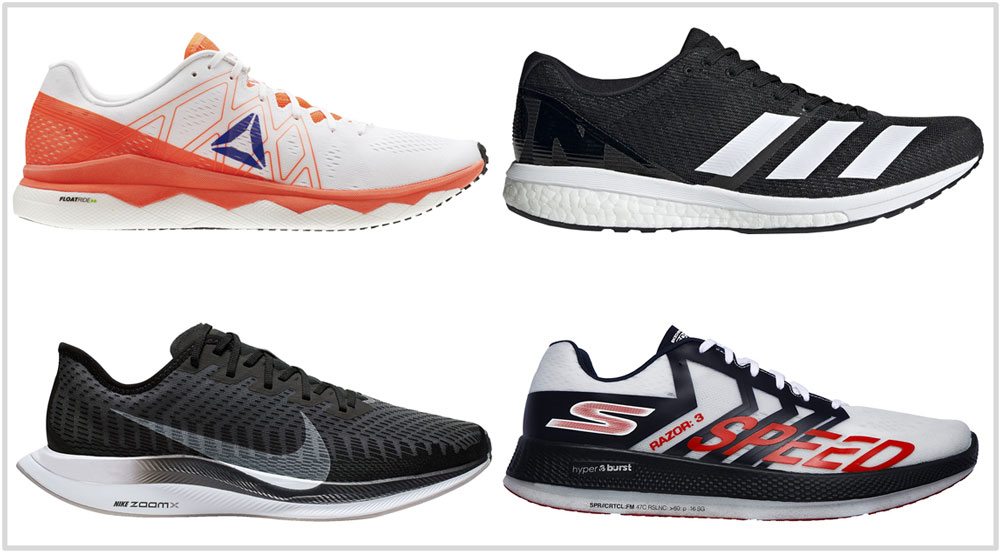 This article has been updated with current models for February 2020. We replaced the Reebok Forever Floatride Energy with the updated model.
To better manage expectations, let's begin by clarifying what 'long-distance' means here.
The definition will vary depending on the fitness level of a runner. That said, we view any distance longer than 10 miles as long-distance. In metric terms, that's 16 km – that's not the kind of run you do daily without weekly rest days.
It may sound like a wide range if the starting point is only 10 miles. Because a shoe that works for a half-marathon may not have the level of comfort needed for a marathon or an ultra.
The running shoe models that follow are recommended for distances between a 10K to a half-marathon. If you want an ultra-cushioned running shoe for marathons (and longer), then reading this guide should help.
So what kind of long-distance running shoes are we talking about here?
If there's one thing that we've realized after replying to thousands of reader comments, it's that no two runners are the same. A shoe that works perfectly well for one person may not suit the other.
For example, experienced runners have a higher cushioning tolerance. They are perfectly ok with low-profile running shoes for high-mileage runs.
Others prefer shoes with plenty of cushioning. In this category are running shoe models with high-volume midsoles that make long runs comfortable. In both cases, the upper needs to breathe well and accommodate the temporary change in foot volume; long-distance runs lead to a swelling effect.
So this is how it's going to play out for this guide: two camps of runners = two shoe categories.
We'll begin the guide with the lower-profile trainers first. While these shoes aren't as punishing as the ones meant for 5K runs, they aren't fleshed-out cushioned trainers either. So there's a fair bit of overlap with the products mentioned on our 'shoes for 10K' guide.
The second group packs more foam underneath as compared to the low-profile runners. However, for this guide, we've steered clear of bulky daily trainers such as the Asics Cumulus, the adidas Solar Glide, or the Brooks Ghost. The reason? If you're running anything less than a half marathon, you should be able to dial up speed without the midsole getting in your way.
There are no max-cushion shoes either; please refer to this guide for options if you're interested.
In their place, we've included cushioned running shoes with a bit of snap in them. That way, the cushioning won't slow you down even if you want your high-mileage runs to be fast. The Reebok Forever Floatride Energy 2 is an exception. After all, we did name the first-gen model the best running shoe of this year. The V 2.0 has the same midsole, so there's no change in the ride quality.
Category 1: Low-profile running shoes for long distances
1) adidas adizero Boston 8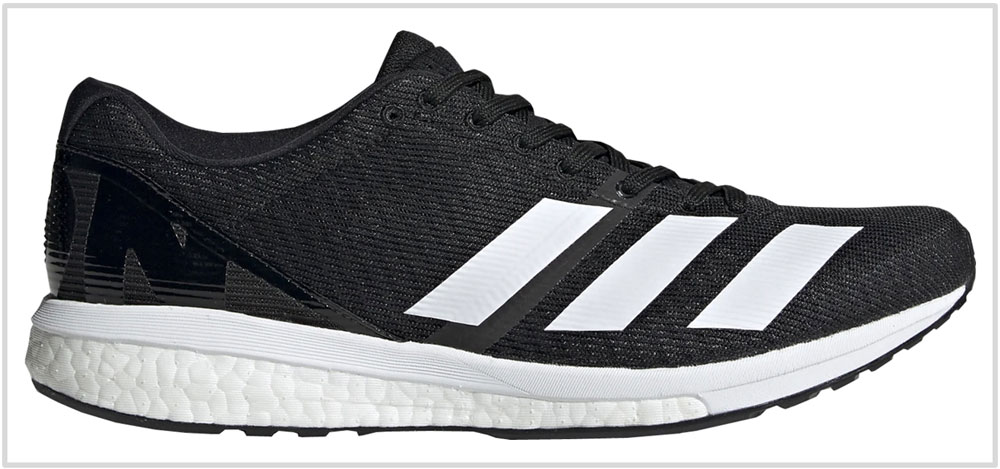 Over the years, the adizero Boston has built its reputation as a tempo-friendly shoe that also goes easy on your feet.
A snug upper locks the foot down over a midsole that uses firm EVA rims along with a Boost foam midsole and full-contact outsole. As a result, the shoe feels stable and fast while being cushioned enough for high-mileage outings.
You also get a lot of useful life out of the Boston due to its ultra-durable Continental rubber outsole.
2) Asics DS Trainer 24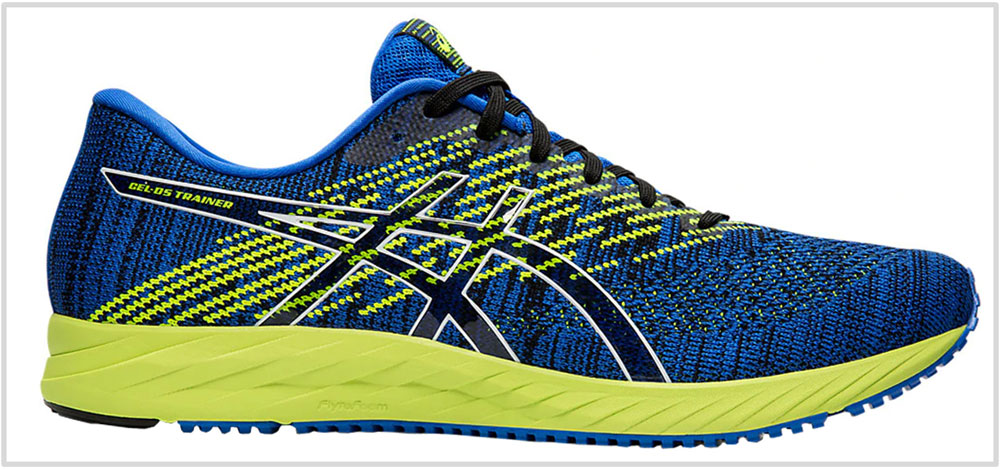 If you haven't read our glowing review of the DS-Trainer 24, do it now. We'll try our best to sum the shoe up here; the DS Trainer's Flytefoam midsole feels speedy and padded enough for the long haul.
And there's also the bonus of a comfortable upper interior and a grippy outsole that promotes quick turnovers.
Also see: The Asics Dynaflyte 4.
3) New Balance Zante Pursuit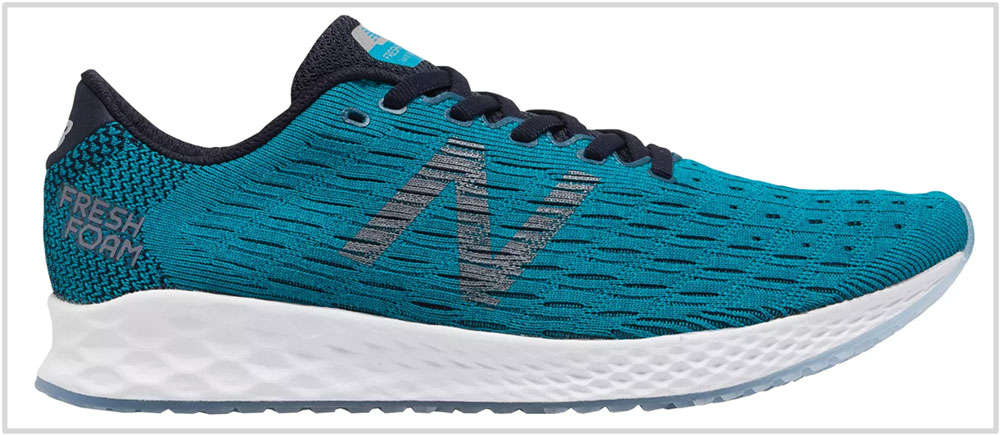 Don't confuse the Pursuit with the Zante V4. This shoe is called the Zante, but it's kind of a half-Zante – and in a good way.
The Fresh Foam midsole's slim build promotes fast and smooth transitions while forming a protective barrier against the hard running surface. The stretch upper snaps over the foot and secures it in position during faster runs.
The Pursuit is no Fresh Foam 1080 but it has adequate cushioning comfort for up to half marathons.
4) Reebok Floatride Run Fast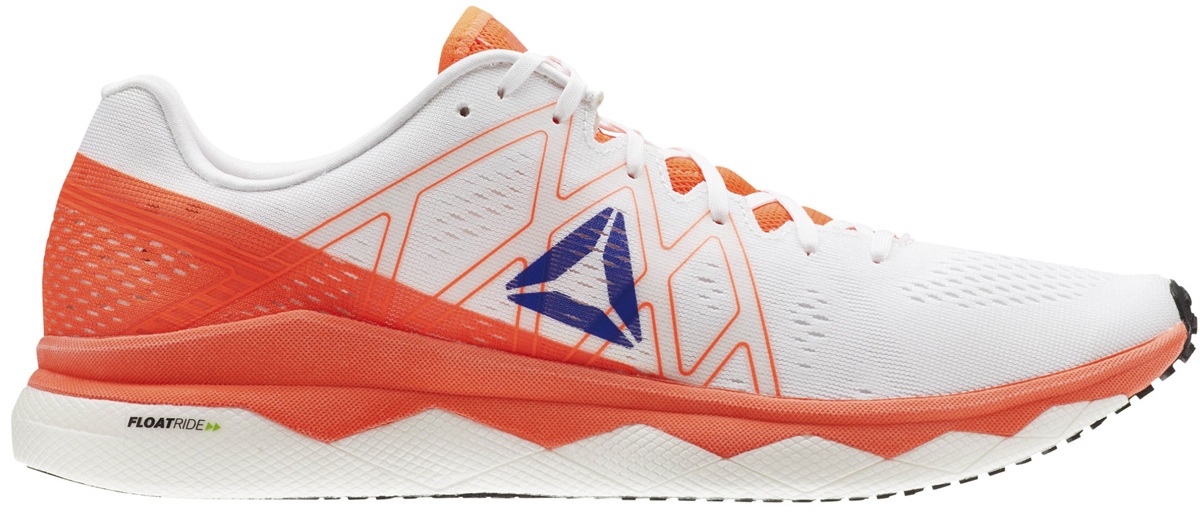 This shoe must be tired of featuring in almost every 'best shoe' list. But you know what? The Reebok Run Fast totally deserves it.
The various features of the Run Fast come together to produce a speedy yet cushioned ride. This is the only shoe on this guide to have a Pebax foam-based midsole, thus creating a unique shoe that weighs less than 7 ounces.
A high cushioning-to-weight ratio is also made even better by a breathable and lightweight upper that disappears over your feet.
5) Skechers GoRun Razor 3 Hyper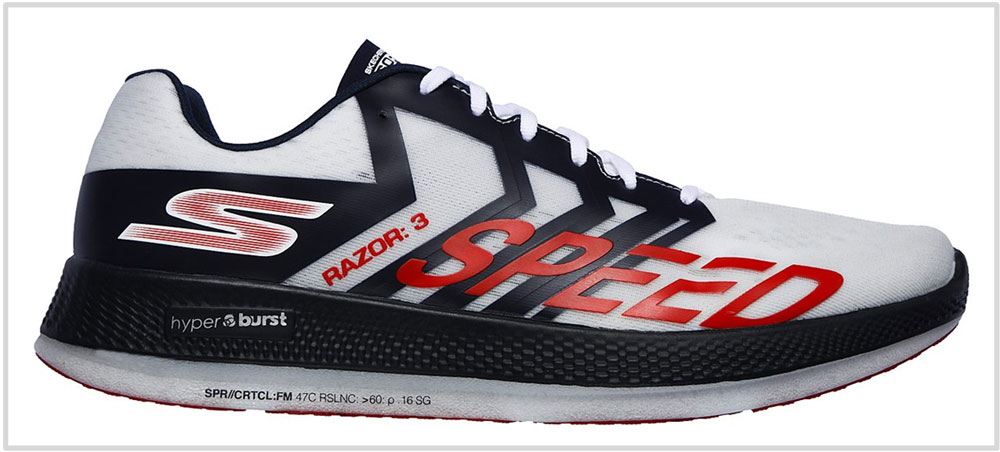 We thought that the bar had been raised with the Reebok Run Fast. Hold my beer, says the Skechers GoRun Razor 3.
While the Razor franchise has established itself as a road-racer with credible chops, this 2019 model uses a new Hyper Burst foam midsole. So what has changed?
The thickness and composition Hyper midsole make the ride sufficiently cushioned for long-distance runs while maintaining a speed-friendly persona.
Category 2: Cushioned running shoes
1) New Balance Beacon V2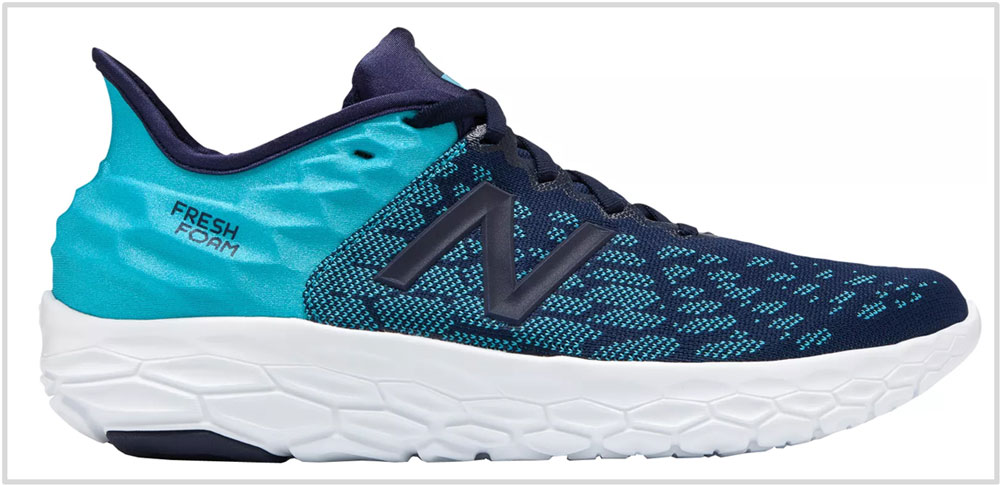 Ah, the Beacon. Last year, New Balance's then-new shoe quickly gained a cult following due to its versatile nature. It was lightweight, yet cushioned. It was cushioned, yet speed-friendly.
In retrospect, the Beacon V1 made itself useful in a shoe rotation by serving as a middle ground between thin racers and slightly weighty daily trainers. The Beacon V2 still has the same midsole and ride quality that makes long-distance endeavors fun and comfortable.
The jury is out on the wacky heel design, though.
2) Nike Pegasus Turbo V2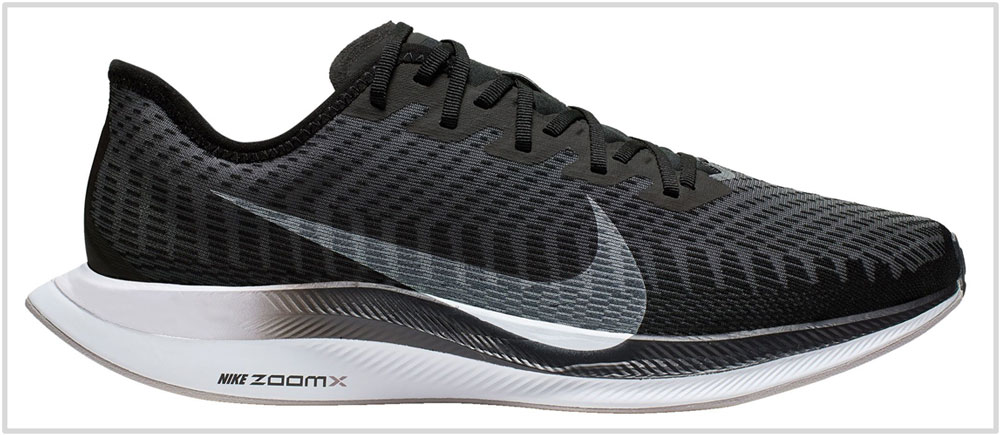 The Pegasus Turbo V2 is the most cushioned and responsive shoe on this guide. The ZoomX and React foam midsole has gobs of comfortable padding that works perfectly for longer runs and races.
By the way, the toe-squishing upper of the V1 has been toned down for this year's Turbo.
3) Saucony Kinvara 10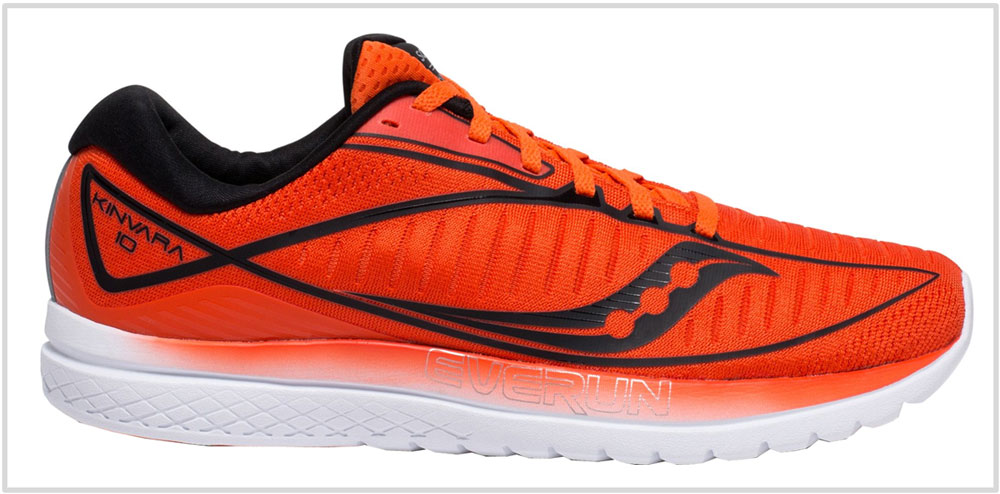 Is your idea of a distance running shoe a lightweight trainer with a low heel drop? The Kinvara 10 fits that description, and we can't praise it enough. In our detailed review, we called the Saucony Kinvara 10 under-rated. And it truly is.
The EVA and Everun midsole with a 4 mm drop has the cushioning to take you to half-marathon distances in comfort. The upper is breathable and has ample room for your feet to splay.
4) Saucony Freedom ISO 2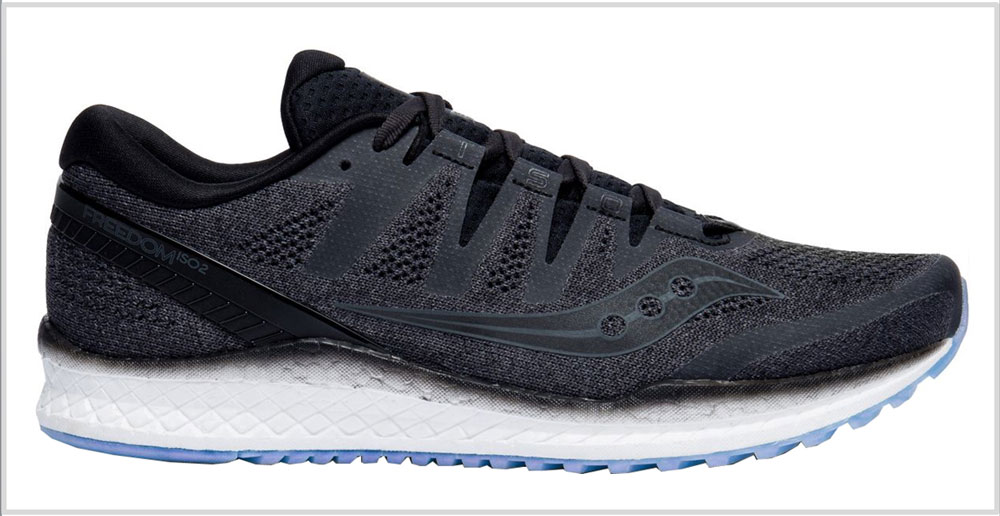 The Freedom ISO 2 is a low-offset running shoe with denser cushioning than the Kinvara. When compared to the latter, the Freedom has better outsole durability and a narrower fit.
There's another shoe similar to the Freedom ISO 2 in many aspects – it's called the Liberty ISO 2. That's the shoe you get if a more supportive ride and upper fit interests you.
5) Reebok Forever Floatride Energy 2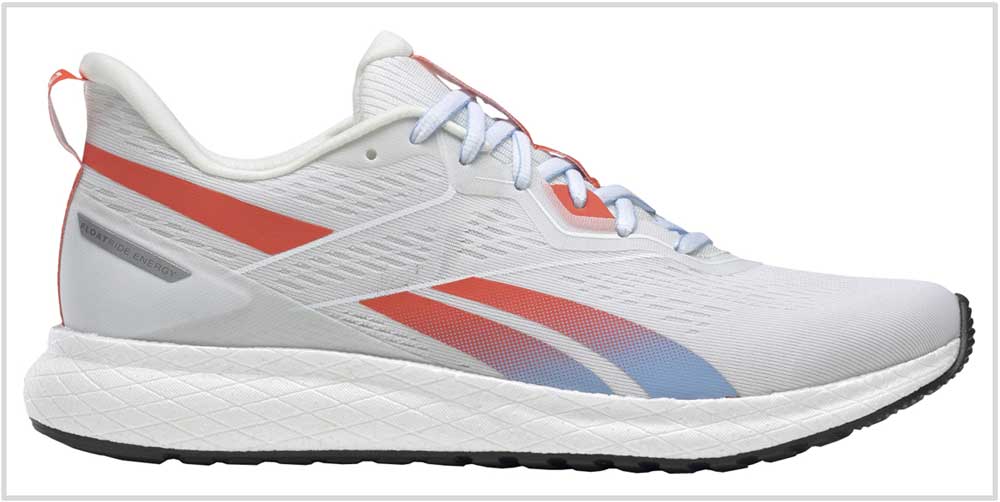 We rated the first generation Floatride Energy quite highly, and we hold a similar opinion of the second version as well.
With the same sole as the last year's model, the 2.0 shares the superb ride quality. The e-TPU midsole strikes a fine balance between cushioning comfort and transition efficiency, thus making it suitable for long-distance endeavors without punishing your feet.
The upper gets a few changes. The new Achilles lip collar and a softer tongue are the noteworthy tweaks. And look – the Delta logo has been swapped with the stylish Reebok vector logo.
Though we prefer the more minimal upper construction of the Floatride V1, some runners will find the softer lining materials a welcome change.